Glossier is disrupting the beauty industry. 
It's no secret that the minimalist chic beauty brand Glossier has been blowing up lately. If you haven't heard about Glossier, the insider-favorite makeup brand that, at one point, had over 10,000 people on their waiting list for a new product, you may as well have been living under a rock.
But don't just take my word for it. Here is what others have to say about Glossier marketing machine:
Glossier is the Millenials' Estée Lauder – source
Glossier is one of the Most Innovative Companies in the world – source
Glossier is a beauty line with a cult following – source
Since the brand's 2014 launch, Glossier has successfully grown the company to a team of 400 employees that double as models when duty calls.
Much of the brand's success can be attributed to its founder and CEO, Emily Weiss—the brains behind the operation.  Emily has turned a humble blog into a digital marketing machine.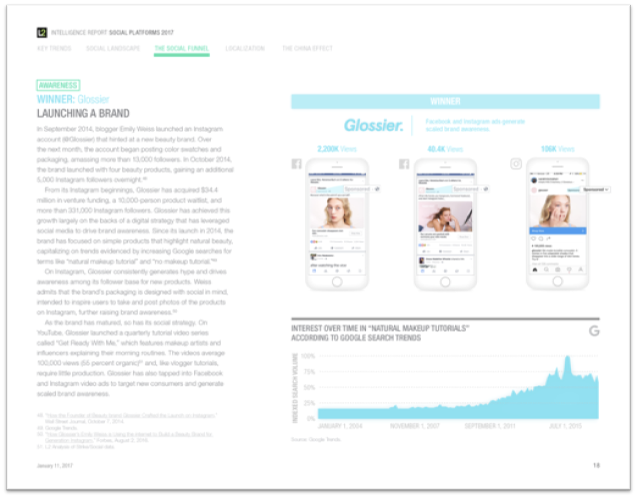 So how does Glossier actually do it?
In this post, we'll show you EXACTLY how Glossier grew from an insightful beauty blog to a content-first company that's rewriting the brand building playbook for the Twenty-Teens.
Buckle your seatbelts…
The Story Behind Glossier
The Glossier origin story begins with Weiss, NYU grad and former Teen Vogue intern, whose initial claim to fame was a short stint on The Hills, where she served as the NYC foil to Lauren Conrad's Cali-girl persona.
In 2010, Weiss launched a blog called Into the Gloss, which demystified a lot of aspects of the $250-billion beauty industry.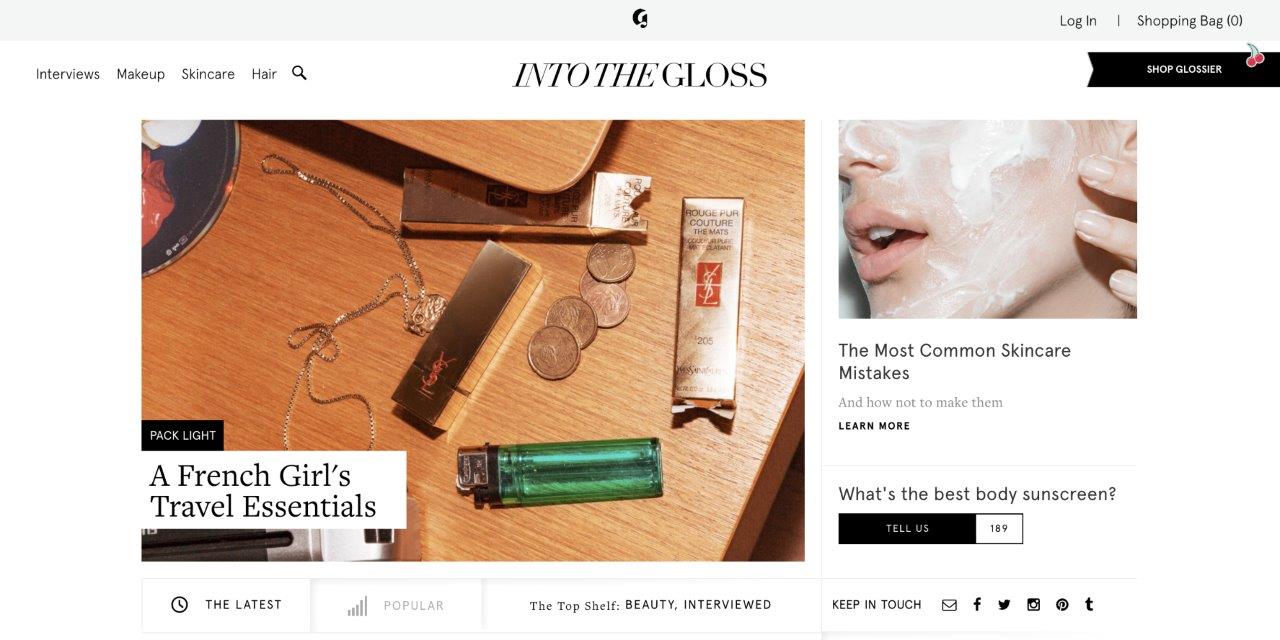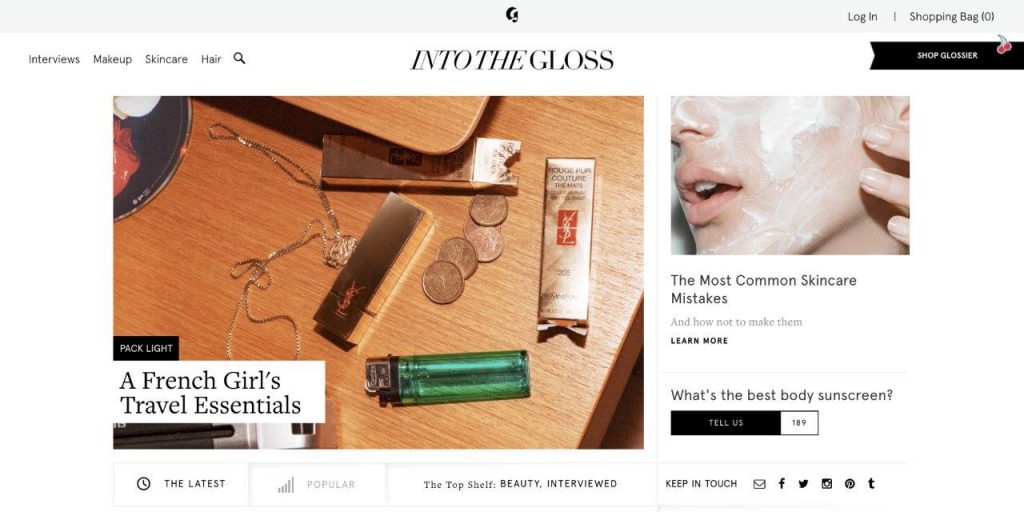 Before this current era of YouTube vloggers and the Insta-famous, the beauty industry wasn't so accessible. Beauty brands lacked the context of real women and real experiences, focusing instead on the illusion of perfection.
"There's this desire to connect with other women," Weiss told Business Insider.
She started interviewing celebrities, such as Kim Kardashian and Karlie Kloss as well as beauty bosses such as Bobbie Brown, to get a glimpse of their beauty routines and see what was on the "top shelf" of their bathroom cabinets.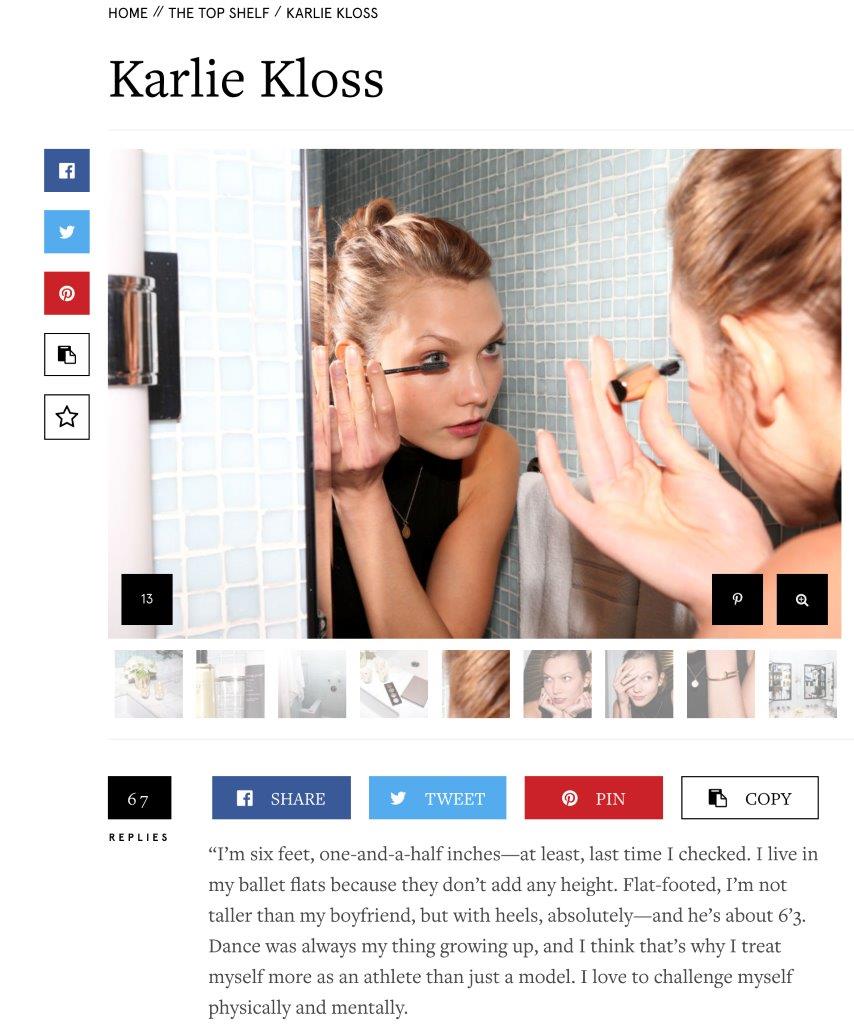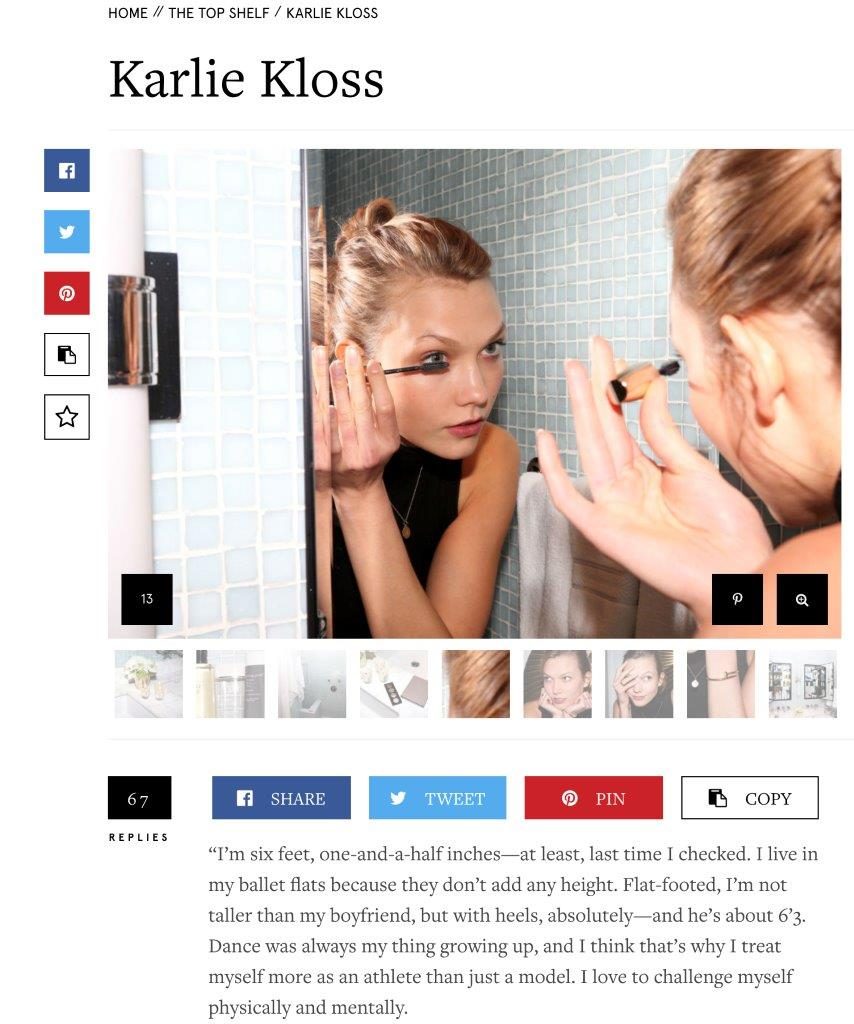 The blog became extremely popular, reaching over 1.5 million unique visitors since its launch.
Weiss noted that even magazines could not afford to share this kind of intimate information. Featuring these high profile women and rising It-girls, The Top Shelf column made women at home feel as if they were swapping beauty tips with their friends—albeit, friends with access to La Mer eye cream.
Now that we've been saturated with social media, it's easy to forget that not long ago, sharing beauty secrets was a no-no. Women were afraid of being judged for using a lot of products, revealing the time, energy, and, let's face it, cash, it takes to look good.
Before, it felt like the fewer beauty products you used, the more you won at life—you won the genetic lottery, and from there, it was just a wash-and-go situation.
Weiss launched Glossier as a response to the feedback she was receiving on her blog. Her blog ultimately served as a great way to conduct research and, eventually, create the kind of products women really wanted.
Why Glossier Is Successful
Aside from turning the idea of the beauty routine on its head, Glossier has applied some clear strategies to grow its beauty brand into one of the best on Instagram.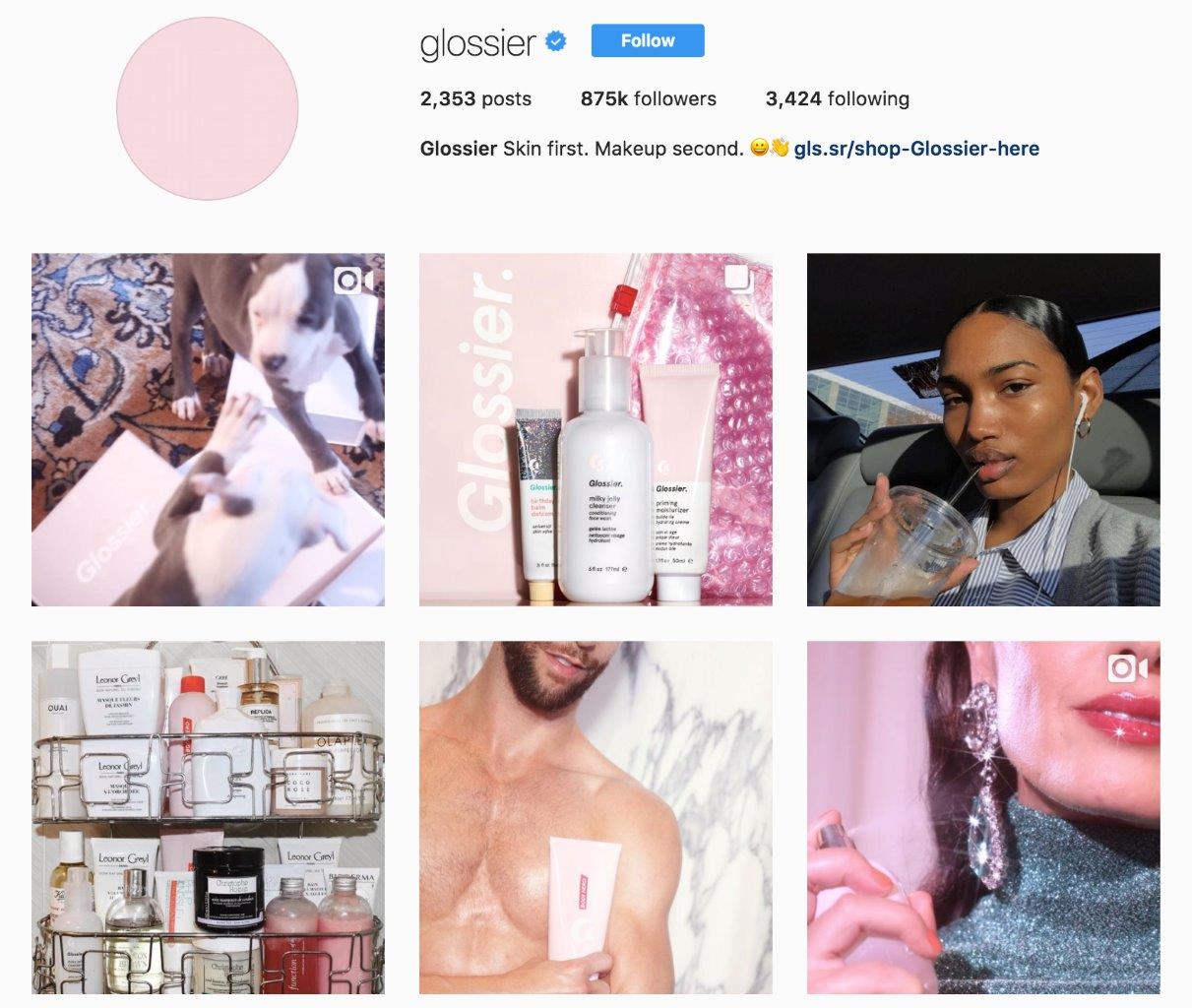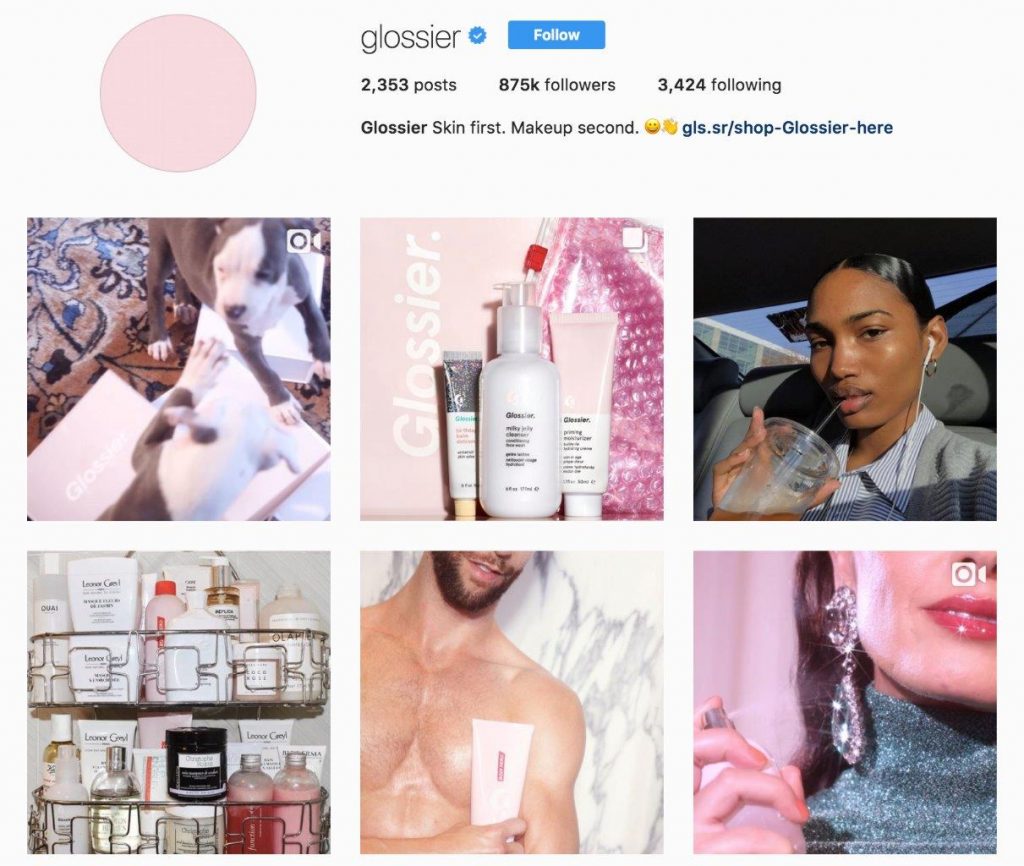 Below is a look at what they are doing right.
Get Customers to Connect with Your Brand by Association with Other Everyday Objects (#GlossierPink)
Glossier is successful primarily because of two things: branding and social media.
"Brand is really, really important. It's kind of everything," Weiss says.
And she means it. You can see this reflected in the brand's use of its signature washed-out pink, dubbed Glossier pink. Seriously, the color has become so iconic that fans use the #glossierpink hashtag when they see the color elsewhere.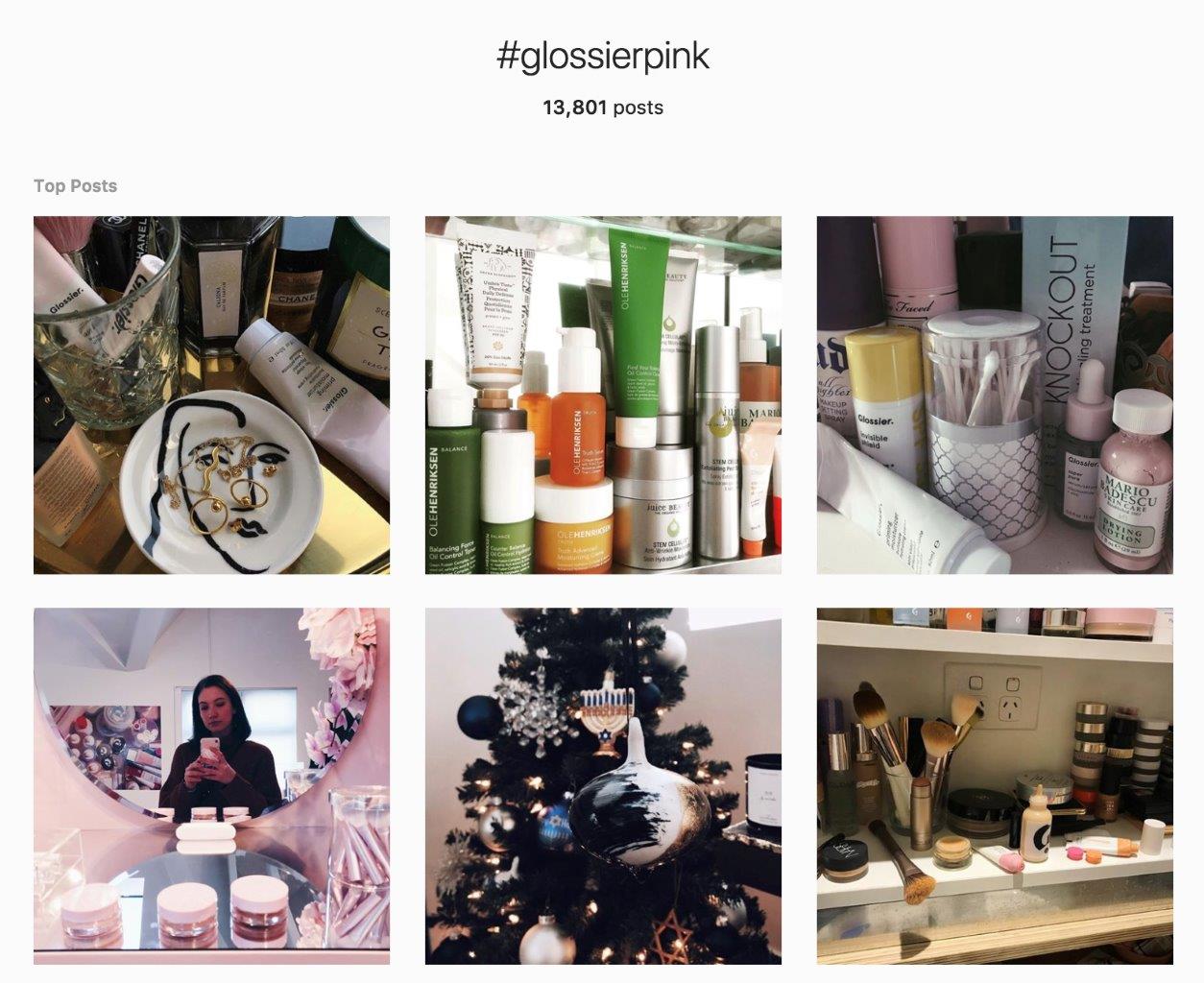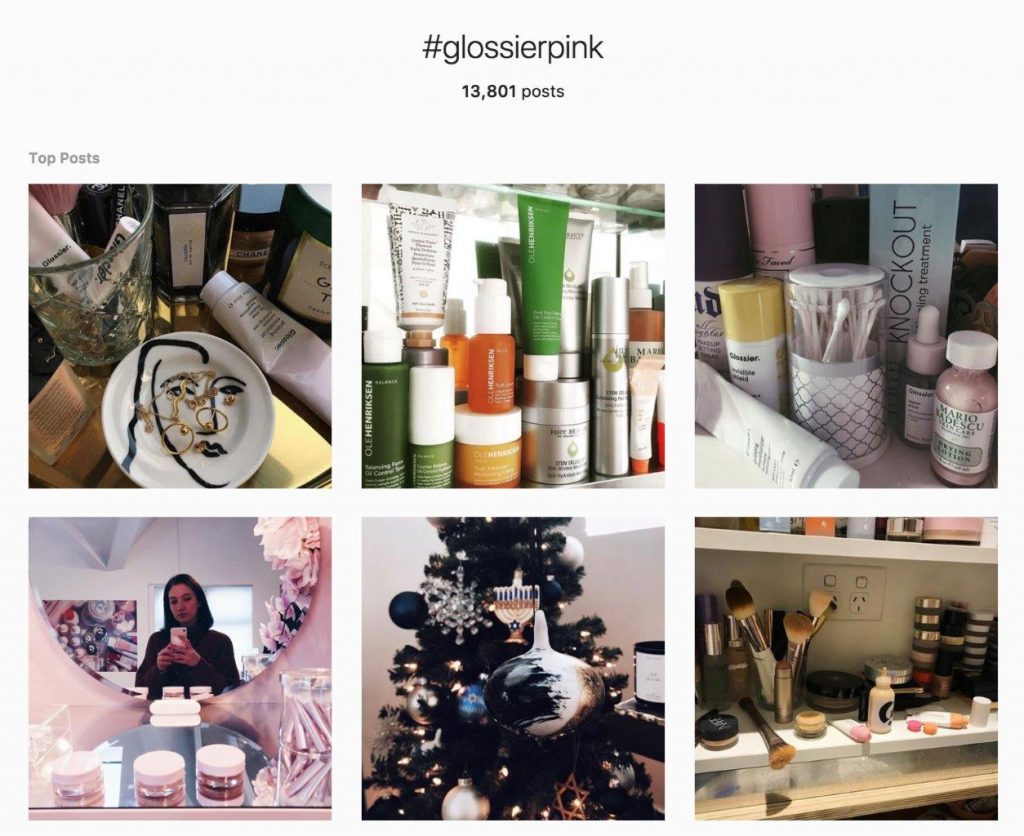 Branding also extends to the look of the women who use the product. While diverse in age, race, and body type, the look is all about dewy skin and sheer finishes—captioned on Instagram in that cheeky millennial tone they've perfected.
And beyond that, the brand message is a positive one—it celebrates uniqueness, diversity, and being happy in the skin you're in. Makeup isn't a mask, after all.
Any Insta-professional knows that if you want your feed to take off, branding is essential. Glossier may not have a cohesive feed, but their posts show they've got their branding down pat.
Use Slack to Listen (Really Listen) to Your Top Customers
Glossier launched at the height of the social media craze—an excellent position to be in, any way you slice it.
With its social media accounts, it was able to listen to what its customers wanted, giving it an edge over larger beauty brands.
But it's hard for beauty conglomerates to innovate. We're talking corporate versus start-up culture here. Glossier has the unique advantage of being able to communicate with customers, using that intel to create new products.
In fact, it has a Slack channel with 100 of their top customers, where they exchange over 1,100 messages weekly. On that note, its Milky Jelly cleanser was created in collaboration with its customers.
Buzzfeed News says about Glossier,
"if [in 2016] brands are your friend, Glossier wants to be your BFF".
The takeaway here: if you want to get ahead, leverage that "feedback loop" that social media offers and actually listen to your customers rather than focusing on collecting likes and followers.
Forbes found that 62% of millennials stated that if a brand engages with them on a personal level through social media, they're more likely to show loyalty to that brand. Not only do brands need to keep up posting on their social media accounts, they also need to connect with their audiences.
Instagram is the best place to do this since it has the highest engagement rates of all social networks.
Use Your Products as Your Content
In an interview with Eric Liaw at the StrictlyVC event, Weiss said that she sees Glossier as a content company: she thinks of her products as content.
That's because many customers buy the products, photograph them (or photograph themselves using them/the result of using them), then share them on social media. Shipments come with sheets of stickers, encouraging further engagement.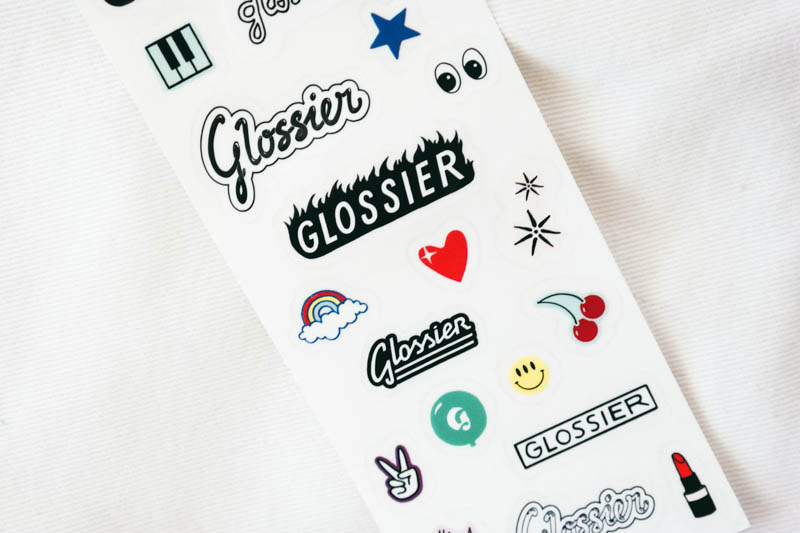 Most companies start with a product-first approach, but it'll be interesting to see how this model evolves.
Encourage Customers to Use Branded Hashtags for a Shot at Getting Featured
Many users like tagging #glossier because the products look very Instagrammable. The pink bag that looks like bubble wrap that the products come in became so popular that at one point, Glossier also sold them a la carte at $12 for 3 pieces.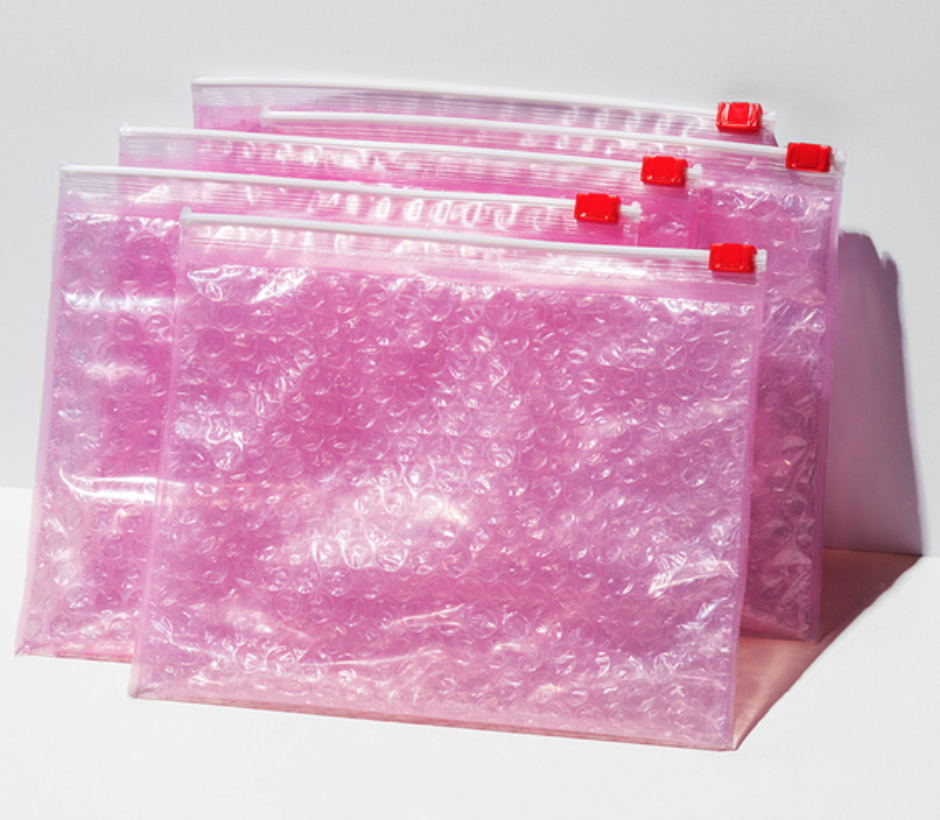 The hashtag started during the Into the Gloss (ITG) days, when the hashtag #ITGTopShelfie allowed ordinary women to be discovered and interviewed for the column.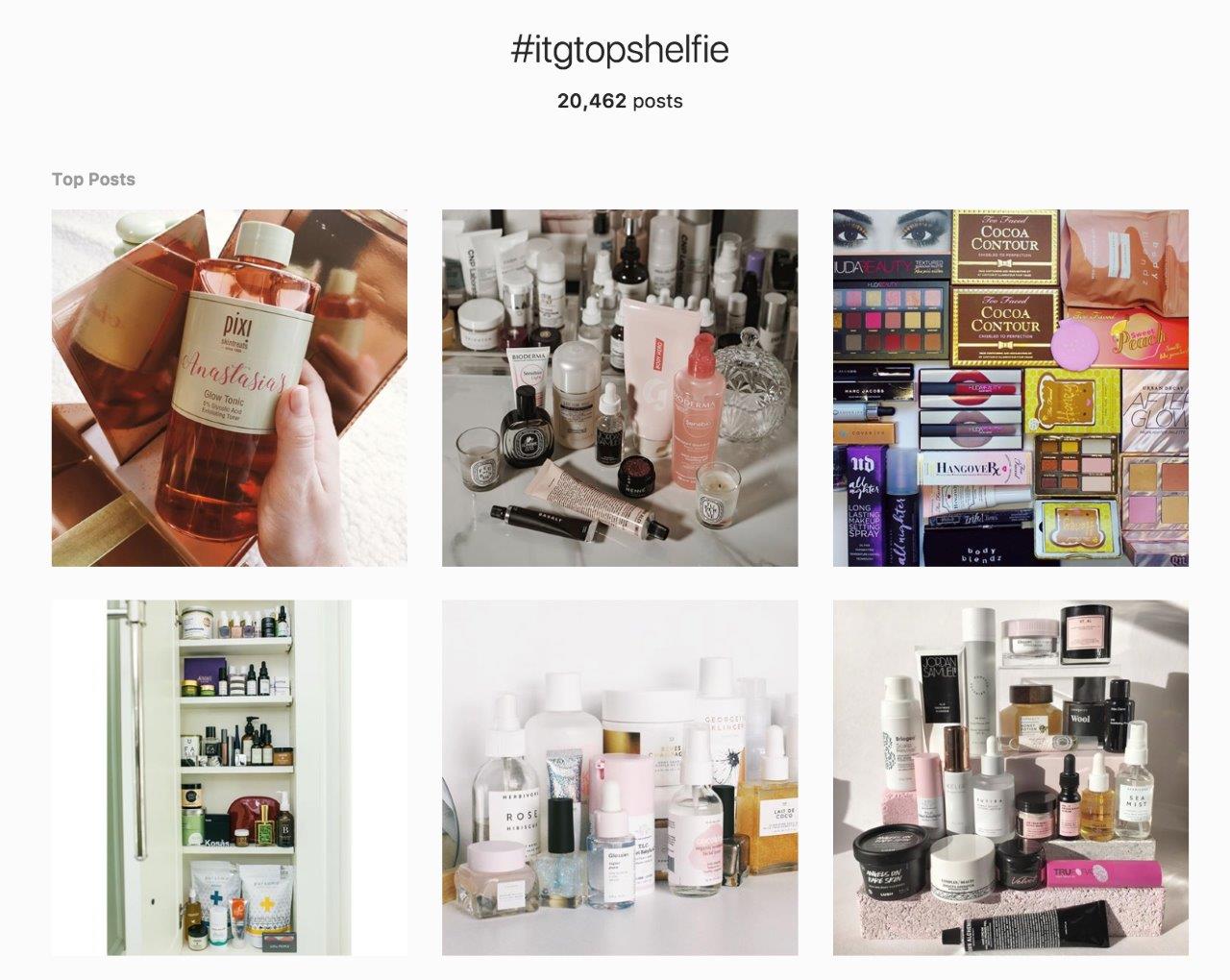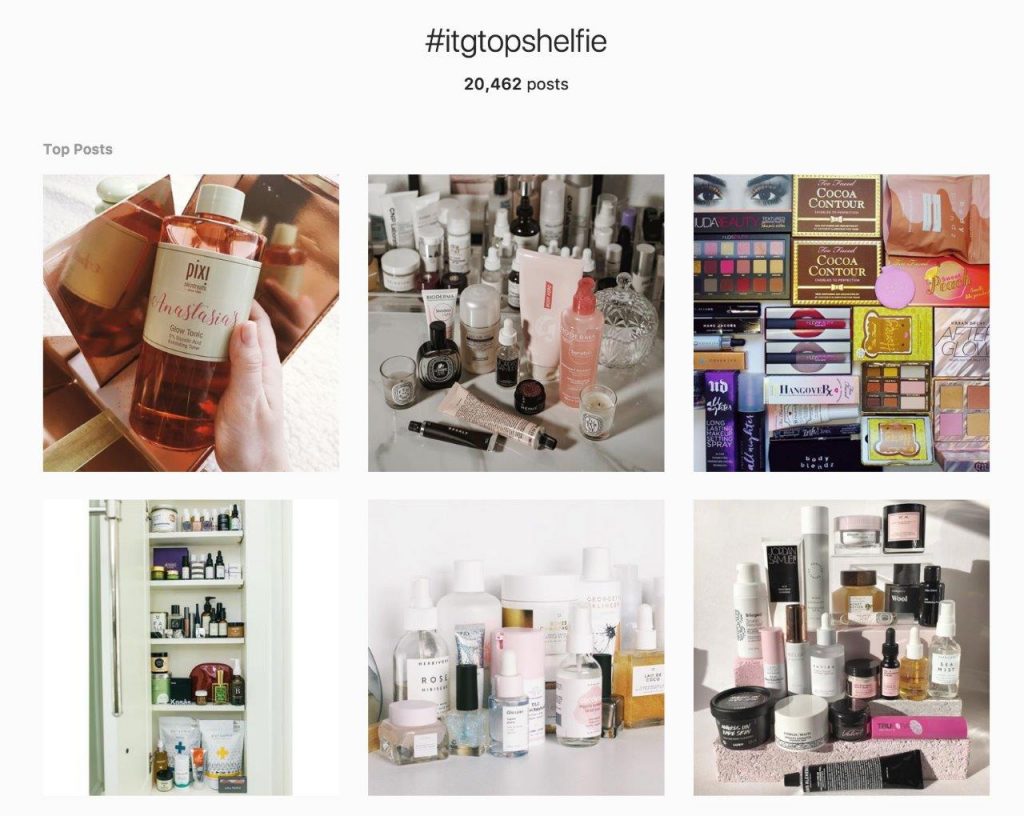 What Glossier can teach us, in this case, is the importance of a hashtag strategy. Hashtags make it easy for fans to find and share content.
It's also vital to create branded hashtags to differentiate your content from the pack.
But you don't want to rely exclusively on branded hashtags. Including generic hashtags will make your content available to a new pool of potential customers.
Leverage User-Generated Content (UGC) of Celebrities as well as Regular People
Much of Glossier's marketing has been done on social media, motivated by user-generated content in the coveted 18-to-35 age bracket.
Unofficial brand ambassadors include Karlie Kloss, who posted a photo wearing Glossier merchandise that got 27,000 likes, and Sofia Coppola, whose films serve as inspiration for the brand.
Glossier gets thousands of tagged photos a day, which the team review to find their "real girl" models.
And the Glossier Instagram page is a real pleasure to scroll through. For one, it's pretty. But beyond that, there's a sense of community and coolness, without it being snobby or exclusive. The beauty of Glossier lies in the fact that it's really for everyone.
More importantly, fans know the Glossier team look through the posts fans tag them in because they comment on them and even choose new models from the tagged photos.
The takeaway? Customers like feeling seen and heard.
Be Authentically You in All Aspects of the Brand
Unlike most major beauty campaigns, Glossier shoots photos on an iPhone rather than a DSLR camera. The phone approach makes things feel more natural, more relatable, according to Annie Kreighbaum, executive editor of Into the Gloss.
And it's true. You'll notice immediately that Glossier's photos have a raw look compared to the retouched images that have long been the norm. You'll see the brand's Haloscope highlighter on models in natural light on the Glossier website as well as in plenty of Instagram photos from users wearing it in their day-to-day lives.
The company also tends to show off new items using Boomerang and video, versus using traditional product shots, so all content has this similar, Instagram-like, feel.
This authenticity plays well with Glossier's audience, the majority of whom are millennials (18-35).
User-generated content also helps with this. Transparency is part of an authentic experience, and if users post their testimonies (even their disappointments) about Glossier freely, people are more likely to trust the brand.
Leverage Influencers and Fans to Drive Excitement for New Products
Glossier creates hype for upcoming product launches by distributing products to influencers and their loyal fans beforehand.
Some of these women aren't paid to do so, but they still create detailed videos and reviews because they love the brand.
Because of the way Glossier treats its loyal followers and influencers, everyone wants to be a Glossier girl.
The takeaway here? Build good relationships with your followers, and they will be your brand's biggest and best evangelists. You won't have to spend a lot on marketing because they will tell their networks about you.
As Weiss says,
"Every customer is an influencer."
Parting Thoughts on the Glossier Instagram Strategy
Glossier is a favorite case study for today's digital marketers as it demonstrates how a brand can grow globally with the right use of social media—specifically, Instagram.
Weiss says Instagram has helped the brand tremendously.
"A month before the site went live, we started posting photos of the products we were developing and the branding. By the time the website went live we had 15,000 followers on Instagram—and those were a lot of our first customers," she said in an interview with Telegraph.
While building an empire such as Glossier is no small feat, Weiss has demonstrated there's a lot to be gained by genuinely listening to your customers and engaging with them much like you would with a friend.
The lesson here? Don't discount the power of authenticity. The Glossier girls—and your customers—can smell phoniness from miles away.
---
Know another Glossier fan who would like this article?
Don't be selfish…HIT THE SHARE BUTTON!