Instagram, one of the most visually appealing platforms out there, is a business's new best friend.
Instagram's Statistics:
600

million monthly active users

Over

1.5 million

businesses use Instagram to tell their story

Dozens of features

4.21 engagement rate (more than

50 times

that of Facebook)  

According to

Fortune

, "users are two and a half times more likely to click on ads than on other social media platforms"

60%

of people learn about products and services via Instagram

Instagram users 'like'

4.2 bilion

posts per day

75%

of instagram users will follow a CTA after looking at a sponsored advertisement post (ie. visit a website, click a link, etc.)
But besides these stellar stats, why do we think Instagram is the best eCommerce Tool for 2017?
Recently Facebook (Instagram's parent company) has gotten serious about monetizing Instagram. And that means it is doing everything it can to bring businesses onto the platform.
Instagram just made some very strategic updates, which signal that change is coming. Businesses that can hop on the bandwagon early will have a huge advantage.
These are the 8 reasons why…
1. "Shop Now" Button
Instagram states that "more than 84% of smartphone users in the US browse, research or compare products via a web browser or mobile app."
And that's why Instagram's new "Shop Now" button, added in early November 2016, is a big bonus for businesses.  
The button allows Instagram users to have a seamless online shopping experience without switching apps.
Users can tap the post to learn more about the product and then click the "shop now" button to be re-directed to the business' website.
Currently the feature isn't available for everyone, but Instagram has teamed up with 20 fashion brands, like Kate Spade, to test it out.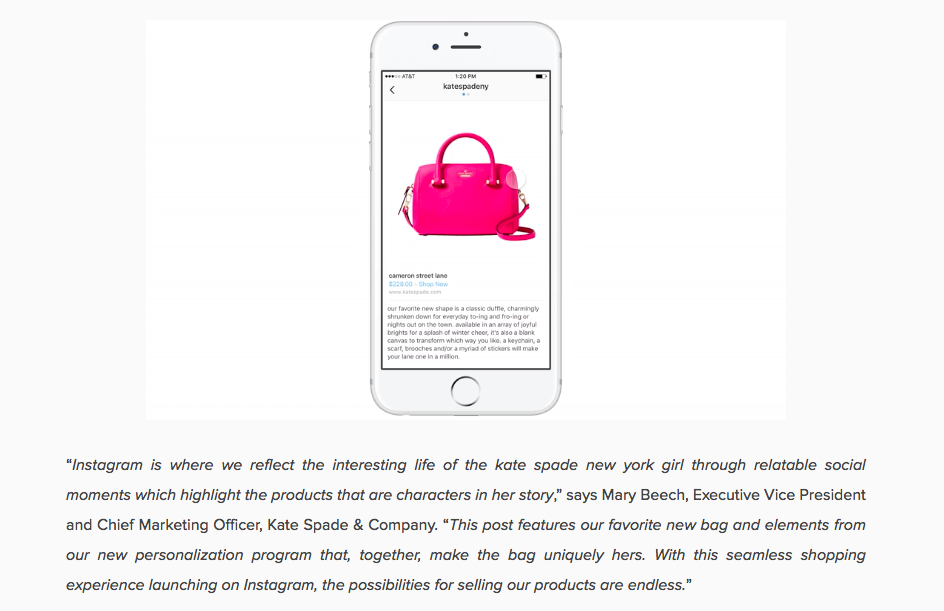 How Does The "Shop Now" Button Benefit Your Business?
Increase Sales
Users are more likely to click through to your website when it's as easily accessible with the "Shop Now" button.
2. Stories
Instagram allows business to build a story around their brand for viewers to connect and relate to.
Instagram stories add another level of intimacy and authenticity with a brand.
Much like Snapchat stories, the feature allows users to post photos and videos that disappear after 24 hours.
Snapchat vs. Instagram Stories: The Great Social Media Debate
When a story is created, a colourful ring appears around the Instagrammers profile picture where a user can then tap to see their story on the full-screen in chronological order – The user can then click to jump forward or backwards as well as "reply" to the story where the comment appears in the Instagrammers direct messages.
How Do Stories Benefit Your Business?
Behind the Scenes Content
Instagram Stories are a great way to add some authenticity to your brand.
Show what it's really like to work at your company or give your followers a sneak-peek into what it's like behind-the-scenes at your company.
Example: UCLA Athletics goes behind the scenes with their athletes to give their followers a sneak-peek of what it's really like to be the star basketball player.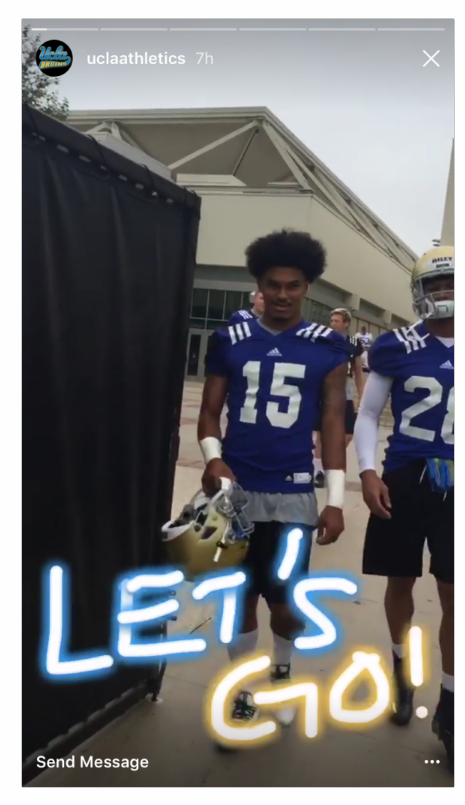 Promotion
Promoting giveaways, contests, etc., on Instagram stories is a great way to target loyal followers
Those who really enjoy your brand are likely follow you on Instagram, therefore, promoting a giveaway on your account is a sure way to reach the right audience.
Example: Pacific NorthWest Wonderland, an outdoor and adventure clothing brand, uses their Instagram story to get viewers to click on the link in their bio for a free sticker giveaway.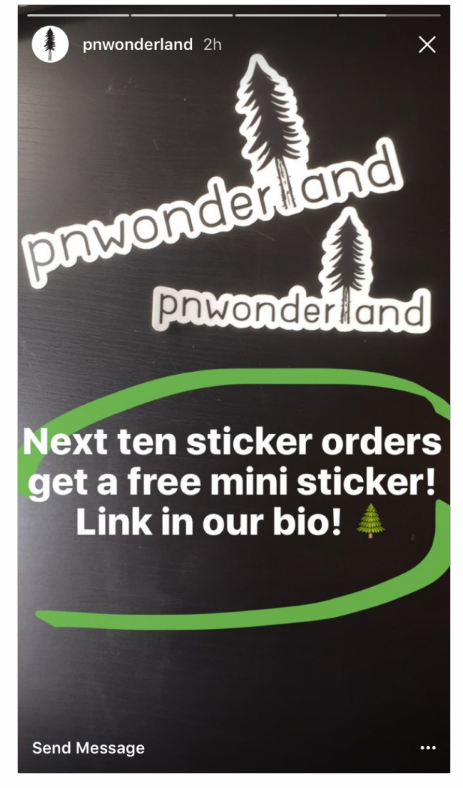 Show Off Your Brand's Personality
Instagram stories are a great way to give viewers another level of context around your brand.
For example, does your brand have a more serious or playful tone?
One of the great things about Stories is that the photos/videos can be more raw/off-the-cuff than the highly polished photos of a standard instagram post. This is another reason why they are a great way to show off a brand's personality.
Example: Bark Box, a company that delivers monthly doggy treat subscription packages, uses their Instagram story to show-off their playful side by interviewing their doggy"customers."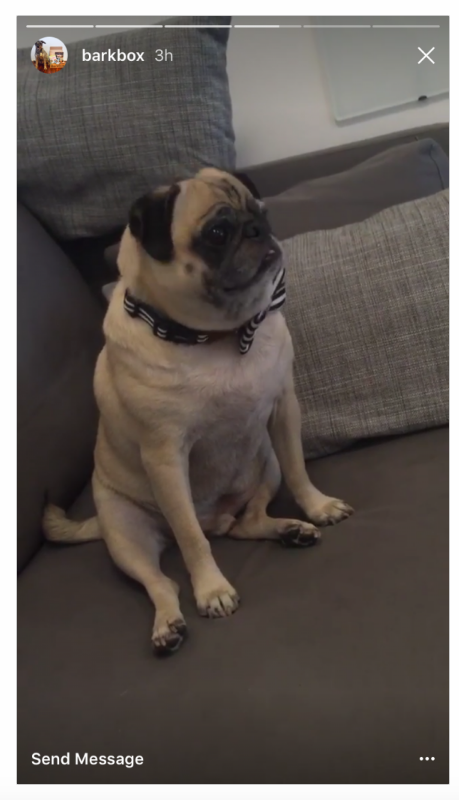 3. Linkability
Besides being able to create intimacy and authenticity with Instagram stories, your brand can also use links within stories to direct users to other Instagrammers, your website, blog, or any other relevant pages.
At the bottom of an Instagram story a "See More" option may appear at the bottom of any verified account – This is where viewers can click a link and be redirected to another page.
How Do Links Within Stories Benefit Your Business?
Conversions
With more users clicking back to your website, blog, etc., you are more likely to convert more Instagram users into customers.
More Information
Viewers will be able to find out more information on any product or service that appears in the story, providing a better user-experience for your followers.
Example: Harper's Bazaar shared beauty and fashion tips on their Instagram story with links to all the featured products.
This way users can find out more about and ,if they want, purchase the product.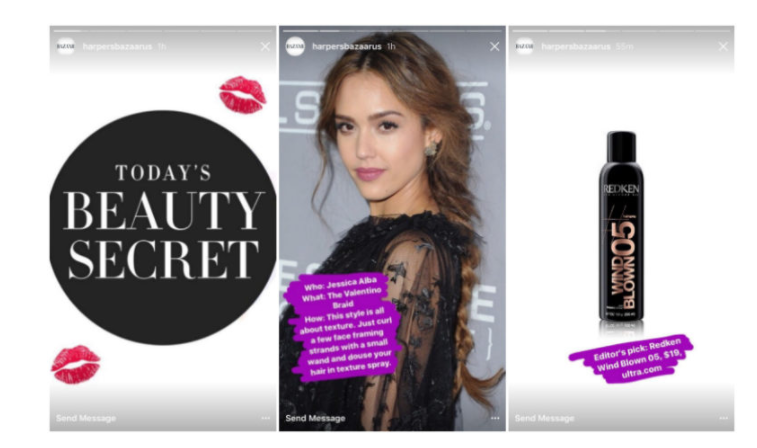 4. Influencer Marketing
According to a recent study, businesses can earn an average of $6.50 for every $1 invested in influencer marketing.
Influencers have a large impact on our lives, whether we are conscious of it or not.
Influencer marketing is growing in popularity among all businesses as is helps to increase traffic, drive conversions, and boost sales.
Marketing is all about delivering the right message to the right person and using influencers, particularly those on Instagram, are an effective way to do so.
Instagram is the perfect medium because it is extremely visual – It captures the exact moment the influencer is enjoying their "ideal lifestyle."
How Does Influencer Marketing Benefit Your Business?
Brand Exposure
Send influencers some free swag in exchange for a post about your product – This way you tap into a whole new group of relevant followers.
Example: Chanel asked fashion, travel and beauty influencer Jessica Mercedes Fisher to visit their production facilities in Grasse, France to see how Chanel makes their iconic perfumes.
Jessica then made the following post with the hashtags #newchanel5 and #chanelgrasse.
Overall, the post generated over 30,000 likes and the campaign reached more than 9 million people – A very successful campaign if I do say so myself.
Sales
If you have any sales or discounts going on, ask influencers to share the promotions with their audience for a chance to boost sales.
Example: Daniel Wellington watches paired up with various artists like David Ambarzumjan, to promote their 15% off discount that was happening in December.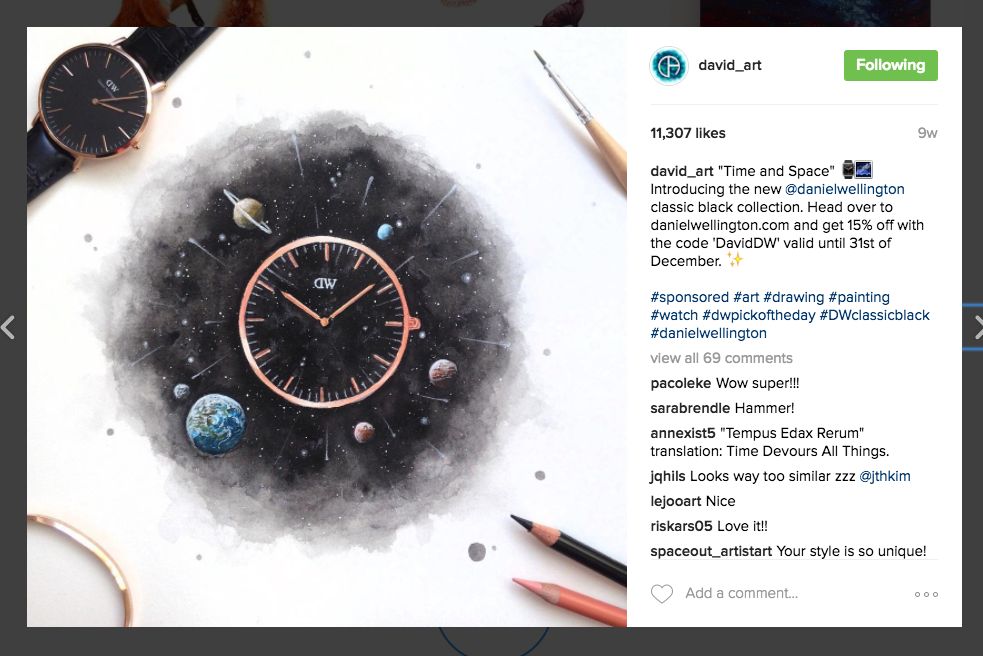 Overall the campaign helped David Ambarzumjan increase profits by 214% between 2014 and 2015.
Authenticity
Working with influencers who tell a story of the experience they had with your product or service is a great way to humanize your brand and show that you are authentic.
Example: Jordan Herschel, a landscape photographer ,paired with GoHawaii, Hawaii's official Instagram page, to share his experience in Hawaii reinforcing its killer surfing reputation.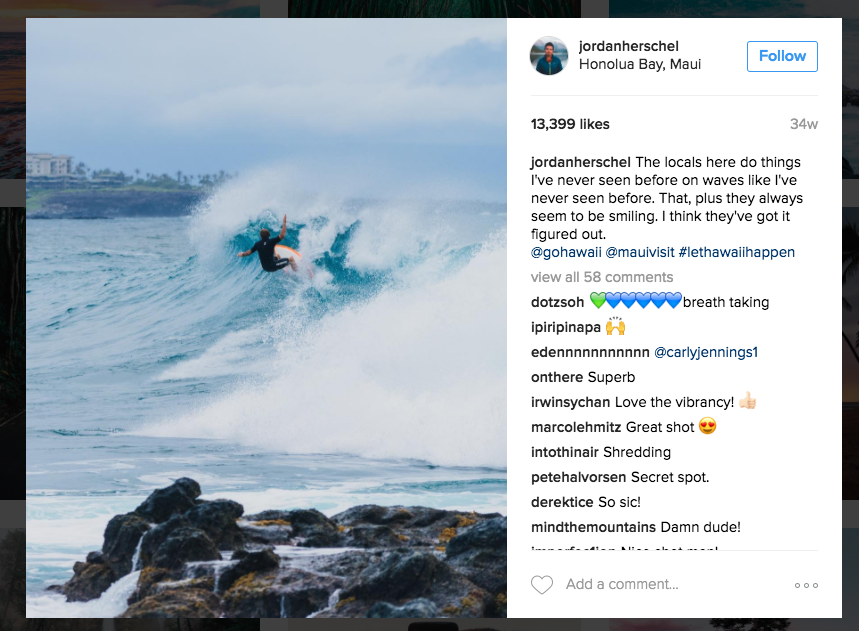 Overall, the Hawaiian tourism department was able to reach of 54 million American travellers with this kind of influencer marketing.  
5. Sponsored Ads
Sponsored Ads on Instagram allows business to reach their target audience within their budget.
You can create  photos, videos, or carousel ads (where users can scroll through multiple images), allowing for complete creative freedom.
To set up, you simply have to:
Create a business page

Set up your target audience, ad format, and objective with

Ad Manager

Determine your budget (Your budget determines how long your ads will run)

And finally, publish.
The most effective feature of sponsored ads is that Instagram uses precise targeting based on demographics, location, interests, behaviours, customer audiences (where you run ads for customers you already know), and lookalike audiences. Instagram Sponsored Ads piggyback of parent company Facebook's ad platform. This means that targeting capabilities are second-to-none in online ad world.
How Do Sponsored Ads Benefit Your Business?
Reach
Instagram's is one of the world's largest mobile ad platform, reaching over 500 million active users per month – Anyone can see that there is massive potential there.
Example: Ali Maffucci, a fitness and inspirational blogger, created a product that spirals vegetables, fruits, and just about anything you'd like to make a healthy meal.
Ali used an Instagram video ad for a Mother's day campaign to showcase her spiralizer and encourage Instagrammers to purchase the product.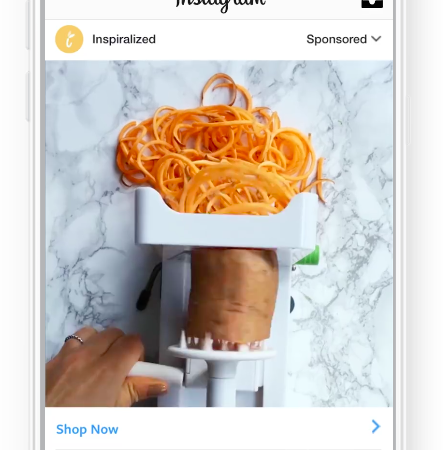 Overall, the ad was able to reach 14x the audience.
Sales
Instagram ads help boost sales by bringing awareness to your target audience about your products and services.
Example: Diamond Films, an independent film company, used Instagram video ads to advertise the movie Macbeth.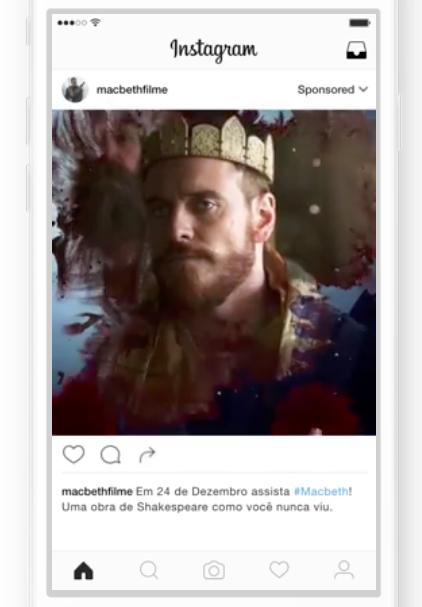 Diamond Films managed to generate 25% more tickets than expected and reach 221,000 video views.
6. External Apps
Due to Instagram's popularity, many other apps have been created to help businesses get even more out of the platform.
Example of Instagram Apps
INK361

helps marketers, analysts, and brand leaders manage their Instagram account and see how effectively their brand is engaging with their audience.

Insta-Great

lets users discover the most popular photos on Instagram.

Snapseed

is an all-in-one editing tool with red-eye eliminating, straightening, extra filters, and many more features.
How Do External Apps Affect Your Business?
By using the hundreds of supporting Instagram apps, you can (1) better manage your Instagram account and (2) boost the quality of your photos – This could lead to higher sales, engagement, and followers.
7. Instagram For Business
Instagram recently launched their "Instagram for Business Tools" so that companies can better understand their followers to grow their audience and business.
Now businesses can answer questions like:
Who are my followers?

Where can I find my target audience on Instagram?

Which Instagram posts receive the most engagement?

What time of day is best to post on Instagram?
Businesses can also promote their posts directly from the Instagram app.
Some Instagram for Business features are still 'rolling out' but click here to learn:
8. Discoverability
The Explore tab on Instagram recommends other accounts based on a user's interest – This is similar to SEO in Google – Considering the amount of money that people put towards being the top hit on Google, this new Instagram feature is likely to be just as successful.
How Does Discoverability Affect Your Business?
By having your businesses Instagram account as a top hit on the Explore tab, you are gaining access to thousands of relevant Instagram users who are likely to checkout your brand.
Wrapping It Up
With Instagram's myriad of features and simple usability, the platform helps convey a clear and concise message to its audience – A goal for all marketers.
Instagram is an important tool for all businesses to become familiar with in 2017 – It can help increase sales, boost engagement and followers, and overall help your business kick ass!