In 10 weeks I grew my dog's Instagram to over 10,000 followers.  Here's how I did it.
Now the story of four roommates in San Francisco and the one puppy who had no choice but to become Instagram famous.
You guys might not know this, but I consider myself a bit of a loner. I tend to think of myself as a one-man wolf pack.
But when my roommate Peter brought home Allie, an adorable 8 week old Siberian Husky, I knew she was one of my own. And my wolf pack . . . it grew by one.
The four of us decided we'd share responsibility for the furry little creature — a little unconventional, but also fitting.
A wolf needs a pack.
Of course the first thing we did was bring her to our roof to take an Insta.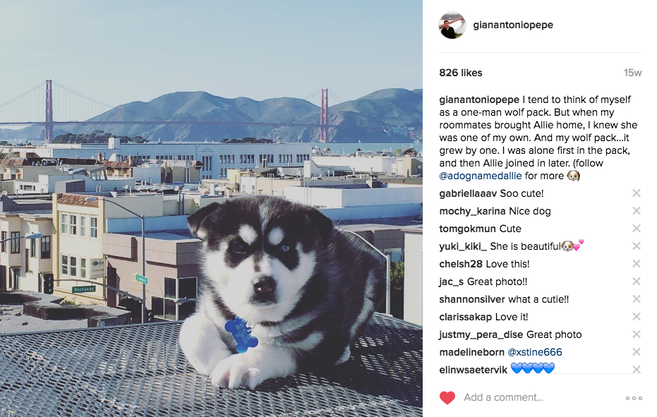 Congratulatory texts poured in:"Allie is not a strong name for that dog.""Do you know what you've gotten yourself into?"
"So when are you going to make her an Instagram?"
Right away we replied and got to work.
RESEARCH
Allie was a diva from day one.
Strutting her stuff around the apartment, wagging her tail and eating paper towels, it was obvious she had a certain je ne sais quoi.Our little husky was destined for fame . . . Instagram Fame!
A quick Insta search for Siberian Huskies led us to over 100 different puppy-centric accounts from dog lovers around the world.
The competition was fierce!
She would have to have a really special profile in order to stand out from the pack.
I perused our "competitors" profiles. When I found @thedogist's gallery of adorable pups I clicked and swiped until my thumbs tired. I noticed that the most popular Instadogs all spoke in the first person.
Ok, so we'll do that.
I found @mensweardog's hilarious profile and took note.
This puppy only posts pictures of him dressed dapperly. If we want to compete we have to specialize.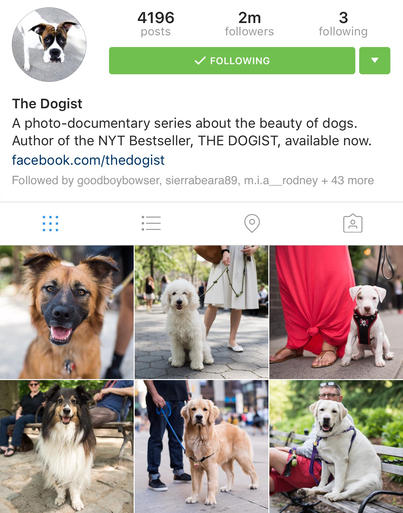 THEME
Together we brainstormed a theme for Allie's Insta.
Watching sports and sipping . . . soda, we went back and forth for hours.
Maybe we should change her name?
Allie was so … basic.
We thought about changing our puppy's name to something less generic, like Riri, or Nori, but she just was an Allie.
The Bachelorette came on.
Jojo was recounting her sob story for the umpteenth time when out of nowhere it struck me.
You know when you get one of those moments of absolute mental clarity? When the smoky haze surrounding the world suddenly lifts?
I realized that Allie was a basic name, but it suited her perfectly.
A basic name for a basic bitch. 
A basic bitch that lived in San Francisco's Marina District, a neighborhood known for it's bougie excess and frat star nightlife.
Allie's Instagram would depict this, the life of a stereotypical Marina Girl.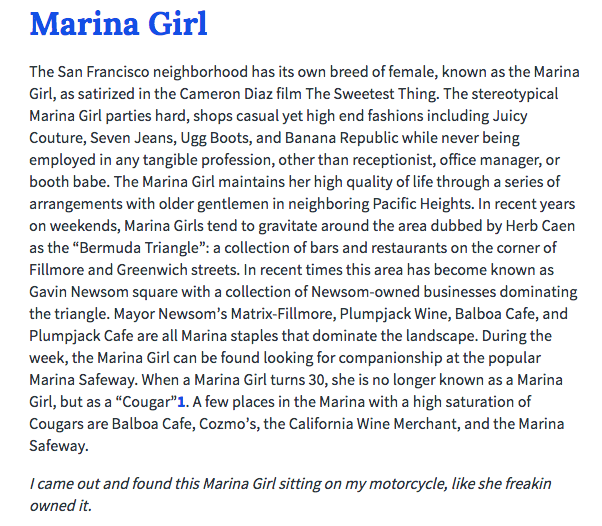 We also wanted to incorporate the wolf pack into the theme.
We gave ourselves familial nicknames.  Bentley was the father — he would have the most responsibility.  Steve was the Godfather — I'm not sure why.  Peter was her brother because they acted like they were the same age.
The rest of the usual suspects that hang around the apartment filled out the family as uncles, great uncles, and mom.
And I was the grandpa, wise and cerebral.
Whenever we posted pictures of Allie and her wolf pack, she would refer to us with these nicknames.
---
To the Instagram Marketer
(A Love Letter)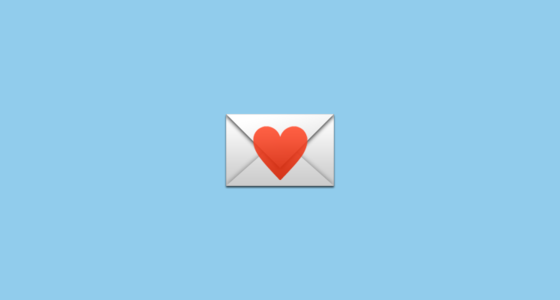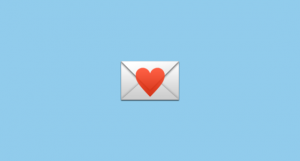 Click here to see what's inside.
---
USERNAME
We wanted a clever, creative username to go along with our chosen theme, but there was a problem; Allie is a really popular name.
All the good usernames were taken! So we had to get creative. Thankfully, there are some dog Instagram names that won't work for regular people. 
Eventually, we decided on @adognamedallie.
It wouldn't win any prizes for creativity, but at least we didn't have to compromise with underscores or periods.  
Plus, we thought it played to the irony of her basicness.
BIO
We knew that @adognamedallie's bio was crucial to setting the tone of her page.
We came up with: " Basic bitch. I enjoy walks on the Marina green, bridges, and brunch. The bags under my eyes are Gucci."
To be honest, we got a lot of mixed feedback from her bio. Some people love it, but others think it's too haughty. Allie just turns up her little nose at the haters.
"Sorry I'm not sorry," she barks.
There are some witty dog bios on Instagram–nail it, and reap the love!
CONTENT
Allie was stuck in the apartment for a few weeks until she could finish her first round of shots.
It turns out there are only so many ways you can take a picture of a dog on the same couch — no matter how cute she is.
This was frustrating, but we got through it by brainstorming content ideas for once she was free to roam the great outdoors.
As a basic bitch, Allie would post about basic San Francisco things. We made a mental list of landmarks to take her for photoshoots, and once she was fully vaccinated we made it happen.
We braved Lombard Street.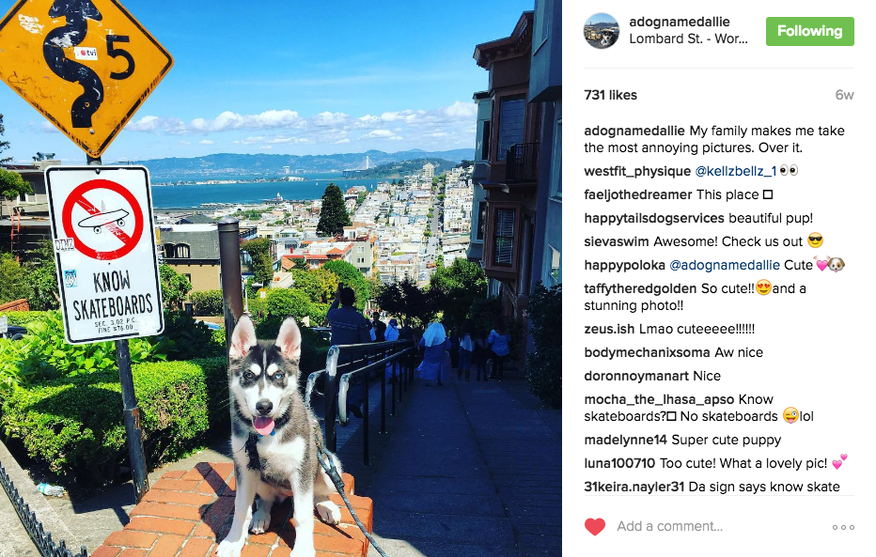 We relaxed at the beach.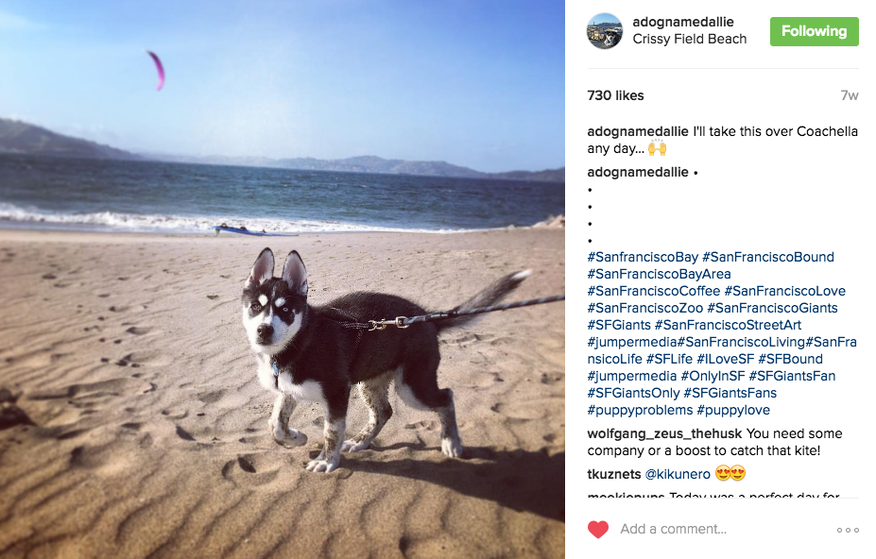 We took in some culture at the Palace of Fine Arts.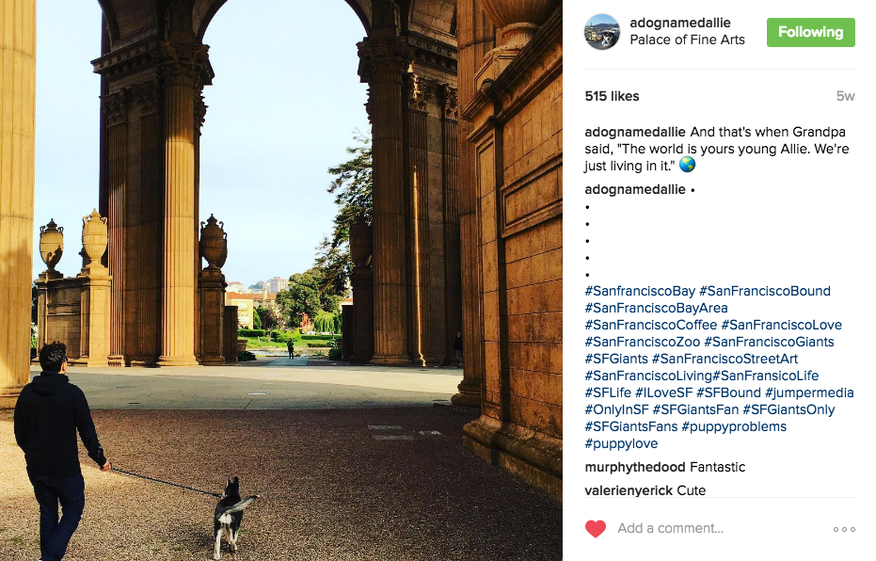 We chowed down at Off the Grid.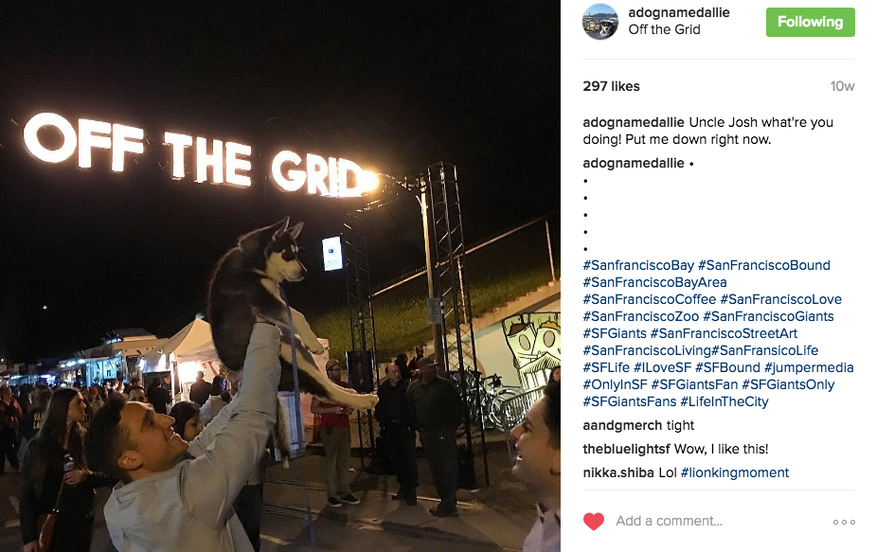 HOW WE GOT TO 10K FOLLOWERS
Allie's first post was on March 19th, 2016.  By the end of May, she reached 10,000 followers, and got that coveted "k" on her profile.  It took less than 10 weeks.

During that time Allie posted 46 times, or about 4 times a week.  Mostly pictures, but some videos.
Her 37 pictures got over 15,000 likes in total, and her 7 videos combined for 8000+ views.
ENGAGEMENT
It turns out the best way to bring attention to an Instagram account, whether its for a business or a dog, is to be super active on Instagram.  
Since Allie is still too young to have a cell phone, we each added her account to our own Instagram and started socializing.We made a list of other popular San Francisco dogs and started engaging with their followers.  
We liked pictures, commented on them, and followed them. 
Through this method estimate that we engaged with 1500 different accounts each day on Instagram between the four of us.
But taking care of a puppy, and spending all our free time staring at our cell phones took its toll, so we enlisted the help of Jumper Media and now their team does all this for us.  Phew!
They determined which Instagram users were the most "dog-friendly" and optimized @adognamedallie's engagement strategy accordingly.  
Our followers started growing exponentially, and the engagement on our own posts was insane.  Allie's first pictures were popular — they averaged over 200 likes — but once we started working with Jumper Media she started getting 500 likes on even the most mundane photos.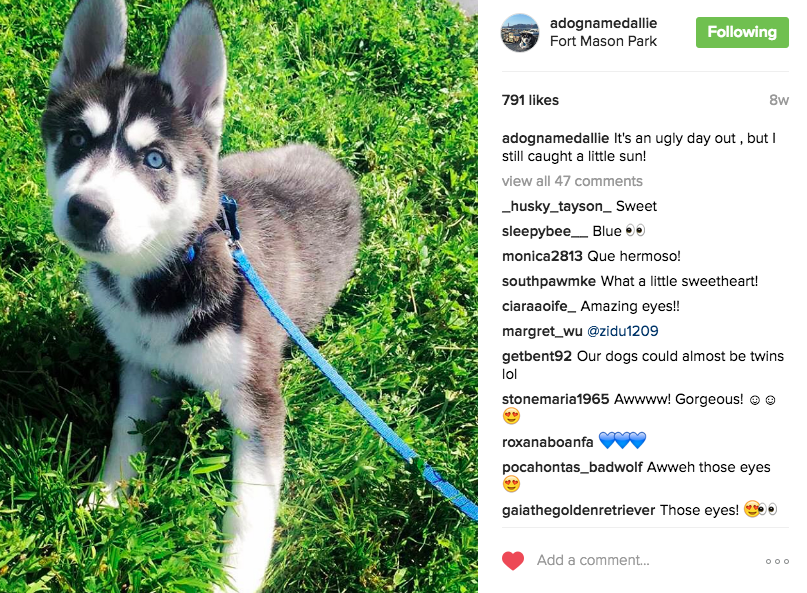 GAMING TOP POSTS
How could we use all this attention to our advantage? 
We cooked up another brilliant strategy.
We researched hashtags related to San Francisco and puppies, and found some that were about medium popular.  
We inserted these in our posts so that we could get discovered on the Top Posts page for #sanfranciscodogs for example.  
Of course, we didn't want our puppy captions to be overly-cluttered, so we read Jumper Media's Blog Post on Hiding Instagram Hashtags and followed their lead.
We ran some experiments to see how this was working, and the results were staggering.  Allie's pictures averaged over 100 new likes/photo with our new strategy for dog Instagram hashtags.
Gaming Instagram's Top Posts turned out to be easier than expected.
INFLUENCERS
How could we use all this attention to our advantage? 
We're blessed to be friends with people who are Instafamous in their own right, so we approached them with an opportunity: We'll let you borrow our dog to take pictures. You'll get tons of engagement because everyone loves puppies, and we'll do this out of the kindness of our own hearts.
Actually, we just did this to get @adognamedallie even more exposure, but shhhhh!
Overall there were 17 posts about @adognamedallie from Instagram "Influencers" (people with over 10k followers). These posts garnered 22,000 likes for the influencers, but what about for Allie? 
We tracked the lift in followers from each of these posts and found that about 0.1% of the influencer's followers would go to Allie's profile and follow her after seeing each post.
This translated to about 250 new followers in all — good, but not great. 
CONCLUSION
Does your puppy long to be an Instagram superstar? "Good luck!  Nobody's cuter than me" -@adognamedallie
Allie's a bratty teenager now, so don't listen to what she says.
It's a lot of work, but everyone loves puppies, so making yours Instafamous is totally possible and definitely worthwhile. 
Every week Allie gets a new message from a company wanting her to promote their dog products.
Leashes, treats, toys, you name it. We even won $100 from an Instagram contest.
UPDATE
As of April 2017, @adognamedallie has over 32,000 followers, and gets around 2000 likes a photo.
She splits her time between San Diego and San Francisco.