Recently Instagram has added many more exciting features for its business users.  
It's the perfect excuse to give your Instagram a facelift. Here's how:
Businesses now have the ability to add a "Contact" button to their profile, and can choose their preferred method of contact (email, text, or phone call).
The "Contact" button appears to the left of the "Following" button.
When clicked, users have the option of selecting "Get Directions" or "Email/Text/Call" – both built-in commands which encourage action and were previously non-existent on Instagram before this update.
Even without clicking "Contact", followers will also automatically be aware of the business's locale through the new clickable location link below the existing website URL.
In addition, new categories (which appear below the business name) help define your company while saving precious space in your bio section.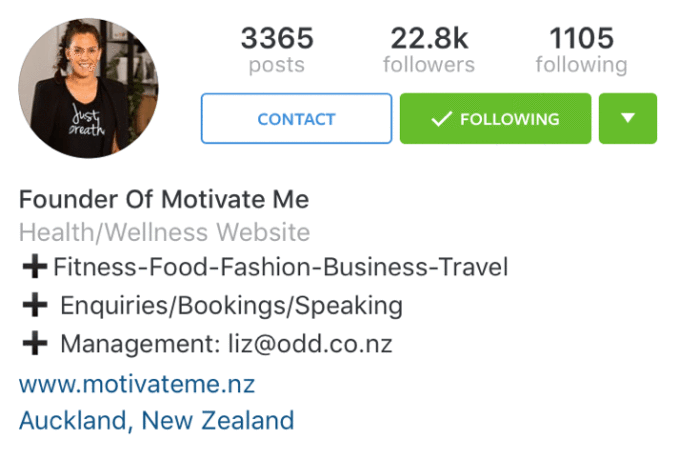 Lastly businesses are able to measure the efficacy of their posts with advanced analytics (not just likes and comments).
With the new updates businesses will have access to new data such as how many people a post reaches, how many clicks it drives to their website, and how a post compares to other comparable posts.
These business profile update sis the perfect excuse to give your account a facelift.
Take a moment to critique and re-evaluate your current profile.
Is it really representing your brand in the best light?
Here's how to make an instantly good first impression on Instagram:
1. Go Public
First and foremost, your profile should be set as "public". This is the default for any user that first creates an Instagram account, and it means anyone is able to see the photos you post.
There is an option to make your profile "private" so that only users you approve can view your feed – but this makes little to no sense for your business purposes.
Hello, the whole reason your brand is on Instagram is to be seen!
*To make your profile public: Select "Options" and make sure "Private Account" isn't selected.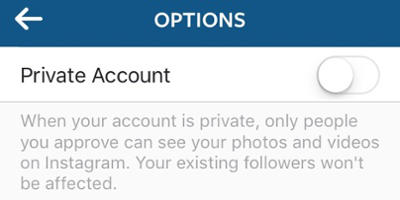 2. Rethink Your Username
Make your username (or @handle) easy to find.
Keeping it as close to your company name as possible is ideal.
This way, when Instagram users enter your company name in the search bar, the correct account will appear.
There's also a "name" section on your profile which can be different than your official Instagram username.
Again, make this as consistent as possible for your followers by simply making it your company name.
*To edit your @handle or name: Go to your profile, select "Edit Profile", and enter your new handle to the right of the person icon. Above that is a clipboard icon, where you can edit your name.
3. Update Your Prof Pic
Aside from a name, your profile photo will be the first thing anyone sees of your business on Instagram.
The more obvious the better, so it's probably best to stick with your brand logo.
If you are on other social media platforms as well, using the same image for all platforms may be a good idea, too.
NOTE: Instagram crops all profile photos into the shape of a circle, and this will be done as you are uploading the photo. Although you will be able to zoom in/out on certain areas of the photo, make sure nothing important is in the far corners, or it will be cropped out.
*To upload a profile picture: Go to your profile, select "Edit Profile", hit "Edit", and upload a photo.
4. Rewrite Your Bio
The next part of your profile users will see is your bio, a 150 character description of your business.
Make this concise yet informative!
Don't be afraid to show some personality, either – make your bio a teaser for the overall voice portrayed throughout your Instagram feed.

Your bio can also create a call to action by encouraging users to follow your account, use a certain #hashtag, or visit your website.
*To edit your bio: Go to your profile, select "Edit Profile", and enter your bio text to the right of the information icon.
5. Add/Update Your Website URL
Your Instagram profile also has a "website" section.
This is actually the only place on Instagram you will be able to endorse a clickable URL – so use it wisely.
You can change the link as often as you like, which is a good strategy to consider.
If you decide to change the URL in order to promote something, like your company blog, draw attention to this change by referring to the new link in a photo, caption, or both.
*To edit your website: Go to your profile, select "Edit Profile", and enter the URL to the right of the webpage icon.
6. Upgrade Your Content Strategy
When posting your pictures, make sure they are engagement-worthy.
Would you interact with this image?
If you personally wouldn't like or comment on the photo, you may want to rethink it. Keep your audience in mind, too, and post things that are relevant and relatable to them.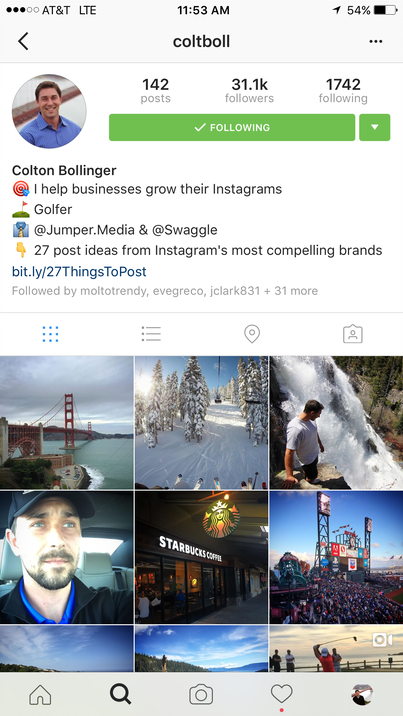 When someone first discovers your profile, they will most likely scroll through your most recent posts.
This means all pictures you post could potentially be a first impression.
Keep your camera straight, don't cut important features out of the shot, and try to snap your photos from interesting angles.
Play around with the different built-in filters on Instagram to emphasize colors or add special effects.
7. Keep Posting!
Now that you are posting phenomenal content, post often! Instagram isn't like other platforms where you need to post constantly, but showing your profile is up-to-date is still important.
People won't follow an account that seems old or inactive, so posting at least once a day is a good idea.
8. Enable Push Notifications to Stay Engaged
Once you're attracting engagement, make sure to respond to any questions or concerns promptly.
Approach Instagram with the customer service practices you would use in person, over the phone, or through email.
Do this by enabling notifications on Instagram so you'll know when people are interacting with you, especially if they need a response.
*To enable notification: Select "Options", then "Push Notification Settings", and for every category choose "From Everyone".