Instagram influencer marketing is so hot right now.
And it's easy to see why.
With the rise of ad-blocking and the looming death of TV commercials, good advertisers know that the music is about to stop playing.
And they don't want to be caught holding the bag.
Instagram, with it's over 1 billion active users sharing tantalizing images and crave-worthy videos, is the perfect platform for influencer marketing.
Influencer marketing is here to stay, and the data backs it up:
86% of women turn to social networks before making a purchase.
71% of consumers are more likely to make a purchase based on a social media reference.
57% of beauty and fashion companies use influencers as part of their marketing strategies.
The average business generates $650 for every $100 spent on influencer marketing. (Source)
So how can you stay ahead of the game, and use influencers to drive sales for your brand or business?
Keep reading to find out…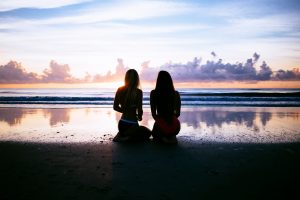 Who Are Instagram Influencers?
What is an Instagram Influencer?: An Instagram personality that has a large number of followers who are influenced by what he/she has to say.
The basic characteristics of an influencer:
Have a large number of followers

Have a large number of people listening to what they have to say

Have a large number of people who will

trust

what they have to say
An influencer can be anything from a person to a brand.
Celebrities, bloggers, YouTubers, television personalities can all be influencers.
Influencers are found on all types of social media platforms such as Youtube, Twitter, and of course, Instagram.
Why Do You Need an Influencer?
On Instagram, there are thousands of people talking about millions of subjects – and what's cool is that there are millions of people listening.
If the dorky news anchor tells us to wear Adidas we are less likely to listen than if our best friend tells us the same thing.
Why is that?
We trust our best friend more than the dorky news anchor.
Influencers are a great way to gain access to an audience that trusts what the influencer has to say. So by using an influencer to recommend your product or service, your target audience is more likely to listen.
Plus, as a bonus, you can reach a whole new network of followers and their followers' network of followers, expanding your reach.
Check out these stats by Shopify for more reasons why you need to have an influencer strategy in 2020.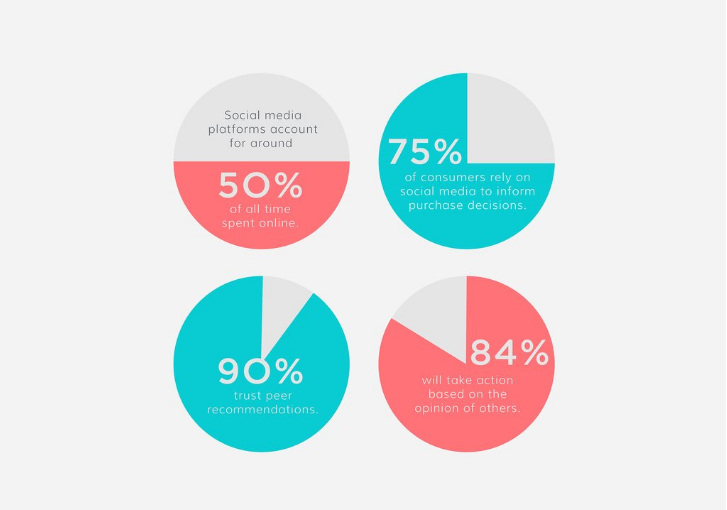 The 9-Step Beginner's Guide To Influencer Marketing on Instagram
1. Research
Take the time to learn and get inspiration from what other brands are doing.
Research your direct competitors:
Find out what works for them

What kind of content they're posting

Which posts get the most engagement
Also, research brands that are not your competitors but have the same demographic as you.
Research your own brand:
What are your own brand's roots?

What kind of story do you want to tell through these influencers?
Research tools:
Pro Tip: Keep up-to-date with Instagram's Business Blog. Instagram regularly posts new Instagram updates, features and case studies. This way you can see how Instagram benefits other businesses and apply their strategy to your own.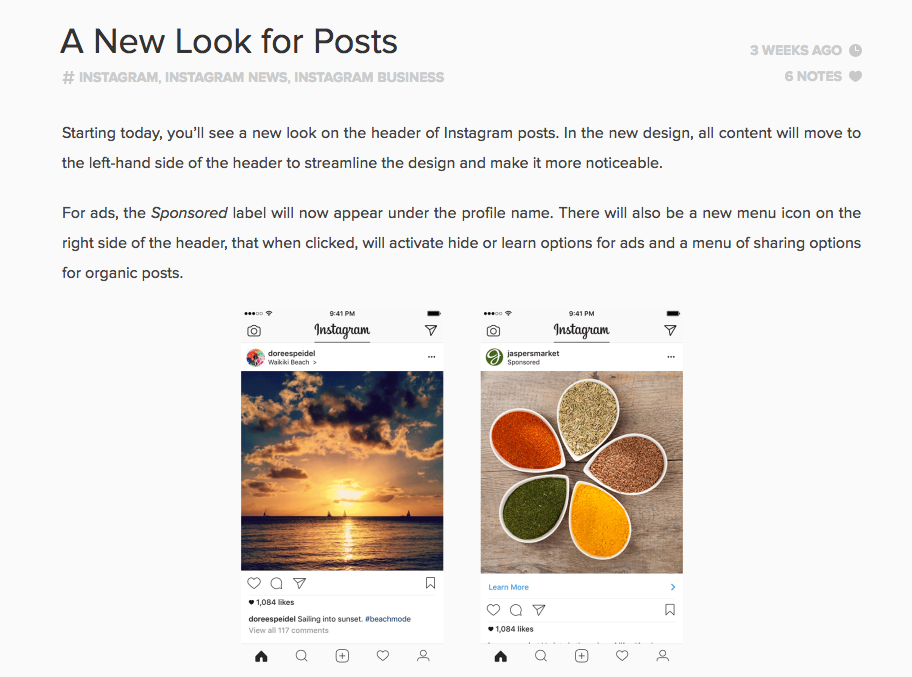 2. Briefing
As influencers have their own style and way of using Instagram, you must allow them to have creative freedom when producing content.
However, you also want to be clear with what your goals are for this collaboration.
ProTip: Use Instagram's collections feature to create a mood board that gives influencers an idea of the kind of aesthetics you want for the post.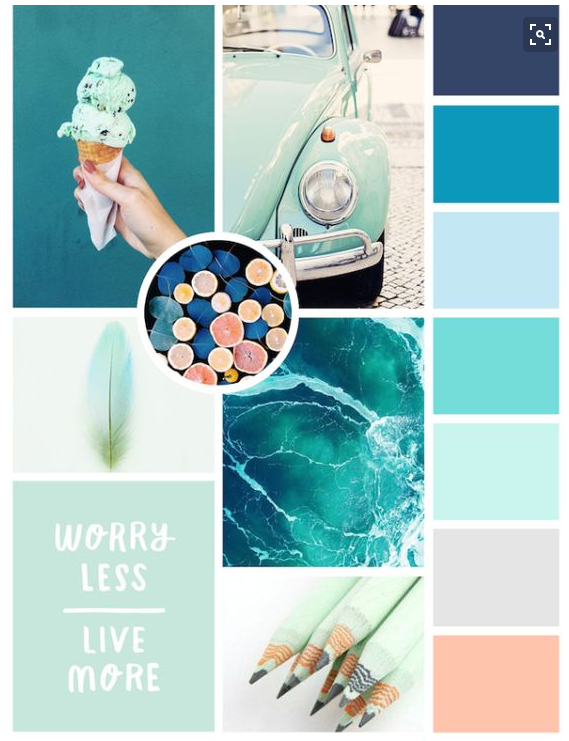 3. Choose Your Influencer
Your goal of using influencers is to engage a whole new audience that otherwise wouldn't know about your brand.
If you're in the fashion industry but choose someone in the food industry to create a post for you, you're not targeting the right audience.
So choose your influencers wisely and search for accounts that are relative to your niche.
ProTip: Try the new Brand Collab Manager from Facebook to find relevant influencers
4. Reach out
If you found the perfect influencer for your company then there is a high chance that your competitor also found them.
Follow these tips so that your influencer can't say no.
The Pitch
Send your influencer an email as many influencers will have their email address in their bio. If they don't have the email address in their bio then a Direct Message is probably the best route, etc. with the following tips in mind:
Keep the subject line short:

If your subject line has more than 5 words, the influencer is sure to put it in their junk mail. Ain't nobody got time for that!

Make the pitch personal:

For goodness sake, do some research! Make your pitch personal so that the influencer knows that you really care and understand what they're doing.

Keep the pitch short and simple:

Like the subject line, you want your pitch to be simple and to the point.

Offer something in return:

These guys are getting offers from thousands of companies so make sure you compensate them with something that you know they want, whether that means more money or free swag. Don't forget to include their payment in the pitch.

Be yourself:

Most importantly, be yourself! Influencers are going to want to work with authentic brands that are their style. So show-off who you are and what you do!  
Follow up
Remember that your influencer might not answer right away or may even say no the first time.
The key is to stay persistent and consistent!
ProTip: Already sent a follow-up email? Try reaching out to an influencer in other ways, like sending them a direct message on Instagram, liking their last post and following their page.
---
The Influencer Outreach Playbook
DM and Email Templates from 16 Brands that do Instagram Marketing Better than You
Use our "Influencer Outreach Playbook" to copy the exact words and phrases that brands like Lyft, Ulta Beauty, and SodaStream use when they slide into an influencer's DMs.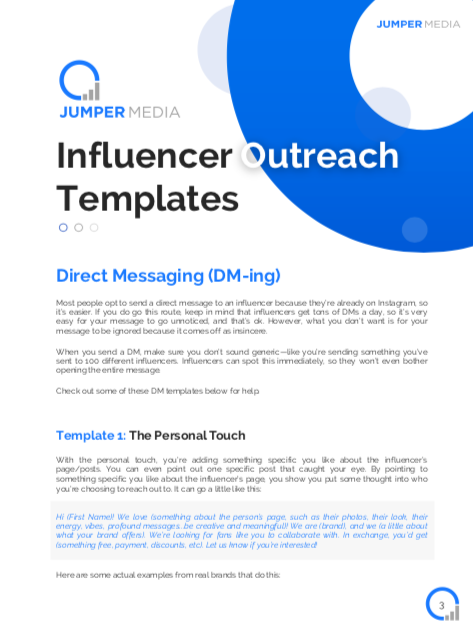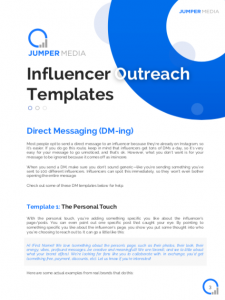 DOWNLOAD THE TEMPLATES FOR FREE
---
5. Build Relationships
Build a genuine relationship with your influencers.
If an influencer has a real relationship with you and your brand then their Instagram content will come off as genuine.  
Their followers will feel the same authenticity as the influencer and think "wow she really loves that product. It must actually be great." Once you've worked with an influencer, it is much easier to work with them again. Businesses and brands that get the best results from Influencers develop long-term relationships with the ones that get them the best results, continuously sending them new products to drive sales.
6. Make a Plan
Go over the plan with your influencer.
Cover elements like:
Timeframe:

When would you like to have the content posted by – Is there an event happening in January so you need the content posted by December?

Content:

Be clear about what you want from your influencer. Outline any descriptions, tags, hashtags, etc. that you would like mentioned in the post.

Payment:

You may be able to negotiate the price with your influencer depending on how high in-demand they are. Suggest a fair price that takes into consideration content creation, usage rights, and access to their audience.
ProTip: Write out a contract so that both parties know exactly what they have to deliver and when. Then use a marketing automation tool like Shirley to hold them accountable.  
7. Maximize Your Content's Value
Re-post on Instagram
Re-post and mention your influencer on your brand's Instagram account. This way you are also hitting your current audience and helping out the influencer by giving them access to your followers.
Re-post on all social media
Re-post your content on Facebook, Twitter, and whatever other social media platforms you use. You are only increasing your reach by doing so.
Analyze and measure
Track the results of your influencer marketing efforts on Instagram.
This isn't the easiest task because it's difficult to see the direct relationship between the engagement the post receives and actual sales.
But Instagram is evolving to make analyzing results easier for businesses.

For example, the "Shop Now" button allows Instagram users to be directed to a product's website right from the app. Furthermore, Instagram for Business, which will be available for everyone soon, features analytical tools that help track posts.
8. Use Micro-Influencers
If you really are just starting out on influencer marketing on Instagram then it's likely that you can't afford the big influencer names.
However, this is good news for you because as it turns out, the more followers an influencer has the less engagement a post actually receives.
Influencer marketing platform Markerly did a survey with 2 million social media influencers and found that accounts with less than 1,000 followers had an engagement rate of 8% while those with 1,000-10,000 followers has a rate of 4%.
So if you can't afford top influencers don't worry! Use influencers with 10,000-100,000 followers and still make a difference in your reach.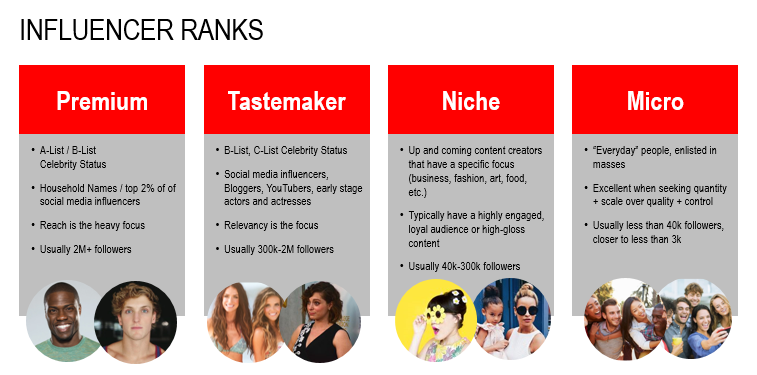 9. Learn from the pros: Instagram Influencer Case Studies
BirchBox
BirchBox, a company that delivers monthly beauty product samples to subscribers, partnered with lifestyle blogger Emily Schuman who runs the blog Cupcakes and Cashmere.
Emily was the perfect candidate for BirchBox to reach out to since she has over 350,000 followers and runs a blog that focuses a lot on beauty.
Emily posted 5 different photos which, all together, received over 18,000 likes and reached over 550,000 consumers!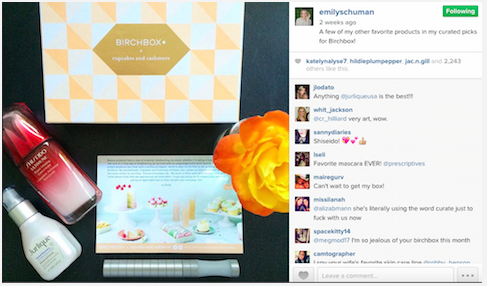 Birchbox also paired with the founder of Jouer Cosmetics, Christina Zilber, to take over their Instagram account on Mother's Day.
Christina posted 4 photos about her day-in-the-life as a Los Angeles mom.
Birchbox and Christina also took advantage of the takeover and created contests where participants had to comment their best beauty tips for moms.
The results? 1,135 user-generated posts and a huge increase in engagement on Mother's Day.
ProTip: Plan an Instagram takeover with an influencer that will also benefit from the collaboration. That way they won't mind spending the day focused on your Instagram account.
Boxed Water
Boxed Water collaborated with influencers Jaime King and Megan DeAngelis (both with over 1 million Instagram followers), to spread the word about their philanthropic campaign with the National Forest Foundation.
The campaign labeled the Retree Project, involved Boxed Water planting 2 trees for every Instagram post with the hashtag #Retree.
Currently, they have planted over 500,000 trees. That's over 250,000 Instagram posts!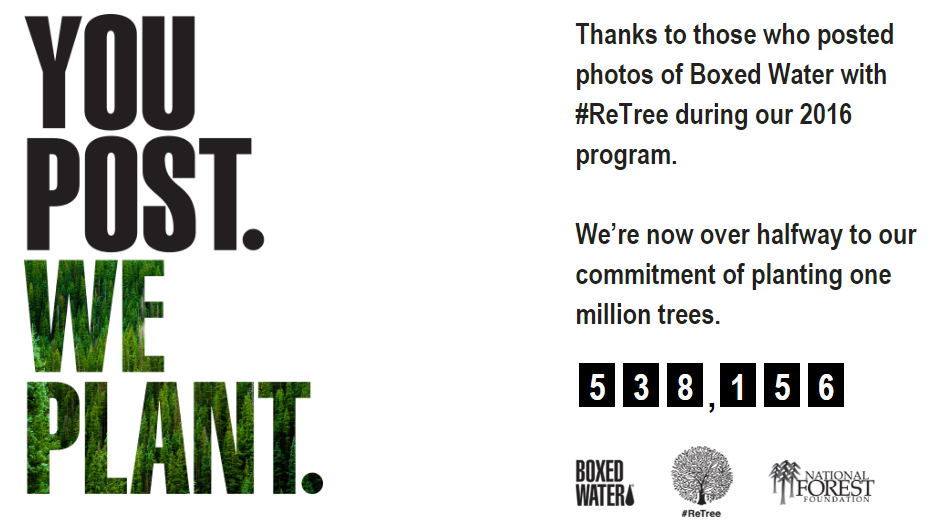 ProTip: Reach out to influencers that have similar values and support similar causes.
To Wrap It Up
The idea of influencer marketing on Instagram is to get out there, meet the lovely, creative people on Instagram, expand your reach, grow your business and have fun while doing it!
9 Steps To for Finding Influencers on Instagram:
Research

Briefing

Choosing Your Influencer

Reach Out

Build a Relationship

Make a Plan

Maximize Your Content's Value

Consider Micro-Influencers
Learn from the pros
Dear Influencer Marketing Managers, have you met Shirley?
Shirley is the world's first influencer marketing automation platform. Save dozens of hours by automating the busy-work, such as:
– Keeping track of whether your influencers posted yet or not.
– Reminding influencers when they don't post.
– Saving influencer posts and stories.
– Automating e-commerce shipments to influencers.
(And that's just the tip of the iceberg.)
Try Shirley for just $49 for a limited time.