Influencer marketing has exploded.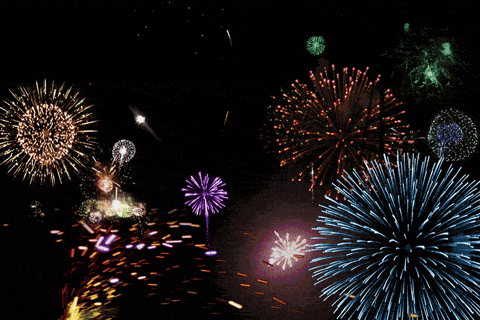 89% of marketers find their ROI from influencer marketing is better or comparable to other marketing channels, while 63% of businesses intend to increase their influencer marketing budget over the next year.
An effective influencer marketing strategy boosts sales figures, as well as growing leads and enhancing brand awareness.
If you're new to influencer marketing or are planning on restructuring your marketing strategy, these influencer marketing examples may inspire your next campaign.
Our round-up of the best influencer marketing campaigns includes examples that are successful, not just in terms of conversion rates, but also in creativity, and include a diverse range of influencers.
Ready for some marketing inspiration?
Let's dive in!
12 Of The Best Influencer Marketing Campaigns
Influencer marketing aims to use highly engaged social media users who are considered specialists in their niche. These users have influence over their audience and can help you to market your products to them.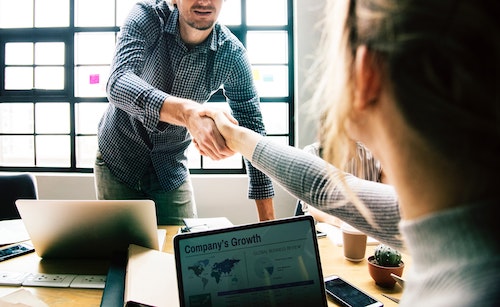 When devising your influencer marketing strategy, it's important to consider:
Influencer reach

– What type of engagement does the influencer have? How many followers?

Demographic

– Is the audience in the same demographic as your target buyer?

Niche expertise

– Is the influencer an expert in your sector?

Appeal

– Is the influencer well-liked? You don't want a controversial figure or known for any negativity.
1) YSL Beauty
YSL worked with a range of influencers to create their own content around Coachella. Because this popular music festival is aimed at a young millennial audience–the same type of audience YSL beauty aims for–it was a smart collaboration. 
YSL used influencers including Bonnie Strange to expand their brand awareness on an international level: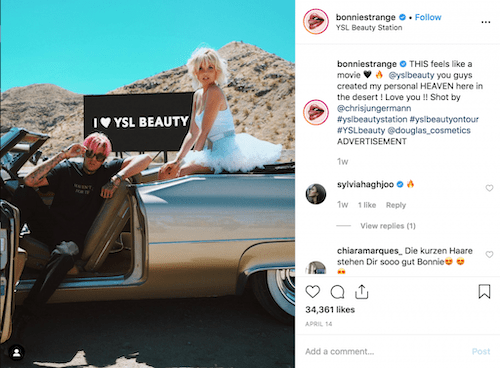 Source
2) Levi's
Another brand using the Coachella festival and influencers to promote their products is Levi's. 
In this case, Levi's used model Hailey Bieber to sport their clothes at a pop-up and earned 2.5 billion media impressions during their time at the 2017 festival, proving working with influencers can massively increase brand exposure: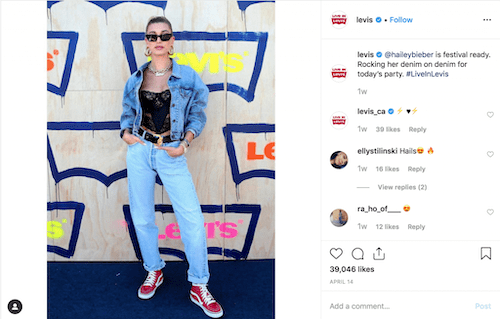 Source
3) Natural Life
Brand giveaways like Natural Life working with influencer Angi Fletcher can enhance brand awareness: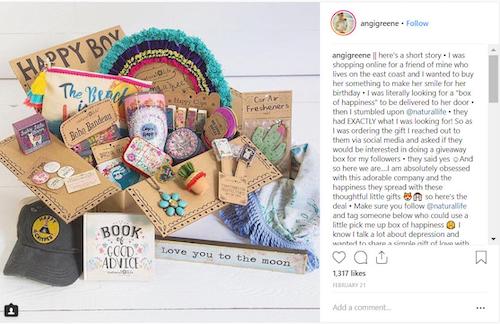 Source
These types of influencer marketing campaigns can be a win for both parties, whether you're working with small or large influencers. You may offer a free product or pay a fee in exchange for the influencer hosting a giveaway on their account.
A contest may get the audience to participate by following your brand account, tagging additional users and engaging with your brand, such as signing up to a mailing list.
These activities can significantly aid the promotion of your brand and products, as well as growing your leads.
4) Dee Muesli
Dee Muesli worked with food influencer The Little Plantation to create original recipes using their products.
In this case, this type of content inspires the audience to create their own gluten-free breakfast muffins using the influencer's recipe.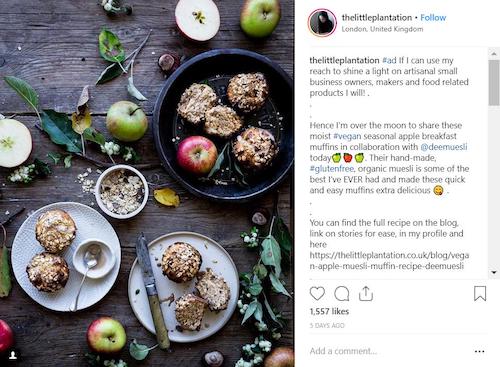 Source
Using creative content in the food niche demonstrates how a brand's product can be used to create delicious dishes, boosting brand awareness and trust – if a favorite food influencer is using a particular product, then surely it must be high-quality.
Even small businesses can use this type of content to promote their products, simply by using influencers who are able to create their own recipes and boast stylish photography to share their creations.
5) Glossier
Beauty brand Glossier began life as beauty blog 'Into The Gloss,' and founder Emily Weiss has grown Glossier into a billion-dollar brand, but social media has played a part in its growth.
Glossier regularly gifts influencers free products to promote on their social channels. Additionally, they have worked with makeup artist Katie Jane Hughes in product development. Hughes shares Glossier products on her Instagram: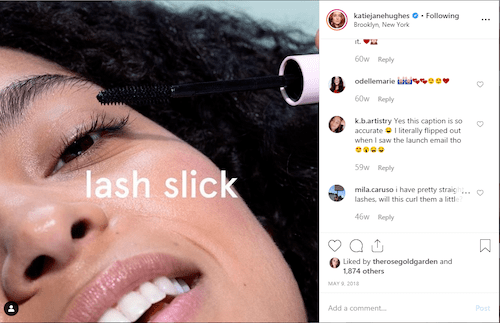 Source
However, at the start of their marketing journey, Glossier formed a network of 'Glossier girls' to act as brand ambassadors, sharing new products with their followers.
Nano-influencers such as Cecelia Gordon have promoted Glossier, demonstrating that brands don't always need influencers with millions of fans.
Glossier previously invited 13 social media influencers to New York for a 2-day trip. Despite only having about 1000 followers each, these types of influencers have been crucial in helping the brand to grow. Between 2015 and 2016, Glossier exhibited a 600% growth.
Your brand can incorporate influencer event ideas on a small scale. Nano-influencers in particular, users with around 1000 plus followers, tend to have high engagement rates, leading to better conversion rates for your business.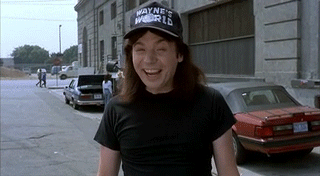 These influencers are also likely to be willing to collaborate on sponsored content for less money than huge influencers. Working with nano-influencers can be ideal for small businesses with lower marketing budgets.
On many occasions, influencers may also be willing to work for free products in lieu of payment for their promotional content on social media.
---
Manage Your Influencer Marketing Campaigns in Just a Few Easy Clicks.
Shirley is here to simplify the process for you!
---
6) ASOS
Fashion brand ASOS use influencers, or 'ASOS insiders,' to promote their brand on social media. ASOS insiders publish posts of themselves wearing the brand, and include links to products so their audience can purchase them.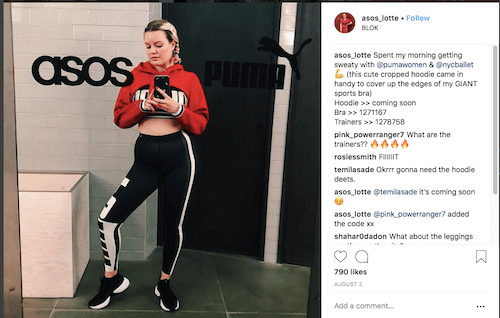 Source
They use a mix of micro-influencers with varying styles. These influencers promote ASOS on a range of platforms, including Instagram, Twitter and Pinterest.
This type of marketing campaign focuses on long-term engagement and organic followers to increase sales and brand awareness.
Working with the right influencers for your brand is essential. 
Using influencers with high engagement is effective in producing conversion rates to fit with your goals. Identify potential influencers for your marketing campaigns by analyzing niche, reach and hashtags.
7) GAP
GAP's Styld.by campaign had well-known social media influencers from blogs, such as Refinery 29, demonstrate how they wore GAP clothing.
Their audience can then 'shop the look' by clicking the links to product pages placed in the captions of social media posts.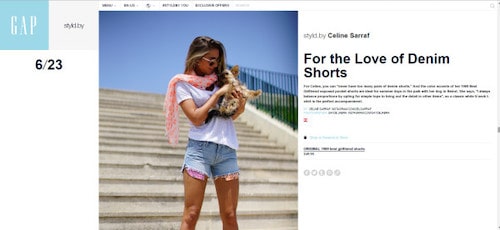 Source
Using well-known influencers in this type of creative campaign was highly effective in promoting brand awareness, as well as increasing sales.
Even smaller fashion brands can use this tactic. Demonstrating how to style fashion items makes them more accessible to an audience. If you have a small marketing budget, micro and nano-influencers in the same niche can be lucrative to work with, thanks to their high engagement.
8) Hello Fresh
Recipe box delivery service Hello Fresh nailed it with influencer marketing. Hello Fresh regularly works with food and lifestyle bloggers on sponsored content.
They've also used celebrities, such as Mandy Moore, to promote their brand: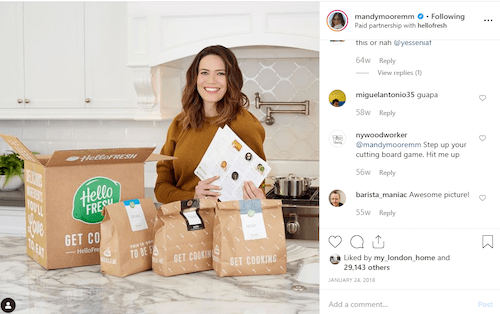 Source
This post has over 29,000 likes. While using a celebrity may not be in your marketing budget, using branded hashtags is a strategy you can get on board with.
The hashtag #hellofreshpics has over 150,000 posts on Instagram. Influencers use this hashtag, helping to encourage their audience to share their own images via social media.
9) eBay
Working with influencers on contests can be a great method of getting your brand name out there.
eBay partnered with several international influencers on their #fillyourcartwithcolor marketing campaign.
This campaign featured several brand ambassadors, in addition to offering Instagram users the opportunity to win gift cards in exchange for likes.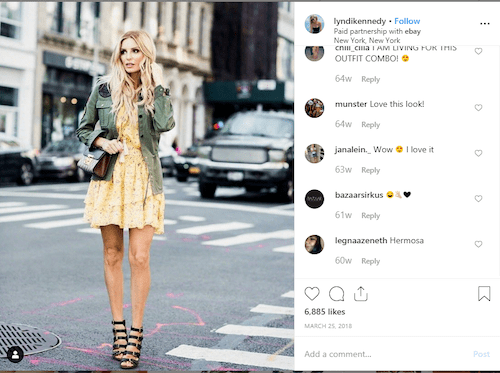 Source
Over 340,000 users engaged with eBay's campaign, which asked users to fill their carts with color to showcase their unique personalities.
This international marketing campaign demonstrated that people respond well to contests, especially when free goods are on offer.
10) American Express
Social media is well-known for being a window of aspiration. American Express worked with luxury lifestyle influencers on their #AmexAmbassador marketing campaign to make it more glamorous.
Influencers traveled to France, Bali, and Indonesia to inspire those who wish to travel to glamorous destinations.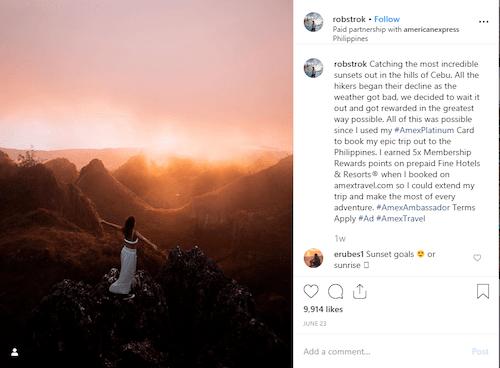 Source
American Express aimed to demonstrate a hassle-free way to travel.
Working with luxury travel influencers who post idyllic imagery encourages their audience to experience similar adventures.
11) Walmart
Showcasing a charity initiative is a great way to humanize your brand. Walmart worked with influencers on the #fighthunger campaign to boost brand awareness and sentiment.
For every user who supported, Walmart donated 100 meals to food banks.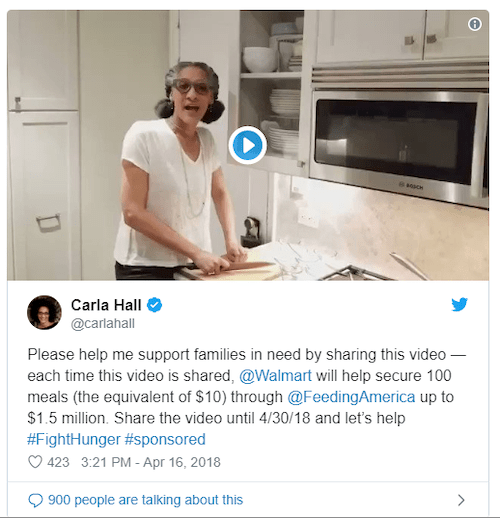 In just one month, Walmart achieved 89,000 engagements. They did this by using relevant influencers in the food sector, helping them to raise more funds for meals in addition to their marketing goals.
12) BH Cosmetics
Many beauty brands have launched product collaborations with social media influencers.
BH Cosmetics launched a makeup palette in collaboration with YouTuber Carli Bybel.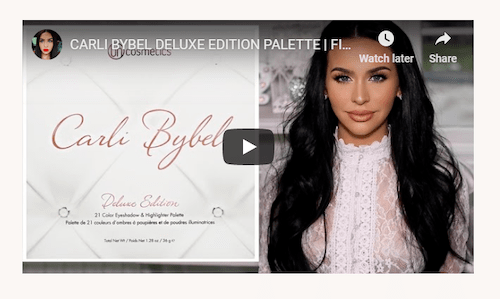 Source
Bybel has over 6 million subscribers on YouTube and 5 million followers on Instagram.
Collaborating on limited-edition products with influencers in your niche can significantly increase sales and brand awareness.
Similarly, beauty brand Morphe worked with beauty influencers James Charles and Jaclyn Hill.
Influencers are often either given an up-front fee and/or a percentage of product sales.
Small businesses may not have the budget to work with the very top influencers, but collaborating with smaller influencers on products can still have a positive impact on your brand, especially if the influencer has a high reach and engagement rate.
Influencer Marketing Campaigns Can Create Huge Returns
Working with social media influencers can reach your target audience and drive engagement.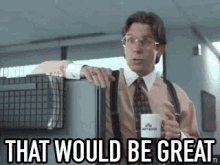 If you're looking to increase sales, build trust and boost brand awareness, influencer marketing campaigns can drive your business forward.
No two influencers are the same, and even those with similar audiences may produce very different results. Remember to do your research thoroughly when searching for influencers to work with, and note that those with huge followings may not necessarily be the best to work with.
Choosing the right strategy and influencer will have a remarkable impact on your marketing strategy. Checking potential collaborators' analytics for reach and demographics can add credibility to your choice of influencers to work with.
Are you working with influencers? Share some of your bets campaigns below!