The travel and hospitality industry is highly visual. There are so many features to show off, both within your hotel and outside it, from the rooms to the façade to the surrounding towns and vistas. Evoking wanderlust through photography makes social media, especially Instagram, such a good choice for marketing.
But you have to say more than, "Hey, I'm pretty to look at," in your social media posts if you want viewers to take a second look, check where you're located, click over to your account…
In this article, we're going to share 19 ideas and tips for showing off your hotel on Instagram and Facebook. We're also going to give you a little extra advice about how to reach millennials through hotel marketing on Instagram.
First, though, let's quickly go over the golden rule of hospitality marketing on social media:
Focus on personality, not prettiness.
This industry is one with endless competition. The world has countless gorgeous hotels and stunning views. They're wonderful. And they're a dime-a-dozen.
Always remember that people are used to seeing travel content. They like it, but if they scroll by yours, there's bound to be another photo or video in a minute or two.
The solution? Show off your property's personality. Travelers have a general idea of what they want from a vacation, but it's hard to picture the subtle details of the experience. Show them what they can't envision on their own.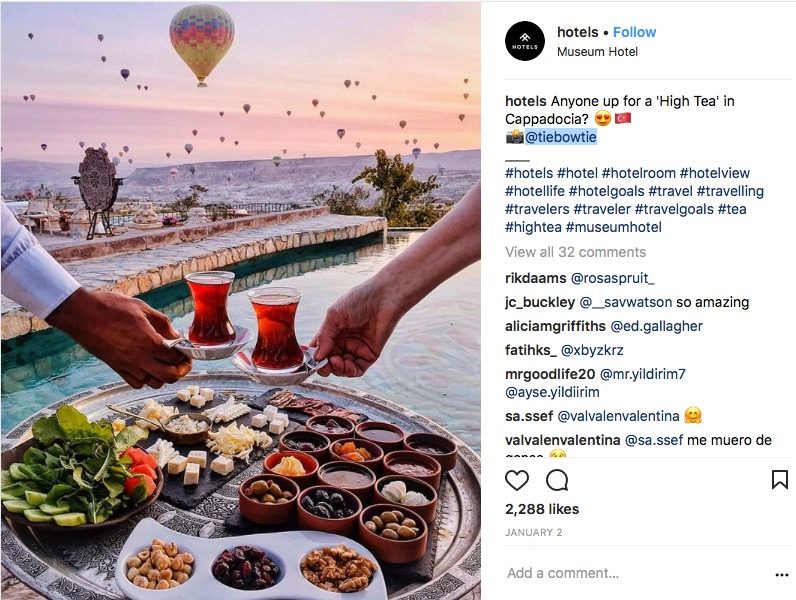 You can practically taste that tea at the Museum Hotel in Turkey.
Standard hotel shots are fine, even necessary, but you shouldn't build an entire feed on them. Include guests moments, too. (This is where curated content comes in, since you won't actually be in the room with them and staged shots look too, well, staged.)
Next, we'll go over a number of ideas and tips for marketing your hotel on Instagram and Facebook.
Social Media Marketing for Hotels: 19 Post Ideas and Tips
These ideas and tips for posting on Instagram and Facebook will help you showcase your hotel's distinct appeal, connect with the locals who will drive a lot of foot traffic to your business, and act as a travel guide for visitors.
1. Appeal to the modern traveler.
Today, there are a lot of people who are bouncing from country to country as part of a nomadic career. These people need a space to get their work done so they can actually enjoy their stay in your locale. By showing their shared workspaces for their guests, Hotel Miami is bound to attract people who are in town for both work and play.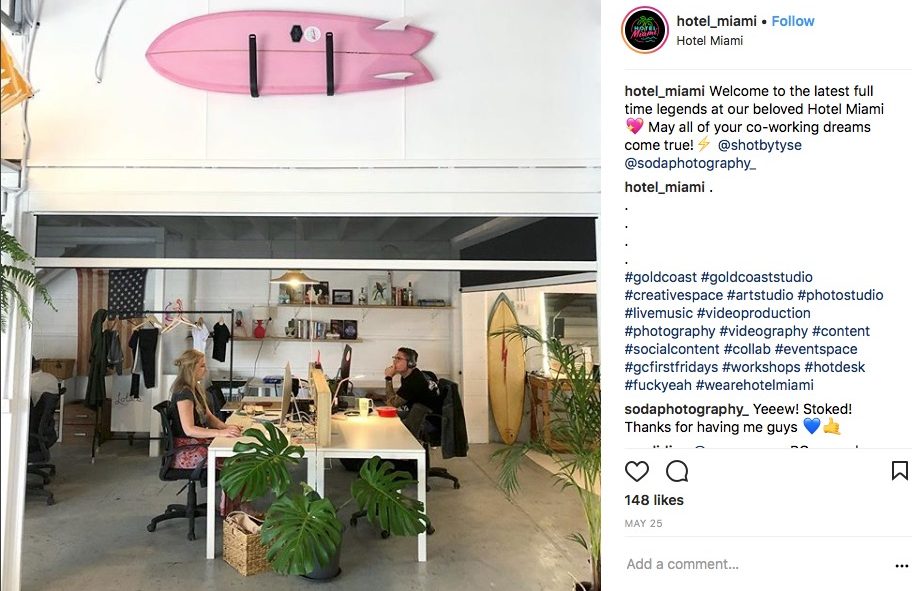 2. Be weird.
Not every hotel has a bikini-clad crowd that sips cherry-topped drinks in the pool. If your hotel is offbeat, let that drive your social media. When it comes to Ace Hotel, I almost can't figure out what they're going for…which is, I think, what they're going for. You don't have to be quite so secretive, but letting your eccentricities show will reel in the niche crowd you're after.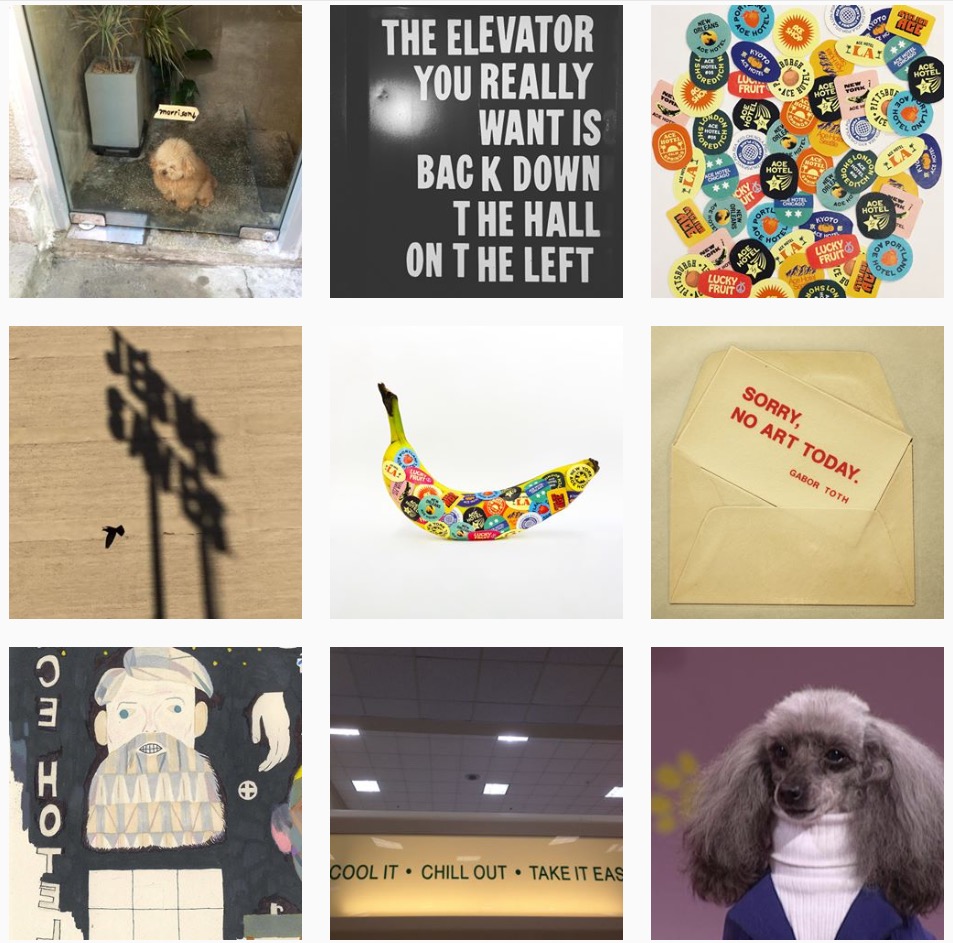 3. Brag.
If you earned bragging rights, use them! This is about more than self-service – your guests want to know that you're a reputable hotel that people love and trust.

4. Use ads the smart way.
Ask yourself what the biggest single result is that you want to see from your ad, then pick the platform to meet it. Simple images will increase awareness and encourage people to like, follow or share your content. Videos are best for storytelling, and carousel ads (three to five rotating images with links) are great for a call-to-action, like getting someone to book a room.
This carousel ad from InterContinental Hotels Group showed several hotels in the same location and had a discount offer to encourage people to book a room.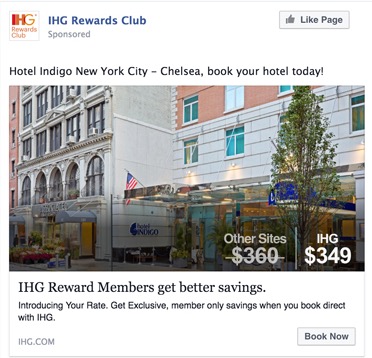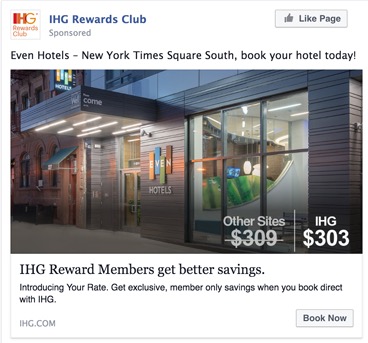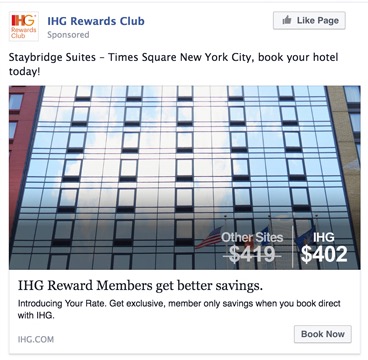 5. Find influencers.
First, figure out what the best attributes of your hotel are. Then, find influencers who are relevant to that niche. You want them to have a good-sized audience, and it's helpful if they're local (although they don't need to be).
Kirsten Alana, a former wedding photographer, is now a major Instagram travel influencer who partners with travel brands, including big-name airlines and hotels, plus lesser-known ones, like Saint James Paris.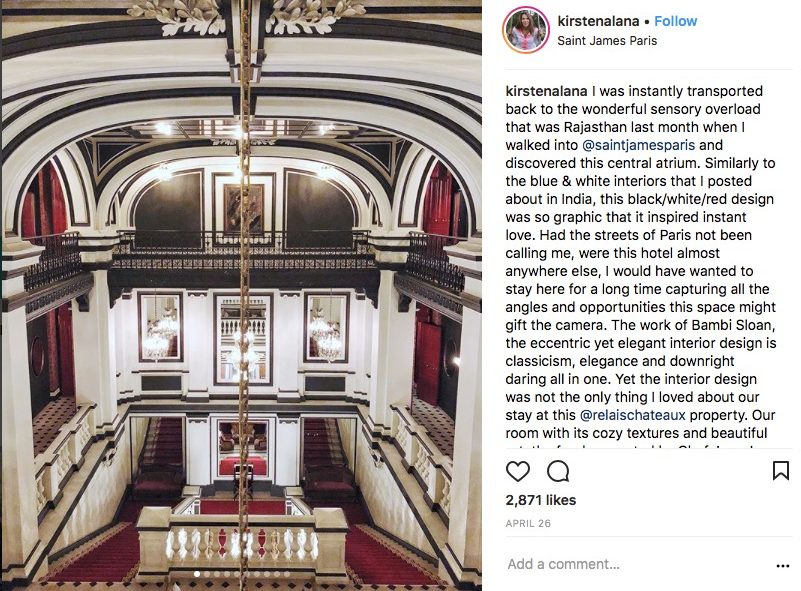 6. Focus on the details.
When it comes to photographing hotels, it's easy to miss the little things. Pick an area or room that you want to photograph, then challenge yourself to look closer, closer and closer still. A long table in the dining room may have handmade silverware on it, for example. This unassuming hallway at The Hoxton Hotel has picture-perfect tiling, and it looks like that bike is just meant to be there.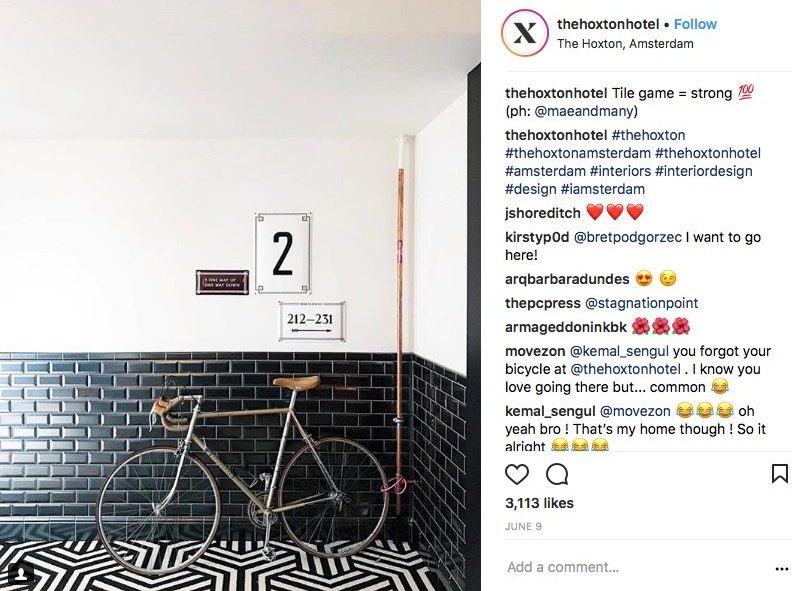 The Siren Hotel in Detroit has an amazing Instagram.  Check it out for lots of great "details."
7. Help people decide what to do during their trip.
By posting local guides, either in the what's happening this weekend style or in a more evergreen way, you do three things. First, you help your current guests figure out how to spend their time. Second, you entice people to book a room so they can visit your town or city. And third, you get involved with the community and become a go-to source for information about what's going on in the area.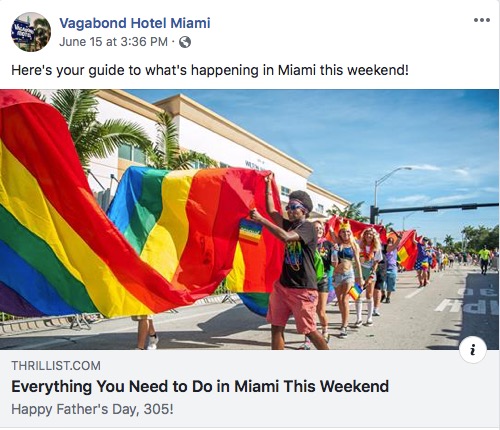 8. Highlight your individualism in your profile.
Your hotel has something that makes you stand out. Figuring it out is a huge first step, but once you know what that one thing is, mention it in your profile. Bunkhouse Group hotels welcome dogs, and even though I don't have a dog, I definitely took note of this…and didn't see it on any of the other accounts I looked at.

9. Invite locals.
Your guests aren't locals, you say? They could be, especially if you have a bar, restaurant or events open to the public, or event space for rent. Plus, locals talk to travelers and recommend places they've visited.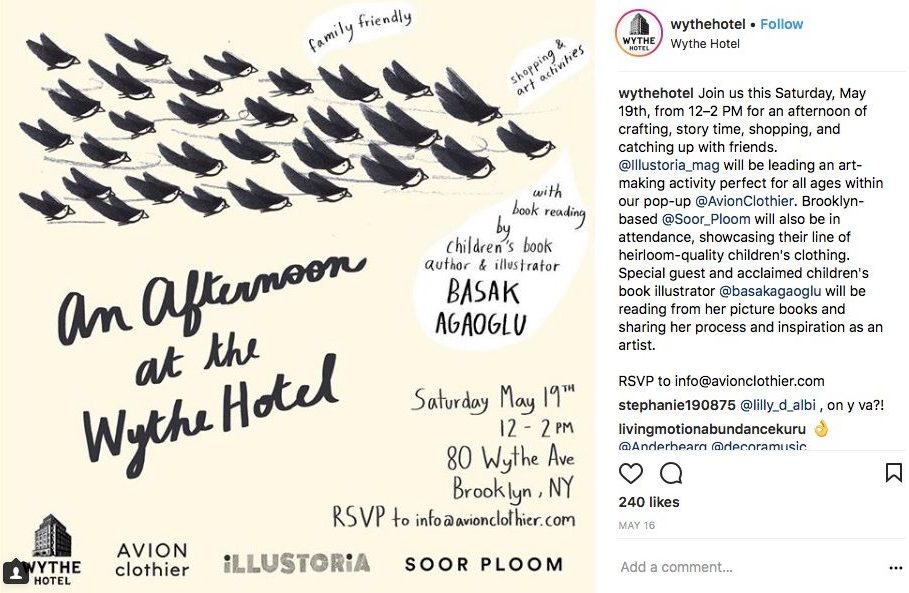 10. Let related brands do some marketing for you.
Brands like Hotel Tonight will throw some marketing your way if you team up with them to offer discounts. This, of course, has to take your business plan, goals and bottom line into consideration, but if you are able to partner up, it could drive a lot of traffic your way.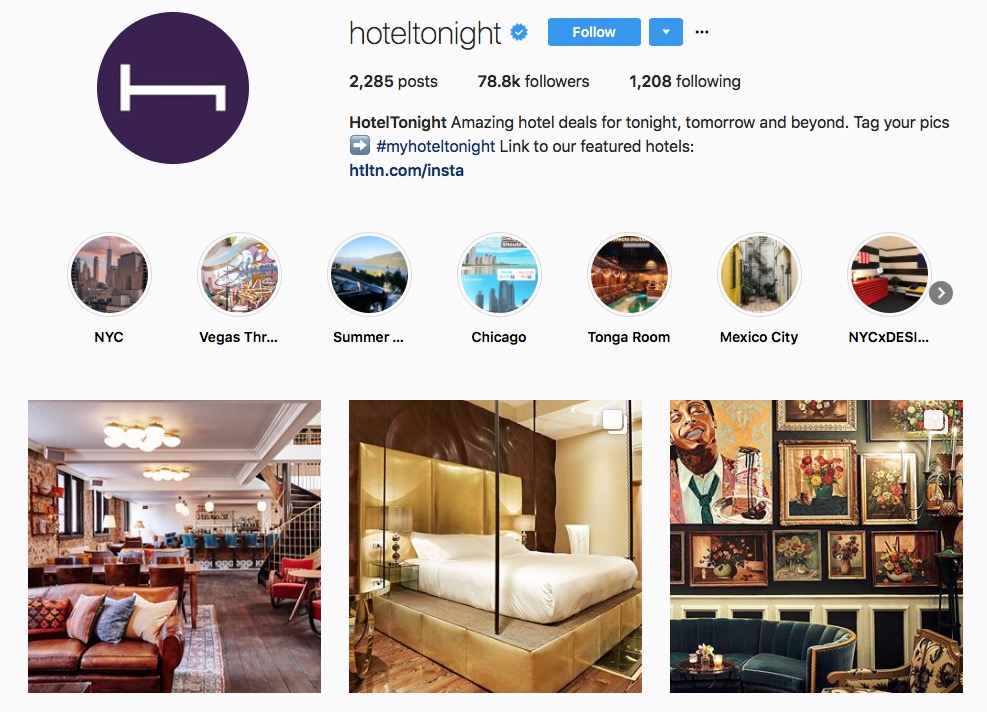 You can do this on a smaller, more local level, too. For example, Tilden Hotel in San Francisco posted about the Bay to Breakers race and tagged their Instagram account. There are a lot of links on the race website about lodging (like here and here), but even better would've been if Tilden asked for a post swap (where Bay to Breakers posted specifically about Tilden Hotel), or if the hotel wrote a guest blog post or created an Instagram Highlight about things to do and places to stay in the area.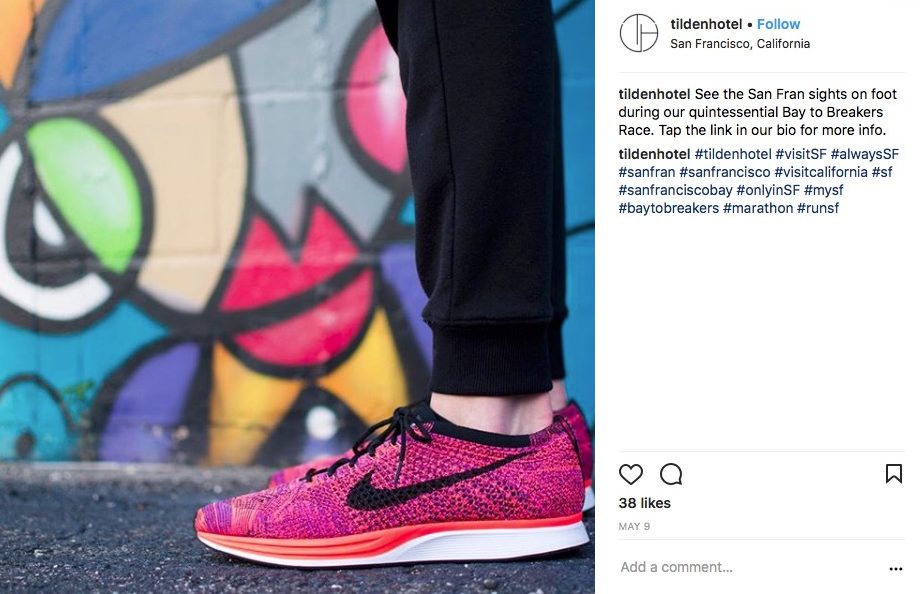 11. Maximize the Highlights section of your profile.
Brand the covers of your Highlights and use them to showcase what your guests want most, like spa services or a video tour of your suites.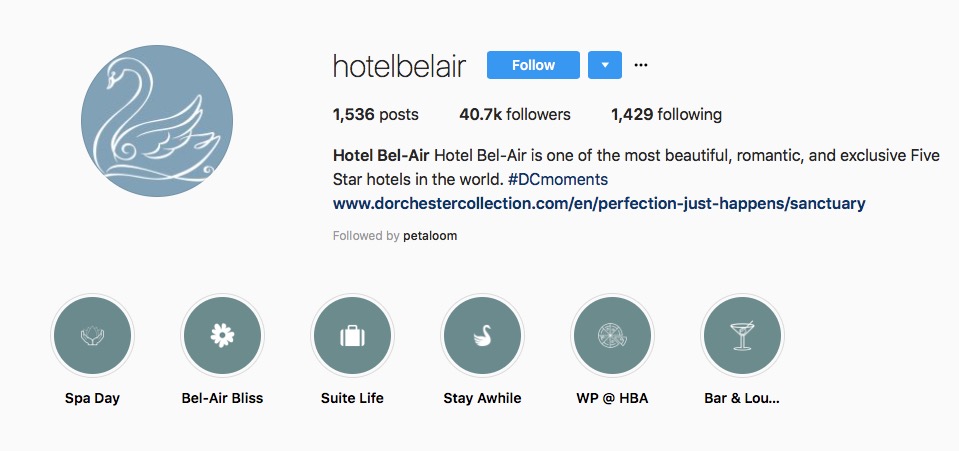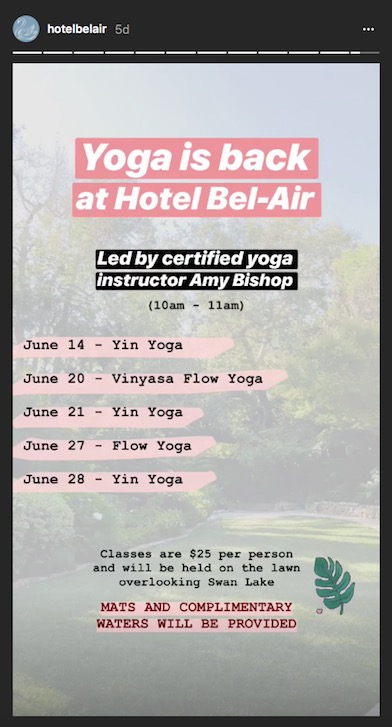 12. Mention what you're close to.
If your hotel is in or near a popular tourist area, mention it in your bio. For a lot of travelers, proximity is a major determiner when it comes to choosing a hotel. For example, The Kahala Hotel and Resort says that it's a few minutes from Waikiki.

Senza goes even further to tell me that they're five minutes from Yountville and in the Napa Valley.

This works because if you're looking for hotels but haven't 100% decided on your location, you can quickly get an idea of where these hotels are located and what your experience will be like. Or, if you know you want to be somewhere specific – like close to Waikiki or the Napa Valley – there's no mistaking that these hotels will get you there.
13. Show your property in a different light, literally.
Close your eyes and conjure up a travel or hotel photo. I bet the light is bright, isn't it? The sun is shining, the pool is blue. Or, maybe there's a pink and purple sunset over the beach.
If your property doesn't fit this mold, though, don't force it to! This escape in New York is nestled in the Catskills, and it's photographed in a way that complements its setting: rustic, peaceful, and the perfect place to warm up during the winter or return to after a day of hiking.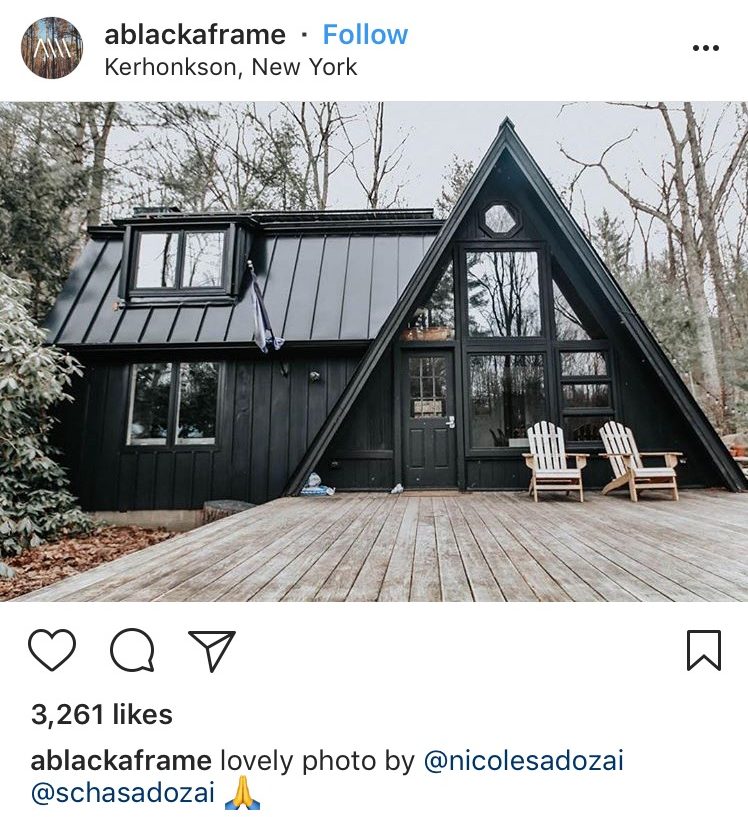 14. Stick to an aesthetic.
This shouldn't be too hard, because your hotel probably already has a color scheme and vibe that you can work with. Do the same with your social media posts, especially your Instagram photos. Your followers will eventually recognize your photos right away, even if they haven't looked at your username or profile photo yet.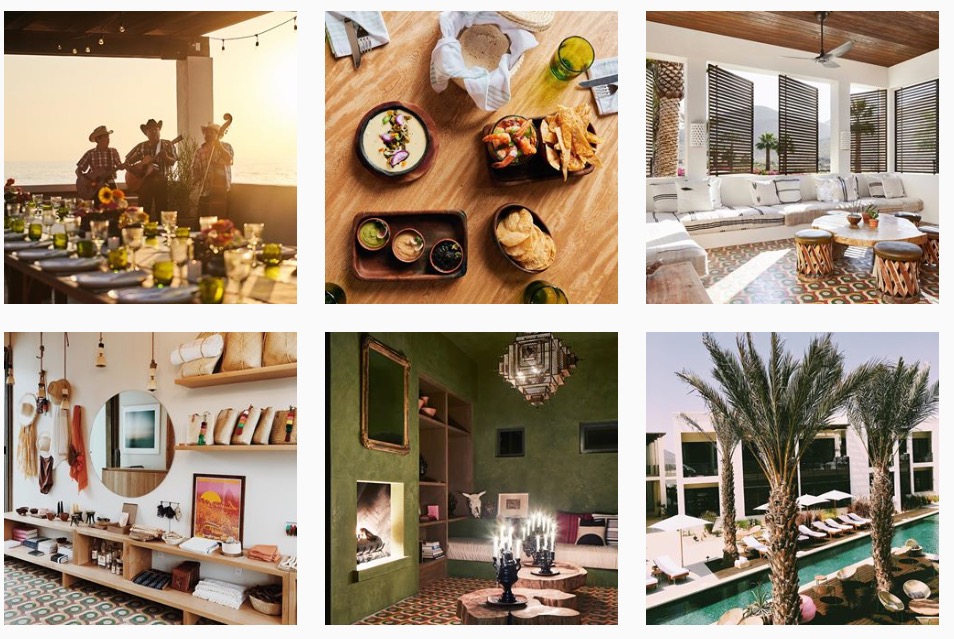 15. Squeeze in as much as possible.
You don't have a lot of time to captivate users when it comes to viewing an image on someone's social media feed.  So make that image (or video) work as hard as it can for you. This post from the Diamond Mills Hotel does triple-duty – not only does it participate in a holiday, but now I also know that they have a Tavern I can go to for lunch or dinner and that they host weddings.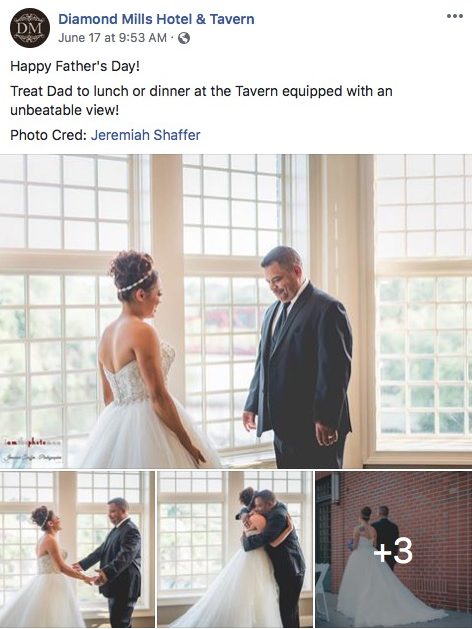 16. Think beyond the rooms.
We already touched on this at the beginning of the article, but it bears repeating. Think about what else people want from a vacation aside from a comfortable room to relax in. For a lot of people, food (indulgent, decadent food, to be specific) is a huge part of the experience. Hotel Bel-Air shows some of the most sinful menu items on their Instagram.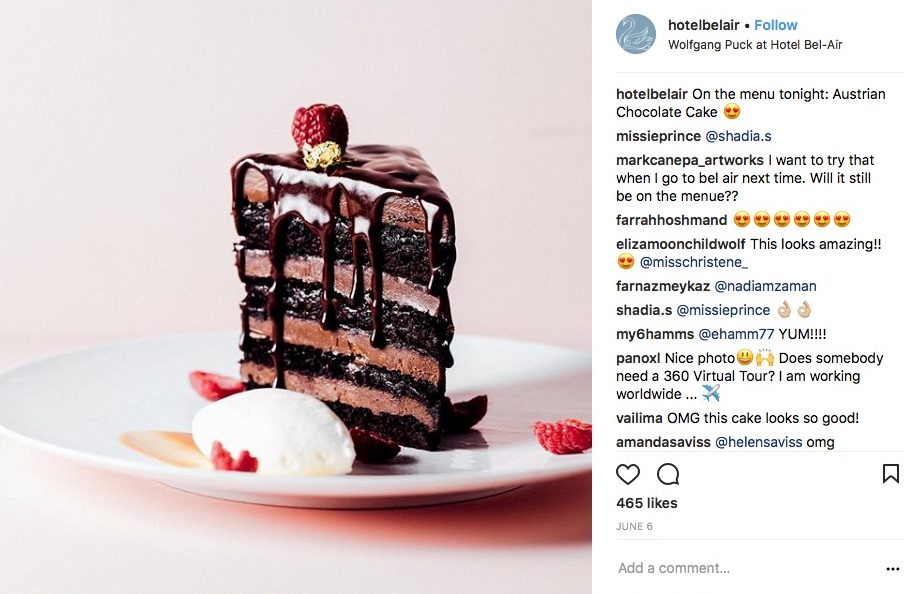 Ask yourself why your customers are booking reservations. EcoCamp knows that their guests want to get outside and start adventure-ing, so that's exactly what they show on their Instagram account.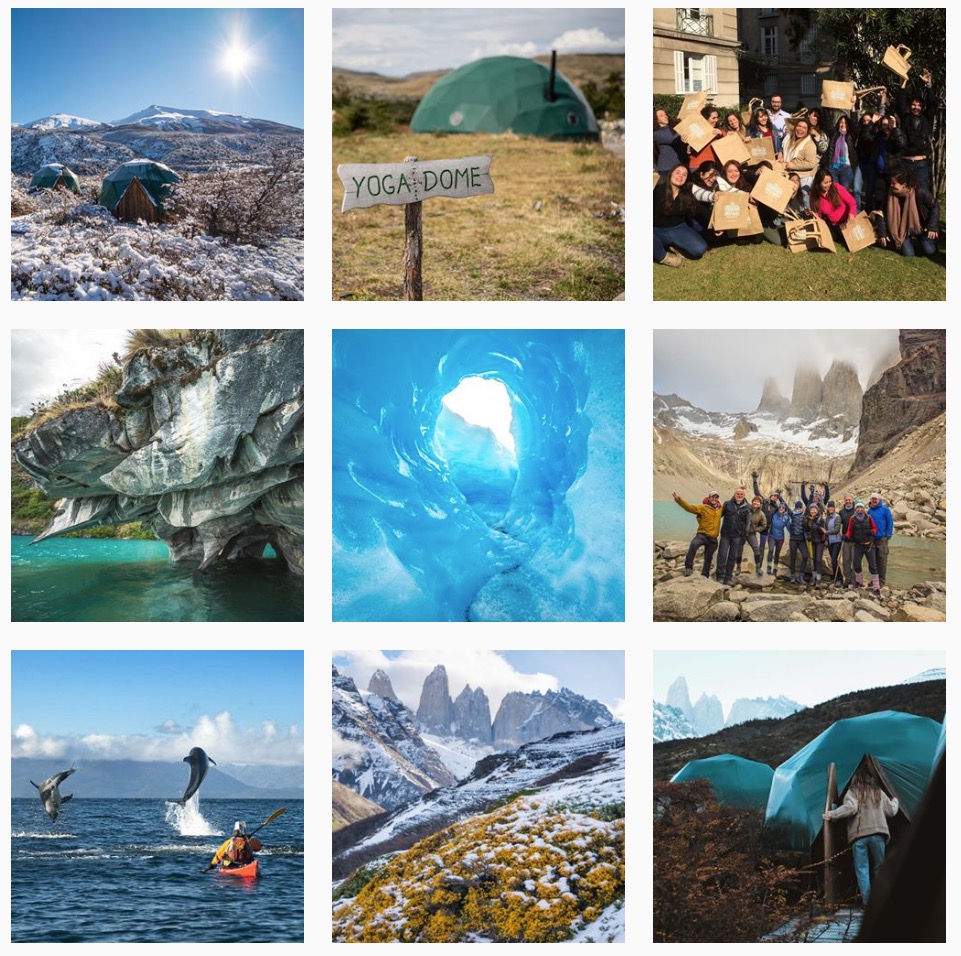 17. Upload a video for your Facebook cover photo.
In just a few seconds, you can tell your viewer a ton about your hotel. Check out the video for Mohonk Mountain House – before you can blink, you know that if you stay here you can go horseback riding or bike riding, or play archery or tennis.
18. Use a branded hashtag.
Create a branded hashtag that you include in your profile and on all of your photos, which will encourage your guests to use it when they post pictures from their trip. Almost 5,000 posts have the hashtag #bunkhousehotels, and many of them are from guests, not just the hotel group. The individual hotels of the group have their own hashtags, too, like #hotelsancristobal.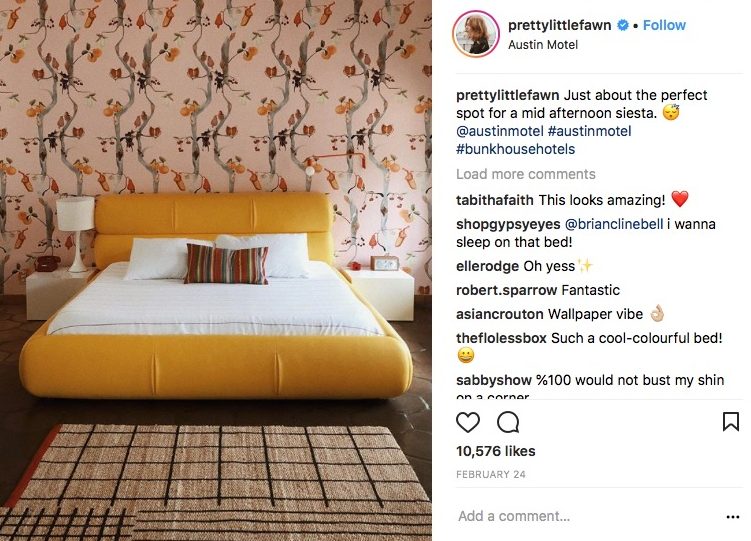 19. Visit the gift shop.
People hear "gift shop" and picture cheap souvenirs. If yours is different, it deserves a place in your social media posts. Hotel San Cristobal Baja showed theirs, which looks more like an adorable boutique than a traditional gift shop.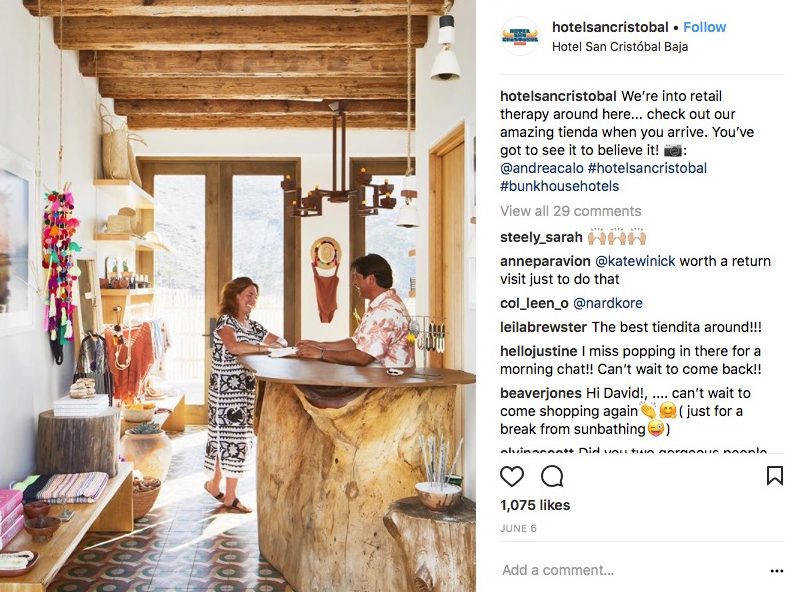 A Note About Millennials and Instagram Marketing
Millenials travel. A lot. More than any other age group, actually. Plus, they're the ones using Instagram the most.
Those millennials want attractive hotel rooms, too. They'd even prefer a (deeply discounted) luxury room over a cheaper and cheaper-looking room. Why? Because they're more Instagram-worthy.
Social media, especially Instagram, shouldn't just be something that's on the perimeter of your marketing strategy – it is your strategy, or at least a central part of it. To succeed in Instagram marketing you need to know all the cutting edge sh*t they don't want you to know. 
Which hotels do you follow on social media, and what do you love about their posts? Tell us in the comments!