About mid-May, Instagram announced that there would be a mute feature and here is what you'll need to know about it!
This new feature gives the user more control over the content they see, personalizing the experience when they are coming into contact with other accounts. And what's even more convenient you may wonder…the account you block will have no knowledge they have been blocked.
Even though the account may be muted, you can still go and view their posts and stories. While they are muted, if that account mentions you or tags you in a post you will still get notified. So if you don't want to be out of that person's life completely you can still jump back in and unmute the account.
Here is How to Mute Someone on Instagram
1.  Tap the … at the top right corner of the post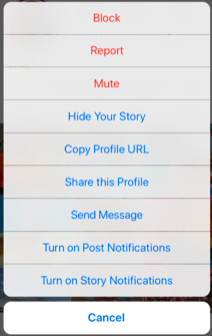 2. Choose to either mute the post or post and stories from the account.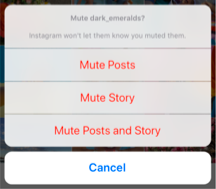 As easy as that! Just two sweet and simple steps to mute an account on Instagram.
If you just went to mute that one account and couldn't don't worry! Instagram is still in the process of rolling the mute feature out over the next few weeks.
So keep an eye open for when you can finally mute those accounts you just can't take anymore.
Will you use this feature?