Instagram is constantly testing on millions of profiles daily, with all that testing they have developed a much-needed new feature. Have you ever wanted to communicate an elaborate sale or contest your business is running but simply couldn't pack all the info into one image? Well luckily Instagram saw this as a rising issue and released Instagram Carousel Ads! 
No longer are you stuck with posting about something photo-by-photo: you can now display a number of related posts together in a carousel. The business implications of doing so can be great for those that leverage this unique post type effectively.
Awhile after Instagram carousel ads were introduced, the concept was adapted for use by individuals who wanted to post more than one photo on their personal Instagram accounts (without requiring the use of ad setup and spend). The use of a carousel on an organic post is referred to as a gallery post. Says Instagram, "You no longer have to choose the single best photo or video from an experience you want to remember."
How to Create Instagram Carousel Ads
If you want to use Instagram carousels in an ad, you have to first switch your profile over to an Instagram Business account.
Another requirement for using carousel ads is the existence of a connected Facebook business page. You can create Instagram carousel ads from your Facebook page, or through Facebook's Power Editor.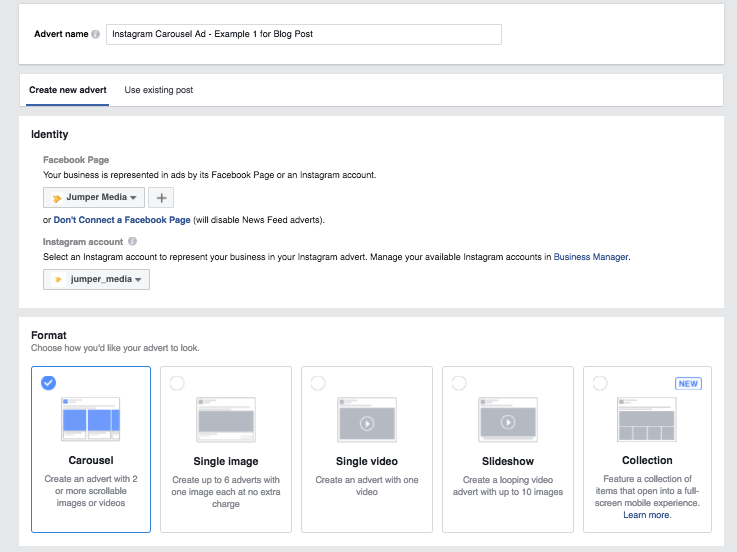 Instagram Carousel and Gallery Posts: Guidelines for Use
Users can choose to edit up to 10 photos and videos individually or with a single filter. They can also choose the order of how they want photos to display, and can tag friends individually, by a photo. A potential caveat – when using Instagram gallery posts, there can only be one location tagged, and likes and comments will apply for the whole post, not per photo.
To make it easy for users to identify a carousel post (and to know to swipe for more), Instagram includes an icon on the post with thumbnails, similar to the one used to indicate a video that can be played.
Advantages of the Instagram Carousel and Gallery Posts
The Instagram carousel/gallery post type opens up many new possibilities for social media content creation. Rather than choose from hundreds of photo options for a single post, people can post a summary of how they feel in a few images. It helps to bridge the gap between over-posting about the same thing and clogging up your follower's feeds, in a way that gives your post a more full-bodied story.
It's interesting to consider the implications of posting about something in relation to Instagram's new, non-chronological newsfeed algorithm. Using the example of posting about the same situation in multiple, separate posts – they wouldn't necessarily be displayed in that same order to followers.
If you've created a chronological storyline, Instagram's algorithm all but guarantees that it won't be displayed correctly unless followers opt to go directly to your profile and view the posts in order. Posting instead as a set of images in a carousel helps to deal with this confusing scenario, and keeps everything streamlined and cohesive.
---
Become a Jumper Media Insider
You'll get weekly social marketing motivation, all the latest hacks, and first dibs on exclusive giveaways and other subscriber-only resources you can't get anywhere else.
---
Statistics about the Instagram Carousel: Gallery Posts
Since Instagram's launch of gallery posts (non-ad carousels) in February 2017, data from the Top 500 celebrity, brand and media accounts were analyzed and it was found that:
42% of brands published their first Instagram gallery post within the first week of the feature being introduced (40% of media and 24% of celebrities).

Marketers post an average of 0.76 gallery posts in a week (versus media, which does 1.7 posts per week and are the most active on social media).

Since they are still considered newly launched, Instagram gallery posts aren't going to displace the volume of photos and videos. In fact, they only make up 4.3% of all Instagram posts.

Instagram gallery posts perform better than single video posts but worse than single photo posts.

The carousel format is popular with the finance industry, although the fashion industry gets the most interactions per carousel post.
How Companies are Using Instagram Carousels and Gallery Posts
Self-
Promotion
Businesses use Instagram to promote themselves, and the Instagram carousel eliminates the need to post several photos on the feed at once about a given topic. In essence, this post format provides a bit of novelty, as it's distinctly different from other posting formats. People can't help but stop when scrolling their feed to interact with them.
This is useful in giving context to promoting something new, like movies or promos.
Disney uses the Instagram carousel feature to share several movie poster versions for their upcoming films, like Star Wars and Thor.
In contrast, Etsy used the carousel feature to inform people of their Labor Day sale promotion.
The Instagram carousel post with the most interaction as of this writing is Nike Football's post showing AS Monaco's new jersey—it garnered over 440,000 likes!
Step-by-Step Tutorials
Another type of content that takes advantage of the Instagram Carousel post type is step-by-step tutorials.
There's a reason Buzzfeed Tasty videos are so popular: they're quick, delicious looking and most importantly—easy to follow. They use their Instagram account, to frequently share tutorials using Instagram carousels, featuring a mixture of both video and photo. For an example, check out their step-by-step tutorial for how to make Chicken Cordon Bleu.
Another industry that could make good use of step-by-step tutorials is the beauty industry. Interestingly, beauty brands are the industry that has made the least effort to adopt the Instagram carousel feature, with an average total of only 2% of their posts appearing in the carousel format.
Storytelling Tool
The Huffington Post uses the carousel feature to supplement the stories they tell with photos, like this one about the Twinsburg Twins Day Festival:
Or this story about a 10-year old girl who donated school supplies to 1000 students:
Launching New Products
If you're constantly launching new products, like fast-fashion retailer Forever 21, it makes the most sense to collect all related photos in a single post for cohesiveness and less confusion than constantly posting about each individual piece as it comes out.
Behind the Scenes
One way businesses use their Instagram accounts is to take followers behind the scenes of their operations. With Instagram carousels, they can show off more photos relating to a certain situation, satisfying fans hungry for more information about their favorite brands.  
As an example, Marvel uses their Instagram accounts to show what happens behind-the-scenes, like this post showing Chris Hemsworth and Mark Ruffalo signing stuff at San Diego Comic-Con:
To Tell Jokes
Buzzfeed is known for frequently posting funny content on their website and across their social channels, and their Instagram account is no exception. Instead of sharing several jokes or funny posts individually, they usually compile related hilarity into one Instagram carousel post, such as with this example:
To Share Memes
On a similar note, Instagram carousel posts can be an excellent way to compile a number of related memes, which are a popular medium for encouraging engagement. Another example from Buzzfeed shares several different takes on a certain meme:
To Inform
Informative posts like Refinery29's How to Help Hurricane Harvey victims show that Instagram isn't all about superficiality, but can also be a great platform to inform and disseminate information.
To Showcase a Product
Instagram carousels are a good way to showcase a product in a way that one photo alone couldn't thoroughly accomplish. With the carousel feature, you can take photos from multiple angles of a product, or share different kinds of product in one post.
An excellent example of this in action is Subway's everyday sandwiches:
Subway even uses Instagram carousels to show how people enjoy their products:
For Contests
The Instagram carousel can also be used for contests that require voting, much like MTV's VMAs or posts from the Teen Choice Awards:
For Best Moments
Some of the best looks from New York Fashion Week are displayed on their Instagram account as a carousel post, as they would do in a Facebook album or magazine spread.
To give another example, Teen Vogue greeted Queen Bey on her birthday with a post showing all of her best moments:
For User Generated Content
To make your followers feel appreciated and seen, repost some of the user-generated content that they often tag you in as an Instagram carousel.
Canva does this well–they show off the amazing things their users make with their graphic design software:
To Show How Your Product is Made
HelloFresh gives a sneak peek of how their products are made, giving followers an idea of what kind of ingredients they use. For many, the ingredient breakdown of products is a compelling buying consideration.
For Transformations
You can also use the Instagram carousel feature to showcase transformations via before and after photos or videos, just like The Academy did, showing off how Producer Tom Luddy, director Paul Schrader, and cinematographer (and Academy President) John Bailey reunite at Telluride 33 years after making "Mishima: A Life in Four Chapters" together:
For Making A Stand
…Just like TeenVogue did, for #DACA:
How to Make the Most of Your Instagram Carousel & Gallery Posts
If you're just getting started with Instagram carousels and gallery posts, consider the following tips for the best chance at success:
Visuals, captions, and hashtags are important when building a following but focus on what is most important—the visuals. Instagram is first and foremost a visual platform, so always post high-quality images that are consistent with your brand.

Post consistently so that you'll appear in your followers' feeds on a regular basis. Those that don't post consistently are at the mercy of Instagram's somewhat unforgiving algorithm to be seen on followers' feeds.

Stay on brand, don't follow trends. For example, if it's not on apart of the brand's culture to post memes, don't do it just because another brand seems to be having success with it.
---
Become a Jumper Media Insider
You'll get weekly social marketing motivation, all the latest hacks, and first dibs on exclusive giveaways and other subscriber-only resources you can't get anywhere else.
---
How Companies Are Using Instagram Carousels to Increase Engagement
Instagram carousels and gallery posts are in some way Instagram's version of Facebook albums, that allow you to post up to 10 photos and videos. No longer confined to ads and business account use, they can also be used on personal accounts, without any ad spend.
When weaving Instagram carousels and gallery posts into your existing strategy, consider the aforementioned businesses and tactics for engaging with followers.
Which Instagram Carousel strategy do you find most interesting? Tweet at @Jumper_Media with what's working for you!
p.s. Want to learn how to incorporate Facebook Carousel ads into your social media strategy? Check out our complete guide here.