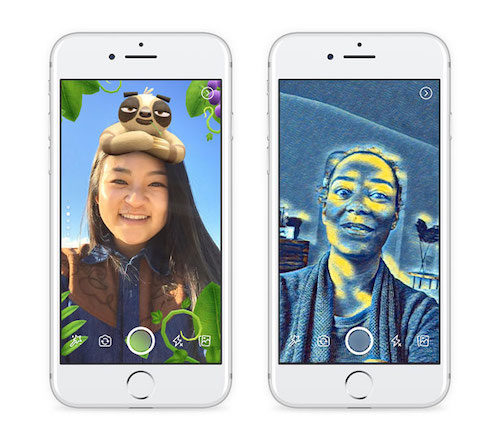 Unless you've been living under a rock, you're no doubt familiar with Facebook, and have probably used the app for yourself.
But have you heard of Facebook Stories?
It's the newest kid on the block.
We're breaking down everything you need to know about Facebook Stories, including what this feature actually is, how to use it and how it compares to other social platforms.
Let's kick things off!
What is Facebook Stories?
Facebook Stories is a feature on Facebook that enables users to share images, video content and animations with other users.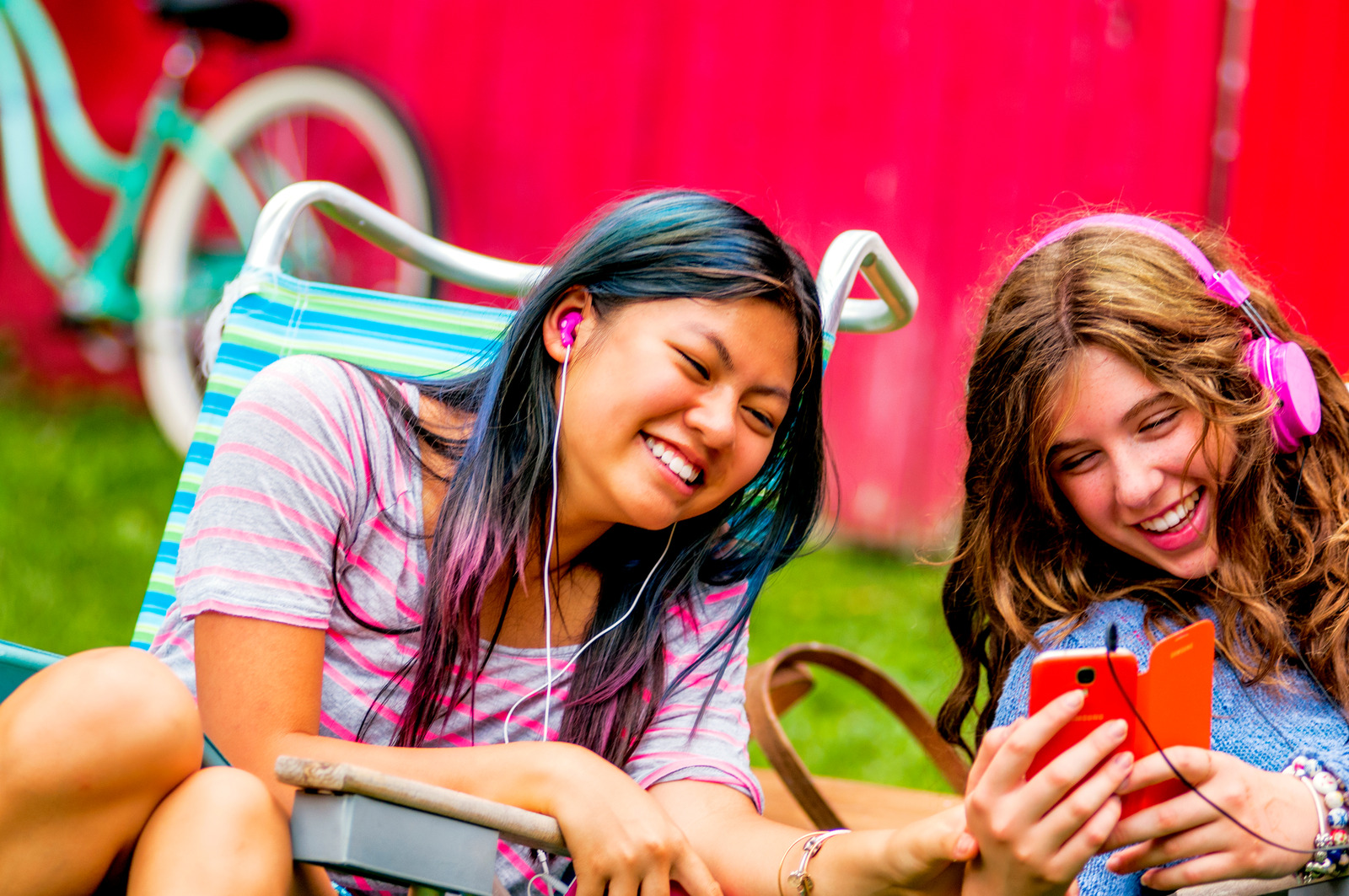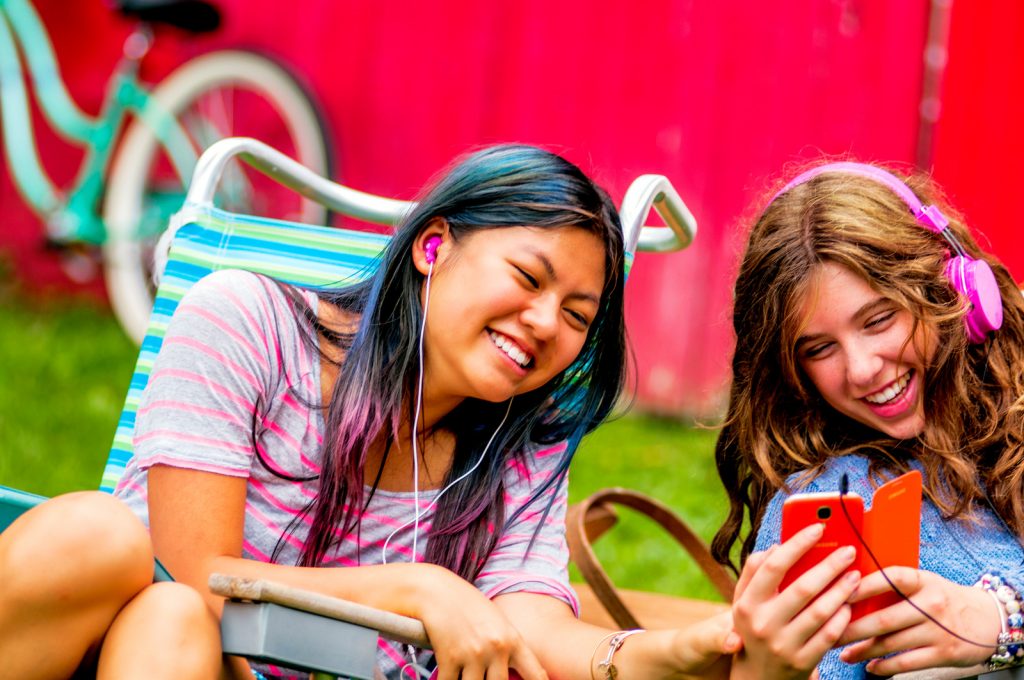 After content is published in your Stories feed, it's available to view for 24 hours before disappearing. However, the content doesn't appear on your news feed or as a post.
The feature was created in March 2017, although it was originally tested in September 2016 in Messenger.
Facebook Stories are available for all users.
How Facebook Stories Work
Facebook Stories works similarly to Instagram Stories. They appear in the Facebook app at the top of your news feed: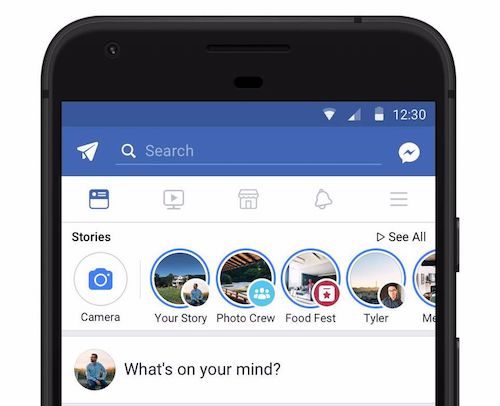 If you're searching for Facebook Stories on desktop, you'll find them in the top right-hand corner of your feed: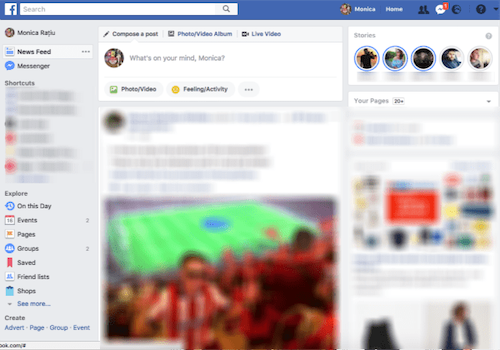 To view a Story, simply tap on the user's profile image and you'll be shown their Story content.
A viewer can respond to Story content by sending a direct message, which occurs via Messenger.
Unseen Stories have a blue ring around them. Once you've viewed a user's Story, it will be greyed out. Story content appears in full screen, and like on Instagram, can be skipped forwards and backwards by tapping on the left or right hand side of the screen.
If you don't want to see a certain user's Stories, you can mute them, and they won't show up on your Story feed. To do this, simply click on the user's Story, then tap on the three dots in the top right corner. Click on mute (username) to hide their Stories.
How to Use Facebook Stories
To create a Facebook Story, simply access your phone's camera by selecting the camera icon in the Facebook app.
Record a video or take an image. If you want to share previously recorded footage or images, select the album icon.
You can then use one of Facebook Stories filters or lenses to enhance your video or image: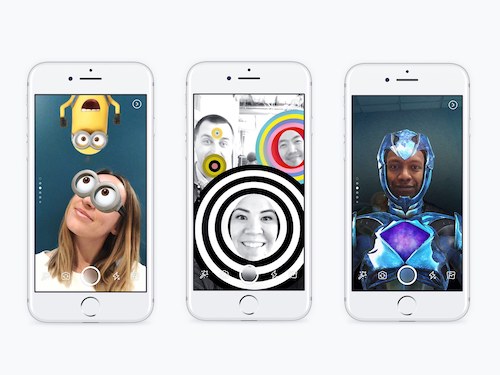 To create a Facebook Story, simply access your phone's camera by selecting the camera icon in the Facebook app.
Record a video or take an image. If you want to share previously recorded footage or images, select the album icon.
You can then use one of Facebook Stories filters or lenses to enhance your video or image:
Public

– Your Facebook friends and followers, along with anyone you've interacted with on Messenger, can view your Story, but only friends are able to reply with a message.

Friends

– Only Facebook friends can see your Story.

Friends and connections

– Both Facebook friends and messenger connections can view and interact with your Story.

Custom

–You can choose certain people to view your Story.
Then tap 'Change' and your preferences will be updated.
Want to hide a Story or block who can see it?
Add your content and tap privacy in the bottom left corner. Under "Who can see your Story?" choose "Friends and connections" or "Friends" and then choose "Hide Story from." You can then select people to keep in the dark.
Facebook Stories for Businesses
A Facebook business page Story can engage your audience, increase brand awareness, promote your products and grow your sales.
With over 2.2 billion monthly active users, Facebook is the biggest social network.
Facebook Stories now has 500 million daily users, so using this tool as part of your business marketing strategy is essential.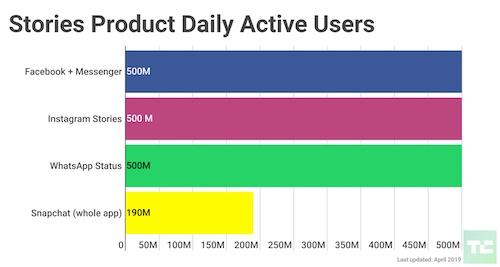 Source
With the reach of Facebook news feed declining recently, using Stories to publish content may be the way forward.
How to Post a Story on Facebook Business Page
Publishing a Story from your page works in the same way as on a regular user account. Just ensure you have a business page first.
To post from the Facebook app, touch the three horizontal lines at the top right of the page. This will bring up your groups and pages. From here, you can select your page.
On your page's home tab, open the camera by choosing the camera icon under 'Create a post.' You can also choose "Create Story" on your page if it appears: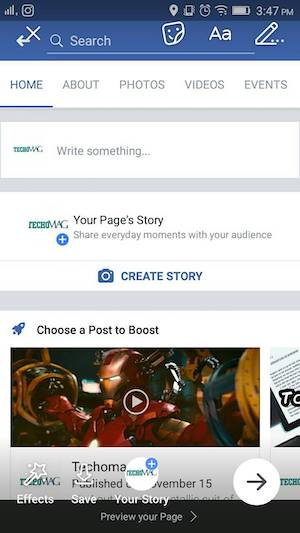 From here you can take or choose a video or image to share with your audience on your Facebook Stories. 
Select 'Your Story' at the bottom to post once you're happy with your image.
Facebook Story Video Specs
If you're publishing a video or ad to Facebook Stories, you'll need to be familiar with the video specifications. 
Your video needs to be:
60 seconds maximum length

4gb maximum file size

1080 x 1920 px recommended resolution

600 x 1067 px minimum resolution

.mp4 or .mov file
---
Jumper Media's content creation services help your company or small business stay relevant in today's social, digital world.

---
Facebook Stories Image Dimensions
If you're using images for adverts, consider these specifications:
30MB maximum file size

1080 x 1920 px recommended resolution

600 x 1067 px minimum resolution

.jpg or .png file
Facebook to Instagram
You can also easily share content from your Instagram Stories to your Facebook Stories — using the same content across platforms saves both time and money.
To share content, you need to have an Instagram business profile. To set this up, go to your settings and select 'Switch to business profile.'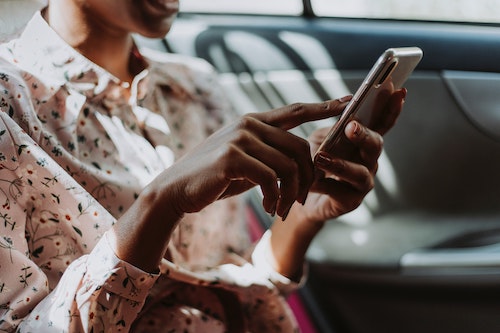 From here you can connect your Facebook business page.
On your Instagram business profile, go to your profile page, choosing the three lines in the top right corner of your page.
Choose 'Settings' and select 'Story controls.'
Here you can choose to automatically share your Instagram Stories to your Facebook Stories.
This option is great if you schedule your Instagram content and want to use it on other platforms like Facebook.
Facebook Stories with Links
Facebook Stories currently don't support links. However, these are currently being tested.
Stories shared from Instagram for specific Facebook pages have the swipe up feature, but this is only available for Instagram accounts with over 10,000 followers. 
Mentions are currently also being tested, and Facebook Stories reactions are available to use.
Emoji reactions give users an easy way to respond to a Facebook Story. Viewers can choose their emoji reaction from the bottom bar under a Story, and users will be able to see who has reacted: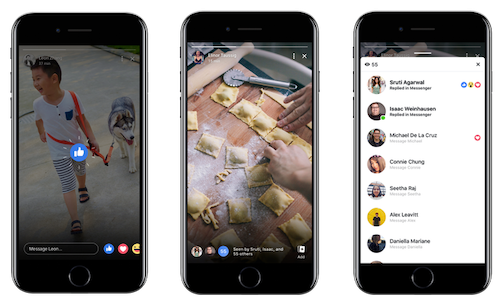 Viewers are also able to create a discussion around a Story by sending a reply and sharing it with certain friends: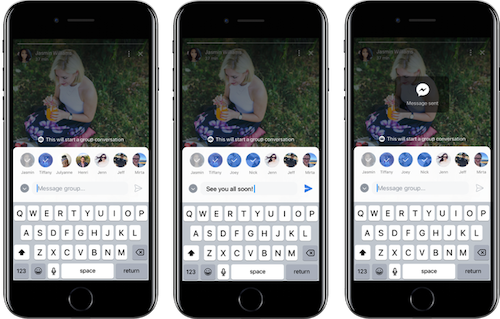 Facebook Stories Insights
To view analytics for your Stories, you need to switch them on.
You have to log in as a page admin and click 'Insights' at the top of your page.
Click on Stories in the left column and select 'Turn on.'
Once these are on, you'll be able to view more information about your engagement.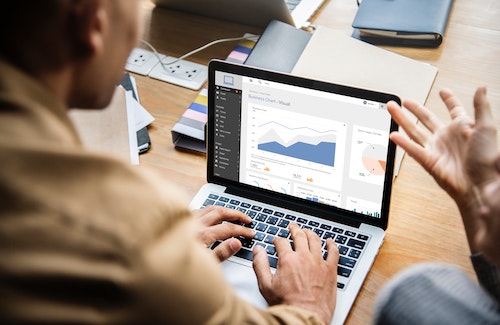 The information you'll be able to see includes:
Unique Story opens, the amount of people who opened your Story

Forward swipes to the next account

Forward and backward taps to the next or previous Story

Exits to return to the news feed

Page visits

Number of shares

Number of replies

Sticker interactions

Number of swipe ups

Total engagement
Facebook Sponsored Stories
Using Facebook Stories for audience engagement or ads is great for your business.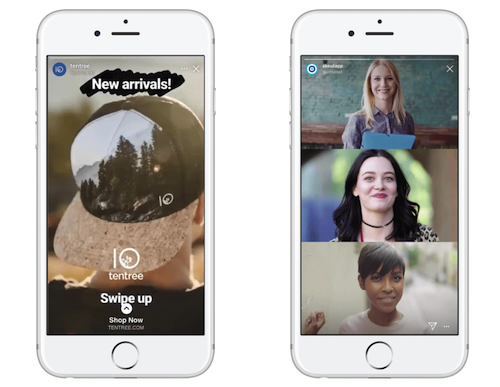 As Stories appear at the top of a user's feed, they attract attention. The immersive nature of video content also makes them appeal to your audience.
Since you can clearly see your Facebook analytics, this platform is ideal for using ads.
Facebook sponsored Stories are placed within the Story feed and are attractive due to lower costs and potentially three times enhanced engagement.
Using the specifications to create a Facebook Story, your ad can have one of these objectives:
Brand awareness

Conversions

Reach

Traffic

Lead generation

Video views

 

App installs
You can set a budget, target audience and schedule: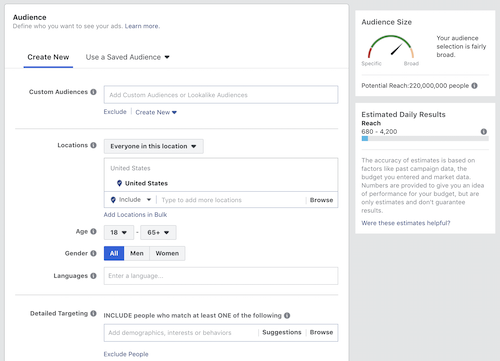 Facebook doesn't currently allow you to run ads only on Facebook Stories, so you'll need to also run an ad on your news feed or on Instagram Stories too.
Best Practices
Use a clear call to action on your Facebook Stories ad – Facebook recommends no more than 20% text, so encourage users to take action by using direct language.
Remember to optimize your ad for mobile use by using vertical ratios.
Use clear branding and imagery. Make your advert stand out by using images which relate to your business, product or service.
Facebook Stories FAQs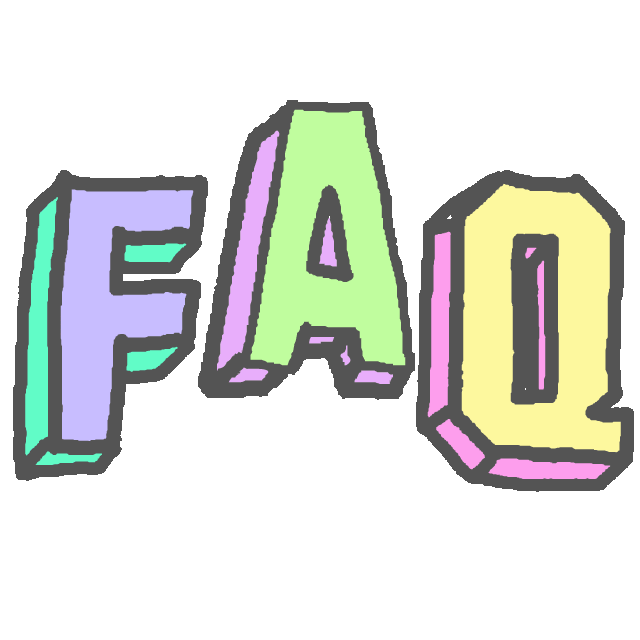 Q: Where is the Facebook Stories archive?
Your Stories can be saved in your Story archive. To switch on your archive, go to your news feed and click on your name. From here, click on 'Archive.'
If you delete any photos within 24 hours of your Story begin published, they won't be saved in your archive.
Q: Can Facebook Stories be turned off?
No, Facebook Stories can't be turned off.
Q: What if Facebook will not load Stories or show them?
You may need to update your browser and refresh your feed to show your Stories.
Q: What should I do if I can't hear Facebook Stories?
If the sound on a video Story isn't playing, it may be that the user hasn't uploaded the audio correctly.
Check your phone volume to ensure that you haven't accidentally pressed the mute button.
Q: What should I do if I can't see any Facebook
Stories?
Facebook Stories automatically delete after 24 hours. If you can't see any Stories at the top of your feed it may be that your friends haven't published any within the last 24 hours.
Use Facebook Stories and Grow Your Brand
Facebook Stories work in a similar way to Instagram Stories, and using them is super easy. Why not use this feature to help grow your brand?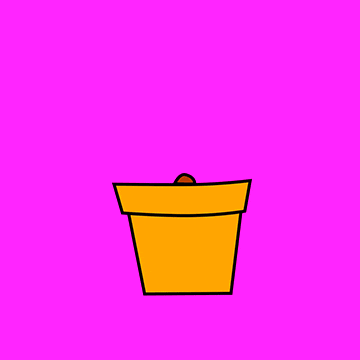 Make Facebook Stories part of your social marketing strategy. 
Whether you're trying to create unique content or publish Instagram Stories directly to your Facebook Story feed, connecting with your audience with visual and video content will surely enhance brand awareness and sales.
How can you use Facebook Stories to engage with your audience?