Instagram Stories are basically a Snapchat clone.
Yeah…so?
According to Techcrunch, Stories has 250 million users every day. Every day. That means that every single day, 250 million people are either posting a Story or viewing one.
Compare that with Snapchat, which launched before Stories and was such a massive hit that Facebook (which owns Instagram) copied the idea verbatim, but that now has around 160 million daily users. Is there a selfie filter with a teardrop? Because we're pretty sure Snapchat is using it right now.

If those numbers don't make enough of an impact, think of it this way: Facebook added one feature – Stories – to Instagram and it is more popular than all of Snapchat. (In case you're wondering, Instagram has about 700 million monthly users, according to Statista.)
Now, on to what's really important: how you and your brand can start using Stories to your advantage.
Instagram Stories vs. the Regular Feed: A Review
When it comes to social media, you've always been told that everything – everything – is permanent.
Everyone who owns a social media account needs to think a potential post through before making anything public. Sure, you can go back and delete posts from your feed, but since you don't initially post with the plan to delete, this can become a clumsy and time-consuming process.
Stories solve that dilemma. Its self-destructing content has an expiration date after which the content disappears forever. There's a lifespan of 24 hours, which is enough time for brands to share information, make an impact and then move on without worrying about outdated or lower quality content clogging up their permanent feed.
Yes, we said "lower quality content." This doesn't mean low-quality content, just lower-than-what-you-should-put-on-Instagram-permanently. There's a lower standard for the quality of content you put on Stories when it comes to composition. You don't need to overthink attributes like angles and lighting, for example.
Brands can – and should – plan ahead, but when you can't because something happens that you can't predict or you're just itching to put up a post on-the-fly, you totally can. Posting a Story that's engaging, interesting or creative is more important than posting one that's been expertly edited.
Before You Start: 5 Things You Need to Know About Stories
You can't effectively use Stories if you don't know how they work. These 5 quick tips for your review will help your business get started on the right foot.
1. Create content with your current followers in mind.
Stories are primarily for your loyal followers; they're not particularly great at attracting new followers.
2. Think outside your smartphone camera.
Create graphics with a tool like Canva or Adobe Spark then upload it to Stories.
3. Hashtags may work against you.
In your normal Instagram feed, the more hashtags you use, the better chances you have of increasing your exposure. In Stories, though, we don't recommend using lots of hashtags like you might do on your regular IG posts. Branded hashtags are always safe to use, but when it comes to more generic or popular hashtags, stick to just one or maybe two – they'll attract new viewers and followers without sending too many people away from your content.
4. Location tags are everything.
Location tags can help your Stories get discovered by people who are nearby or those who are interested in a certain geographical location. The location has to actually be relevant to your post, though – since Instagram uses recognition technology to geotag your photos and videos, you can't try to trick the system. This post from Elizabeth Boutique showed viewers their stand at the county fair and tagged their location.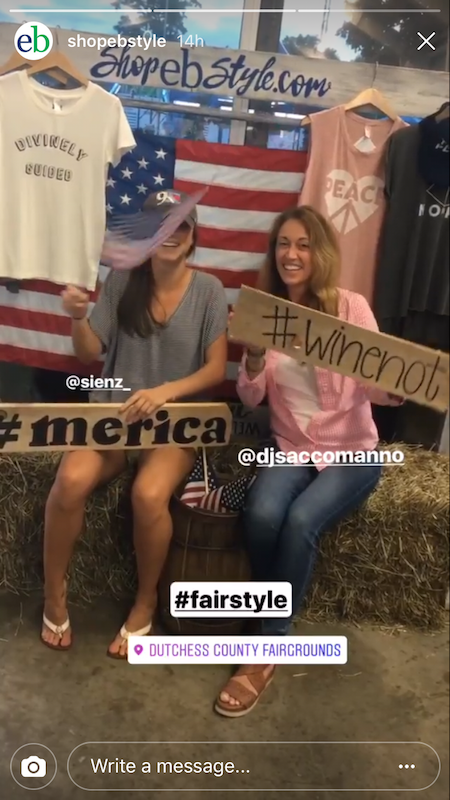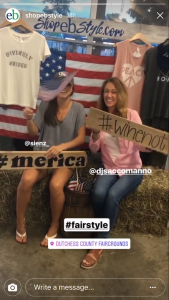 5. Some accounts can add links to Stories.
The swipe-up and clickable URL features are only available to verified accounts or non-verified accounts that have 10K users or more.
Now that you know

how

to post, let's talk about

what

to post.
15 Content Ideas Brands Should Use for Their Instagram Stories
Creating Stories can be a challenge, even for savvy veteran digital marketers. Stories are new, so if you aren't a Snapchat native, or were born before 1995, there's going to be a learning curve. Videos can be more difficult to create than photos, especially if you're posting video content for the first time. Stories also allow for a succession of several photos and videos, which means you can pack in more information but it also takes more planning than posting a single image.
Whenever you post to Stories, keep its namesake in mind: your Story should actually tell a story. It should have multiple photos/videos that string together to tell a cohesive narrative. For example the story you could be telling is "my drive to work" or "my vacation in Greece."  Whatever it is, it should have a beginning, middle and end ― unless you ran into a Kardashian, in which case who cares what the context is.
Everyone has a story. Here are 15 content ideas to get you started telling yours.
Ask for direct feedback.
Customers and fans love feeling like they're part of the process, and everybody likes to hear that they're important and valued. Use Stories to encourage direct messages – ask for feedback on a product or recent sale; run a poll; or host a Q&A session.
Build a "Top 10" (or Top Any #) list.
People love lists. They pack in a lot of information and deliver it all in miniature pieces. If you write your list in countdown form, you'll build anticipation with every slide. Anything goes when it comes to lists: 5 ways to use your product, 20 surprising facts about your industry, or the best places to live/work/eat/vacation/shop/et cetera. Anthropologie did a spin on the traditional list with their 50 States of Denim post.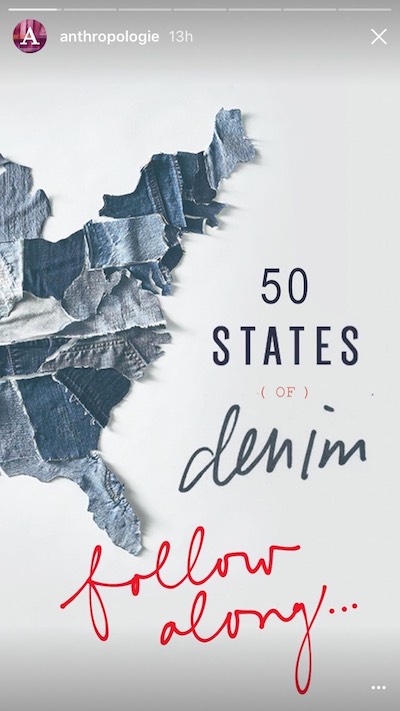 ---
Get the newsletter everybody's talking about
Join over 10,000 marketers who get the latest and greatest Instagram growth hacks and strategies sent straight to their inbox every week.
---
Go behind the scenes.
Give your followers VIP access to a place or process they're usually not allowed to see. Taking your audience behind the scenes can either be staged or done in real time. For example, a chef can walk people through how to make a special dish or they can have someone film them live during the dinner rush. An athlete can give a tour of their training facilities or they can let their audience watch as they power through an actual training session. Vogue Living previewed a new store that was opening and shared it with their audience.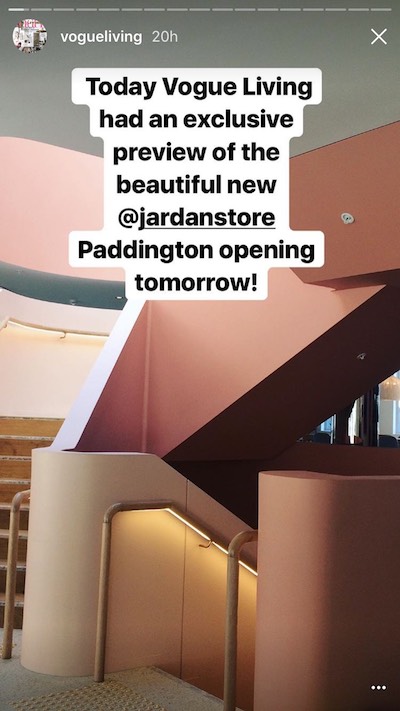 Inspire with motivating images or quotes.
Inspirational images and quotes are great for posting on those days when you've run out of content to share. Your posts don't even have to be the epitome of encouraging or philosophical, either.
You can share a quote from your CEO from a recent keynote address or a cool line from a blog post with a call-to-action at the end.
So long as your post is relevant to your brand and your followers, you can sort of phone it in by posting effortless #inspo for the day. Williams Sonoma shared this quote that any food lover will eat up.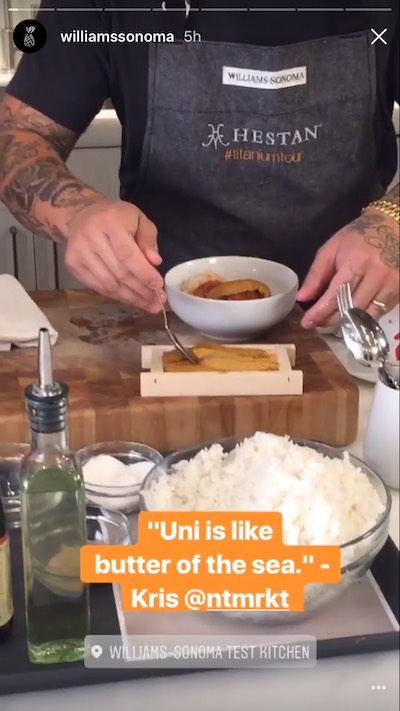 You can also follow @GaryVee's lead and turn your motivational quote into an animated video.
Make an announcement or share company news.
Whether what you have to say is fun and light (you're celebrating an employee birthday or a work anniversary) or momentous (you're launching a new training class or podcast), let your Stories audience be the first to know.
You can even build anticipation for upcoming news by posting teasers for a few days and then letting everyone know when you'll be revealing the surprise. Haven't had anything buzz-worthy to shout from the rooftops in awhile?
Celebrate a hashtag holiday like #TacoTuesday or #NationalDonutDay – just make sure that you can somehow tie it into your brand or products.
Offer giveaways or discounts.
If you have a specific reason why you want your audience to watch your Stories (for example, you want to encourage reviews for your app in the iTunes store), bribe them with free swag or exclusive discounts.
Thanks to the direct message feature of Stories, it's easy to get the feedback you need quickly and connect with audience members to provide them with whatever you promised.
Participate in an Instagram takeover.
Hand over your Instagram Stories to someone else or take over the feed of another brand or influencer for the day.
Either way, the idea is to connect with a new audience – the guest host attracts their audience to a new Instagram account while at the same time "meeting" the current audience of that account.
The great thing about hosting a takeover with Stories instead of with the regular Instagram feed is that the host can post whatever they like without affecting the branding or voice of your curated feed. While you can do a one-time takeover, create some momentum with a regular guest segment that your audience will look forward to. This introduces variety while maintaining consistency.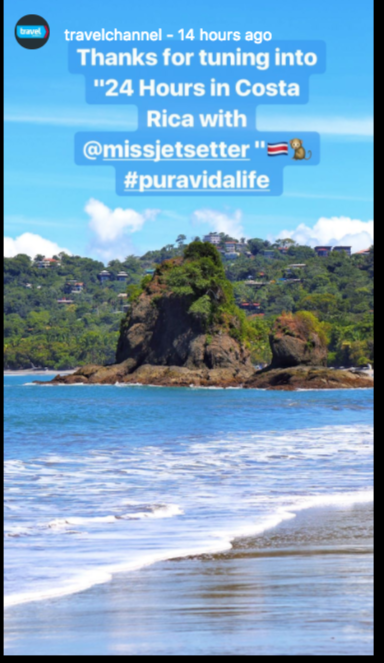 Plug a limited time sale.
Limited time sales and the 24-hour restrictions on Instagram Stories seem made for each other. The best part about promoting a short-term sale on Stories is that once the sale and the Story have expired, you won't have people continuing to comment on it or asking questions about it.
Promote a blog post.
With so much time and effort going into each blog post you create, it's a shame not to repurpose this content for social.
Create bite-sized content that you pull from your blog post and share it on Instagram Stories. Don't just direct people back to your post, though. Instead, highlight key points so that your Instagram community will reap a ton of value whether or not they head to the blog post. Apartment Therapy posted this blog-style Story to help followers optimize their kitchen.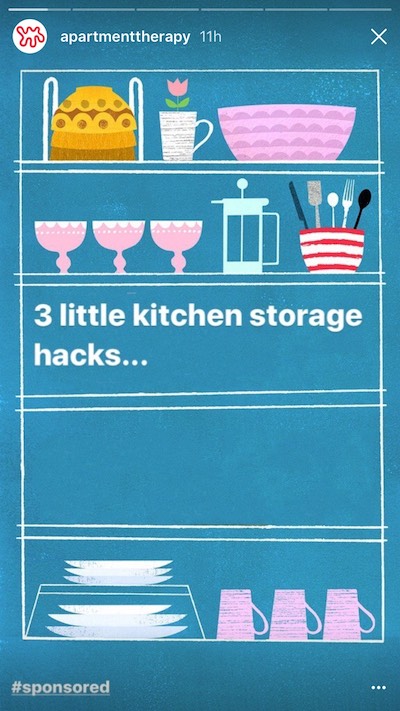 If you are one of the lucky folks who can add links to your Instagram stories (click here to find out if your account qualifies) then you should definitely add a link to each and every Story you make to promote your blog post. Don't forget to include a call to action such as "Swipe up to read more" – many folks aren't used to swiping up on Instagram Stories yet, so this serves as a helpful reminder.
Record live for in-the-moment excitement.
When you record a live video for Stories, it gets sent out in real time. Your followers will be notified that you've started a live video and they'll tune in to see what you have to say. This is a great opportunity to host an impromptu Ask Me Anything session or to cover an event – planned or unexpected – as it's unfolding.
Sell your products.
Stories makes it easy to show one of your products from different angles, on all sorts of customers, in various environments or being used in unique ways. Sometimes all you need to do to sell an item is show your audience how it will positively impact their life. At the end of the post, don't forget your call-to-action.
Share statistics or data.
Have you come across an interesting, shocking or little-known statistic that your audience would love to hear? Turn it into a post and share it on Stories. This is a super quick way to attract your audience's attention and tune them into what's going on in your industry. If you're sharing research that you or your company has gathered, you can create a longer Story with the data you uncovered and the steps you took to get there.
Show people how-to with a tutorial.
If you want to teach your audience something or show how useful your product or service is, conduct a how-to tutorial.
The best tutorials have discovered a customer's pain point and then solved it. Make sure yours is on the short side, though – you don't have a ton of time when filming an Instagram Story, so you need to make sure your audience can absorb the information you're giving them. For example, a makeup artist can show how to apply the perfect eyeliner instead of trying to show how to give someone a total makeover.
Culinary personality Amanda Haas prepped for a visit from Pottery Barn Teen by showing followers how she makes the perfect Nespresso drink.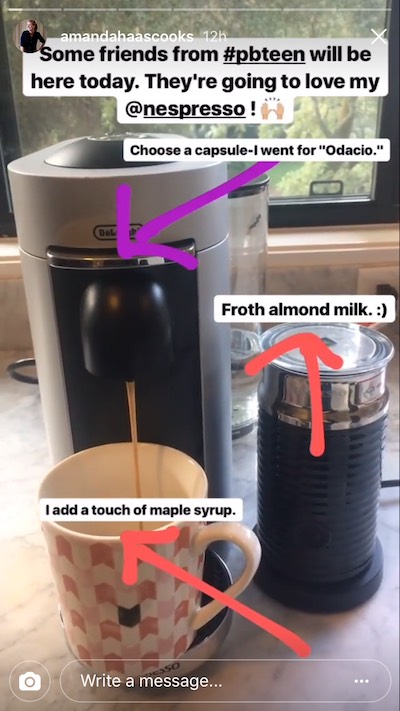 Spotlight your loyal customers.
If your audience posts about your brand, especially if their posts feature one of your products or shops, take the opportunity to publicly thank them. When your customers see themselves in your Stories, they'll be even more apt to tag you in future posts.
You can use Instagram user handles in Stories, so be sure to tag whoever's post you're sharing.
Test out a product or strategy.
The limited time you get with Stories is perfect for trying something out, especially if you're unsure how your audience will react. This can be anything from a new product to a new type of sale. Once you see how your idea is received, you can decide whether or not to roll it out in a bigger way.
Your turn…
Your brand's marketing strategy needs to include Instagram Stories. They allow you to innovatively interact with customers and fans while driving engagement and showcasing your business or products. They also help train a brand's marketing team to quickly engage with their audience in a focused, time-sensitive way.
Do you know of any accounts with amazing, over-the-top Instagram Stories? Who are they?