In July 2018, Facebook reported that over 2.2 billion people log in to the platform every month. Somewhere in that 2.2 billion, we're guessing that your target audience is probably represented.
According to HootSuite, "Facebook is the top choice for reaching the broadest audience." Your potential clients are there — and your competitors are, too, by the way.
YouTube may still be ahead in terms of popularity, but Facebook is still in third place on the list of most-visited sites.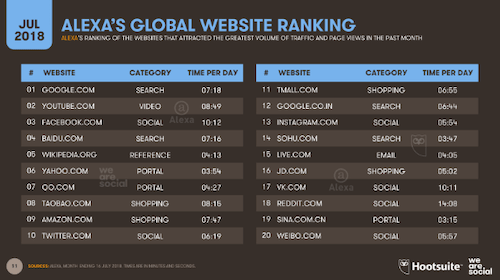 Plus, Facebook's mobile app could be pulling the numbers down by attracting a lot of users away from the desktop site. Facebook's app and the Messenger app are both more popular than WhatsApp and Instagram (all of which outperform most other social apps).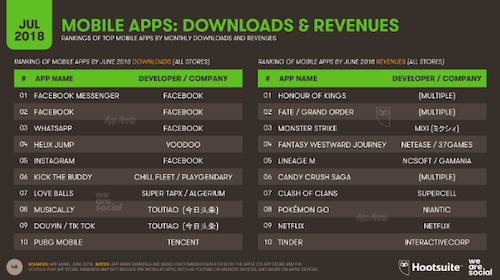 The point? This is definitely not time to shut down your account. Instead, advertise!
Ads are part of any solid Facebook strategy for business, especially if you want to get noticed above the competition by your target audience (and who doesn't, right?).
Let's go over the facts you need to make the most of the situation right now.
13 Facebook Advertising Statistics You Should Know About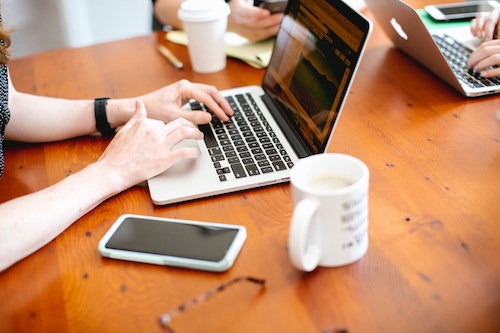 Source
I've only taken research from the last few months (as of June 2019) so that nothing will be outdated, considering how fast algorithms and trends change. I've also mixed in some non-ad stats when they relate to the types of ads you may run – for example, video stats are important if you're on the fence about whether or not to run video ads.
1) Pretty Much Everyone is Using Facebook, Regardless of Their Age
Despite its reputation of late for appealing to only older users, 34% of Facebook's ad audience is under the age of 25, and 30% of its ad audience is 25-34.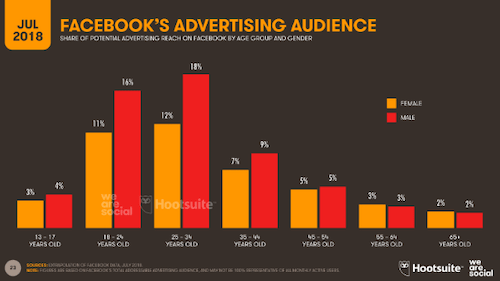 That means that Facebook marketers should know how to appeal to millennials as well as Generation Z, unless they're definitely not part of your audience (but they probably are). And if your audience just isn't that young, you should still use Facebook ads – 41% of people aged 65 and up are on Facebook.
2) Almost All Marketers Use Facebook
According to Social Media Examiner, 94% of marketers use Facebook, and 61% of marketers say that Facebook is their most important social media platform. 72% of marketers currently use Facebook ads and 59% of marketers want to use Facebook ads more frequently in the coming months.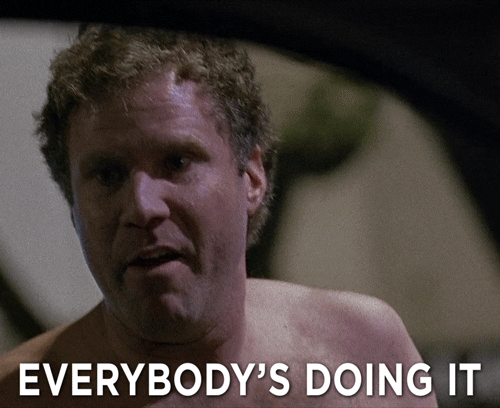 Are you one of those marketers? Maybe you should be.
3) By the End of 2018, Facebook's Ad Revenue was $16.6 Billion
Moreover, ad revenue made up a majority of Facebook's total revenue, which also includes payments and fees. Not only was it $16.6 billion by Q4 of 2018, it was higher than any other quarter between then and Q4 of 2016.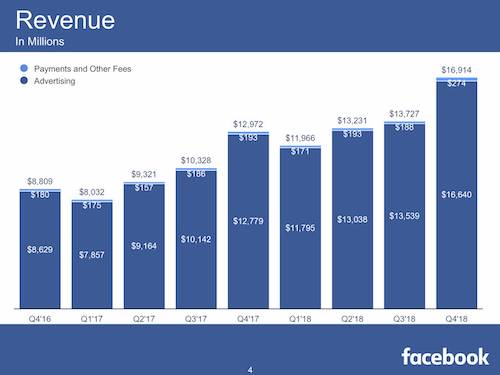 At first, you may not care about Facebook's ad revenue. However, simply knowing that Facebook is getting almost all of their money from ads means that advertising will continue to be important to the company. If they weren't running a successful advertising platform, you would want to seek out alternative sites to run your ads. As it stands, though, Facebook will likely continue to make tweaks and improvements to their ad program so that advertisers will keep using it.
4) Facebook Ads Have an Average Cost Per Click (CPC) of $1.72
According to WordStream, apparel has the lowest CPC at 45 cents, while finance/insurance has the highest CPC at $3.77. Knowing the average CPC or what's normal for your specific industry can tell you if you're spending too much or should try spending more.
If you don't have a big ad budget, only paying for the clicks your ad gets is a way to manage your spending. However, if the CPC is high and your ad performs well, you could end up paying a lot.
You want your ad to perform well, of course, but you also need those clicks to matter. That means getting quality traffic that converts, which requires running carefully targeted ads and designing landing pages that encourage visitors to take the next step.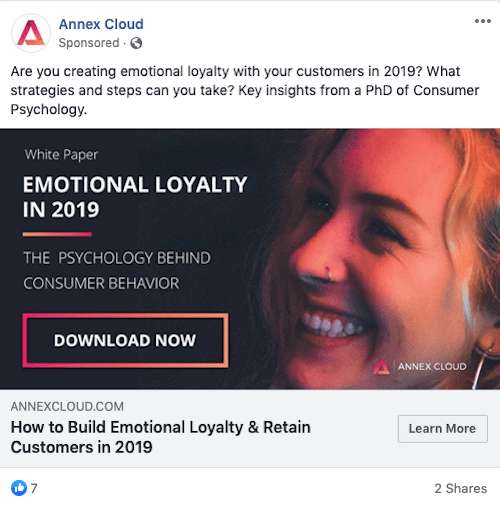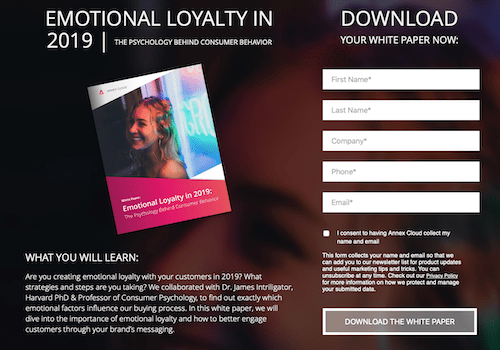 5) There's Been a 20% Drop in Facebook Ad Engagement… But That's Okay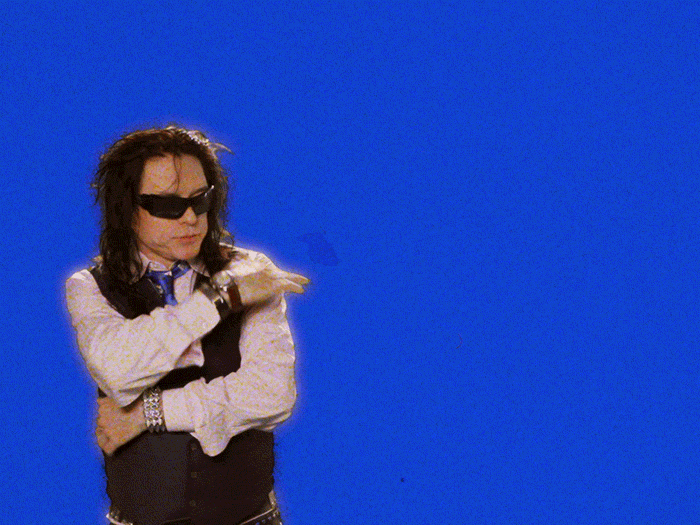 Yes, 20% is a lot, but that doesn't mean Facebook ads overall aren't worthwhile, just that audience behavior has changed. According to We Are Social, "It's important to note that this change relates solely to user behavior, and isn't necessarily an indication of any change in the success of Facebook advertising." For marketers, this could mean that running brand awareness ads, which don't require a click, could still be impactful.
---
You've come to the right place.
Get in touch for
a free demo.
---
6) The Average Facebook Page Post Has a 3.91% Engagement Rate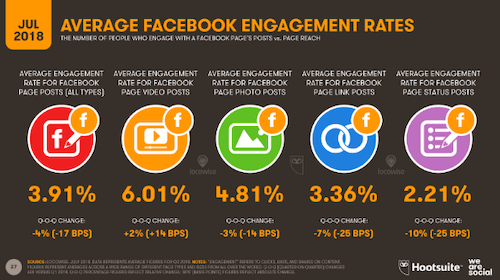 Whether you think this number is good or bad – it depends on your own experience with ad engagement rates – this percentage can serve to ground and compare your own stats.
Video posts get the highest engagement rate at 6.01 percent, followed by photo posts at 4.81 percent. Basic status posts get the lowest engagement rate at 2.21 percent, so always add some sort of media to your text.
The type of engagement you get matters, too. While likes and emoji reactions are fine, comments and shares are best. The better your engagement, the less you can spend to promote posts because you'll already have good reach.
7) The Legal Industry Has the Highest Click-Through Rate (CTR) on Facebook
You may not think to log in to Facebook to find a lawyer or brush up on legal info, but legal advertisers have the highest CTR at 1.61 percent. This could be because there's less competition on Facebook than in search engine results, so legal ads stand out more.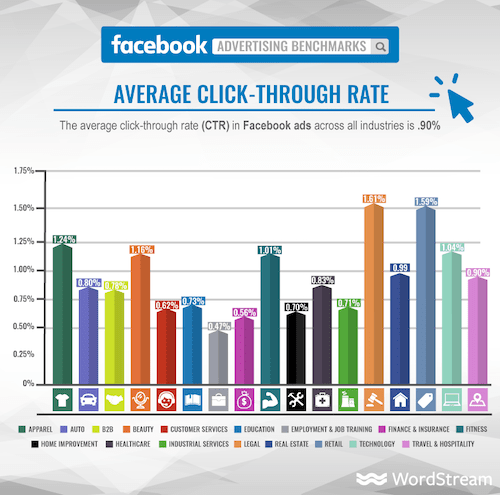 8) You Can Figure Out Your Posts' Organic Reach by Calculating 6.4% of Your Page Likes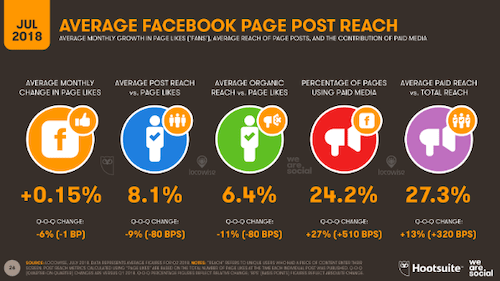 This is not a high percentage. What it means for marketers is that you can't focus on growing your page more than creating engaging content. You can have as many page likes as possible, but your followers still have to be encouraged to engage – they're not going to engage simply because your content pops up on their feed.
9) 39% of Facebook Users Say They Follow a Brand to Receive Special Offers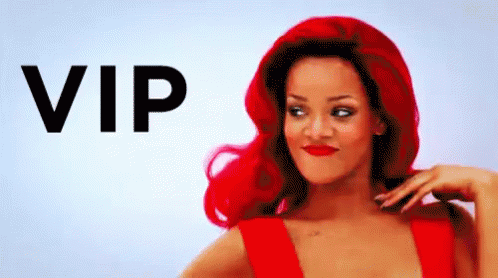 This is only 1% less than the Facebook users who follow a brand simply to stay informed. Smart marketers will give followers what they want, which is a combination of brand information (product launches, sustainability efforts, behind-the-scenes peeks) and VIP-level offers.
10) Facebook is More Popular for Branded Video Content Than YouTube
According to Buffer, 81% of businesses share video content on Facebook, while only 62% share video content on YouTube. Plus, most businesses are publishing video content – only 14.5% hasn't gotten on board yet. This is how frequently businesses are publishing video content: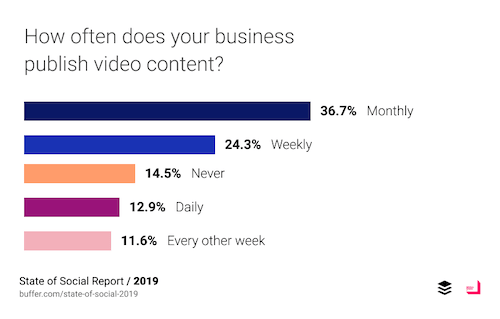 11) Video Ad Watchers Between the Ages of 18 & 24 Have 75% the Attention Span of Audiences That Are 65 and Over
It's not a shock that younger viewers have shorter attention spans, but marketers should take note of this stat because it can guide the types of videos they make. Shorter videos can be targeted to younger audiences, while older audiences will have more patience for longer content.
Note that ad durations are relative – "long" can mean 15 seconds in the fast-paced world of Facebook advertising, while short can mean six seconds.
Facebook also found that the time of day should determine the length of your videos:
People's video experiences lie on a spectrum—quick and bite-sized at one end, when they are in discovery mode throughout their day, and deliberate and longer at the other end, when there's time and attention for longer consumption. – Facebook
12) 96% of Facebook Users Access the Platform Through a Mobile Device (Smartphone or Tablet)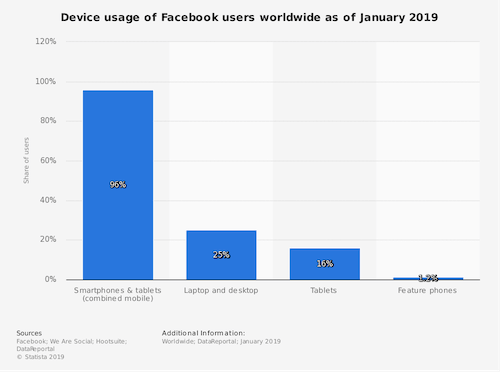 According to Sprout Social, "Because people access Facebook from a variety of devices, the [total] percentage numbers are over 100%."
What this means for advertisers is that you have to check out the mobile preview in addition to the desktop preview before posting your ad. If the mobile preview doesn't look how you'd like it to, change the ad placement so it doesn't show up on mobile. You can always create an additional, mobile-only ad that's designed exactly the way you want.
13) Facebook Stories Has Untapped Potential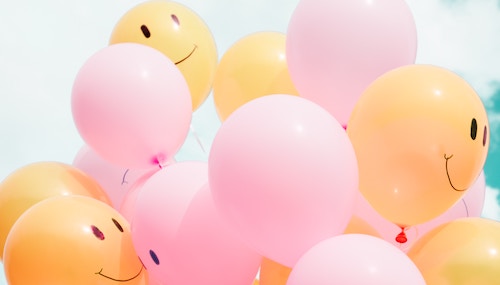 According to Facebook Business, there are over 300 million daily users of Facebook Stories and Messenger Stories. Since the Facebook Stories platform is still relatively new and not nearly as popular as Instagram Stories, the ad market isn't super-saturated here. The ads you can run on Facebook Stories are full-screen, and you can create an ad for any objective (app installs, lead generation, reach, etc.).
Don't ignore this – according to Buffer, 1 billion accounts use Stories on Facebook-owned platforms. The Buffer study also shows that 57% of brands feel that Stories have been 'somewhat or very' effective in their marketing strategy.
Now You're Clued-In & Ready to Advertise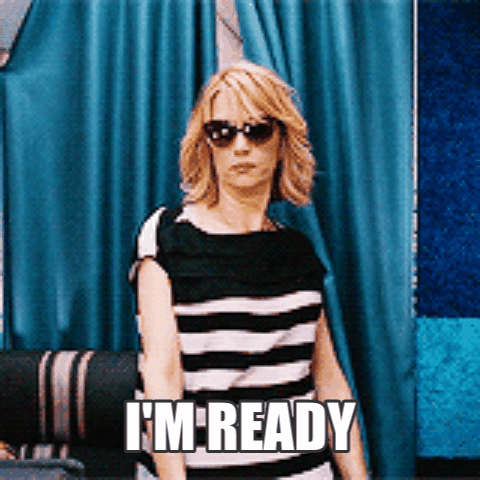 There are surely plenty of Facebook business statistics that you're already knocking out of the park, but there's always some room for improvement in your strategy.
Knowing general Facebook advertising statistics is a good start, but also dig into the averages for your specific audience and industry. The brand you're in the strongest competition with is actually your own, as you continually learn and grow from where you were. Even if you're not yet reaching industry averages, if you are improving on your past numbers, you're on the right path.
Which of these Facebook advertising statistics means the most to you and your brand?