Instagram has been one of the biggest social media channels since it burst onto the scene, but there's one thing that's consistently been a massive bugbear for brands using the platform.
While it's perfect for sharing eye-catching images and building a really juicy company aesthetic, it's not great for driving traffic. In fact, it's really bad at driving traffic.
You see, up until late 2017, the only way you could get people to move from your Instagram account to your website was via a link in your bio.
But you could only have ONE link.
Individual posts didn't have the ability to direct people from the platform to somewhere else, which made it a big old headache for brands compared to Facebook and Twitter that basically live for the links.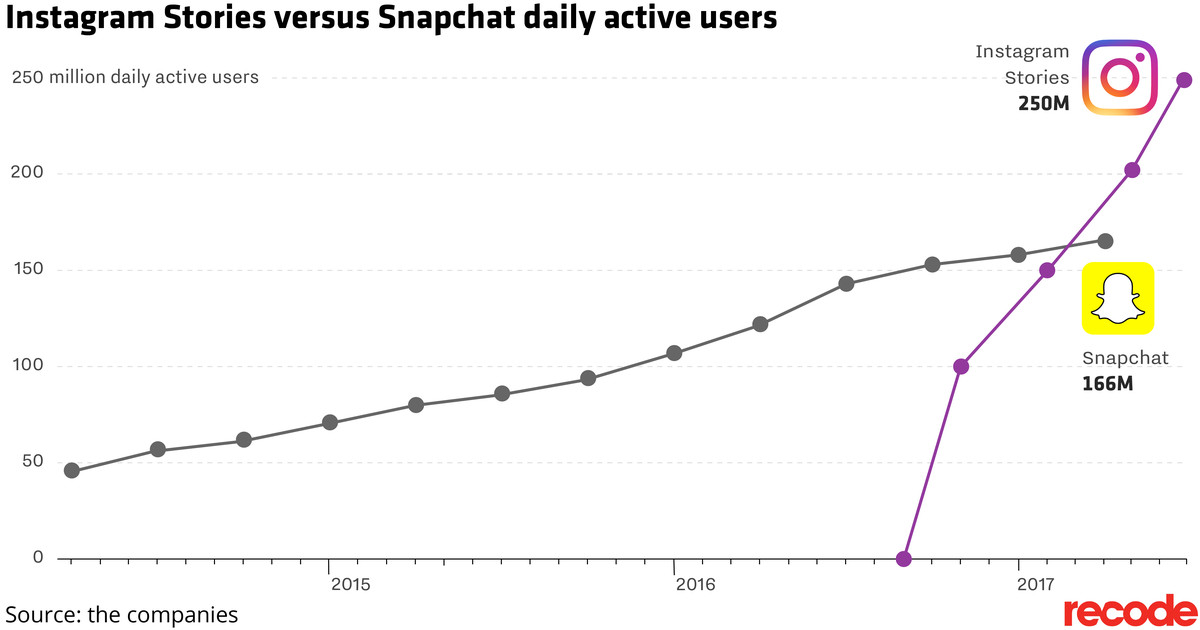 Instagram Stories quickly overtook Snapchat when they were first released. Source.
All that changed in a hush-hush moment late last year when Instagram allowed business accounts with more than 10,000 followers to add links to their Stories. Cue excitement.
As you can imagine, eligible brands raced to take advantage of this new feature and saw incredible results – some reported a whopping 25% swipe through rate.
The reason brands are seeing so much success with this is because Instagram boasts a seriously engaged audience.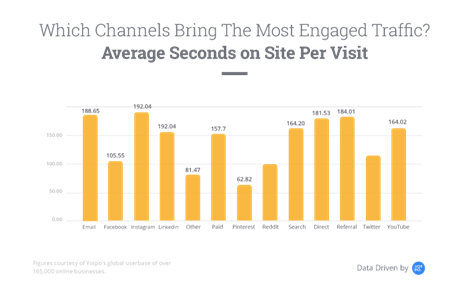 Followers tend to engage with the brands they follow on a daily basis, and this means they feel more connected to them on the whole. Add to this the fact that 45% of brands are tapping into the power of Instagram Stories at least once a week, and you have a magical combination.
Companies and influencers are quickly realizing the sheer profitability of Insta Stories. "Swipe ups lead to sign-ups," says this Digiday article. "Which is leading more publishers and influencers to use Instagram as an audience acquisition tool."
What it boils down to is this: someone signing up via a swipe-up on a Story is worth more in lifetime value than someone who's come from a random article on Facebook or a disconnected Twitter embedded amongst a million others.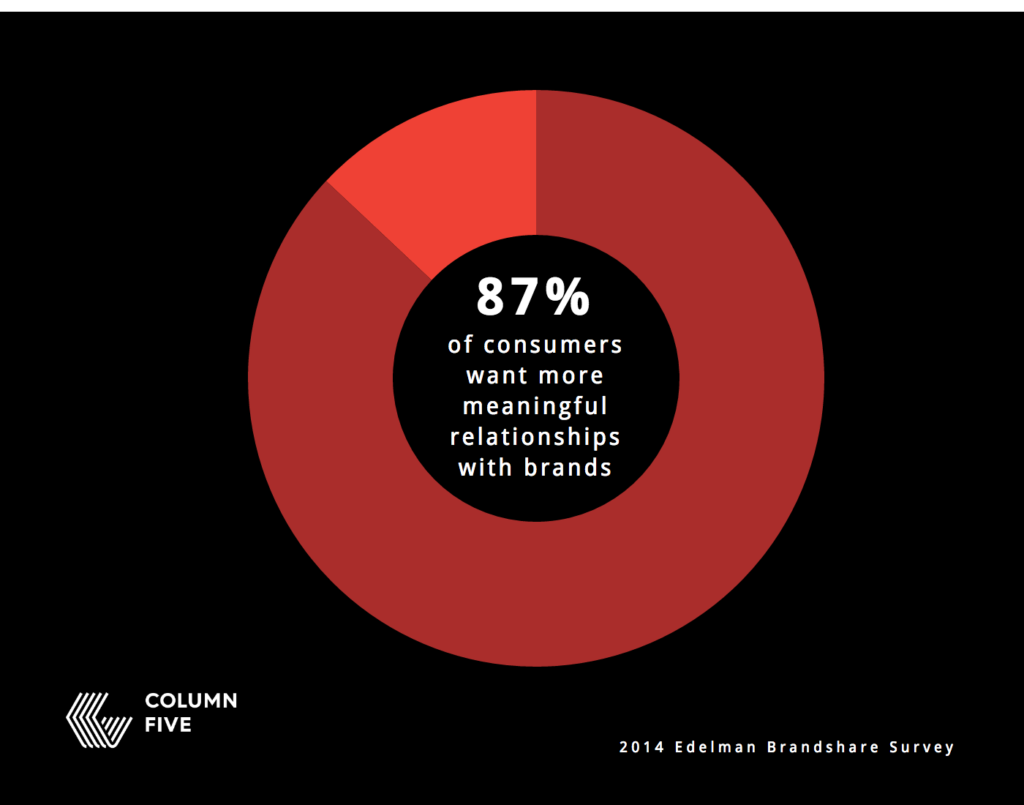 We're at a moment in time where consumers are craving deeper connections with the brands they interact with, and Instagram Story swipe ups have proved to be an excellent way to forge and tighten relationships. The story feature value is consistently going up and up, here are some tips on How to Make Better IG Stories and creating better content.
So what's the deal?
Like with any new feature, experiments have been undertaken and lessons have been learned, so let's dive into 5 of the major ways brands have been using swipe ups to their advantage.
1. Swipe Up to Sign Up
Turning Instagram followers into subscribers is the ultimate aim for many brands. Followers tend to be loyal and getting them onto an email list is basically a business must-do.
Which is where swipe-ups come in.
A lot of brands are doing the whole "get something for free if you sign up" and creating awesome branded Stories to go with the enticing offer.
And guess what?
It works.
Take So Yummy as an example. They publish Stories every day and have created a mass of loyal followers who are eager to devour their content whenever something new is posted. The brand saw an opportunity to turn these fans into subscribers and started adding links to their Stories to get people to sign up for a freebie.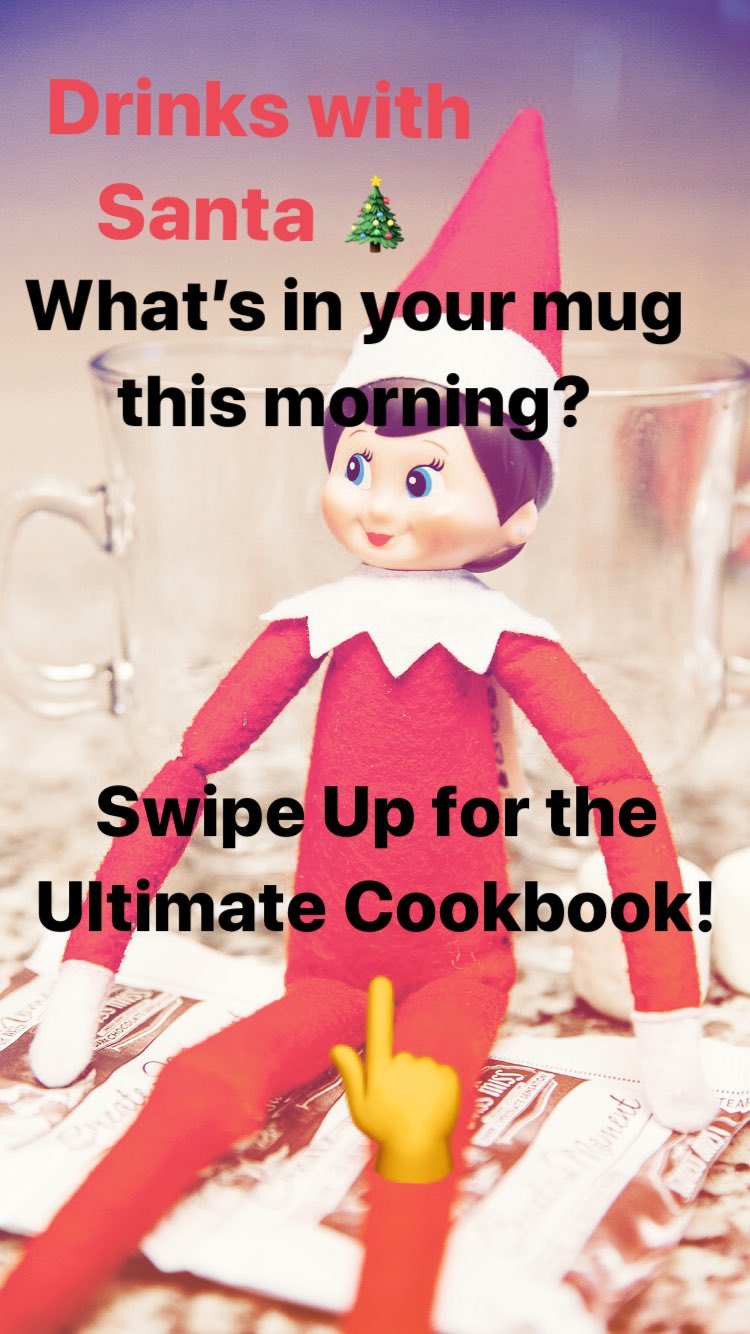 As a result, So Yummy saw a 2.3% swipe-through rate on their Stories. But, better still, the people who signed up to their email list from Instagram opened emails at an above-average rate. A.K.A. They were more engaged and, therefore, more likely to buy.
And then there's Twitter.
You know, that other social media platform. They sneakily (or not-so-sneakily) try and guide people away from one social media channel to another by posting Twitter highlights on their Instagram Stories. When followers click through to see more Tweets, they're prompted to sign up for a Twitter account if they don't already have one.
Cue more users for Twitter. Clever, right?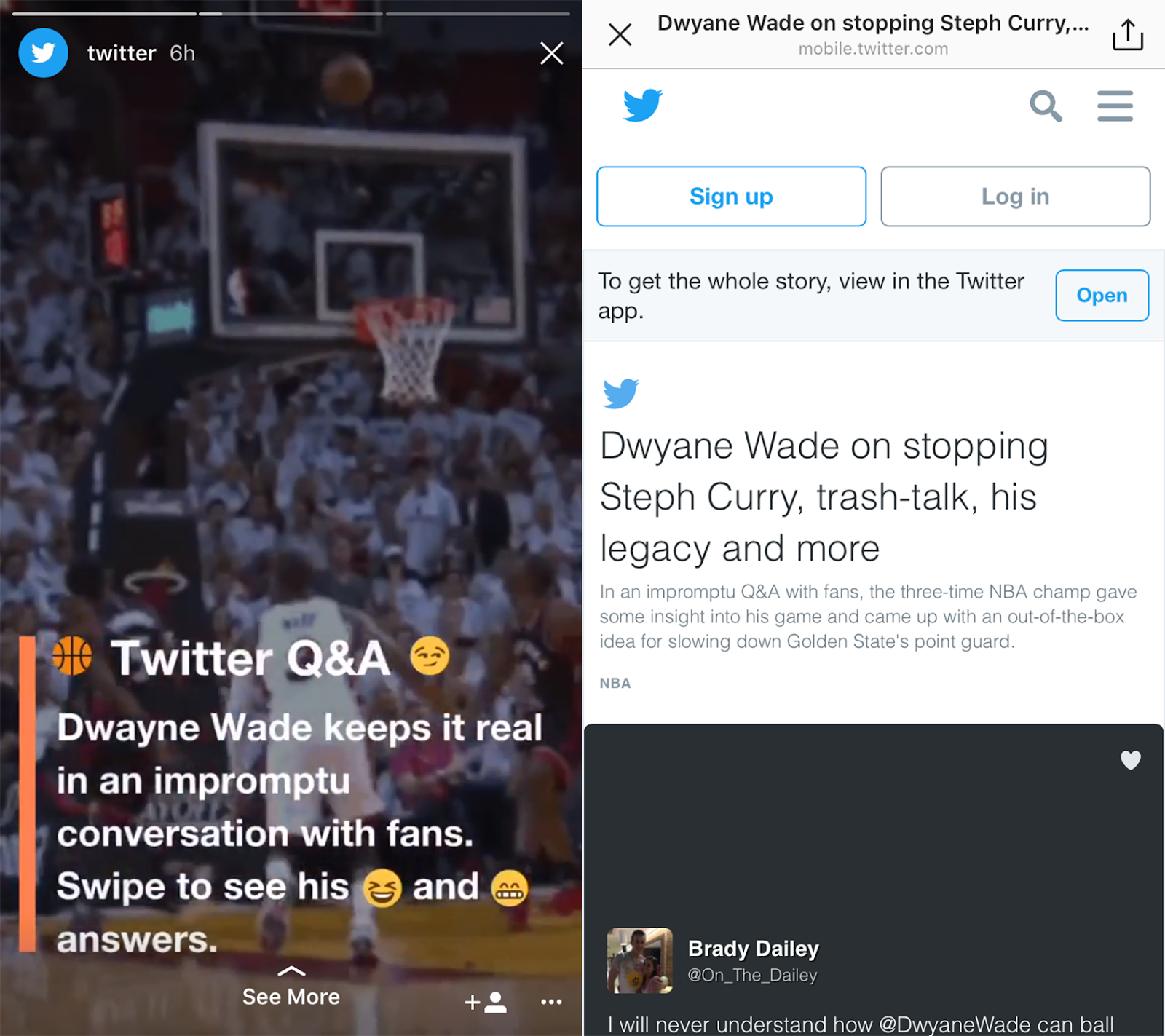 Apply This Yourself
Turning Instagram followers into subscribers is made a load easier with the swipe-up function. Instead of directing people to a link in your bio which, let's face it, no one's going to go on a mission to find, you can get them to sign up at the moment.
Make like So Yummy and offer a freebie to add an extra incentive, or do a Twitter and hide more content behind the sign-up form.
2. Swipe Up to Learn More
Stories are all about… well, stories.
Rather than edited snippets and fragments of life (or a brand), they provide a chance for businesses and influencers to share raw, in-the-moment snapshots of whatever they want.
For brands like Saucony, the ability to add links to their narratives was a real bonus. Now, the brand uses Stories to lead viewers on a journey that ultimately ends up with the product – or, more specifically, with followers buying the product.
In one Story set, Saucony interspersed content showing a shoe design with models wearing them. In some of the slides, they touched on the benefits and features of the shoe and ended with a strong call-to-action encouraging viewers to "learn more" about the product.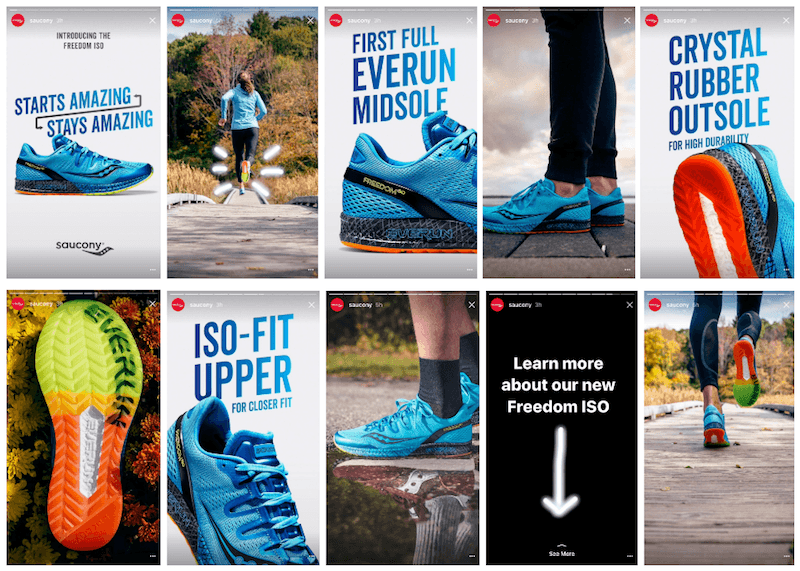 In a similar situation, North Face managed to get super creative.
Their call-to-action played on the whole swiping culture of dating apps and asked viewers to swipe "up" rather than right or left to "match" with the perfect bag.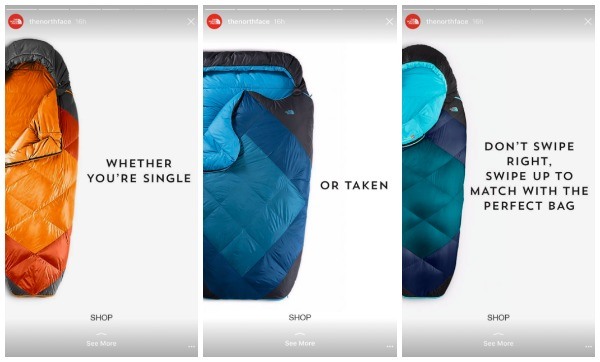 Apply This Yourself
Instagram was made for storytelling.
C'mon, the pretty pictures, the grid format – it was designed to take people from one point to another.
Stories tap into this, giving you the chance to highlight key features of your product or to simply take viewers on a frame-by-frame journey. When someone's invested in the Story, you can then incorporate a call-to-action as one of the steps and invite them to learn more about a concept or a product.
---
Instagram Story Highlight Covers:
A really exquisite touch to add to your business's Instagram page.

 
But, how do you do it?
Don't worry about all that.

We here at Jumper Media can do it for you!
We'll create 5 custom stories just for you for only $47!
---
3. Swipe Up to Save Money
People like to save money. Fact.
If people can save a pretty penny, they'll go out of their way to do so, which means swiping up even if they're not usually the kind of person who does that.
French Connection and Crate and Barrel have used this to their advantage to lead viewers straight to their sales pages.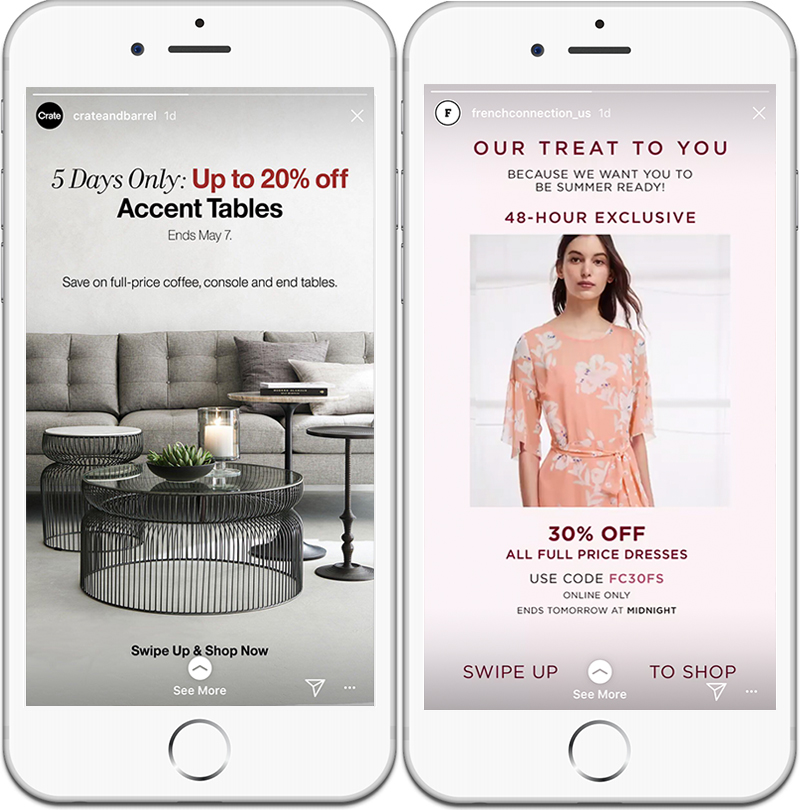 Both brands use bold images and text to let viewers know that they can save money if they make a purchase.
Taking it a step further, they also add in an element of urgency (which, if you didn't know, works really well to get people to part with their cash) by adding in a timeframe in which viewers have to snap up their bargains.
Apply This Yourself
We're not saying you need to offer discounts all the time just to get people to head to your sales page, but a little sale every now and again never did anyone any harm.
Sharing limited-time offers gives viewers a huge incentive to click through to your site right away and, once they're there, they might stick around for a while and make a purchase. Make sure you use eye-catching images and stand-out text to grab people's attention and use direct language to get them over to your site.
For an extra pull, add a time limit to the offer so people have to act right away.
4. Swipe Up to Win
Just like people love saving money, people also like winning.
It's human nature, right?
Stories are the perfect place to share a contest and give loyal, engaged subscribers the chance to win something exciting (just make sure it is exciting, yeah?).
Mejuri does this well.
Using the brand's pastel color palette and luxurious images of things (sparkly jewelry and pretty cocktails, anyone?), the Mejuri social media team create Story slides that promote the chance to win fun prizes like a shopping spree or a two-night hotel stay.
Viewers are encouraged to "swipe up to enter" which, like the discount method, taps into that part of the human brain that likes to win things or get stuff for free.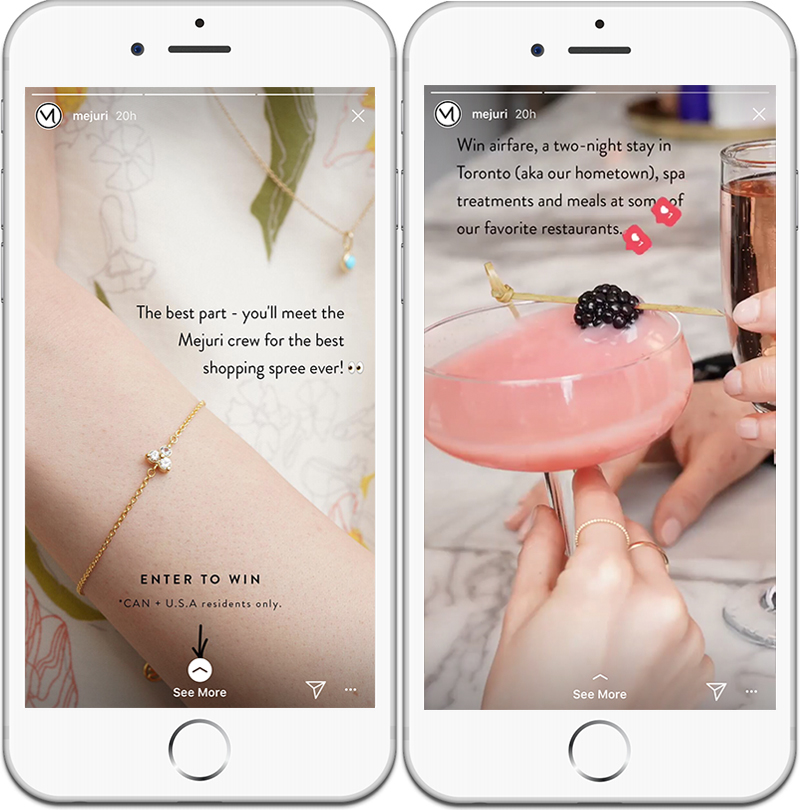 Apply This Yourself
Contests are a great way to boost engagement and your follower count, and using Stories to funnel people to enter is a more focused, proactive approach than hoping people scroll past your Instagram post and take notice.
Make like Mejuri and create eye-catching Story frames that highlight exactly what viewers will get if they win and add a call-to-action that gets them to swipe up to enter.
5. Swipe Up to Get Inspired
National Geographic is one of the most inspiring brands in the world, and its Travel branch really knows how to make people dream of faraway destinations.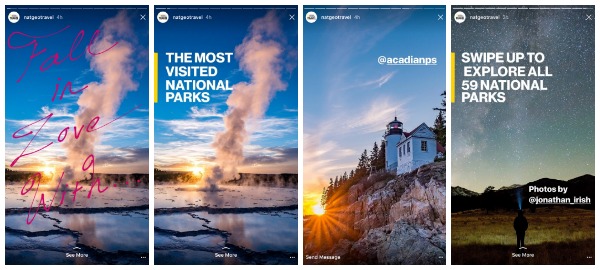 The incredible imagery certainly helps grab the attention of Story viewers, but the brand then goes a step further and invites people to check out more inspiring stuff by swiping up to view the accompanying blog posts.
This method is great if you simply want to get people to move from your Instagram account to your website. The aim isn't to get people to subscribe (although they may well do that once they're on the site) or buy, but to simply "explore".
Apply This Yourself
In the past, brands have sidestepped the whole not being able to direct people to their blog posts via Instagram posts by updating the link in their bio every time they publish fresh content.
Time-consuming, right?
And what about all the other great content that you've published that people might have missed?
If getting people to your blog is a top priority – maybe you want to cement yourself as an authority in your niche – put together some Story slides that invite people to click through for more. Give a teaser in the Story and use the build-up of anticipation to drive people from your Insta account to a blog post.
The Future of Instagram Story Swipe Ups
The swipe-up feature is still shiny and new for brands and influencers, many of whom are still testing the waters with different techniques and methods.
How you integrate the function into your brand really depends on what your goals are for your Instagram account – do you want to use it to boost your email list? Do you want it to build your positioning as an authority in your industry? Or do you want it to fuel more sales and generate a huge loyal following?
Experiment with some of the ways the brands we've mentioned here have tried out, but also play around with different ideas to find out what your audience like to see.
Who knows where the feature will lead brands and influencers to in the future. Soon, we might be seeing the option to swipe-up for all kinds of weird and wonderful things.
Want more hacks to use with Instagram Stories? Check out our tips and recommendations here.