Hello, Business Mavericks! In today's digital age, your online presence is a make-or-break factor for success. If you're a local business owner, you've probably heard about the importance of SEO and having a great website. But here's the kicker – there's an unsung hero in the digital marketing world, and it goes by the name of Google My Business (GMB). This is where the magic happens when it comes to local visibility.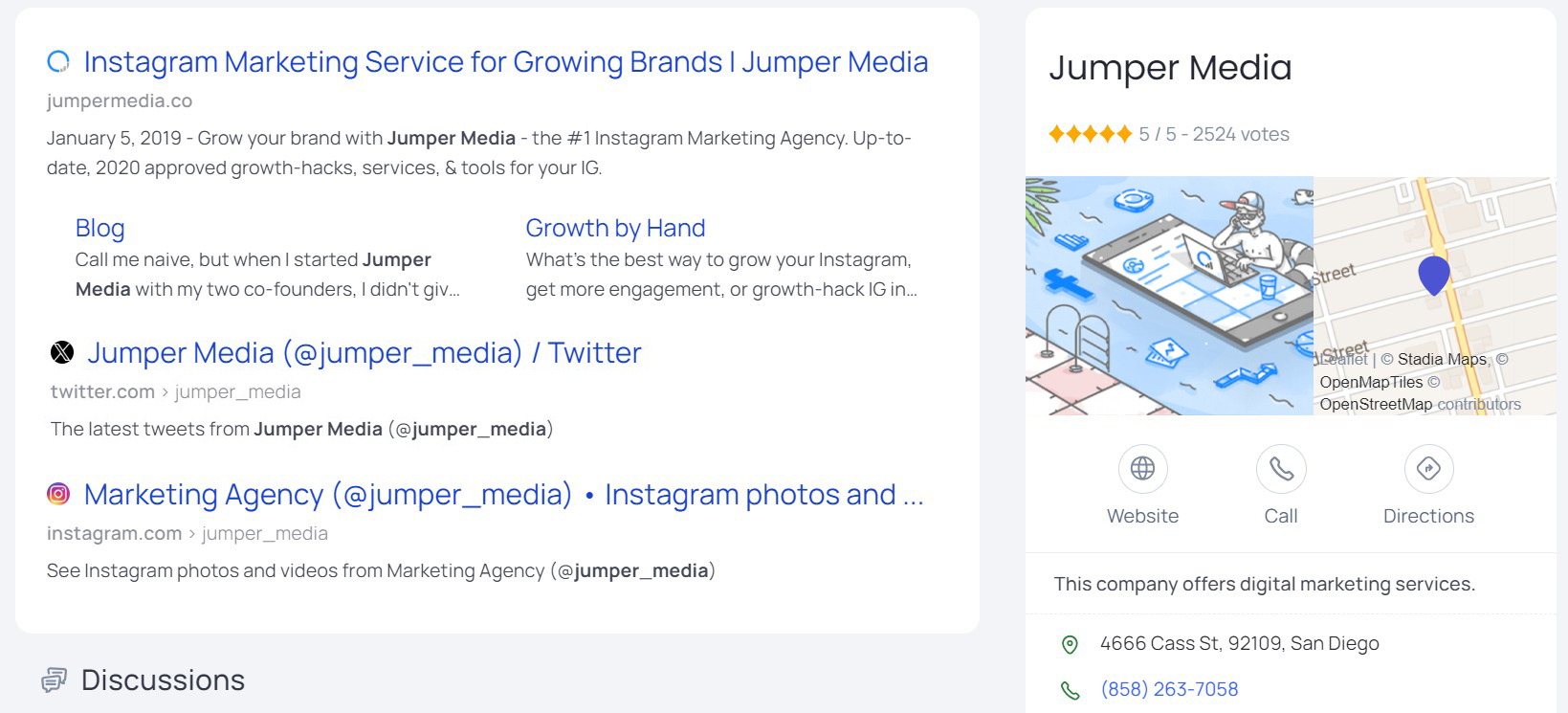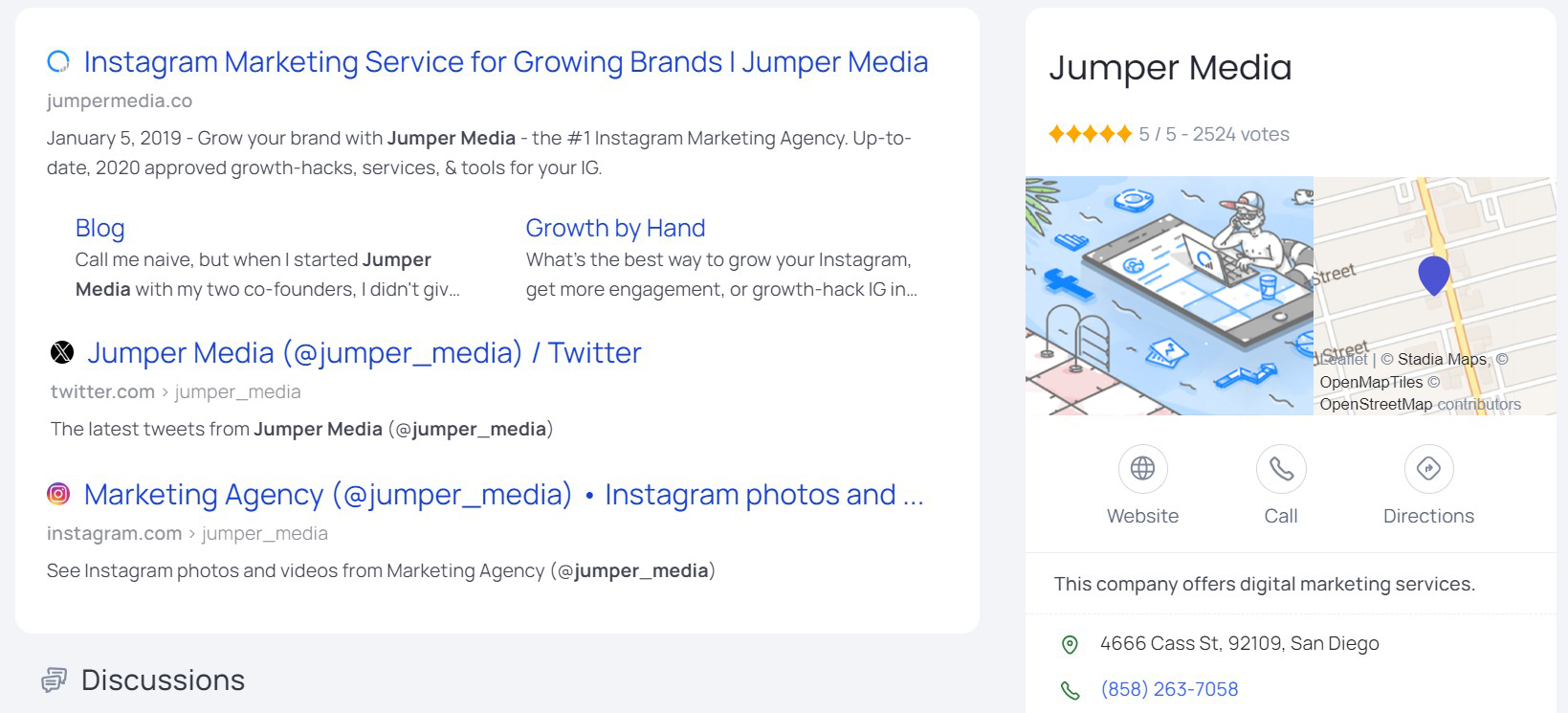 Your Google My Business listing is your digital storefront.
Photo by Jumper Media
So, why is GMB optimization so crucial? Well, picture this: you're craving a slice of pizza, and you whip out your phone to search for the nearest pizzeria. What's the first thing you see? It's a Google Maps listing, right? Bingo! That's the power of GMB.
Today, we're going to explore the art of GMB optimization, and I promise you, it's going to be a game-changer for your local business. Buckle up and let's dive right in!
Part 1: The Must-Haves for Google My Business Success
1) Contact Information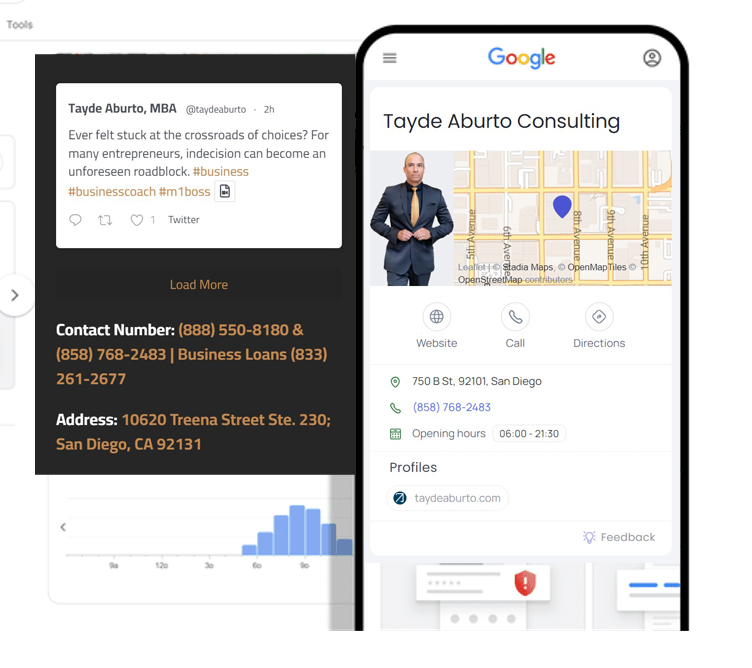 Accuracy matters – double-check your contact details!
Photo by Tayde Aburto Consulting
Your GMB listing's foundation? Accurate contact information! Your business name, phone number, and website URL should be spot on. Consistency across your social media and online listings is key – discrepancies can dent your credibility.
2) Choose Your Categories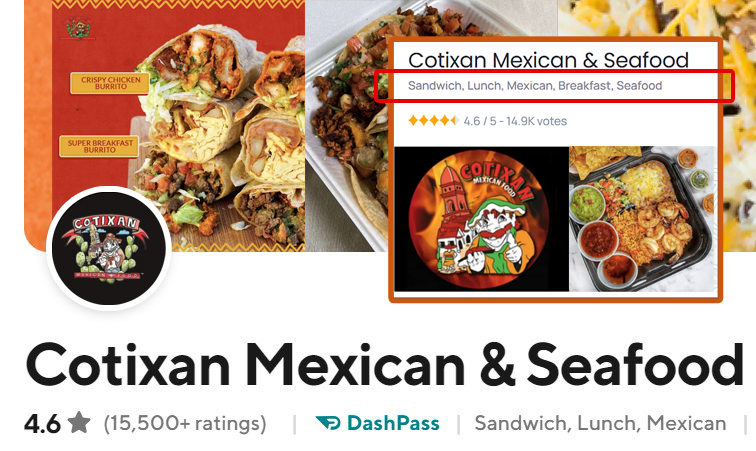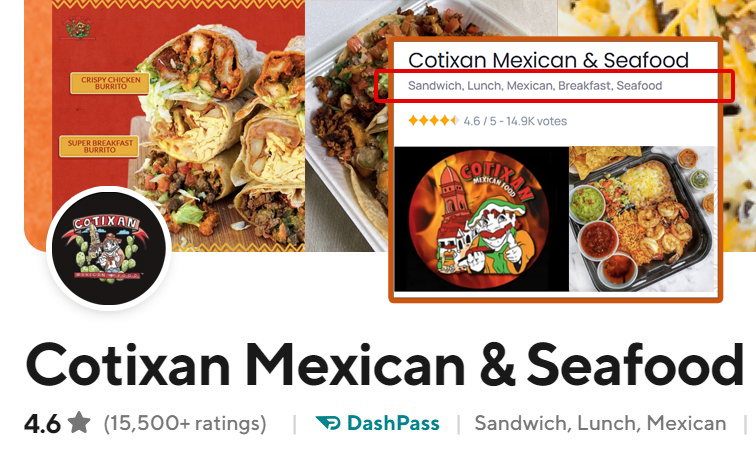 Choose wisely; your categories define your business.
Photo by Cotixan Mexican & Seafood via Doordash
Choosing the right categories is like selecting the perfect outfit for a special occasion. It makes all the difference. Your GMB categories are how potential customers find you during local searches. So, let's be precise and pick the most fitting category that truly represents your business. If none of Google's suggestions quite hit the mark, choose the closest match, and don't hesitate to add extra categories that reflect your various services or products.
3) Business Posts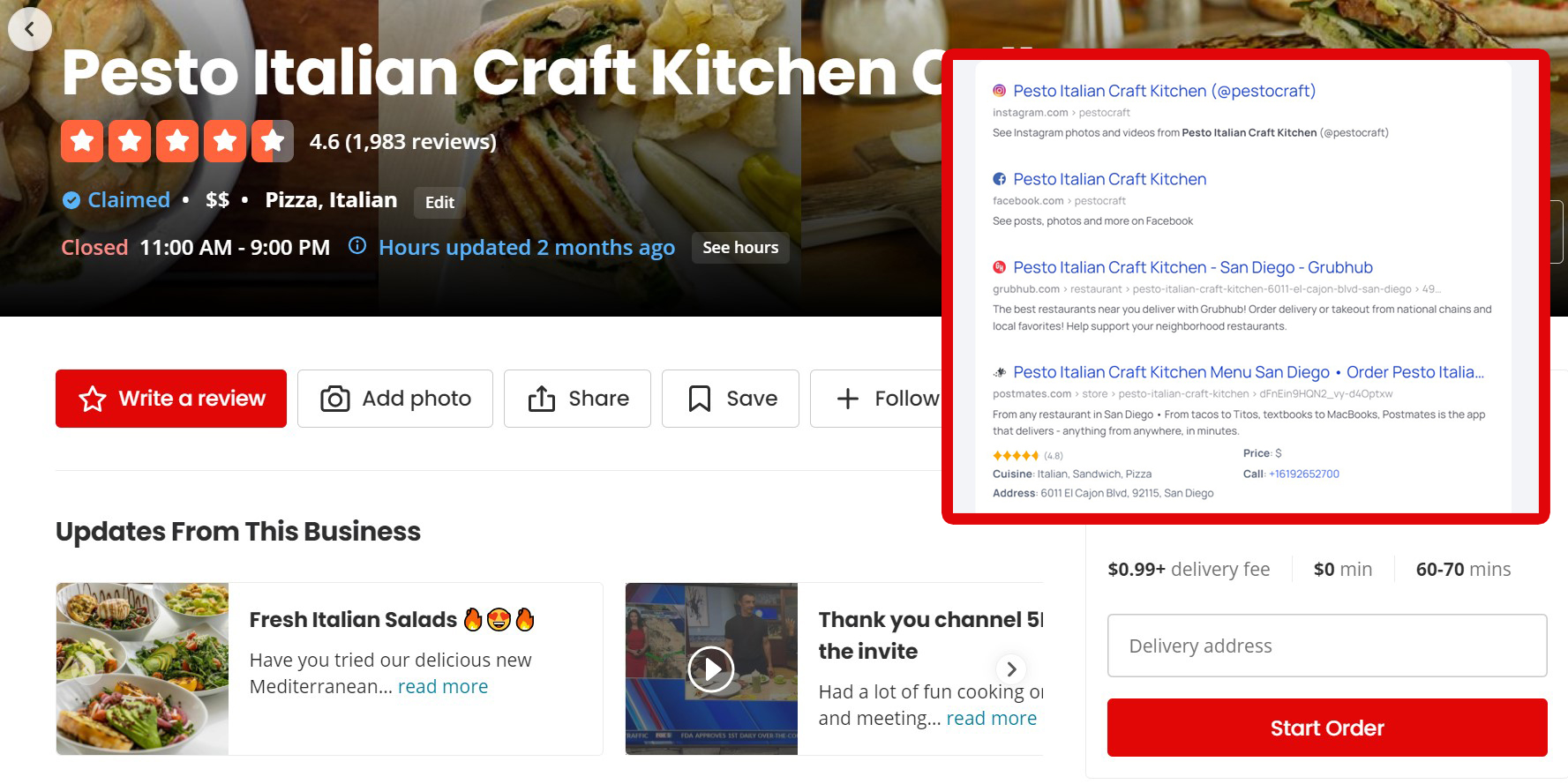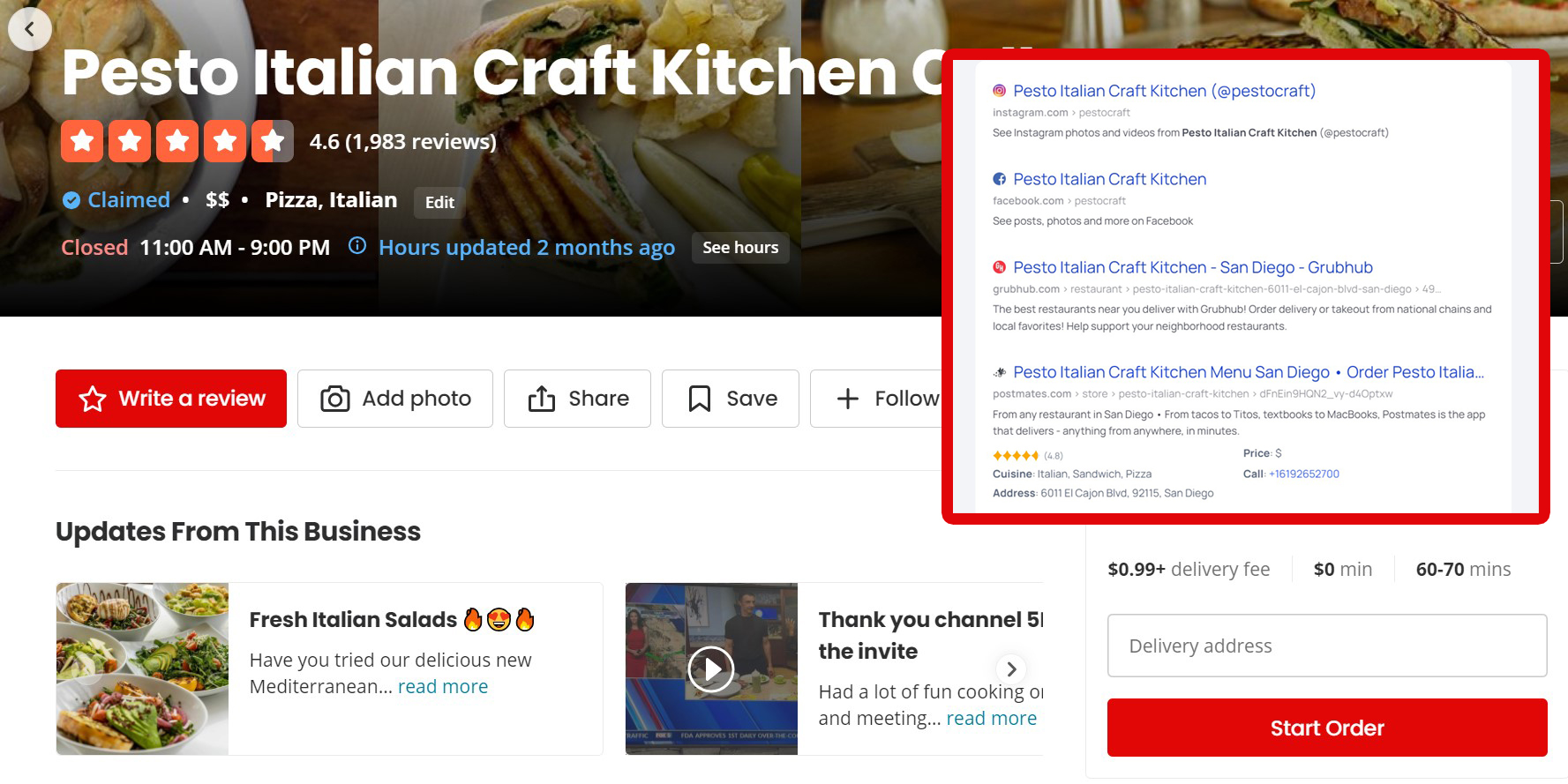 Engage your audience with eye-catching GMB posts.
Photo by Pesto Italian Craft Kitchen College via Yelp
Think of GMB posts as your digital bulletin board for all things exciting in your business. Whether it's news, promotions, events, or just sharing valuable information – keep your audience in the loop. Consistent posting on your GMB listing is like music to Google's ears. It shows you're active and engaged with your customers, which can push you up in local search results. And remember, spice up those posts with eye-catching images, captivating headlines, and clear calls to action.
4) Business Description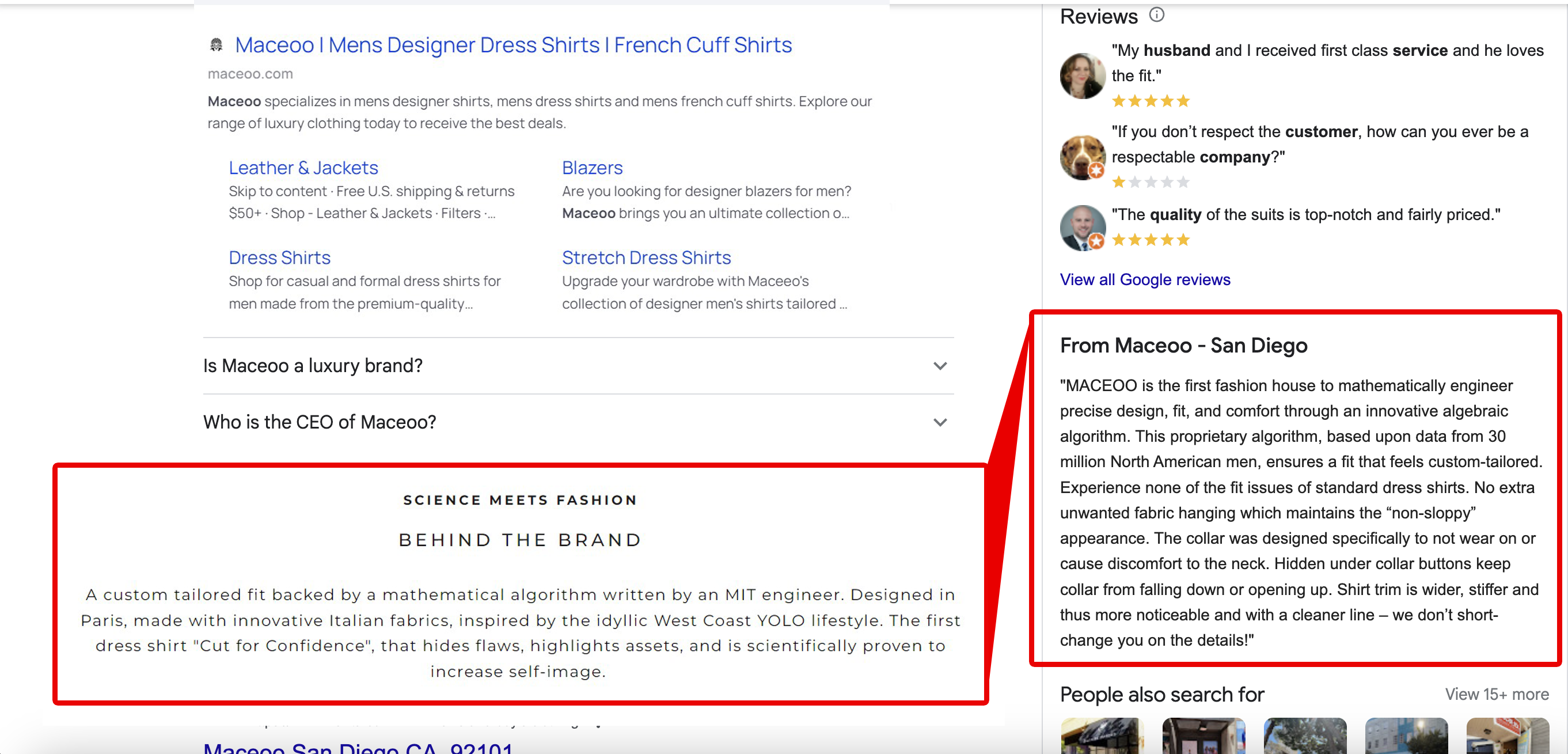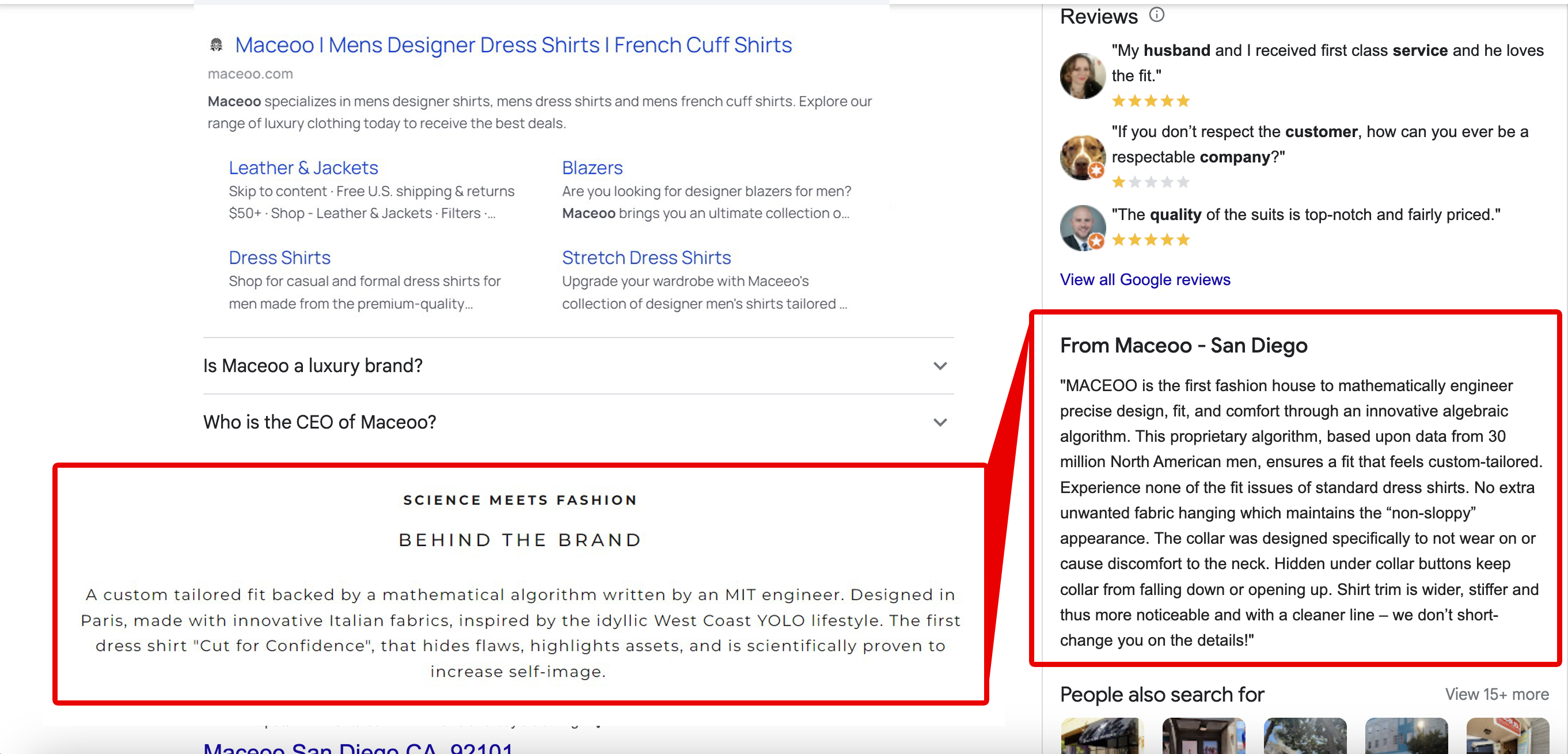 Your business description is your digital handshake.
Photo by Maceoo Paris
Crafting a compelling business description is more important than you might think. It's your chance to make a stellar first impression. Keep it concise but informative, and don't forget to sprinkle in those keywords that are relevant to your business. This description is your digital handshake, so make it firm and friendly!
5) Products/Services (Including Menu)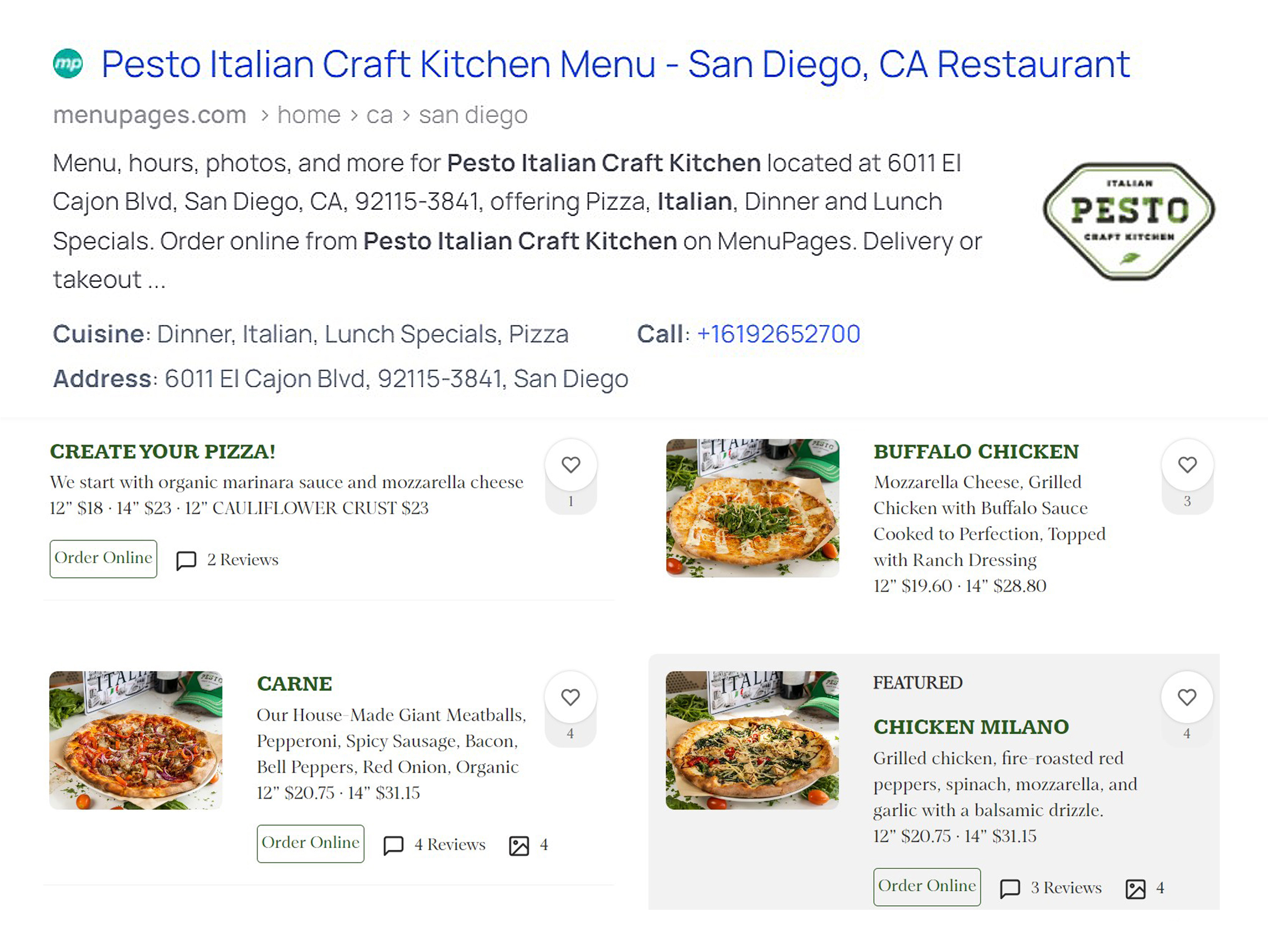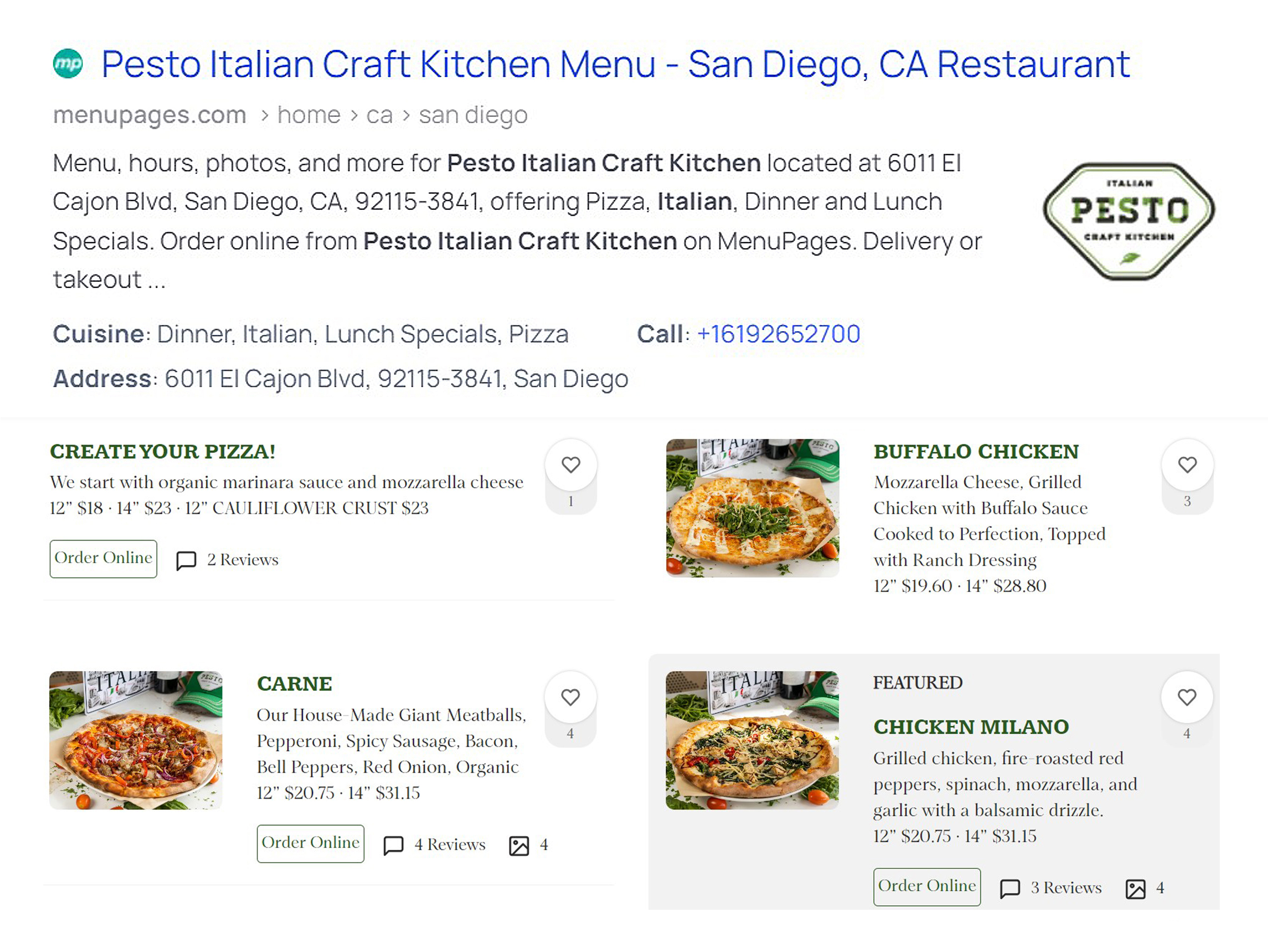 Showcase your products and services with flair.
Photo by Italian Pesto Craft Kitchen
Got awesome products or services? Show 'em off! Adding them to your GMB listing provides potential customers with valuable insights and boosts your relevance in local search results. Don't skimp on the details here. Include names, clear descriptions, and prices if applicable. If you're running a restaurant or café, this is your chance to flaunt that mouthwatering menu.
6) Website Optimization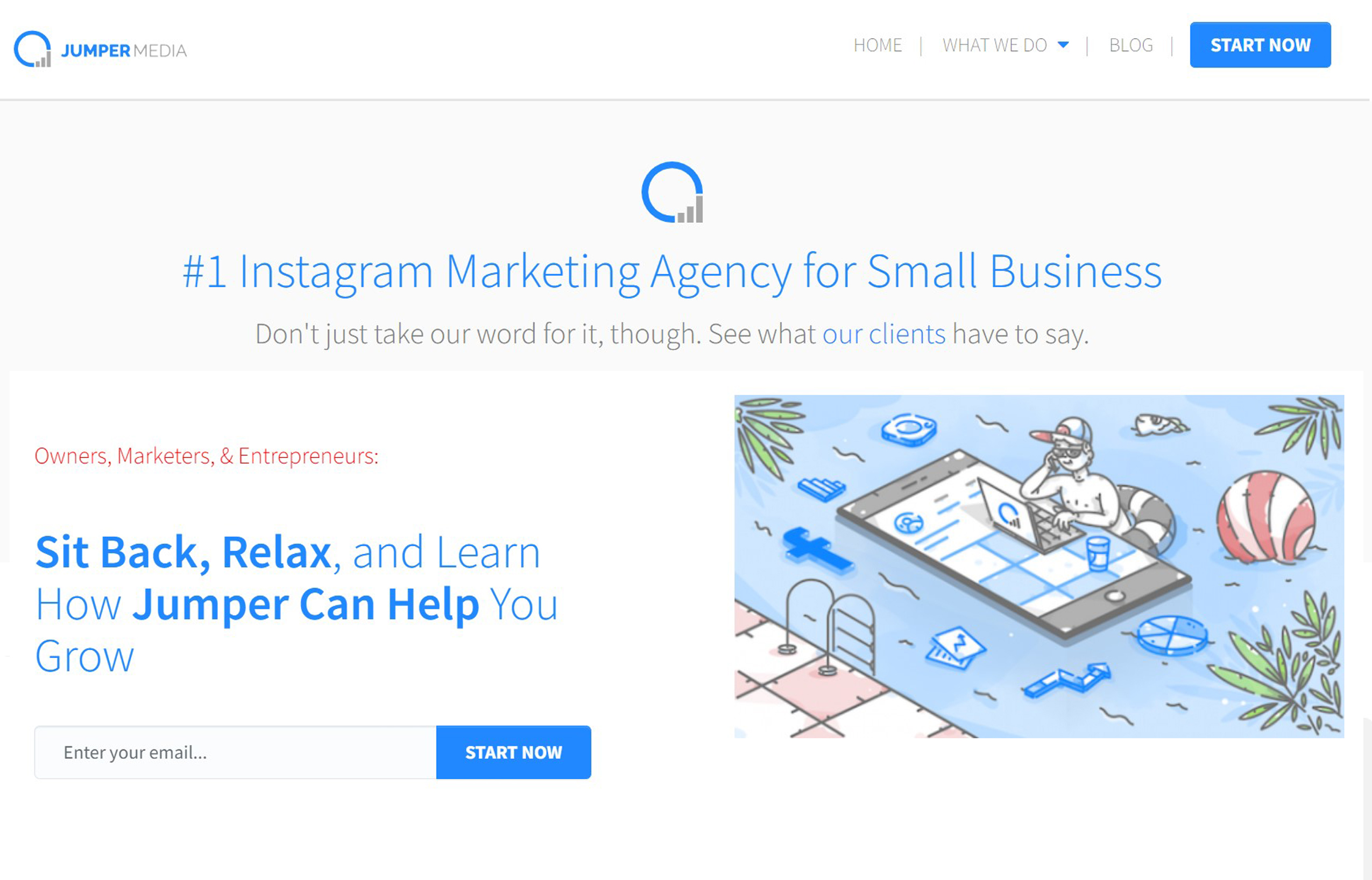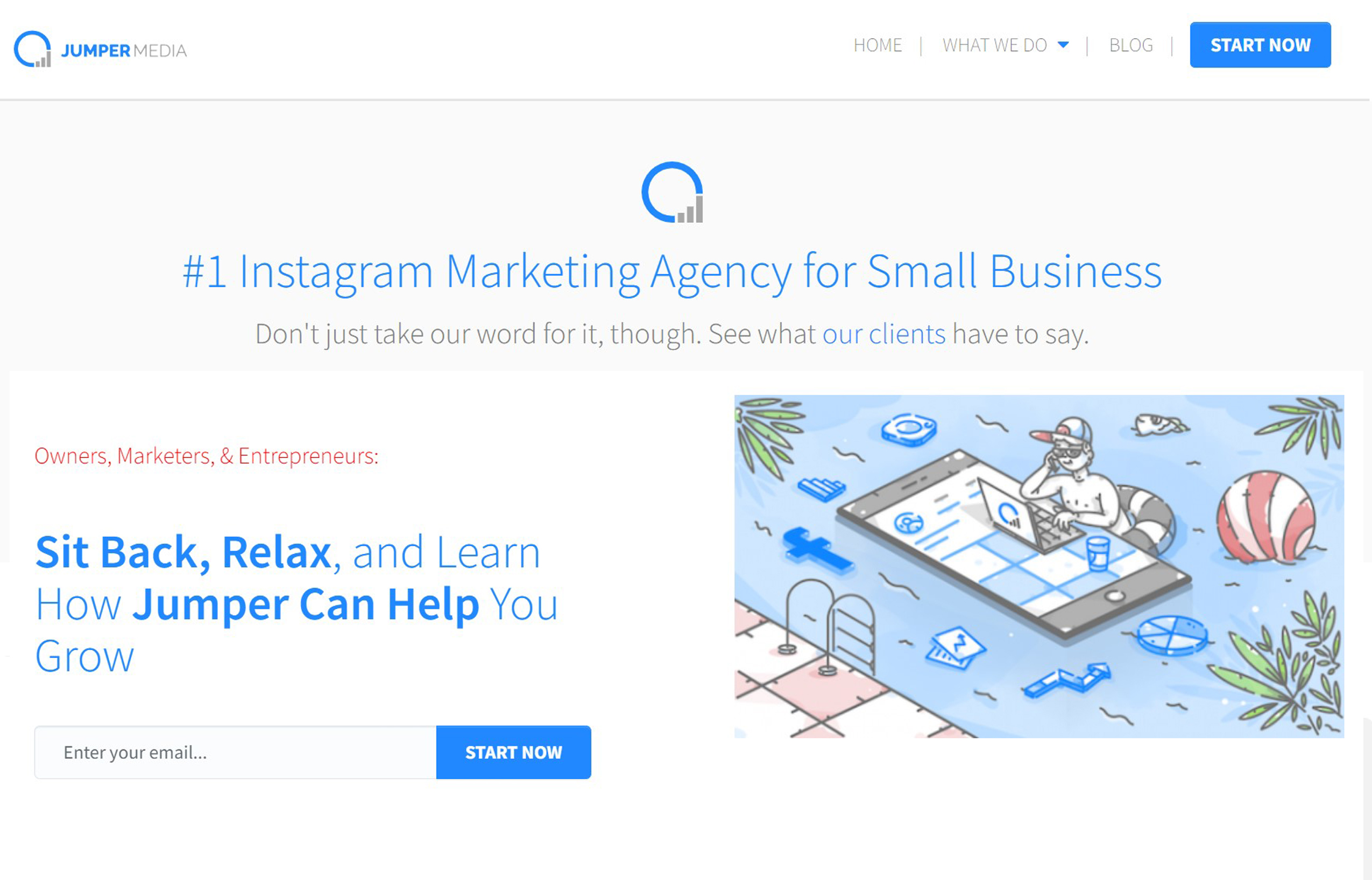 Your website is the VIP lounge of your online presence.
Photo by Jumper Media
Let's not forget about your website. It's like the VIP lounge of your online presence – the place where your customers get the full experience. Make sure it's mobile-friendly, loads quickly, and is packed with relevant content. A well-optimized website not only impresses visitors but also boosts your local search rankings. It's a win-win!
7) Reviews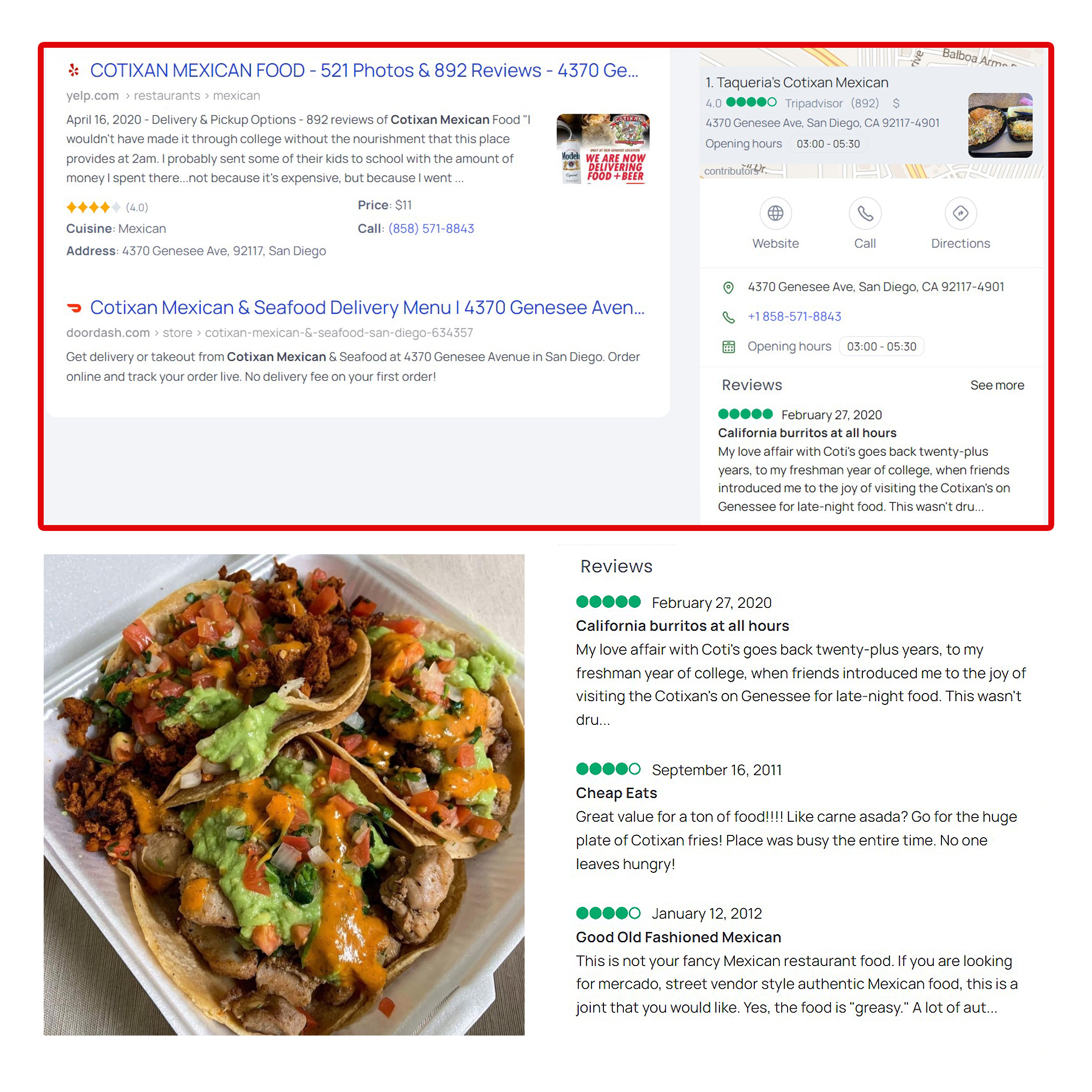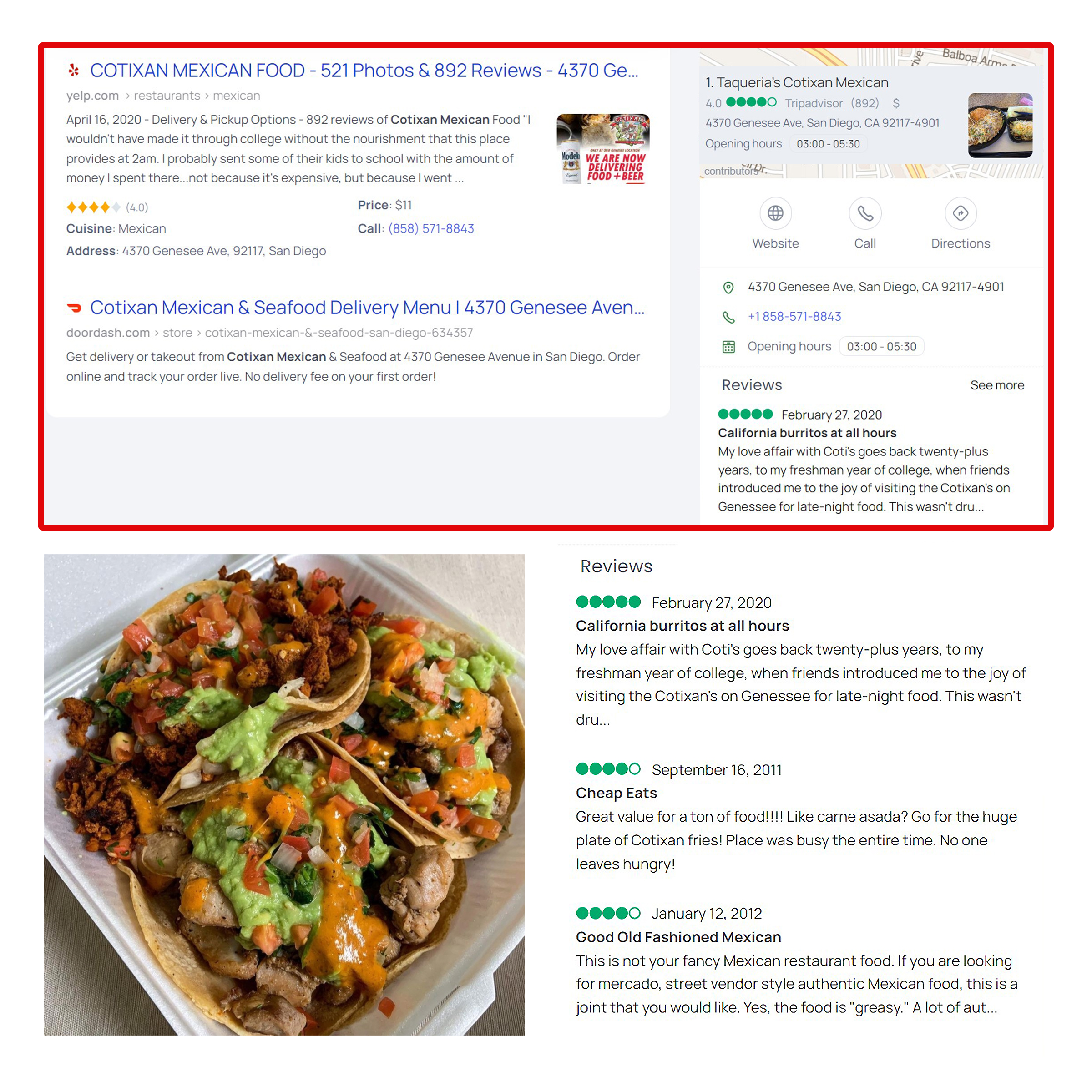 Reviews are the lifeblood of your GMB listing.
Photo by Taqueria's Cotixan Mexican
Now, let's talk about the lifeblood of your GMB listing – customer reviews. They have a significant impact on your ranking. Positive reviews and high-star ratings are pure gold. Encourage your customers to leave reviews through text, social media, or email. And remember, always respond to reviews – it shows you're committed to customer satisfaction and improves your ranking signals.
Part 2: Elevating Your Google My Business Game
8) FAQs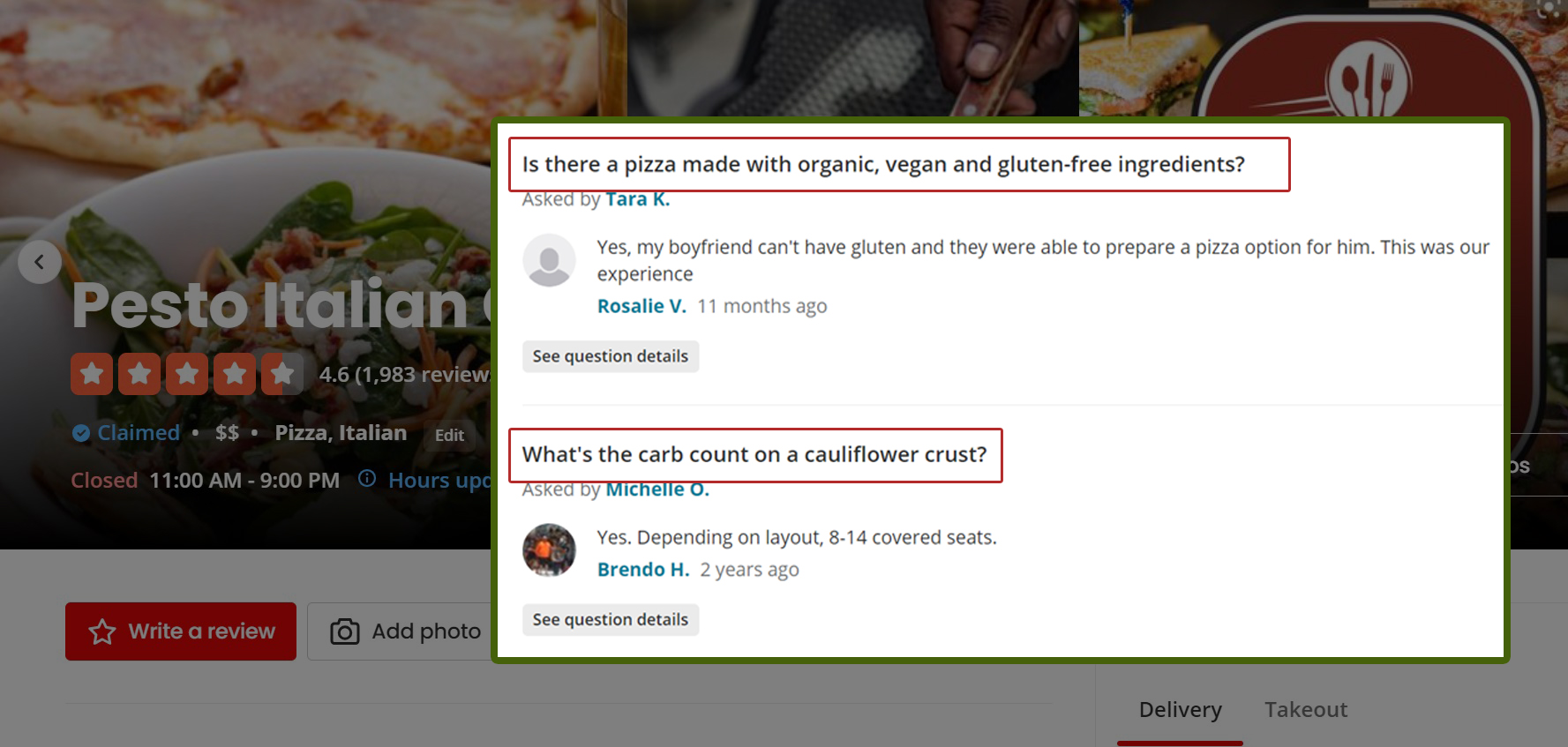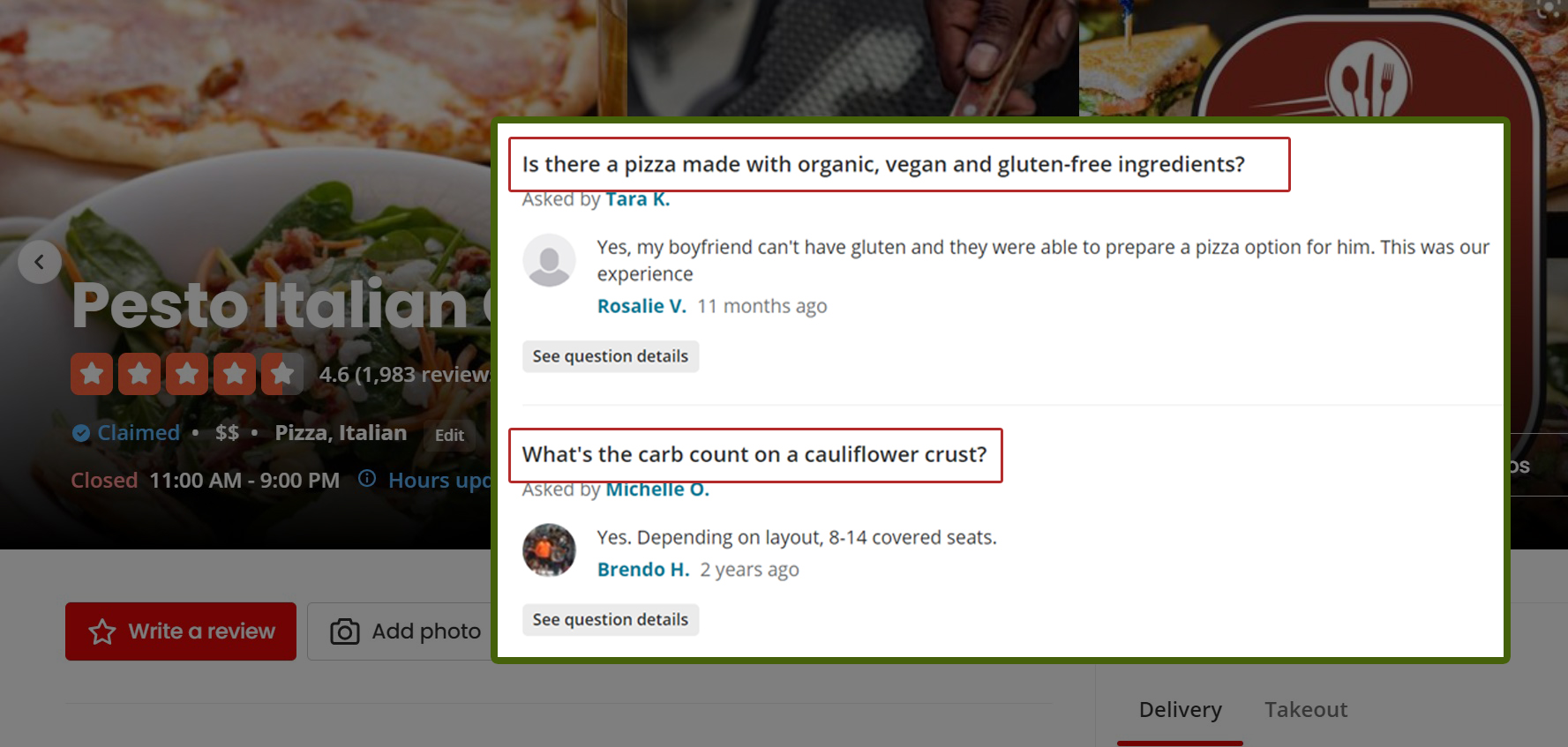 Answering FAQs builds trust with potential customers.
Photo by Pesto Italian Craft Kitchen College via Yelp
Next up, FAQs! The Questions & Answers section of your GMB listing is your chance to provide detailed and accurate responses to common queries. It's a trust-building exercise with potential customers.
9) Business Messaging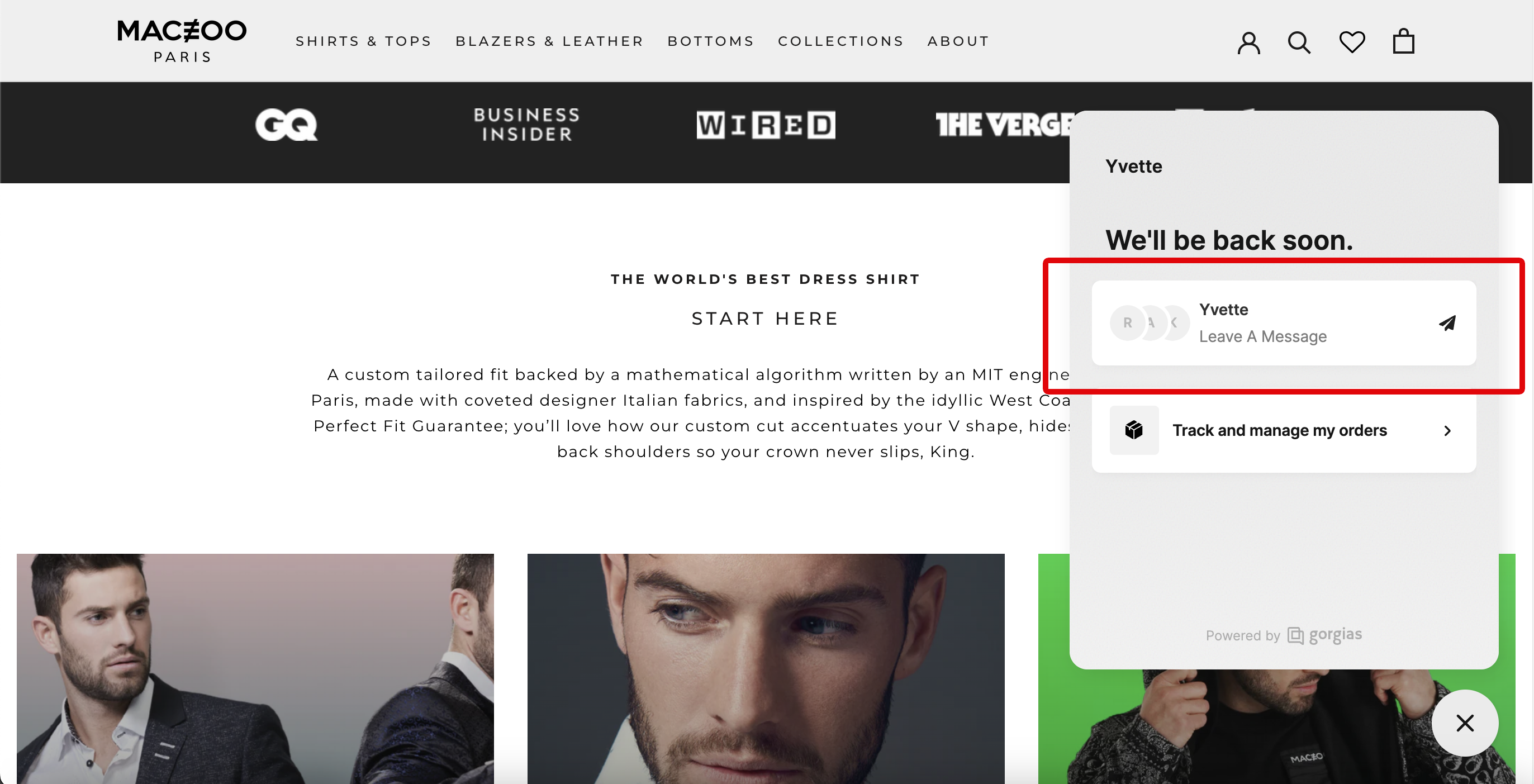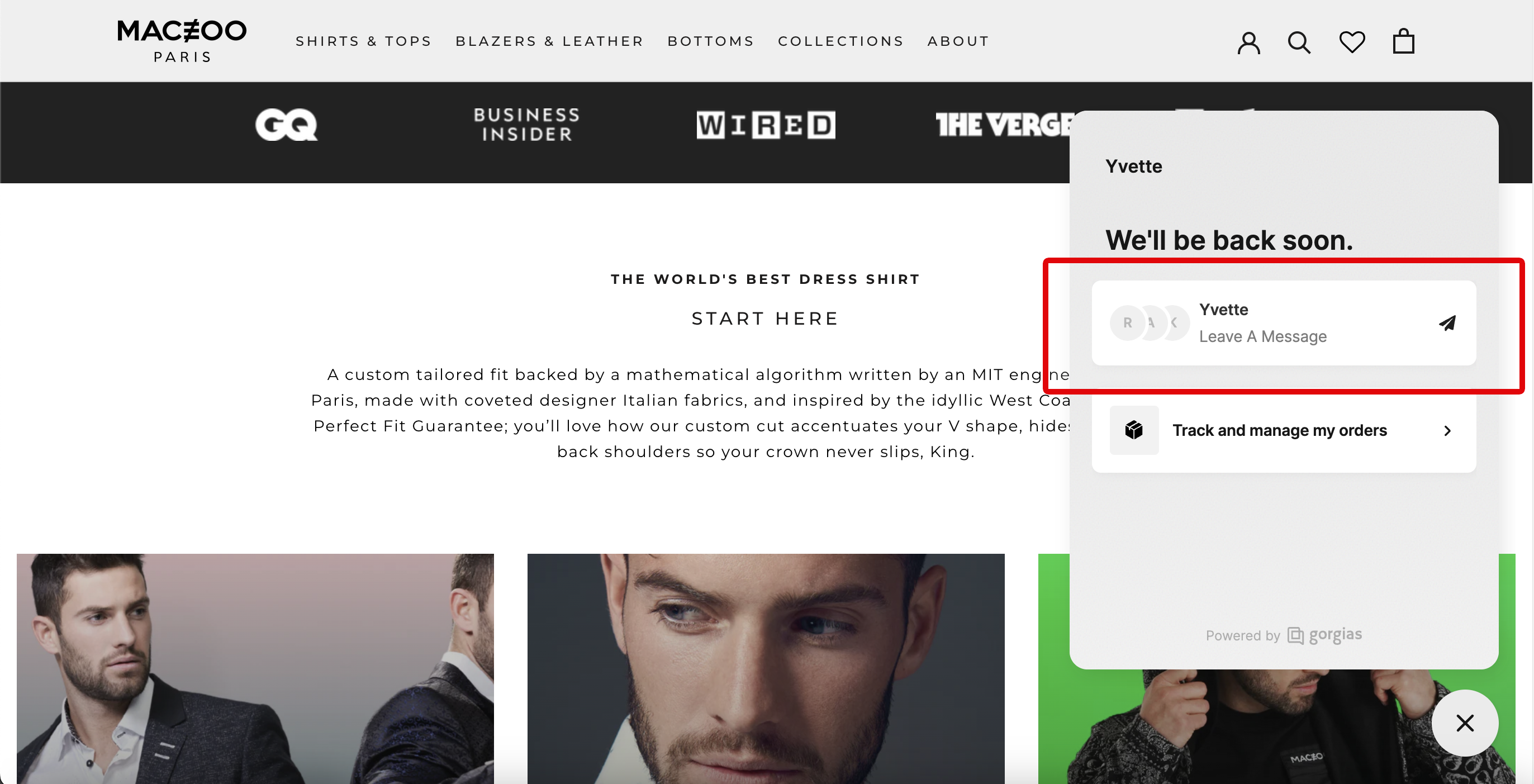 Instantly connect with customers through messaging.
Photo by Maceoo Paris
Enable Google My Business messaging and open up another communication channel with potential customers. Respond promptly and deliver excellent customer service to enhance your reputation and keep the engagement rolling. Set up message alerts, and aim to reply within 24 hours to maintain that high level of responsiveness.
10) Zip Code Insights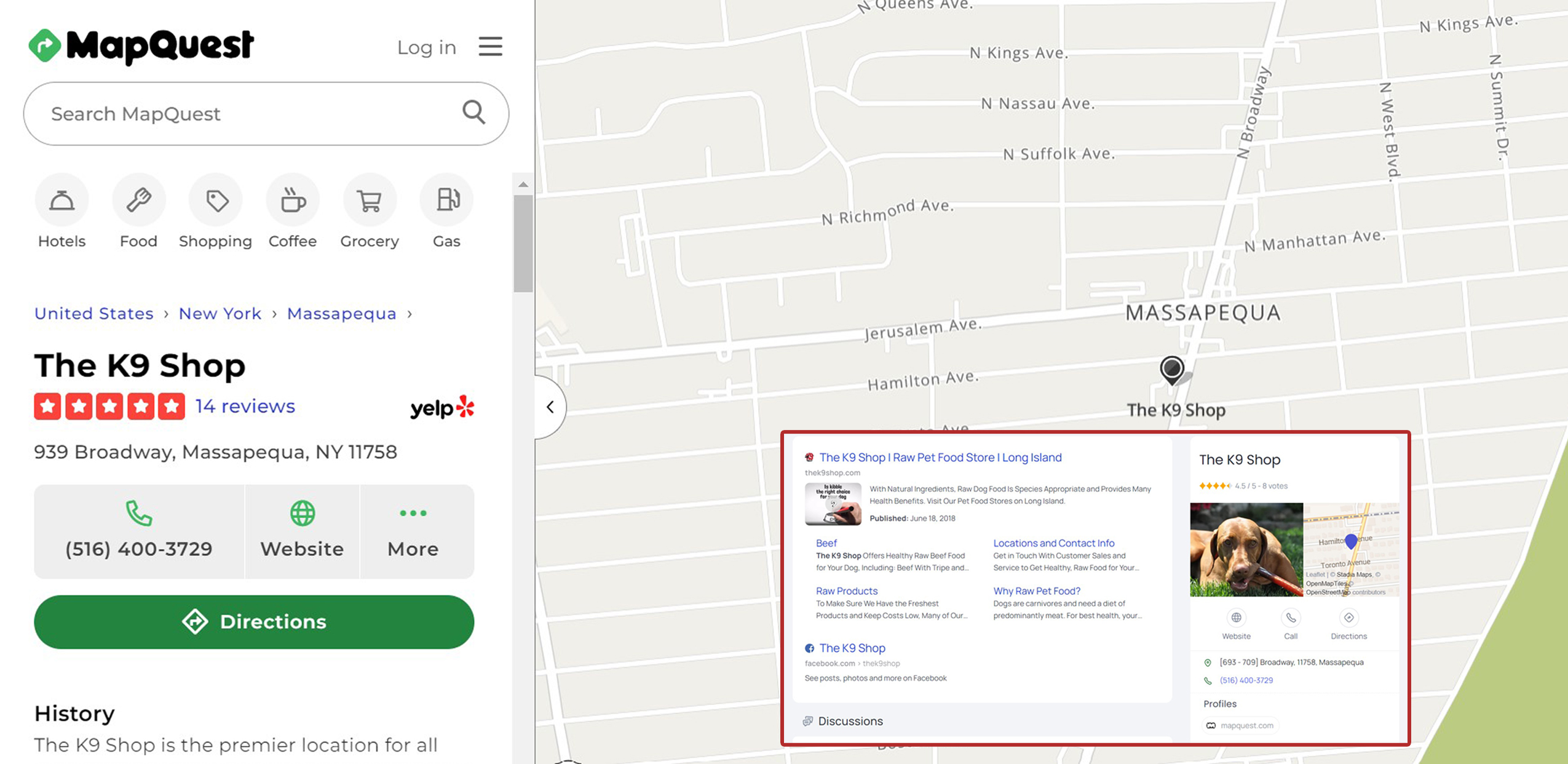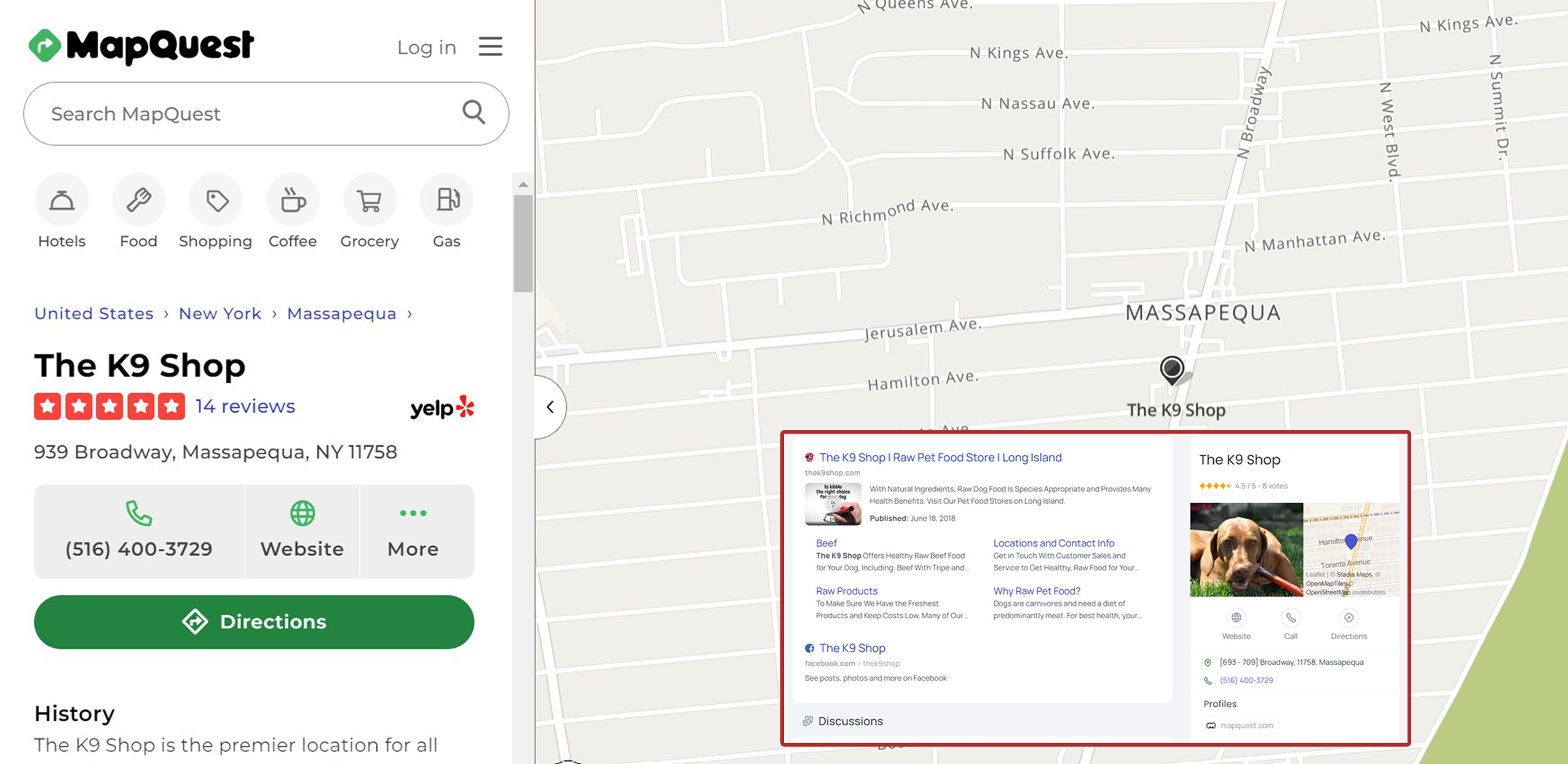 Zip codes can be your secret weapon in local search.
Photo by The K9 Shop via MapQuest

Zip codes play a crucial role in local search results. Analyze the competition in different areas and identify where you can shine.
11) Quality Photos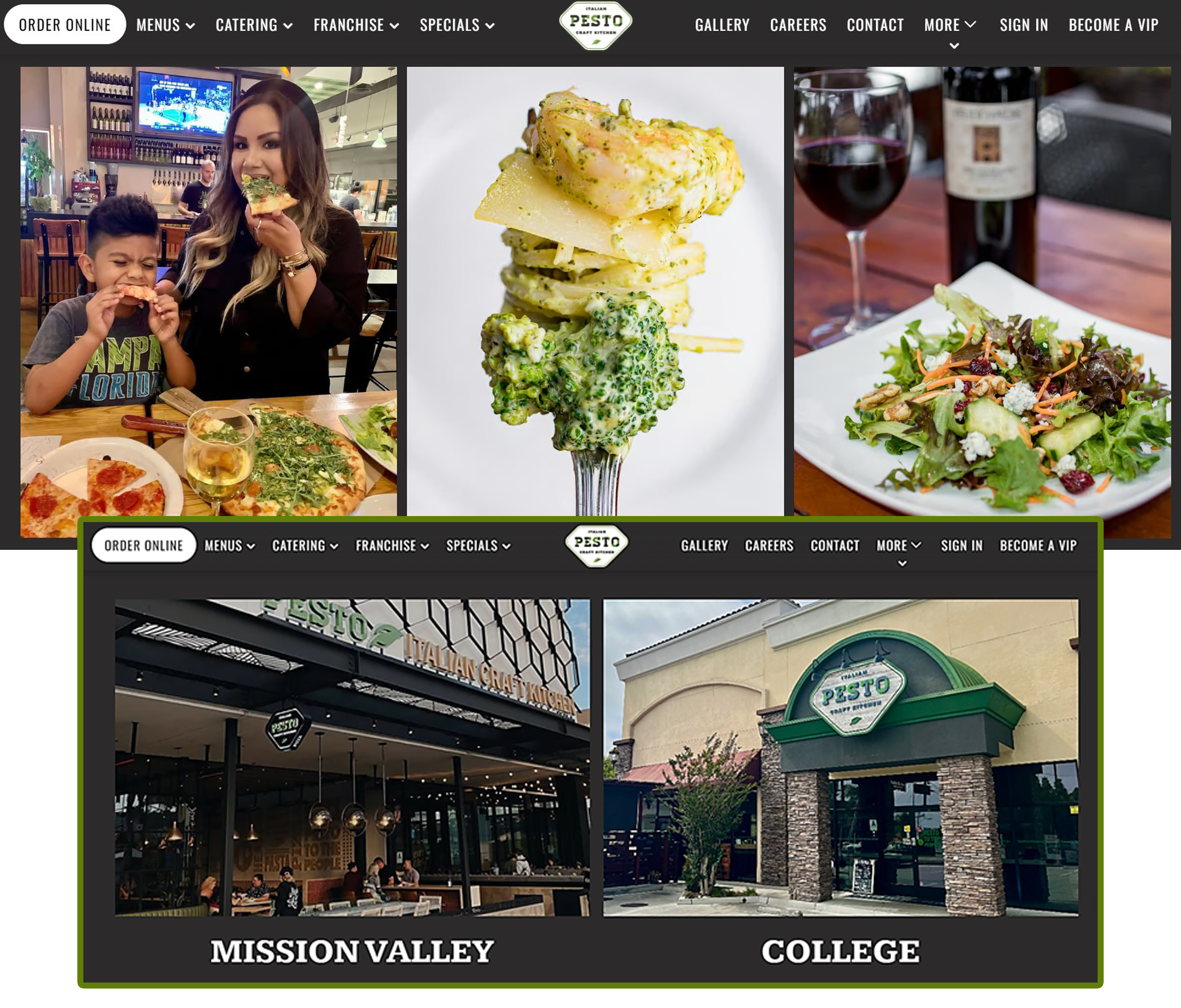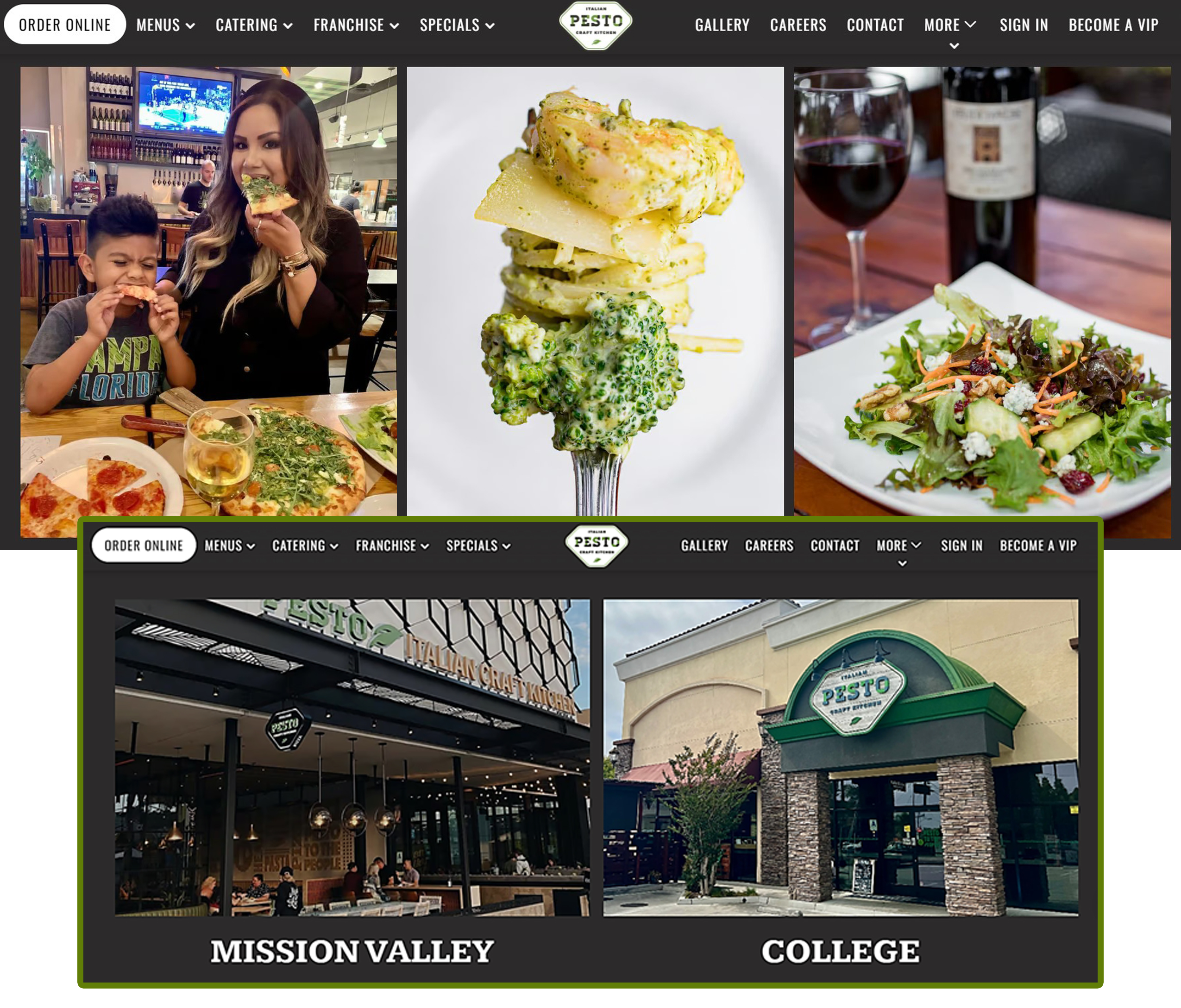 High-quality photos paint a vivid picture of your business.
Photo by Italian Pesto Craft Kitchen
High-quality photos are your visual storytellers on GMB. They create that all-important first impression. Include your logo, cover photo, and regular shots showcasing your products, services, and your location. Remember, Google My Business prefers photos to be at least 720 pixels by 720 pixels in JPG or PNG format.
12) Business Hours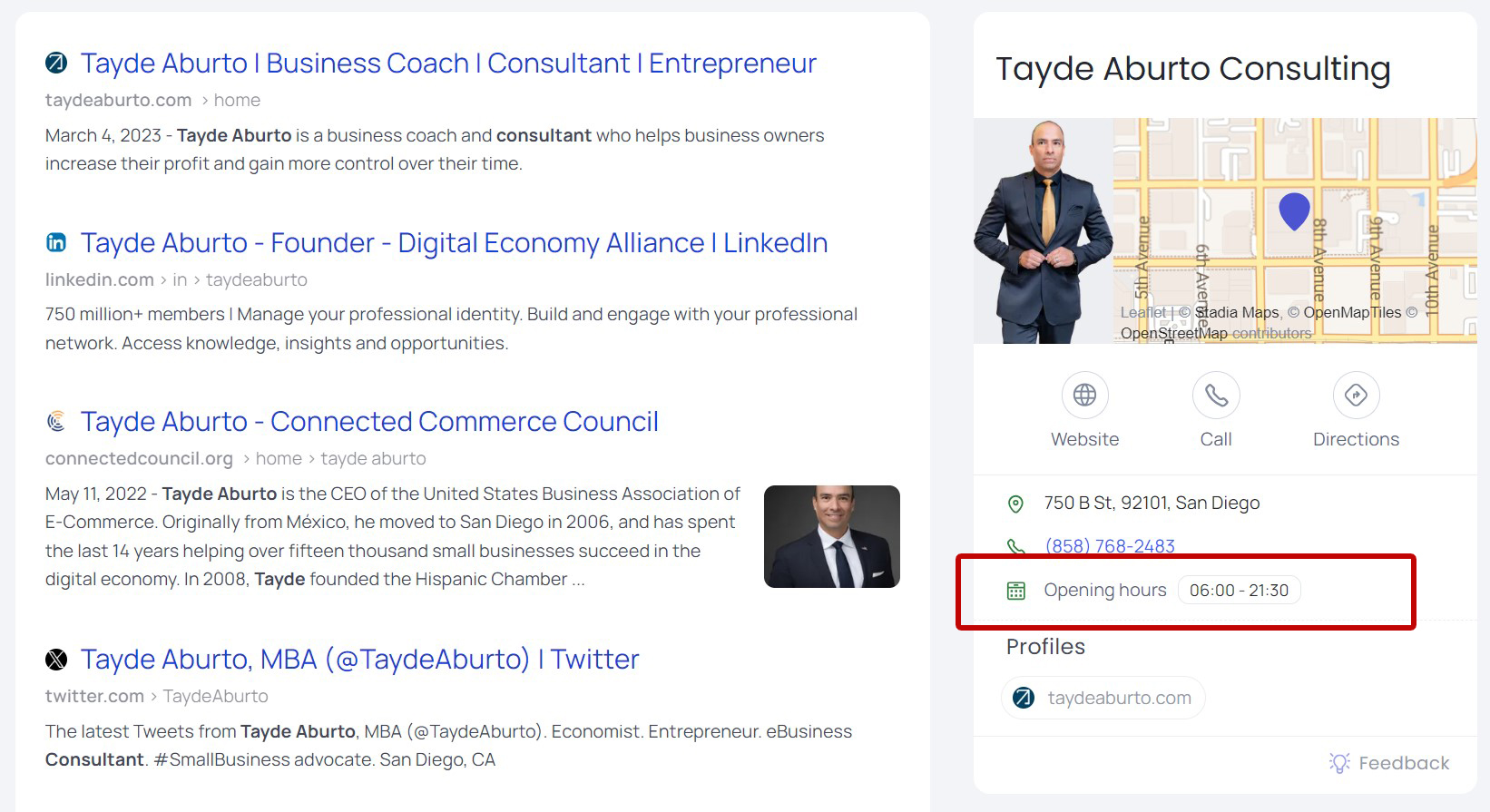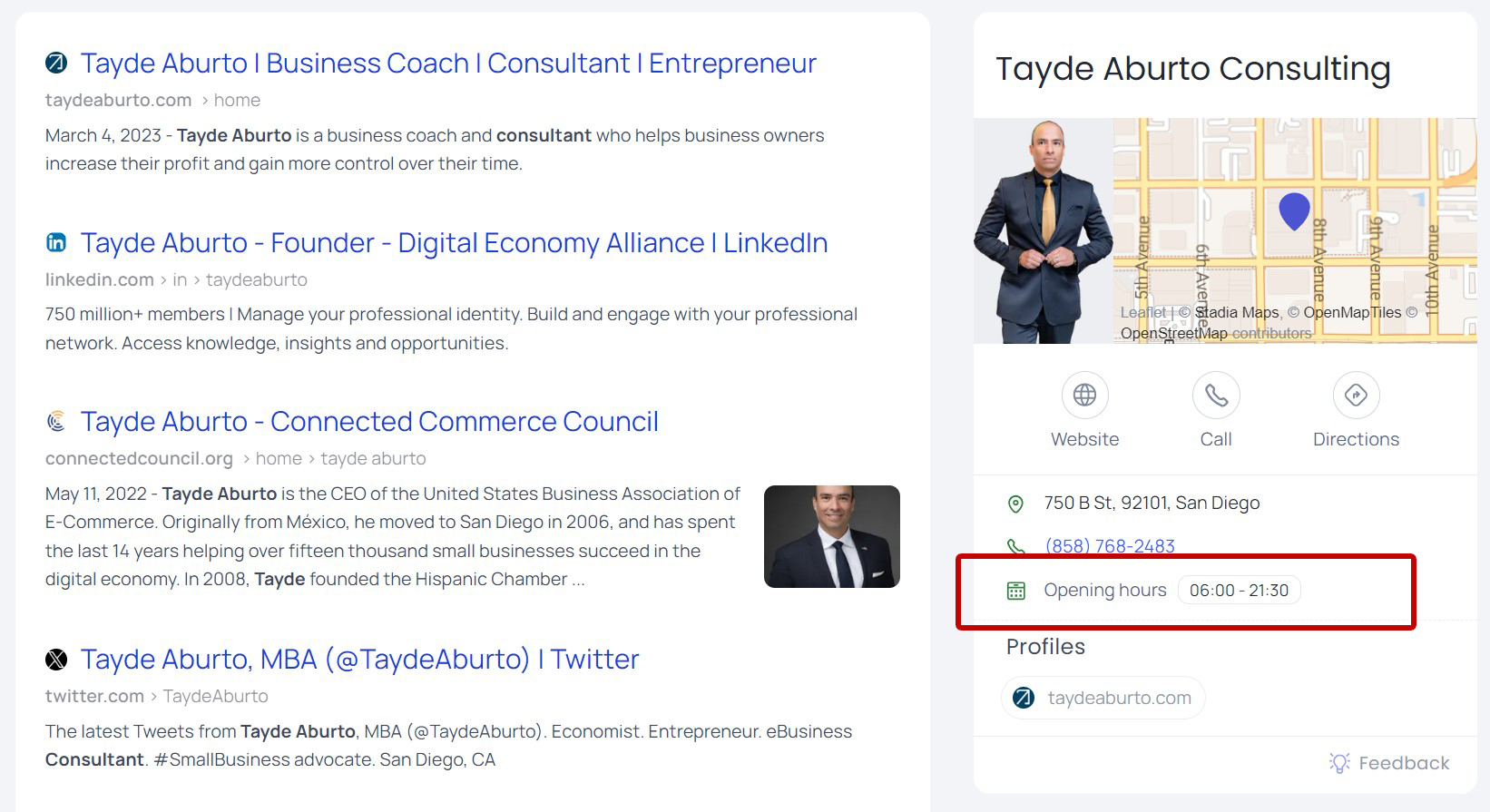 Keep your online hours accurate to welcome more customers.
Photo by Tayde Aburto Consulting
Lastly, keep your business hours up to date. Incorrect hours can be a turnoff for potential customers. So, be punctual not just in your store but online too.
In conclusion, mastering Google My Business optimization is your ticket to local business success. Focus on the essentials to build a strong foundation. And if you're up for the challenge, the nice-to-haves can take your online presence to the next level. It's time to start optimizing and watch your business thrive in the digital landscape!
Ready to give your local business the online boost it deserves?
Implement these Google My Business strategies today and witness the transformation in your local visibility. Have questions or want to share your success story with us? We're all ears – drop your thoughts in the comments below!