Often times we use marketing strategies that are all the rage and see smashing results, without understanding why they worked so well. After reading Robert Cialdini's book 'Influence: The Psychology of Persuasion', a bible for all marketers, I started dissecting the strategies I've personally used and seen other brands use that work on the 6 principles he mentions.
As Robert says, 'it neither takes luck nor magic to influence someone.'
You'd be surprised to hear that every single marketing strategy we use is directly or indirectly based on the 6 principles of Influence.
Reciprocity

Social Proof

Authority

Liking

Scarcity

Commitment and Consistency
If you're unsure how the science of influence can be applied to social media marketing, read on. I've listed 41 ways you can influence your audience to reach your social goals.
Reciprocity
The rule of reciprocity is simple; I scratch your back, you scratch mine.
When someone gives us something for free, we feel indebted to them and are obligated to return the favor. And why is that?
Robert explains, 'Power. The rule possesses awesome strength, often producing a "yes" response to a request that, except for an existing feeling of indebtedness, would have surely been refused.'
1. Free, Useful Content With No-Strings-Attached
Successful brands are huge advocates of giving away useful information for free on social media.
Rei has multiple video playlists on YouTube that advice on a plethora of different outdoor sports topics.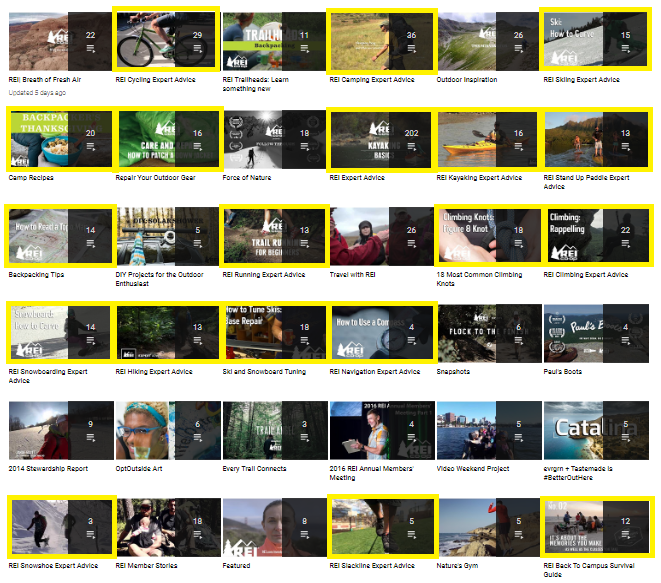 Each video has a link to that specific equipment or product in the video description box, urging viewers to click on it and purchase.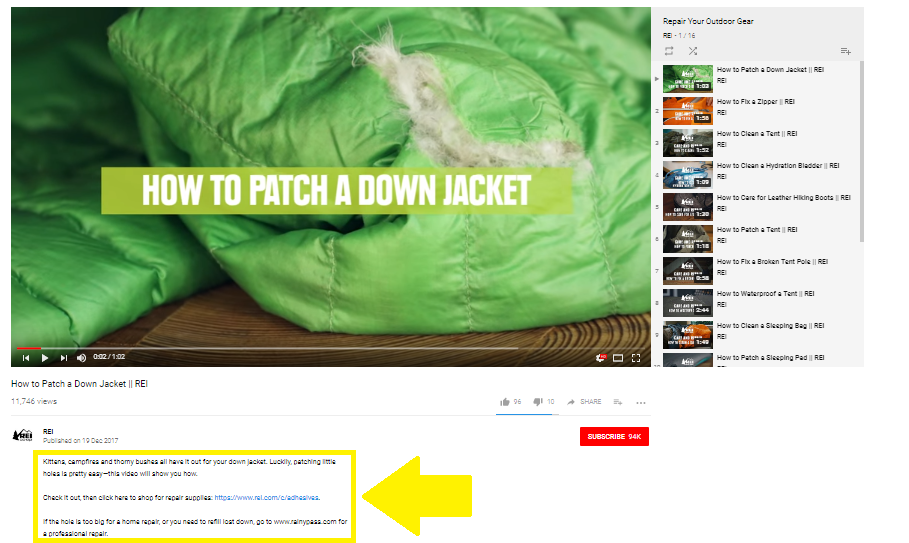 Huda Beauty, a beauty guru, believes in giving away all her beauty secrets freely. She updates her Instagram stories constantly with DIY beauty masks and new products that she's been loving or hating.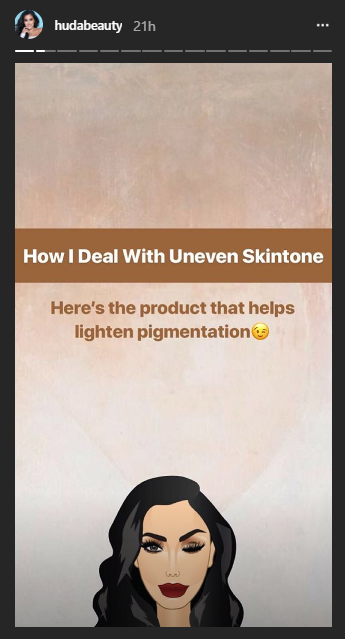 And these free secrets are always followed by a favor. She either asks followers to click on her blog and read her latest post (like in the story post below) or buy her latest product.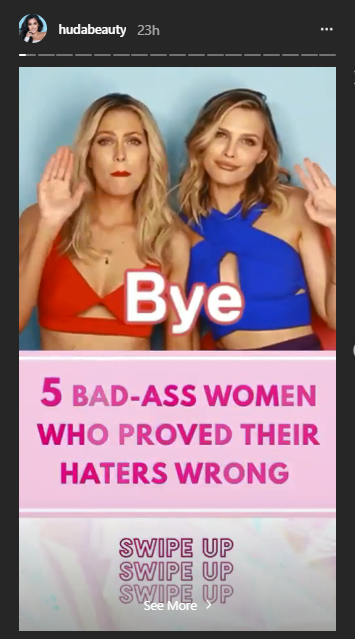 2. The Power of Social Shares
Share another company's article, picture, or post and then DM them asking to return the favor (by sharing something of yours). 8 out of 10 times it works.
3. Retweeting and Reposting
Retweeting, re-posting or sharing followers (or influencers) posts is a great way to give them something free – popularity – in exchange for brand exposure. When users know that you love sharing their content, they'll tag your page, use your hashtags, talk about your brand, and promote your brand on their social profiles.
And the more you share their posts, the more they'll talk about you on social media and engage with you on your posts.
Taco Bell does this frequently.
When you graduate with a minor in Baja Blast. https://t.co/hczTqg0EZC

— Taco Bell (@tacobell) April 13, 2018
Huda beauty, too.
Sooo gorgeous!! Thank you baby! X https://t.co/f33QxZrIiq

— Huda Beauty (@hudabeauty) January 10, 2018
4. Free Access to Super Valuable Social Groups
Create Facebook groups, offer insane value in those groups, and give your followers free access to it. In exchange, you can even ask for the moon. (j/k!)
But several brands sold out their courses, build a crazy email list, and multiplied their customer lists via this very strategy.
AWAI, American Writers & Artists Inc, does exactly this. They invite users to join their Facebook group and receive a plethora of benefits.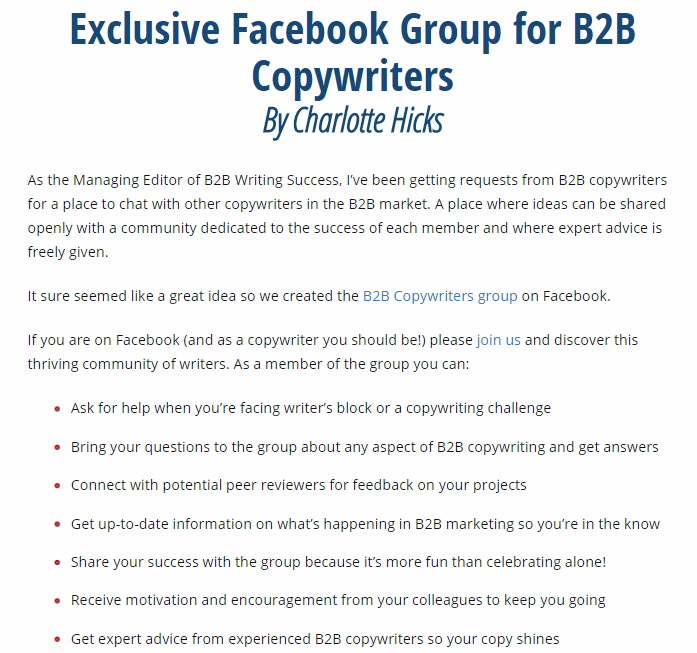 And once you join and benefit from the insane value present here, the admin subtly encourages you to visit the AWAI website for the more free content or to join one of the copywriting courses. After all this free information, you feel obliged to check them out and ultimately purchase one of their courses.
5. Seduce With a Tempting Lead Magnet
Lead magnets are free gold nuggets that prompt immediate action from users. You offer free information in the form of a lead magnet, and at the end of it you add a solid CTA – ask them to subscribe, buy your product/service, like your social pages, or so on. A plethora of brands uses lead magnets without knowing that it's one of the best ways to use the rule of reciprocity.
Here's one of our lead magnets: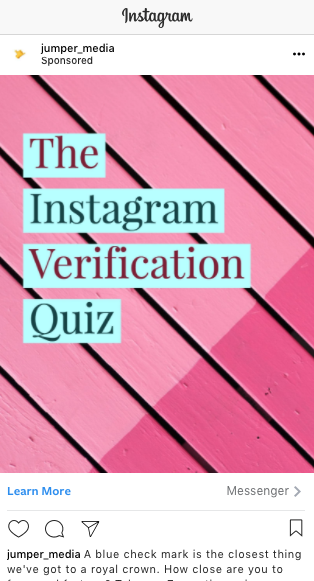 AdEspresso uses a free ebook as their lead magnet: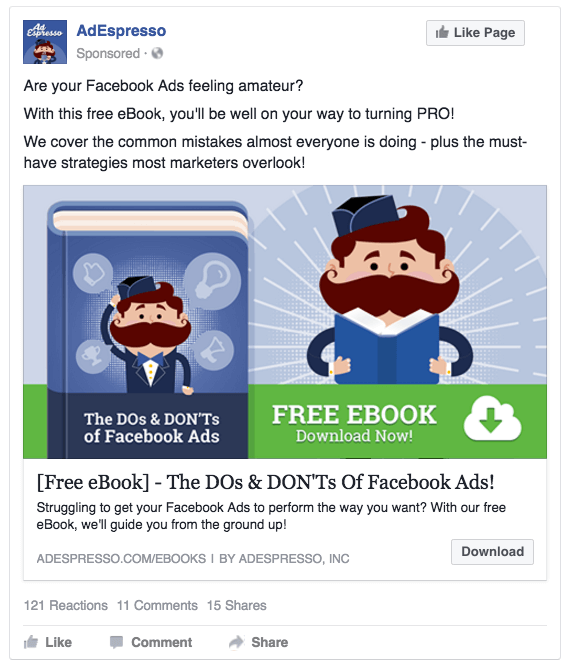 Social Proof
If you see 10 different posts about how awesome Game of Thrones is, you're probably going to want to heck it out, too, right?
This is social proof. If a user sees other people talking great stuff about your brand and using your brand, they feel compelled to give you a look, as well.
6. Scream Your Wins
Hit a certain number of subscribers? Let your audience know.
Been in the business for a year, a decade, 10 decades? Tell your followers.
Got a huge amount of customers? Scream out loud socially.
We're celebrating 500 million Dropbox users and a network of billions of connections. We wouldn't be here without you! ? bit.ly/1SskiP0

Posted by Dropbox on Monday, March 7, 2016
Piktochart celebrated their 5th birthday by uploading a super cute Twitter post and hosting a fun contest.
Cue the fireworks because it's that time when #PiktoTurns5! ? We'd like to give you a big and heartfelt 'THANK YOU' from all of us here! ?? pic.twitter.com/OTSJtG0yGc

— Piktochart (@piktochart) April 17, 2017
Celebrate all social milestones with your audience to establish social proof.
7. Leverage Micro-Influencers for Massive Social Proof
Did you know, '60 percent higher campaign engagement rates are driven by micro-influencers'?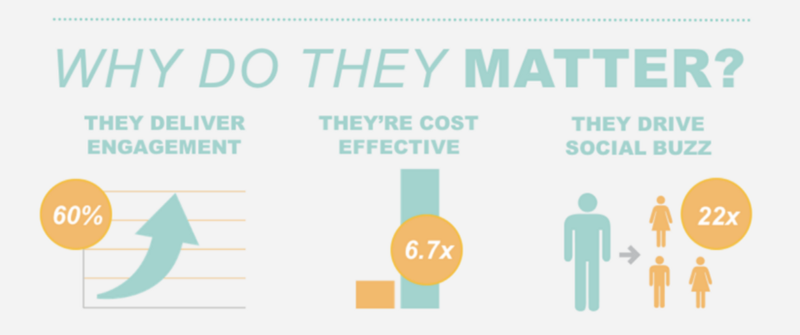 Micro-influencers aren't as popular as celebrities, but they've got a decent following and people love them.
Daniel Wellington works with a lot of micro-influencers. Almost every other day, I come across someone or the other promoting Daniel Wellington watches on Instagram (it's pretty annoying, but it did lead me to DW's checkout page).
8. Display User-Generated Content from Customers or Fans
One of the best tactics to show the world that people love your brand is by displaying content generated by your users.
68% of millennials

say that user-generated content is generally a good indicator of the quality of a brand or service.

Millennials trust UGC

50% more

than original content generated by the brands.

64% of customers

will not only value online reviews but will actively seek them out before making a purchasing decision.
Most brands nowadays are using UGC campaigns to drive engagement and conversions.
When Applebee's introduced their #Fantographer UGC campaign on Instagram, their engagement jumped an awesome 25% in just 3 months. Insane, right?  
UGC = Social Proof = Total social dominance
9. Screw Modesty And Share Reviews
72% consumers say positive reviews and testimonials make them trust a business more.
Share your customer's reviews, appreciation, gratitude, and love for your brand on social media. Upload video reviews, screenshot testimonials from your website, or even just highlight a really positive comment.
10. Hop on Live Videos  
People spend 3x longer watching a video which is Live compared to pre-recorded videos. So this strategy obviously works. When people see other people engaging with you in your live session, they'll stop scrolling and come watch you instead. Which is probably why live videos get a lot more comments, likes, and general engagement while they're live.
Buzzfeed embraced their crazy on live video and pulled a completely absurd, but weirdly therapeutic stunt. Suffice it to say, it went completely and absolutely viral.
Watch us explode this watermelon one rubber band at a time!

Posted by BuzzFeed on Friday, April 8, 2016
Airbnb live streamed their Jungle Book collaboration event. It has 98k views presently!
Live at the Airbnb Treehouse at the World Premiere of The #JungleBook!

Posted by The Jungle Book on Monday, April 4, 2016
11. Expose Your Numbers
A pretty direct way to add social proof in your marketing mix is to mention your customer base/subscriber count/email subscribers/etc. in your social media profiles bio.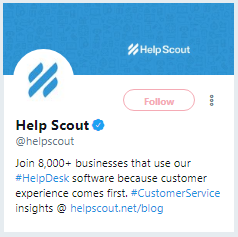 Unless you have zero to 10. In that case, increase your numbers and then add it to your bio.
12. Collaborate With Brand Ambassadors
Build a group of brand ambassadors who are vocal about your brand and engage regular folks into discussions about your brand. They don't have to be celebrities or super-popular people; even enthusiastic customers who're socially active can be excellent brand ambassadors.
Fiskars Brands, Inc. is a craft tool brand. To revive the local crafts community, they selected 4 women of different background who shared an intense love for crafts as brand ambassadors and called them 'The Fiskateers'. They were responsible for engaging Fiskars blog readers, conducting discussions with them over social platforms, and building an online community of craft lovers.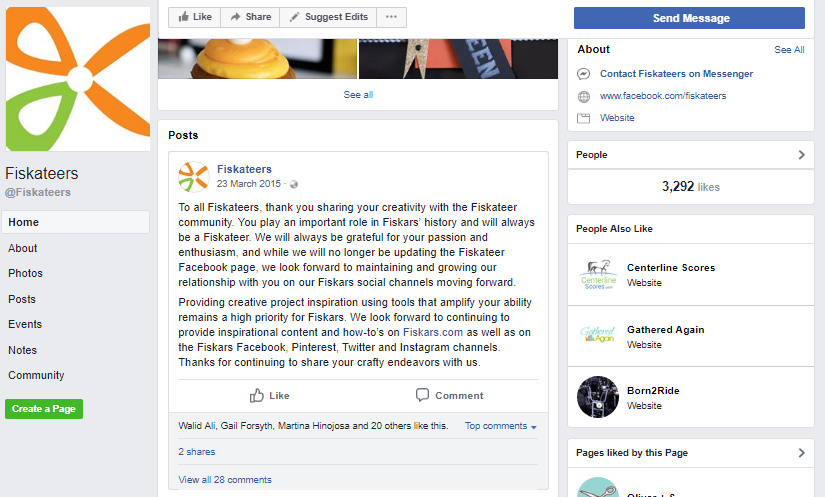 But did it work? Hell yes.
In just one year, Fiskateer community increased to 5000+ members, branded mentions of Fiskars products went up more than 600%, and sales increased dramatically.   
Authority
Who would you trust more?
A doctor, wearing a lab coat and a stethoscope, with a ton of degrees and a lot of experience under their belt.
Or a regular person who claims they're medically proficient and can perform surgery on you but have no visible experience, degrees or even a lab coat.
Obviously, you'd trust the expert.
This is authority. Establishing authority in front of your audience and showing yourself as an expert in your field influences them positively and develops trust.
The Authority Principle states that people tend to obey authority figures (like doctors), even when it is irrational, and even when asked to perform questionable acts. Some famous examples of this include the Stanford Prison Experiment and Jonestown Massacre.
Now we're not saying you should ask people to perform questionable acts.
We would never say that!
But if you can become an authority figure or authoritative brand, the world will open up to you, and you can do things that were previously impossible, like charge $125k+ for a 1-day consulting session with your team (wassup Gary).
According to Robert Cialdini, 3 factors confer authority to a person or brand,
Titles: 'doctor' vs a regular person

Clothing: 'lab coat' vs regular clothes

Trappings: 'nice hospital' vs a dingy room, 'medical degrees' vs nothing, and so on.
Brands have a carefully thought out strategy in place to establish them as authority figures in their niche. Here are a few things they do that you might want to emulate:
13. Invite Experts to Take Over Your Social Accounts
How do you tell others subtly that you're an expert? By hanging out with other experts.
On social media, you can invite experts in your field to come and take over your social accounts, answer your audience's questions, and engage with your followers and fans.  
And
Twitter Takeover with @TidalHiFi at 2pm ET on 6/6. Send me your questions now! #TidalPushaT

— King Push (@PUSHA_T) June 4, 2016
14. Show Appreciation For Any Industry Awards and Mentions
You know how doctors hang their medical degrees, awards and what not in their office to impress patients? This establishes their authority in their field and patients look up to them with renewed trust and admiration.
You can similarly impress your followers and fans by displaying your brand's industry awards on your social accounts. If your business is featured in the NY Times, or your product gets to #1 on product hunt, sharing it on social media carries weight.
You can upload pictures of your awards, video snippets of the award ceremony, talk about your experience via Facebook posts, go Live, or even put a small mention of it in your social accounts' bio.
Honored to receive Best Car Award for the third year in a row in Germany. Thank you to all 124,000 of you who voted! https://t.co/2dph0aVDS8

— Tesla (@Tesla) January 27, 2017
15. Endorsements
You might not know this, but in the realm of social media marketing, endorsements are kind of a big deal. There is two kind of endorsements; paid and unpaid.
Paid endorsements entail paying a celebrity or an influencer to promote your brand subtly.
These are the quintessential example of using 'authority' in your social marketing plan.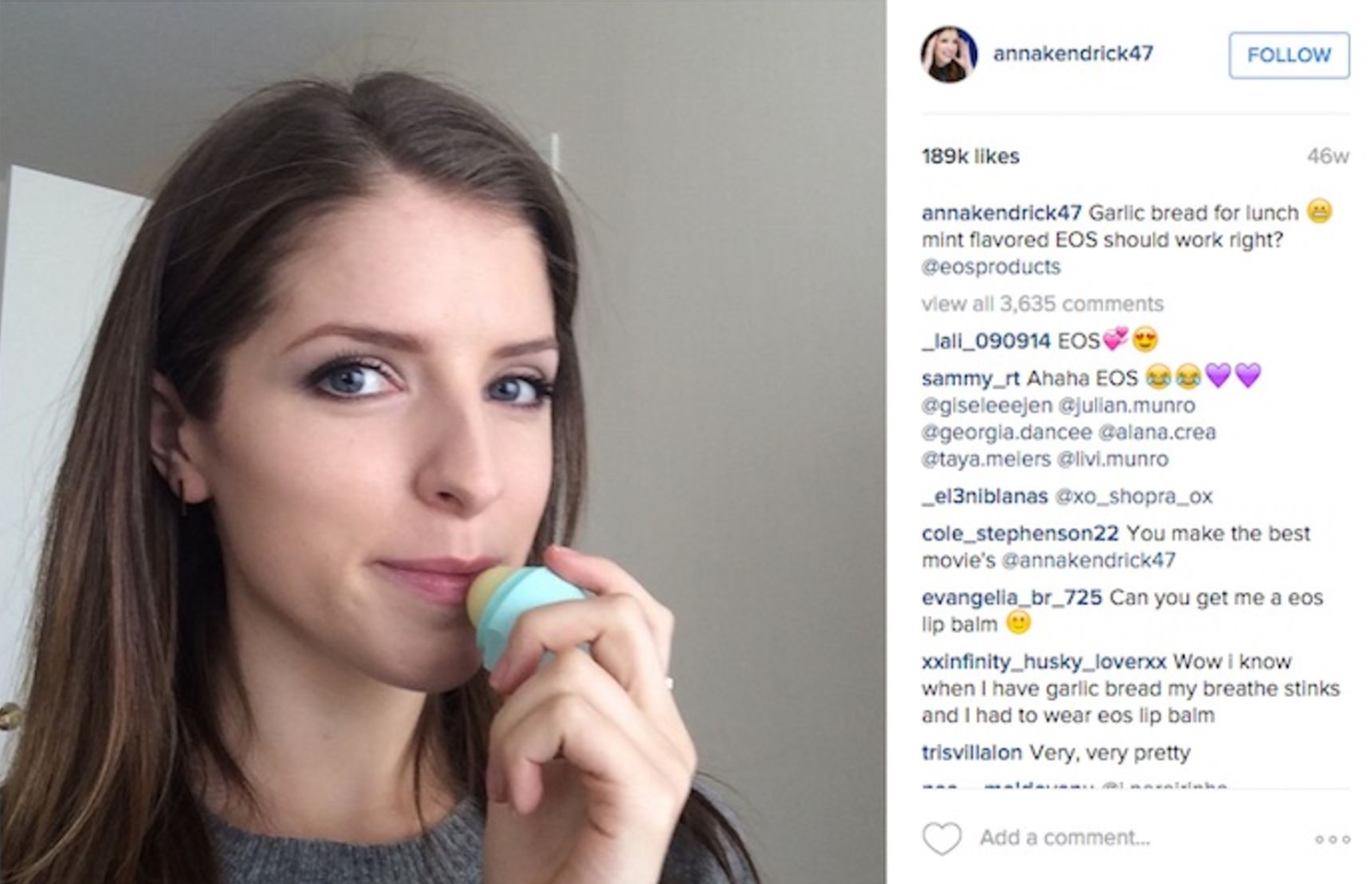 Unpaid endorsements are pretty common in the digital world.
When an influencer uses your product, likes it, and talks about it on social media you're getting free publicity. You can't control this kind of endorsement, other than giving away your products and services for free to influencers and hoping they like it enough to talk about it on social media.
16. Get Verified
Ever noticed how celebrities have a blue tick on their social profiles?
Brands of all sizes are clambering over each other to get this coveted verification badge on their social profiles. Why? Because it screams this brand is a big deal and is equivalent to 'authoritative trappings' that Robert mentions in his book.

17. Give Employees (or Yourself) an Empowering Job Titles
Ever heard of Weekend Warriors, Happiness Heroes, and Community Champions? These are empowering job titles at Buffer and sound a lot more authoritative than they actually are. As Tony Robbins says, 'The words we attach to our experience become our experience.'
Robert Cialdini states 'titles' as one of the factors that confer authority to a person (or brand), and by giving your employees empowering job titles, you are in turn giving your brand an empowering image.
18. Get Social Media Shoutouts by Industry Experts
Getting a Twitter shoutout from an industry influencer can easily turn your brand from nobody-knows-who-the-heck-we-are to woah-our-audience-looks-up-to-us-now.
Why?
Because you're getting a stamp of approval from an authority figure. If an expert like that trusts your brands and deems it important enough to give you a shout out, then you must be a big deal.
Lots of brands, celebrities, influencers, bloggers, and various businesses have multiplied their social followers via this very strategy.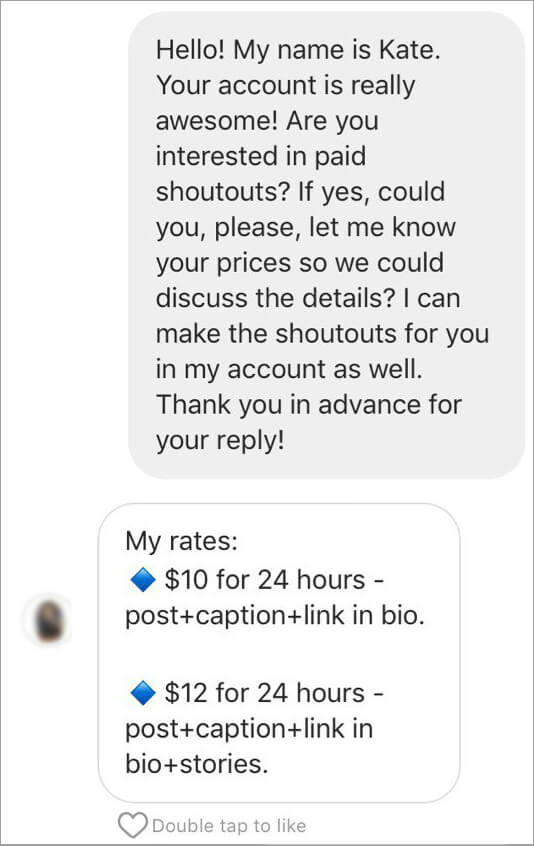 Here's how one twitter mention resulted in Carmichael Bookstore getting more book orders in a day than they usually get in a year.
1K in a Day — we're really gonna get it done — we gotta hang an FOH championship banner from the @carmichaelsbook rafters after this https://t.co/niBGKlBWea

— Shea Serrano (@SheaSerrano) May 17, 2017
On Instagram, the well-known digital marketer Neil Patel ran an experiment that demonstrated the value of shoutouts from authority figures. He bought an Instagram with 131,000 followers and changed the name to @whoisneilpatel.  Then he paid models like UFC Ring Girl Arianny Celeste to promote his new IG page and give away prizes.
The result?
Not only did he gain almost 50,000 followers…
The hashtag #whoisneilpatel was used over 4000 times…
AND
He noticed a significant uptick in searches for his name…
WHICH IN TURN…
Led to a boost in his organic search rankings.
THE LESSON?
Even the almighty Google algorithm isn't immune to the Authority Principle.
19. Give Away Your Best Content
Many brands have become authority figures through their content.  The way that you do this is by providing THE BEST, most actionable, unique advice on a topic. When you do that over and over people will recognize you as an expert.
Gary Vaynerchuk is a perfect example. He gives out unique advise about everything he knows without holding anything back. Result? He has a pretty massive audience base that hangs on to his every word.
Huda Beauty does the same. Before she started her beauty empire, she was a beauty blogger and she gave the best beauty advice on her blog, social media and YouTube. Result? When she launched her first beauty product, they sold out incredibly fast. She still gives the best beauty advice and that's why she's one of the top beauty influencers on Instagram.
Liking
Robert states that we're easily persuaded by people we like, and therefore more likely to purchase from them.
Tupperware's marketing strategy is a famous example of the Liking Principle. The company started selling their plastic reusable containers through housewives in the 1950s who would host parties, serve appetizers, cocktails, wine, and make sure everyone had a great time.  At the end, they'd bring out the Tupperware and ask who wanted to, buy.
Who could say no?
And there are 5 factors that contribute to this principle.
Physical attractiveness

Similarity

Compliments

Contact and Cooperation

Conditioning and Association
Let's discuss how you can emulate this principle in your social strategy.
20. Tell Your Story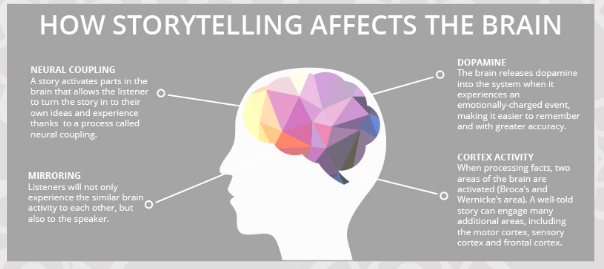 Everyone's trying to tug at their consumer's emotional strings via some aspect of storytelling. Why? Because it's an excellent way to connect with your consumers at a deep level and make your brand more 'likable'. People like brands they can relate to, and that's what you should do.
Tell your story in a relatable way. Be transparent. Use sensory words. Show your brand's human side. Make your audience pay attention and care about your brand.
Here's GoPro's tug-at-your-heart-strings brand story.
21. Bring Your Employees in the Limelight
Humans relate to other humans. By bringing your employees in the forefront you can increase your brand's likability and humanize your brand. A lot of brands have jumped on this bandwagon and are enthusiastically creating social content highlighting their employees.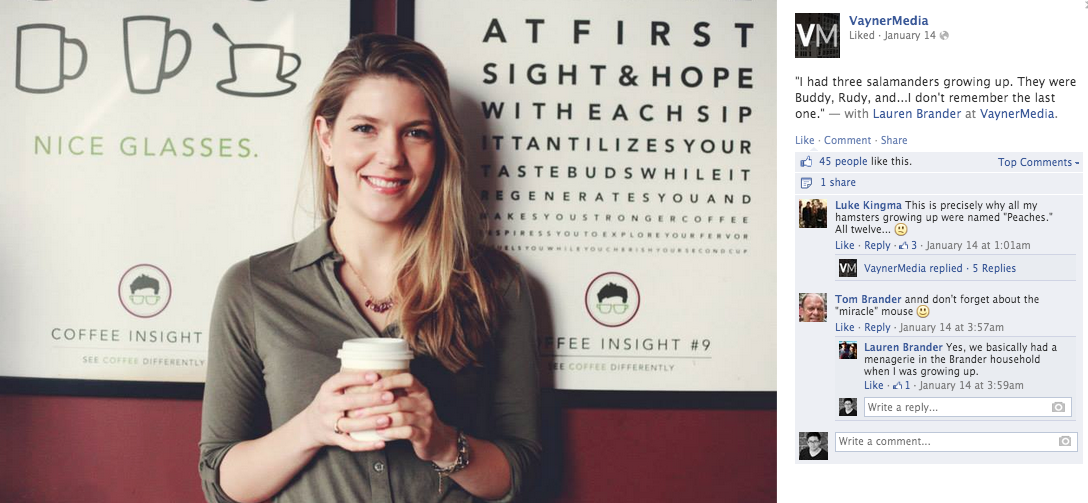 Warby Parker loves featuring their employees in their social posts.
22. Create a Visually Stunning Social Profile
According to Robert Cialdini, one of the factors that power the principle of liking is physical attractiveness. A synchronized social feed, a complementing profile and cover picture, excellent quality visual posts, well-edited videos, all help to make your brand more 'likable'.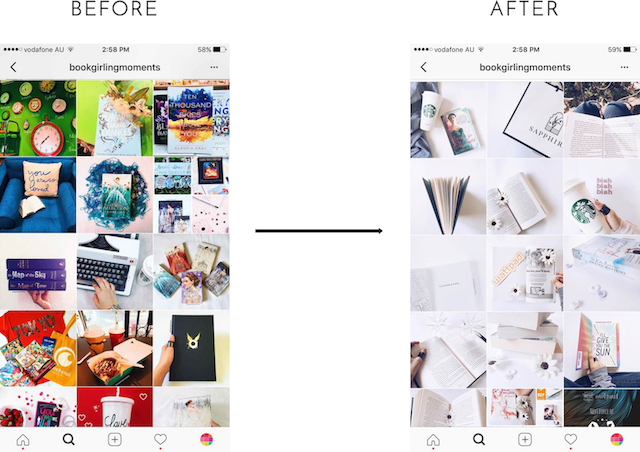 23. Feature Regular People
People tend to relate to regular people instead of photoshopped, sparkly models.
This is probably why Dove and other beauty brands are producing video campaigns featuring regular folks and addressing common problems faced by everyone. This greatly increases their likability points. It falls in line with one of the factors of liking, 'Similarity', which states that we like brands that are similar to us.
Take a look at one of Dove's video's comments section.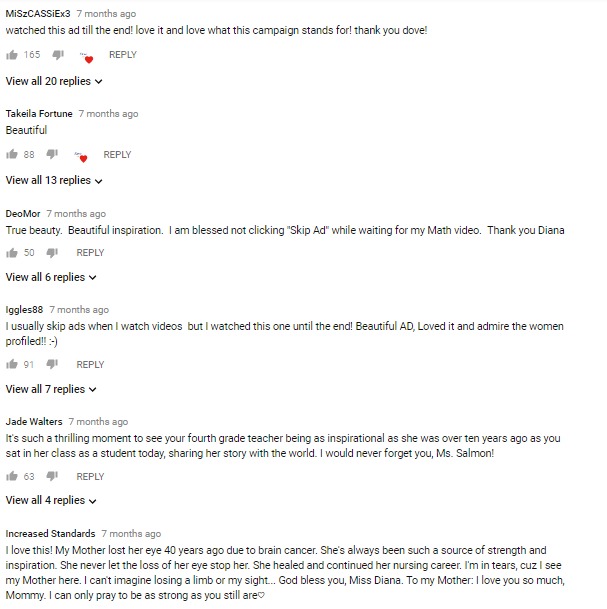 24. Engage With People On Your Posts
Don't you hate it when brands ask you to comment on their post, but when you do they never reply?
As Dale Carnegie says in his cult-favorite book, How to Win Friends and Influence People, "You can make more friends in two months by being interested in them, than in two years by making them interested in you."
Don't be a brand that everyone despises. Become your audience's friend. Reply back to their comments. Engage with them. Be courteous. Don't post automated replies, it's very annoying. Use their lingo, be informal. This, too, falls under one of the factors that powers liking, 'Compliments.'
Learn from Warby Parker.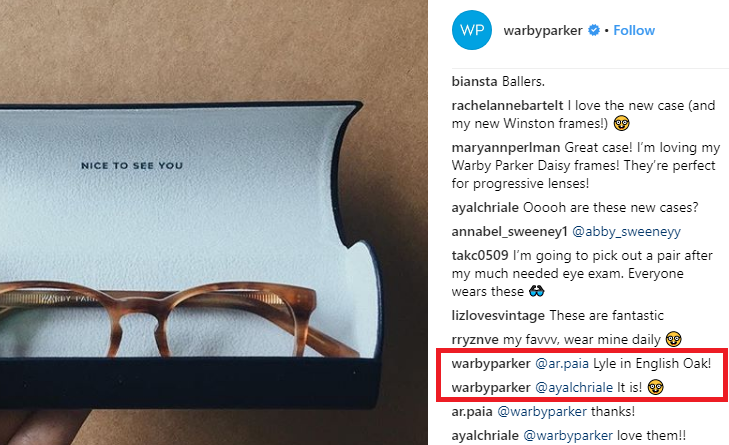 25. Engage With Followers on Their Posts
Take the liking principle one step further and start engaging with your followers on their posts. Like posts where they tag you or use your hashtag. Answer their queries on their posts. Start social campaigns where you get to engage with your audience.
Warby Parker does it with great results. They started a campaign, #WarbyHomeTryOn where customers are sent 5 frames they like. They can choose one they want to keep and return the others. So people came on to social media and asked others which frame suits them best. Warby Parker also took out time to advise them on the frames that looked best on them.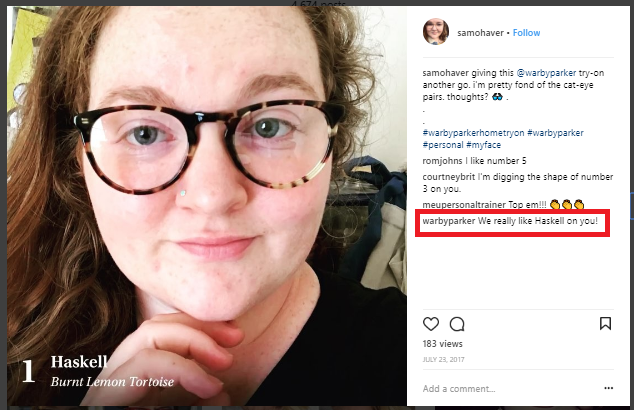 Scarcity
One of the favorite persuasion strategies of product-based businesses is scarcity. They love putting their consumers in a FOMO frenzy and watching them climb over each other to get to the checkout page and buy everything before it runs out.
Limited number and limited time. These are the two core concepts that define the Scarcity Principle.
Intrigued? Well this blog post is only going to be up for the next two weeks before it's gone forever, so keep reading!**
26. Seasonal and Limited Products Announcements
You know those Christmas special TV episodes that we all go crazy after? They're banking on Robert Cialdini's 'Scarcity' principle.
Introduce seasonal or limited products and announce it on your social media. You can also run seasonal sales and discounts to fuel FOMO.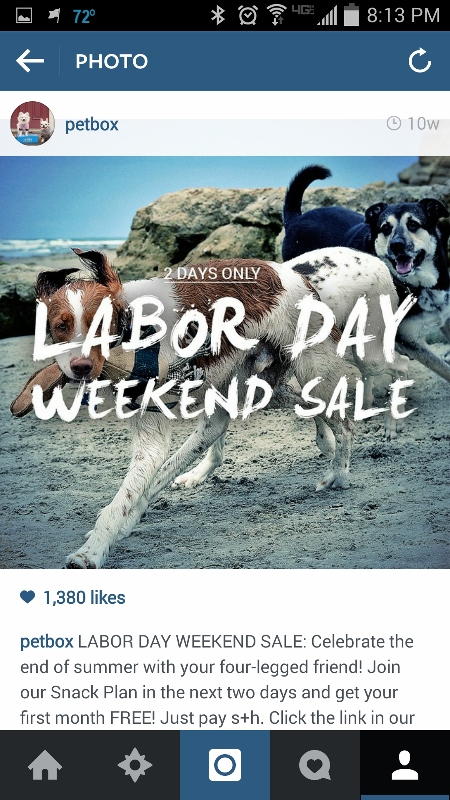 27. One Of a Kind Influencer Collaborations
Jaclyn Hill, a popular beauty blogger, collaborated with Becca to produce a highlighter, 'Champagne Pop.'
It was a limited edition product and women went crazy over it. It was so popular that it broke Sephora's record and became the most purchased product on its release date.
Pretty incredible, right?
This is the power of influencer collab done right. That fact this was limited edition made it a perfect candidate for the principle of scarcity.  
**BTW… we were only kidding about this blog post only being up for a limited time.
Did we get you?
28. Out of Stock Announcements
You know what out of stock means to me?
That product must be so incredibly amazing that everyone went crazy buying it. I need to get my hands on it as soon as it's back in stock.
It's another great way to use scarcity in your social marketing plan.
29. Use Countdown Clocks on Social Posts
Add a countdown clock to your social media posts when you're nearing a product launch, a conference you will speak to, a webinar, or pretty much any important milestone in your business.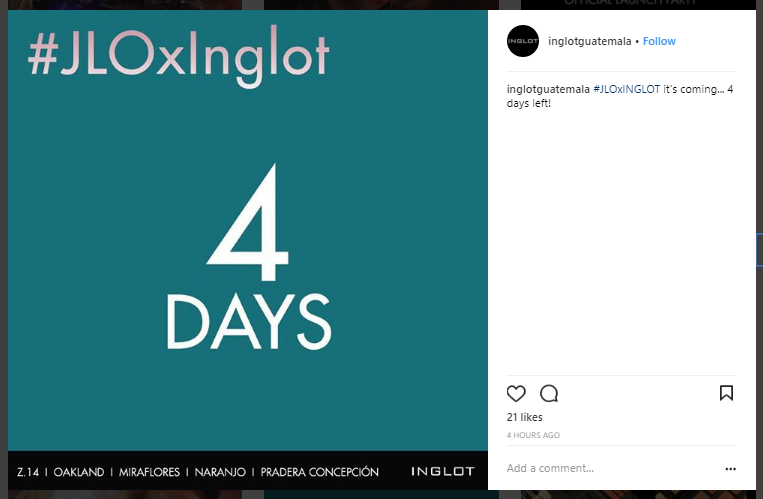 30. Offer Products First to Limited Public Only
Kiehl's recently introduced their new face mask. Before introducing it to the regular public, they built intrigue around it by offering it to popular beauty bloggers only. And that's not it. They also took all these popular beauty bloggers to Vietnam for their product launch. This created a lot of mystery around this product and tempted everyone who saw their social media posts.
Offering your products to limited public only is another great tactic to use the principle of scarcity. These products will be available later on, but they're not available right now. So everyone's curious and dying to get their hands on it.
31. Run Scarcity-Based Contests
Scarcity is not for selling ecommerce products only. You can also run campaigns on social media that work on the principle of scarcity to boost engagement. Ask followers to comment on your post within a certain time frame to win, or to share your post with your hashtag at a certain time.
Gary Vee's 60 second club is one such example.
Commitment and consistency
As Mark Twain aptly says, '"A habit cannot be tossed out the window; it must be coaxed down the stairs a step at a time."
The Commitment and Consistency principle states that if you get people to commit once initially, they'll honor that commitment consistently, even if the original incentive is taken away. The beach towel experiment demonstrates this principle perfectly.
In this study by Thomas Moriarty, a guy spreads his beach towel 5 feet away from an individual on the beach and puts a radio on it. He then wanders off. Another guy masquerading as a thief comes, grabs his radio, and runs off. None of the bystanders stopped the thief.
The same experiment is conducted again, where the guy spreads his blanket close to 20 other random people. This time he asks them to watch his things before wandering off and they agree. This small step of commitment ensured that 19 out of 20 people gave chase when the thief ran with his radio.
This is the power of commitment and consistency. How do you apply it in your social media marketing strategy?
32. Use Polls on Instagram Stories
IG stories introduced polls a couple of months back and it's been a game changer for several brands. Without knowing they were using Robert Cialdini's 6th principle of Influence, 'Commitment and Consistency', brands have been getting their followers to commit to them by voting in the poll, and then fulfilling that commitment.
For example, asking something like; "Do you want to get in better shape this summer?" getting people to say "Yes", then hitting them with "Sign up for my 30 day workout plan" is a classic example of Commitment & Consistency.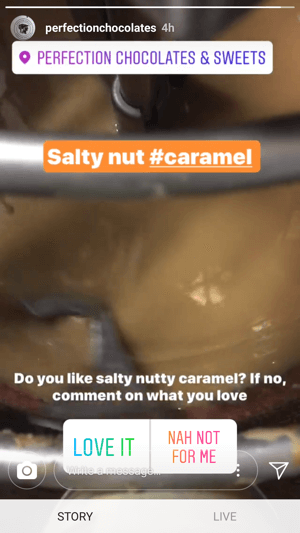 33. Use Social Posts For Initial Commitment
Ever came across a similar post on Facebook, LinkedIn, or even Instagram?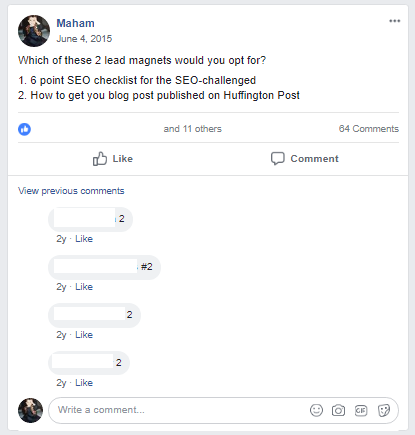 A couple of years back, I asked people in one of my Facebook groups, 'Which lead magnet would they prefer; no. 1 or no. 2?' After the majority replied no.2, I privately messaged them the link to my HuffPost lead magnet. My email list went through the roof, and my monthly subscriber goal was accomplished in a single day.
To be honest, I didn't know back then that I was using Robert's Consistency and Commitment principle, but now I realize what an excellent tactic it was.
So ask your followers a simple question on social media, and follow it up with an offer.
34. Create Trip Wires
Why does Mcdonalds come up with those ridiculously low priced hamburgers every now and then? Or their insanely low priced deals?
For initial commitment. Consistency comes after that. People who'll once buy that hamburger will go on to buy other stuff at Mcdonalds for years.
This is the tripwire strategy, where you're asked to buy a low priced product initially before you're pitched more expensive stuff. Brands also use this strategy increasingly in social ads, mainly FB ads.
35. Use Giveaways as a First Step
What's even better than a low-priced product? A free product!
Luring customers to your website with the promise of a free product is a clever use of commitment and consistency. Once prospects enter the giveaway, they'll give you their email address and you can pitch them paid offers via email.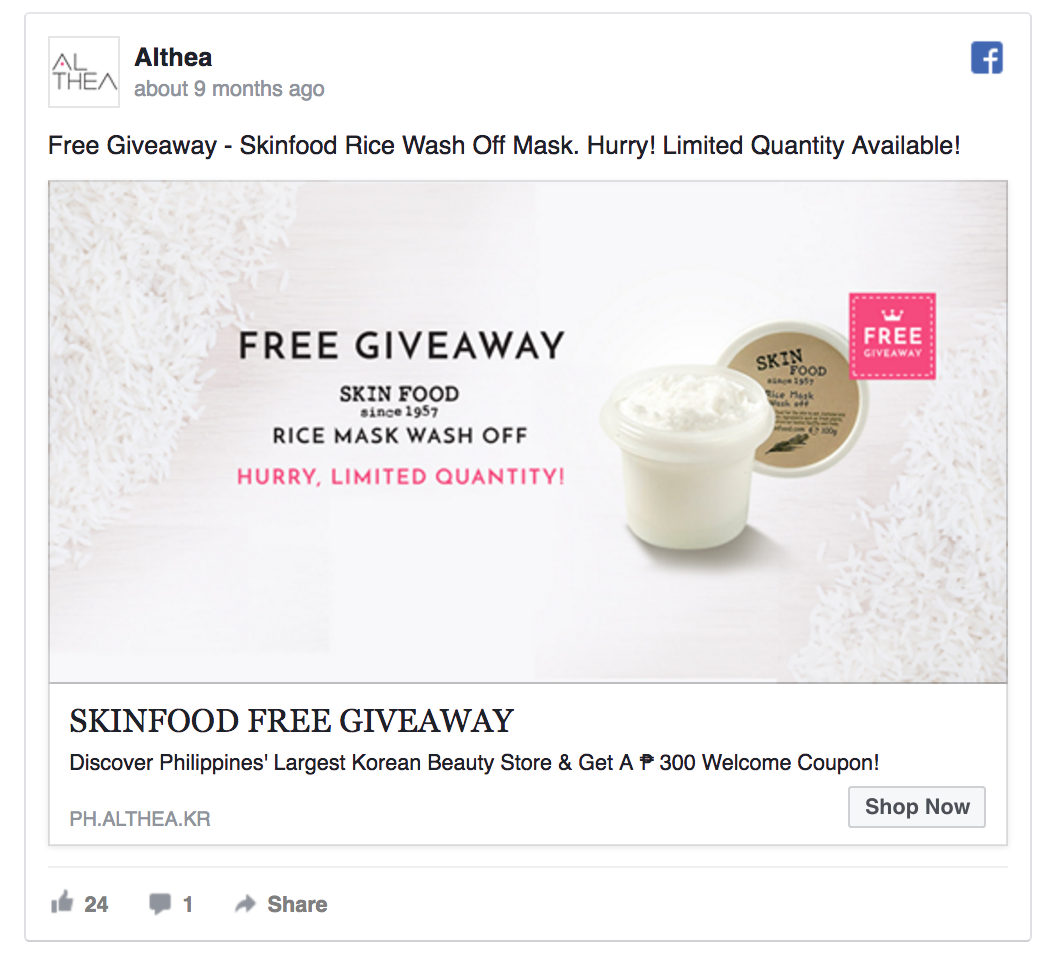 36. Design Witty Quizzes
Entertainment trumps pretty much everything on social media. And what better way to encourage people to commit to your brand than using epic quizzes? Once you entice people to take your quiz, you can ask to take their email address in exchange for their results. Not only is this a great example of the principle of commitment and consistency, but it also goes viral at breakneck speed.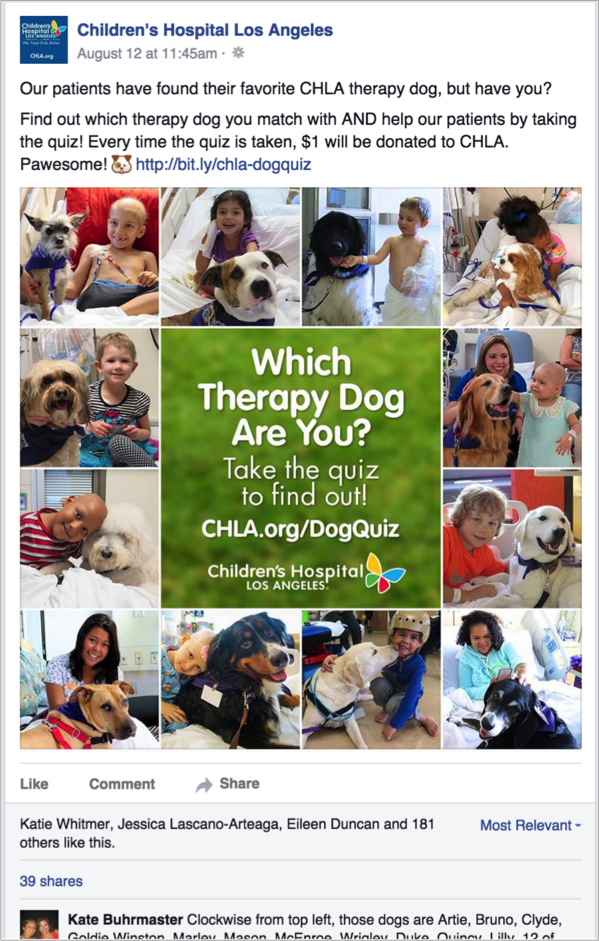 Still here?
Excellent.
Have you used any other strategy that follows the rules of influence and worked incredibly well? Let us know in the comments section below.