You've got a shiny catalog picture of a West Elm couch on one hand,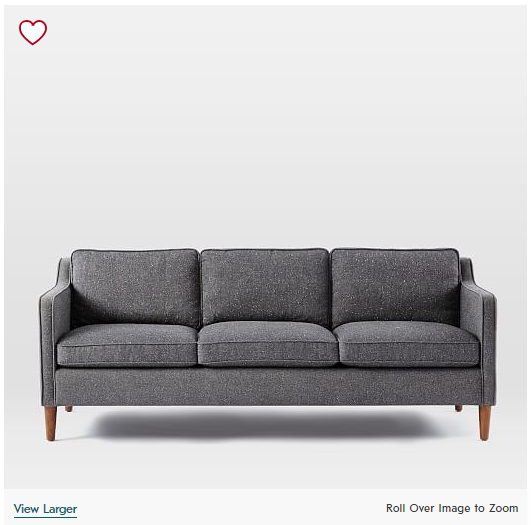 Versus…
A picture of a well-worn West Elm couch in a nice home with the sweetest dog possible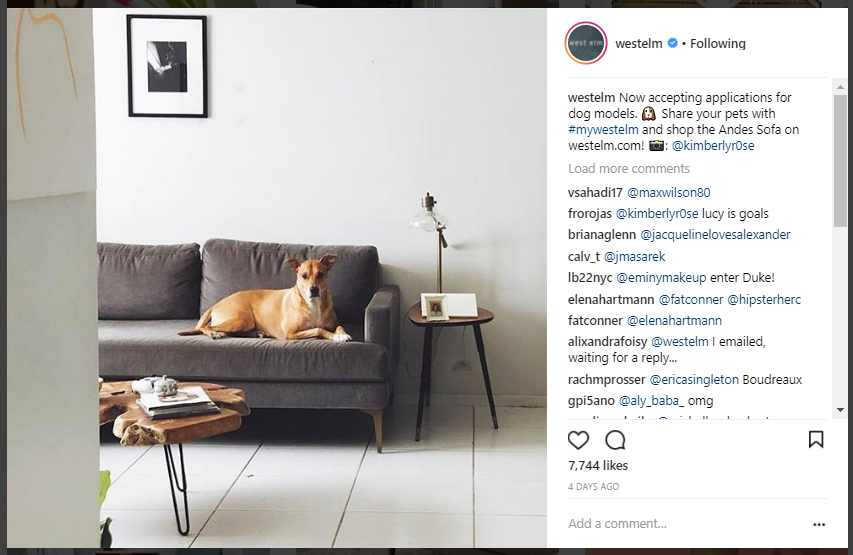 And you're thinking about buying this couch.
Which picture is going to influence your decision the most?
I don't know about you, but 88% consumers and I would trust the latter post. Why? Because it was created and posted by a consumer like us.
This is the power of unbiased user-generated content. It screams trust.
"It's all about authenticity. A consumer is much more likely to trust a friend's Instagram photo of your hotel than the glossy, Photoshopped images they'd find in a brochure. Your audience is constantly being marketed to, and they can sniff out traditional advertising from a mile away. People crave authentic brand interactions and experiences."
Cynthia Price, VP of marketing at email marketing platform Emma
More and more brands are now acknowledging the sheer power of user-generated content. After creating and employing a strategic UGC strategy, they're watching their social profiles and conversions smash through the ceiling.

Buffer is one such brand. After executing a user-generated content campaign, they grew their Instagram account by 400% – from a mere 4250 followers to 21000 followers (now they've got over 39000 followers).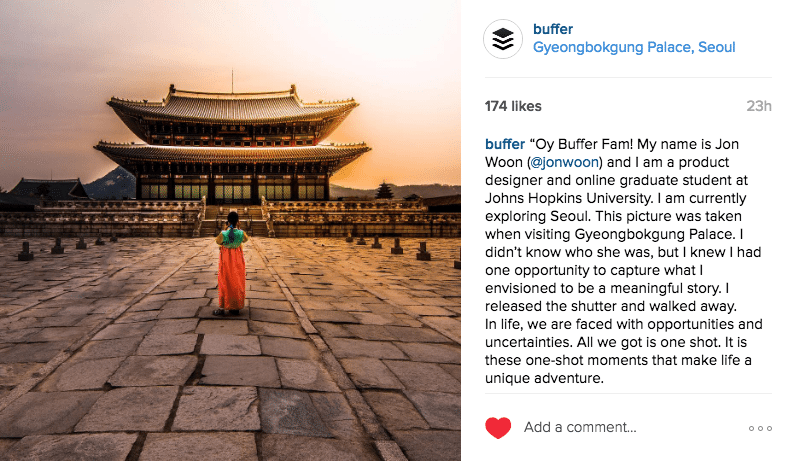 In short, UGC content definitely works if you keep at it consistently and create a brand-focused strategy focused on it.
How to Inspire User-Generated Content
"A brand is no longer what we tell consumers it is: It is what consumers tell each other it is."
—Scott D. Cook, co-founder of Intuit and director of eBay and Procter & Gamble.
And here's how you can encourage consumers to tell future consumers that your brand's awesome.
Apply the Rule of Reciprocation: User-generated Contests and Sweepstakes
In the book Influence: The Psychology of Persuasion, Robert Cialdini describes the rule of reciprocation as,
'…universal tendency in human beings to feel compelled to repay or reciprocate when given a gift whether it has come in the form of a material object, a kind deed, or an act of generosity.'
And this is the crux behind social UGC contests' insane success. They're different from your generic contests that state like-to-win or comment-to-win. These contests require users to submit pictures related to your brand (depending on the theme and nature of your contest) to participate.
Starbucks has run several uber-successful UGC-focused giveaways. One of their most popular ones was the #RedCupContest, where users had to creatively decorate their sad red Starbucks cups and post the picture online. In exchange, winners got a year worth of free coffee.
It worked so well, that in their second annual red cup content they received over 24000 entries in just 5 days. In total, they received well over 39000 entries, which is pretty awesome.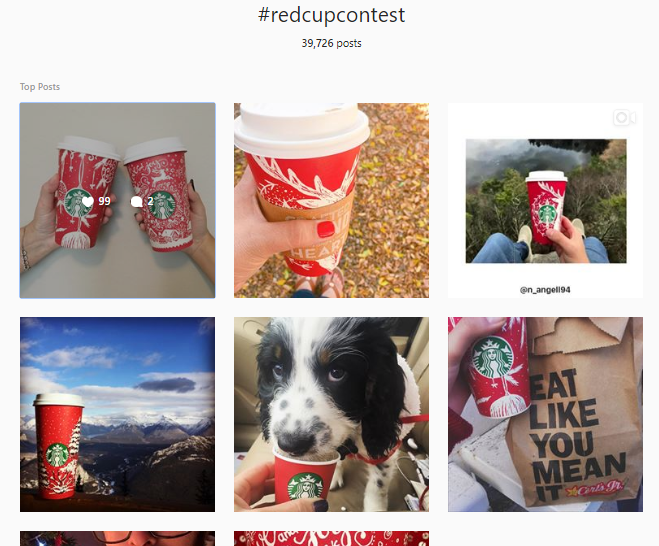 Many other brands have seen similar success with UGC contests. Hands down, it's one of the best ways to get user-generated content. You have the creative liberty to create any kind of giveaway you like. You can ask users to,
upload pictures of your products,

pictures with your brand color,

Be creative with your products and post pictures of it.
As for the gift in exchange, make sure you offer something that your target audience would love. The better your freebie, the more entrants you'll attract. Simple. You can,
Offer discounts to everyone who participates

Offer a huge amount of free products to the winner

Feature the winners or the best of the lot on your social profiles and/or website
Another great example is RedBull's #putacanonit campaign, where they challenged their followers' creativity and asked them to upload pictures involving cans. Within a few months, they received over 10,000 entries and several other big brands like Pepsi followed suit and used this hashtag.
While running contests can be a great marketing move, you need to be aware of its legalities and potential financial consequences if you fail to follow all the official rules of creating a contest. Here's a great guide that lets you in on all the legal bits about creating a successful giveaway.
Harness the UGC-Initiating Power of Branded Hashtags
Branded hashtags are the bread and butter of UGC campaigns. After all, 70% of hashtags on Instagram are branded. You can't track user-generated content without having a proper branded hashtag strategy in place.
There are several ways you can use branded hashtags to prompt UGC.
Use branded hashtags in your contests and giveaways to track the number of entries.

Create branded hashtags around your brand's specific elements; like your brand color, your brand's physical location (state, country, city, or even the office's name), different marketing campaigns, your products, etc. and ask users to participate by uploading pictures related to these hashtags.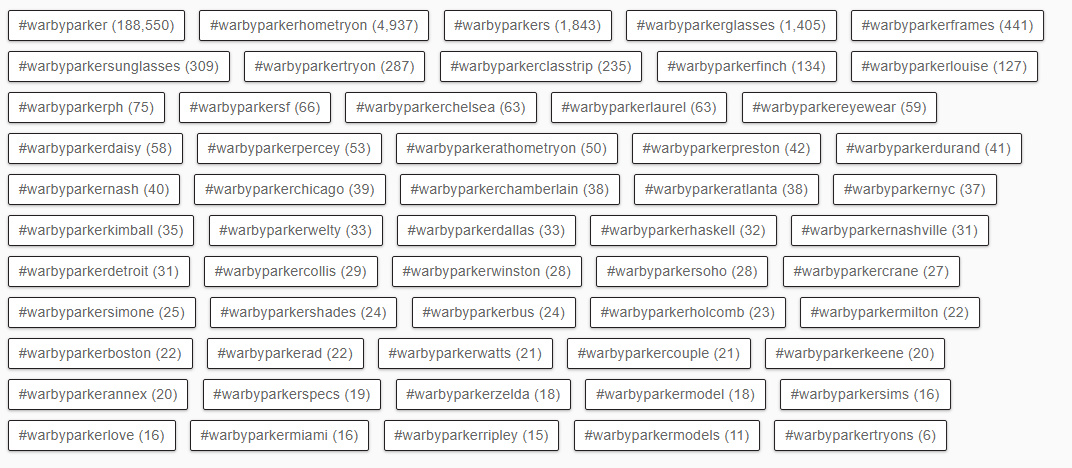 Take a look at how many different hashtags Warby Parker has used and each one revolves around a different campaign.
Newsjack a hot (and if it's controversial than even better) topic, create a hashtag around it and encourage your followers to participate.
Airbnb's #weaccept campaign is a great example of this strategy.
They rebelled against Trump's refugee ban by embracing everyone regardless of their race, nationality, religion and accepting them in AirBnB fam. They ran a social campaign with the primary hashtag #weaccept, and their followers responded with unbridled enthusiasm.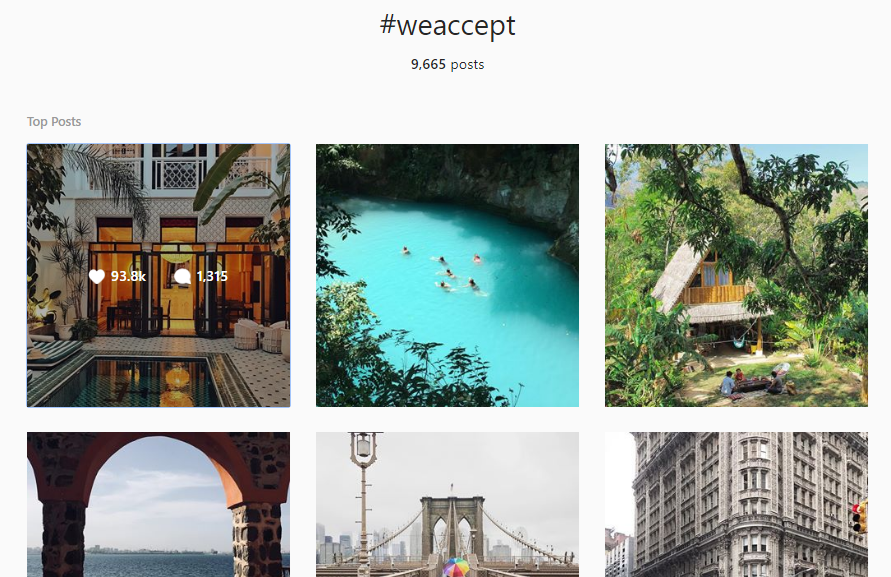 While creating a brand hashtag campaign, remember the following things:
Use low competition hashtags.
If you're using generic hashtags, use one that has a low competition to stand out and have a chance of getting your post amongst the top posts.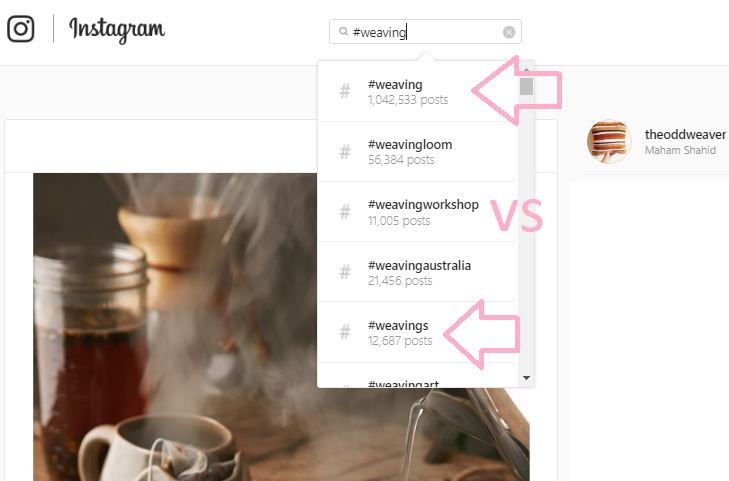 So, if you use #weaving in your post, you're competing against 1,042,533 posts, but if you use #weavings, you're competing against only 12,687 posts. So the fewer people you compete against, the better chance you have of getting noticed.
Don't run multiple hashtag campaigns at once.
Run one campaign for a certain amount of time and use it's hashtag in multiple posts, one after another, so that it gathers interest. Warby Parker started a new campaign #WArby, and they've already posted 4 posts promoting this hashtag in 4 days.
Ask friends, family, and employees to start using your branded hashtags to gain initial traction, and repost their pictures to encourage users to participate.
Initially post pictures with the hashtag yourself to show users how they can participate and to kick-start the campaign. When Warby Parker introduced their #warbyblue campaign, they posted a lot of initial pictures themselves, and even now when they feel #warbyblue isn't garnering attention, they start posting #warbyblue pictures themselves.
Tips and tricks:
Add links to your products and services in your bio or post caption when you repost user's photos. 59% of millennials claim that they use UGC to inform their purchase decisions; so adding a link to your UGC reposts can amplify your conversions.
Wayfair does this best. They drive UGC posts through their fun campaigns and branded hashtags, like #WayfairatHome and then adds a link in their bio to direct people to their website.
Add a clear CTA in your UGC-driving posts so that it encourages more and more people to participate. It could even be something as simple as 'tag photos with this hashtag to get featured' like team Warby does it.
Or like Huda does it,
Add signage in your brick and mortar stores
To create intrigue and interest around your UGC campaigns, add hashtag signs and contest signs in your retail stores.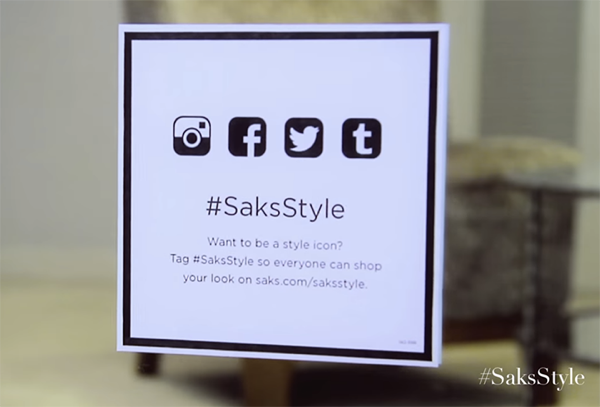 If you don't have a retail store, you can include your brand hashtag on your visiting cards, on your website, your packaging materials, etc. Be creative.
Use influencers to amp up your UGC campaign
UGC posts featuring brands earned almost seven-times more engagement than brand-generated posts in 2016,
according to Mavrck.
By adding influencers to the equation, you can turn your UGC campaigns into IGC (influencer-generated content) and get the initial kickstart the campaign so desperately requires. Build relationships with micro-influencers and collaborate with them for your UGC campaigns.
Perils of not legally using UGC
"No matter what form the content comes in if a brand is looking to reuse or highlight any type of user-generated content for marketing purposes, every item needs confirmation of user permission."
Jeff Soriano, senior director of demand generation at UGC marketing platform Offerpop
When reposting or using UGC in any other form, you need be super careful to not violate the law. Several companies have found themselves on the wrong side of it, and they had to pay hefty fines and suffer an insane amount of humiliation.
Buzzfeed's $3.6 million lawsuit
Buzzfeed was hit with a $3.6 million lawsuit by photographer Kai Eiselein. According to him, Buzzfeed used one of his pictures in their collection post, "The 30 Funniest Header Faces", without his consent.
You definitely don't want that.
Max Dubler's virtual brawl over copyright infringement
Max Dubler, a professional photographer, found himself in a similar problem, too. A small company reposted one of his pictures on Instagram, and when he asked for a little payment ($25), they balked and insulted him.
So, of course, he wrote an entire blog post on it, other photographers joined suit and together they made it viral.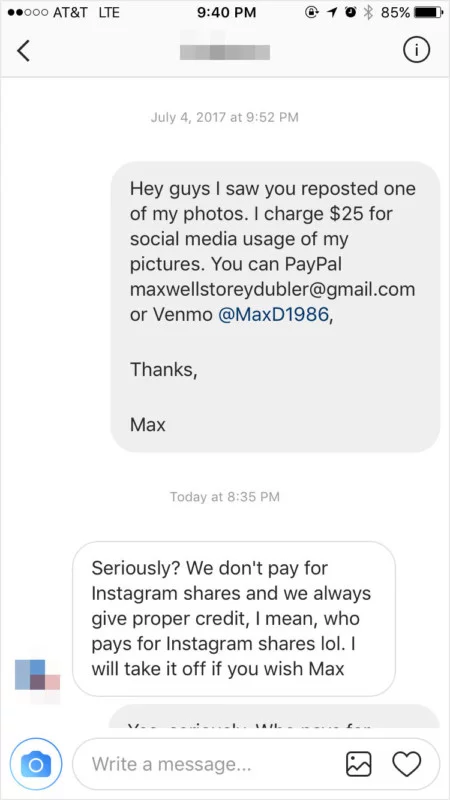 Terms of Use of Instagram
So before you start your UGC campaign, read thoroughly what Instagram terms fair use and its copy infringement laws.
It states,
(4) You represent and warrant that: (i) you own the Content posted by you on or through the Service or otherwise have the right to grant the rights and licenses set forth in these Terms of Use; (ii) the posting and use of your Content on or through the Service does not violate, misappropriate or infringe on the rights of any third party, including, without limitation, privacy rights, publicity rights, copyrights, trademark and/or other intellectual property rights; (iii) you agree to pay for all royalties, fees, and any other monies owed by reason of Content you post on or through the Service; and (iv) you have the legal right and capacity to enter into these Terms of Use in your jurisdiction.
3 simple rules to legally use user-generated content:
Scared? Don't be.
Here's all you need to do to legally use user-generated content in your marketing campaigns.
1. Seek permission from users whose pictures you want to repost.
DM, email, comment on the post or send a carrier-pigeon.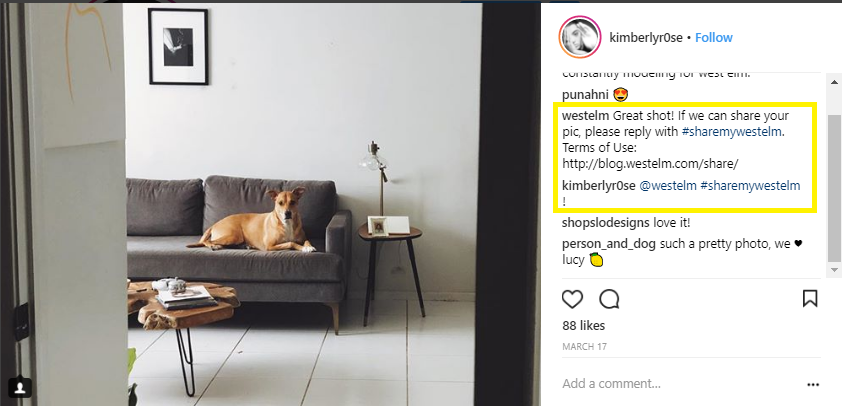 You'll either,
Awesome. Repost their picture, no problem.
Get asked to pay a small fee
If you can afford to pay the fee, pay it and repost their picture.
No problem, move on to the next post and repeat this process.
Reposting is a numbers game. Ask multiple people at once so you get at least a couple of yeses to repost.
2. Have a clear Terms and Conditions page to send people to.
Dedicate a page on your website, or create a landing page, especially for your terms and conditions. In it clearly, state you're seeking consent from people whose pictures you'd like to repost or use in any other capacity. And ask users to read your terms and conditions, and to let you know that they give you permission.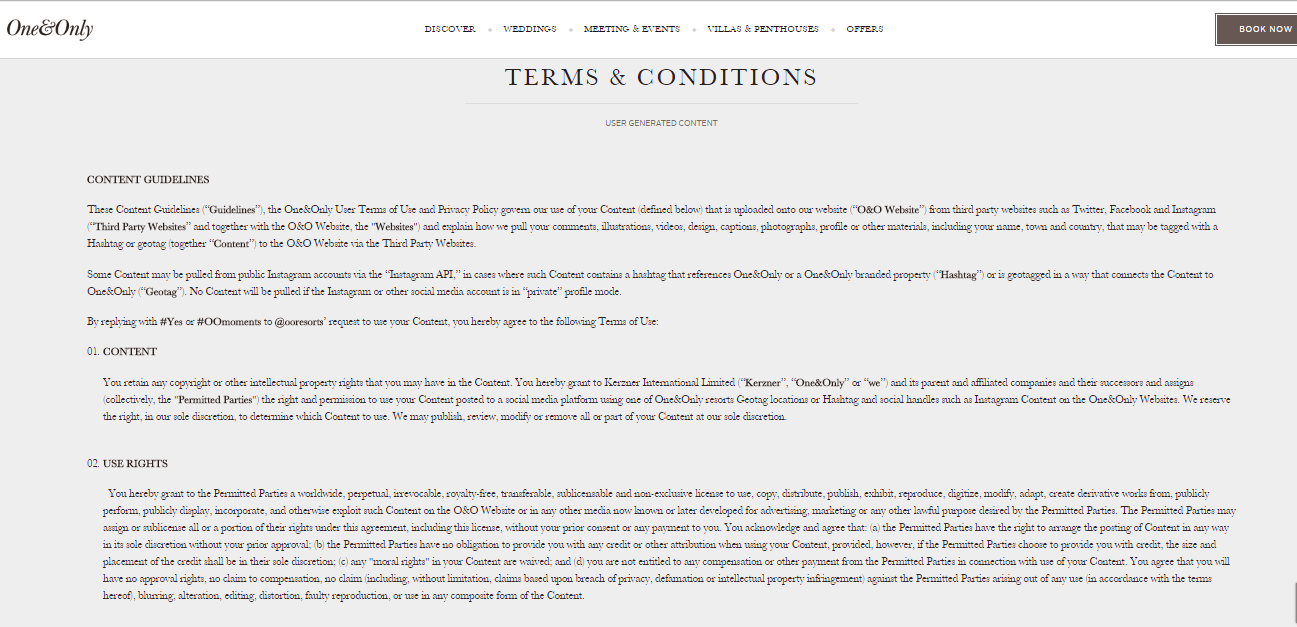 Add a link to your Terms and Conditions page on your bio and UGC-prompting posts when you're running UGC campaigns.
Cover all potential lawsuit claims with this single document.
3. Don't forget to give credit where it's due
Even if you have the permission to repost the content of another IG user, don't forget to give them credits properly. Link to their IG profile and clearly state that this photograph was theirs.
Nikon is a great example of brands using UGC legally. They seek users permission on social media, send them contracts and even pay them in certain circumstances to use their posts.

I emailed one of their repost-users and asked if Nikon had contacted her before using her picture (even though the user had used the campaign hashtag and had willingly participated in the campaign), she replied in affirmative and said Nikon initiated a contract before using her pictures.


A simple document and a simple 'can we repost?' comment or DM can save you a lot of problems.
Have you ever gotten in trouble for posting UGC without someone's permission? Tell us about it in the comments!