One can never get enough #businessinspo, and while the success of big companies is something to strive for, it's the lesser-known (yet still totally influential) entrepreneurs and small businesses that truly get us excited. Even the most fortunate entrepreneurs have mentors, people and brands they look up to. 
Whether you're looking for advice, wisdom or a potential future employer, here are 26 of the best entrepreneur Instagram accounts and co-founder teams across all industries, genders, and barriers. 
After all, being an Instagram influencer and a real-world entrepreneur goes beyond posing in front of landmarks and getting famous for seemingly no reason, doesn't it?
The 26 Best Entrepreneur Accounts on Instagram
Adrian Harris and Jeremy Inglett | @foodgays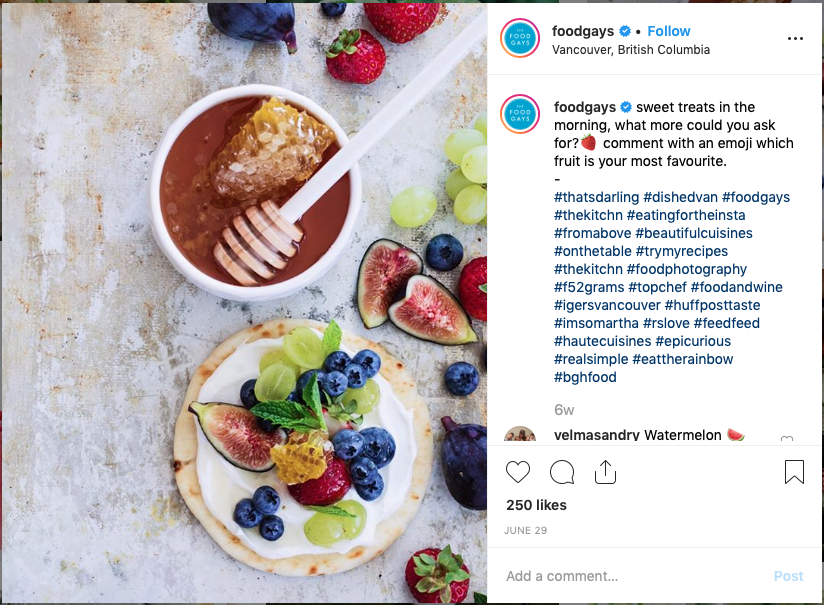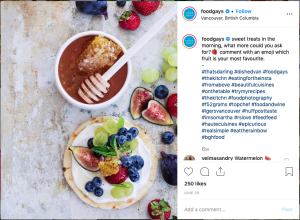 Adrian Harris and Jeremy Inglett are the guys behind food and lifestyle blog The Food Gays. In addition to publishing cookbooks, Harris and Inglett have also contributed to known publications like Food & Wine and Martha Stewart. Their Instagram has a mix of their personal creations, dishes from restaurants and ads for companies like Stoli, plus giveaways every now and then.
Ashley Stahl | @ashleystahl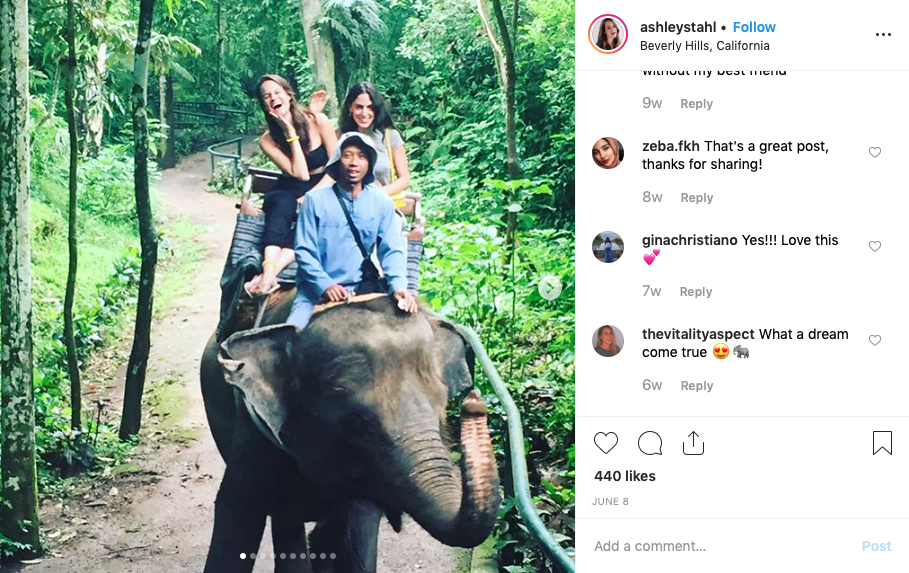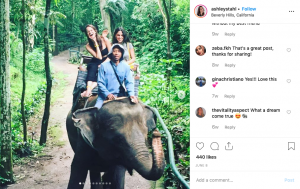 Ashley Stahl is the founder of CAKE Publishing, a company that connects entrepreneurs and brands to writers and PR experts, and she's also one of the top female entrepreneurs to follow on Instagram. Stahl is also a career coach, contributor to Forbes and host of the You Turn Podcast, which helps people learn how to live their best life. Her Instagram account is a mix of inspirational quotes, tips for becoming a better you and snapshots from her travels (showing it pays, literally and figuratively, to be an entrepreneur).
Barret Wertz | @barretwertz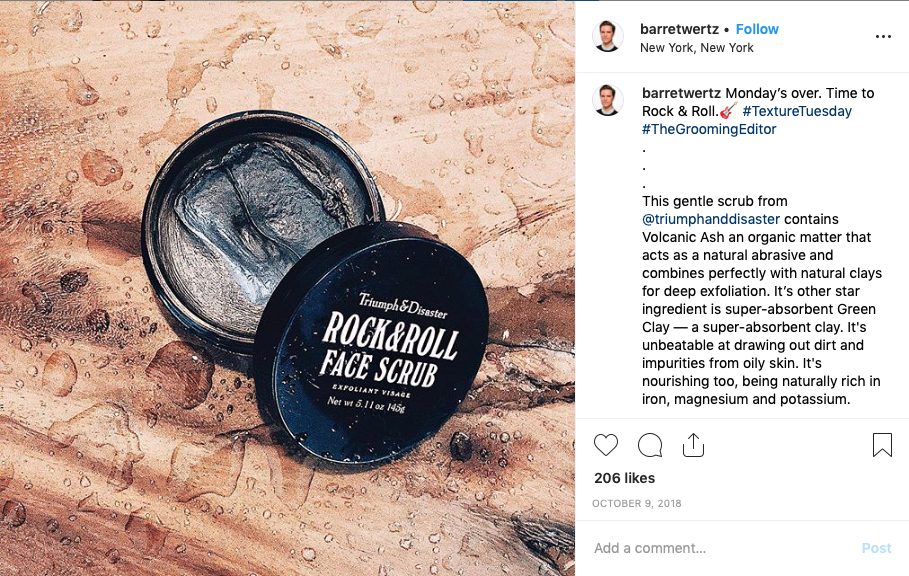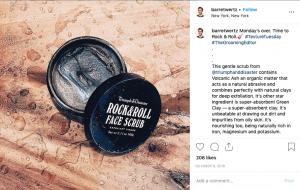 Barret Wertz is a men's grooming expert and the style and grooming editor at @AskMen, an online source for everything you need to know about becoming a better man. Wertz encourages men to do what works for them, whether that's a multi-step routine à la American Psycho or a one-and-done method. Head to his Instagram for easily digestible pieces of advice that are easy to apply to your daily life.
Camila Coelho | @camilacoelho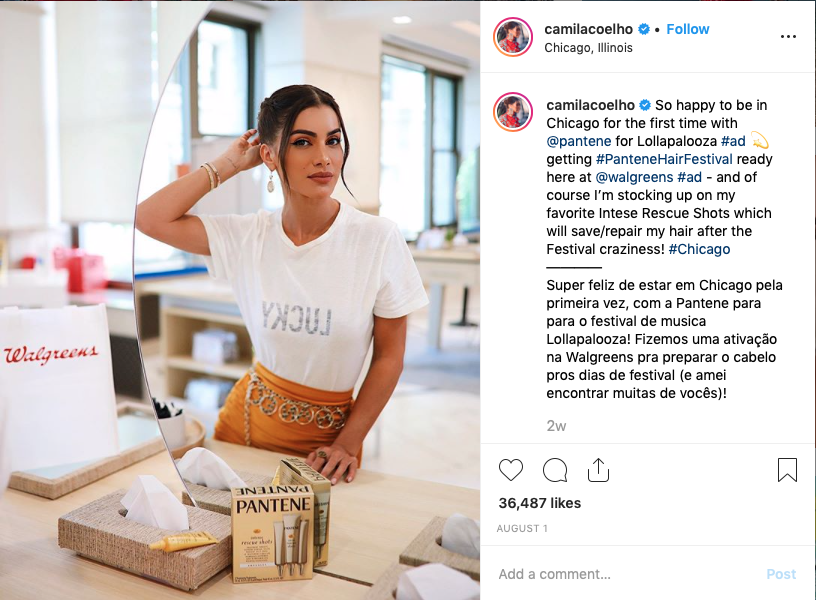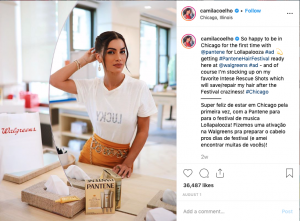 Brazilian beauty and makeup blogger Camila Coelho posts to her blog and Instagram in both English and Portuguese. She's also the founder of the Camila Coelho Collection, a clothing and swimwear line that's available exclusively at Revolve.com. Her Instagram features her #ootd looks, plus plenty of beaches and luxury shots from her glamorous life.
Charlie Dark | @daddydarkrdc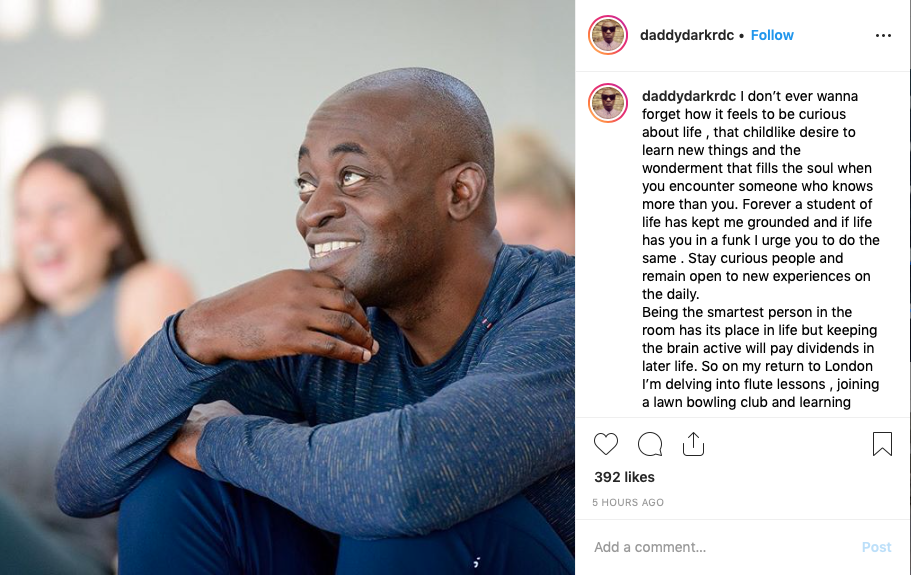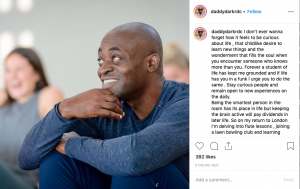 Public speaker Charlie Dark feels strongly about the topics of cultural diversity and self-growth. He's also the founder of Run Dem Crew (RDC), a collective of creatives who meet to run in London and other cities around the globe. His Instagram shows his runs and workouts, and it also mixes in deep thoughts and inspirational quotes and posts. 
Christine Emily Yahya | @christine.emily.creative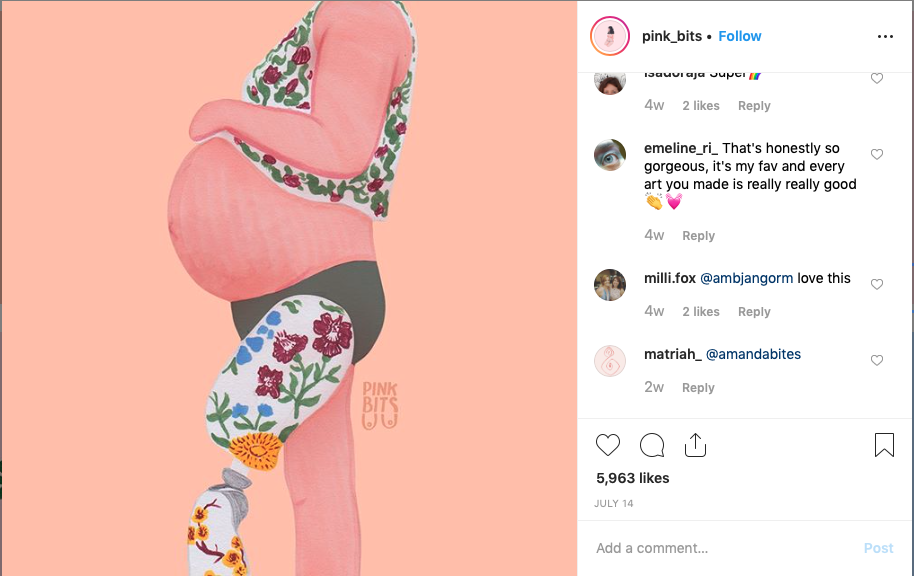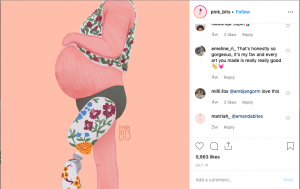 Christine Emily Yahya is the graphic designer behind Pink Bits, a body-positive collection of illustrations that empower women and give them confidence. The illustrations, which can be seen on the Instagram account @pink_bits, are of women of all ages, shapes, sizes and races, and include body hair, curves, disabilities and scars. Yahya's online shop sells the illustrations as prints, stickers, greeting cards and postcards. 
Eric Rutherford | @mr.rutherford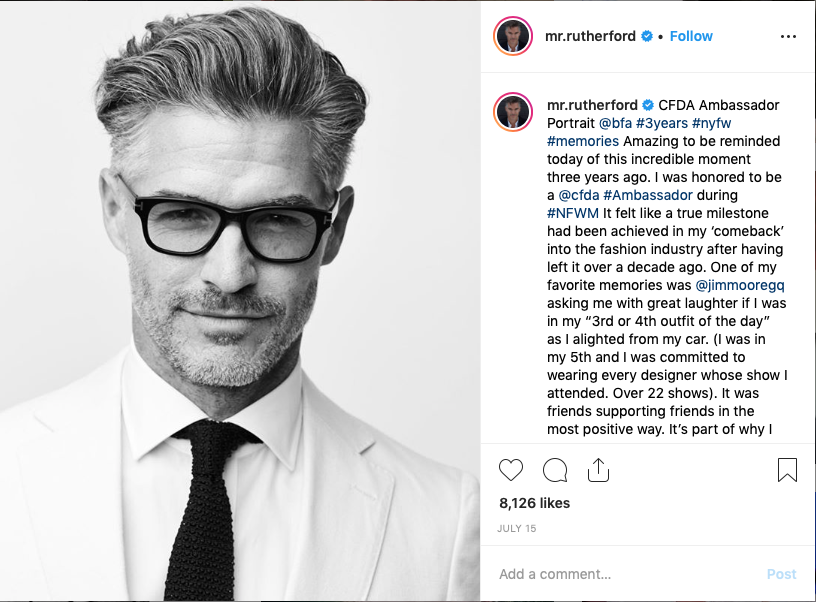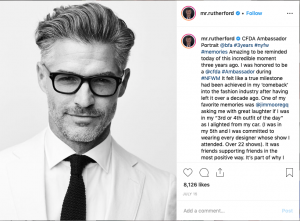 Eric Rutherford uses his Instagram account as a men's style guide, but what truly sets him apart from other male fashion influencers is that he's in his 50s. Rutherford shows that it's never too late to look your best while living the life you've always wanted. His posts help every man to become a modern gentleman as he shouts-out his favorite designers and guides followers to create their own, individual, polished style.
Eric Stoen | @travelbabbo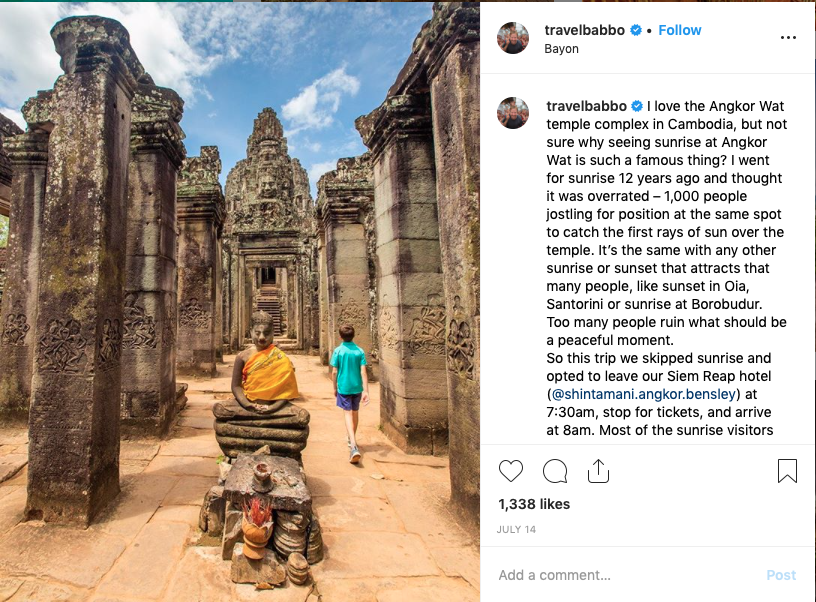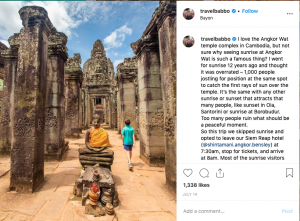 Eric Stoen is a super dad who travels with his children and posts about it on his website and Instagram – as of the writing of this article, he's traveled to 59 countries with his kids. Empowering parents to continue living an adventurous life with kids in tow, Stoen is one of the top travel influencers in the world, according to Forbes. His Instagram is filled with gorgeous, high-quality photos of his travels…and, of course, his children.
Govit Thatarat | @itong2go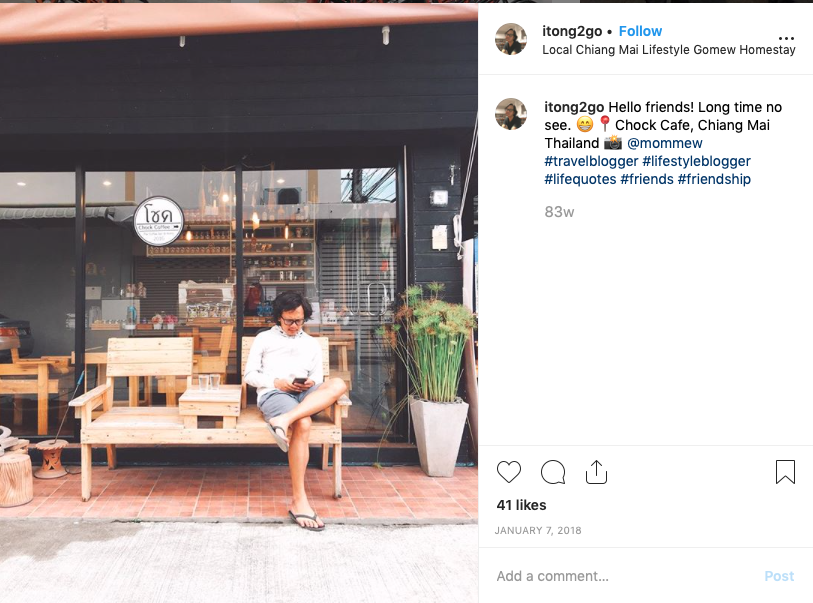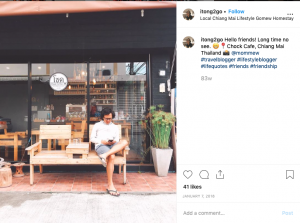 Based in Chiang Mai, Govit Thatarat is the co-founder and content manager of Review Chiang Mai, a blog (written in Thai) that highlights accommodations, food and tourism in Chiang Mai. Thatarat's personal blog is itong2go, where he writes travel guides for trips around Asia, and his Instagram includes highlights from his trips as well. Thatarat also has a homestay listing on Airbnb with several five-star reviews.
Henry Bae and Shaobo Han | @henrybae @shaobohan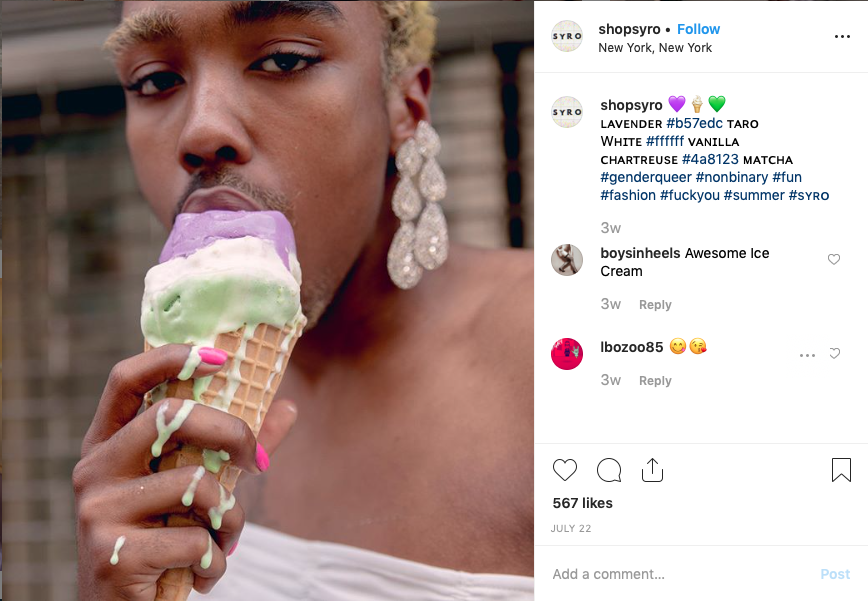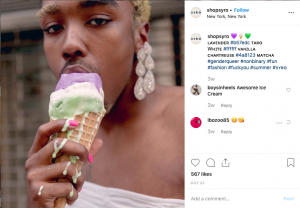 Henry Bae and Shaobo Han are two of the most followed entrepreneurs on Instagram and the co-founders of Syro, a genderless heels company aimed to empower the femme community. Through their company, Bae and Han encourage people to develop their own personal style, especially if it veers from tradition and expectation. Their personal Instagram accounts and their business account overflow with femme fashion inspo.
James Charles | @jamescharles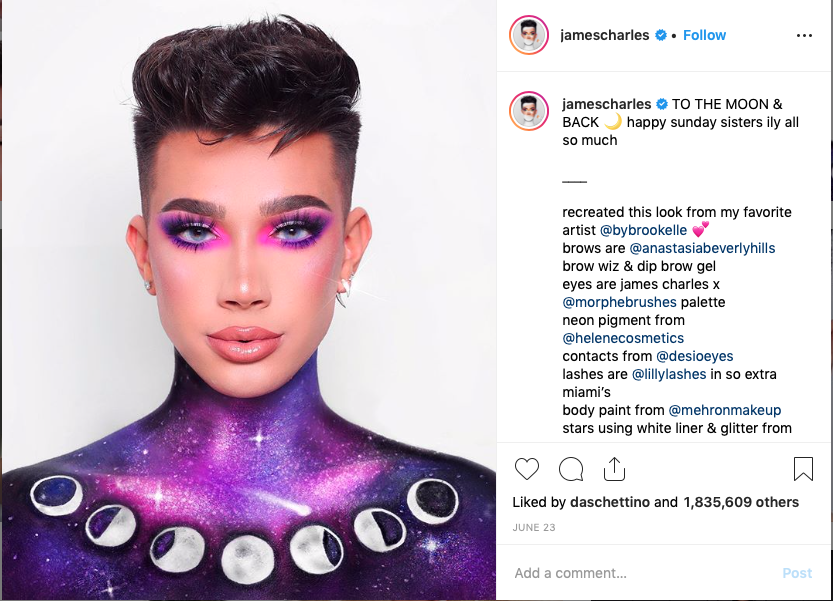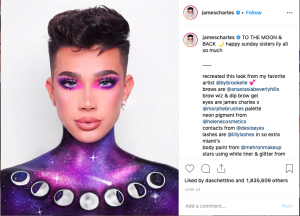 James Charles is a male beauty influencer and a spokesmodel for cosmetics and beauty products. He was also Cover Girl's first male spokesmodel. His Instagram profile has glamor shots that show off his stunning, inventive makeup art, and he also promotes his clothing line Sisters Apparel, which has its own Instagram account.
Jamie Okuma | @j.okuma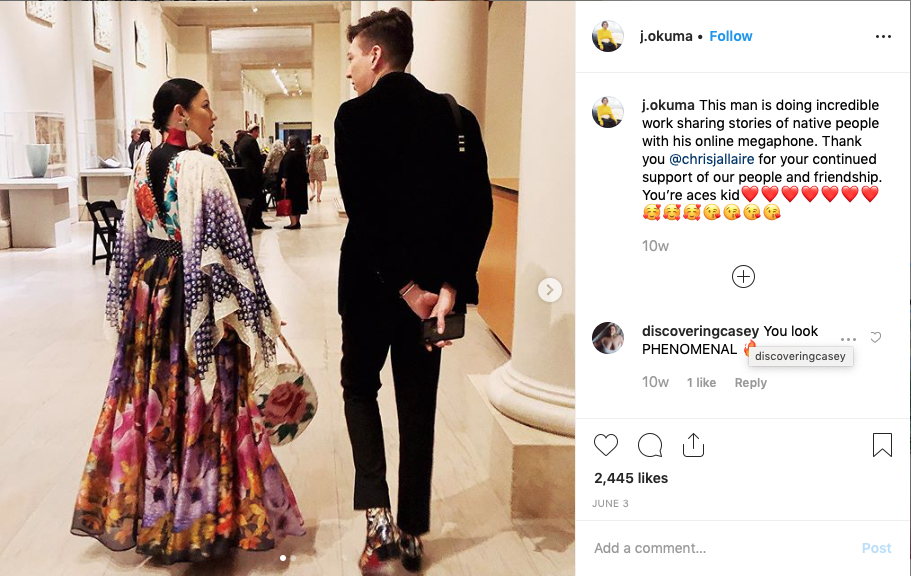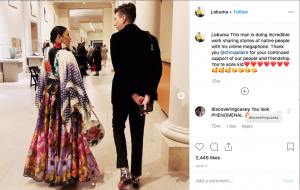 Artist and fashion designer Jamie Okuma creates beautiful, one-of-a-kind Native American designs. Instead of competing with other Native American designers, she supports them by reposting their creations. Her Instagram also showcases her wearing her own designs, throwback family photos and the different ways she engages with the Native American community.
Jenna Hage-Hassan | @jennahagehassan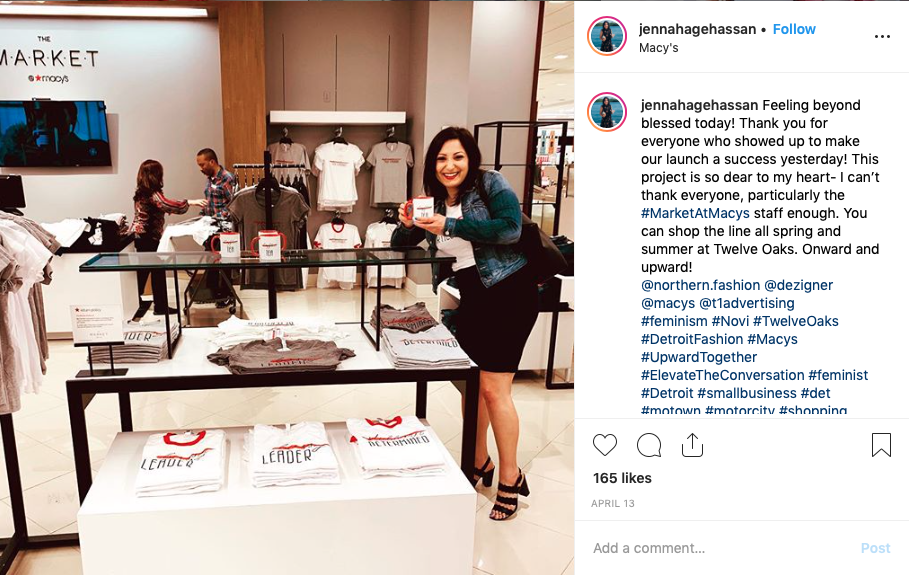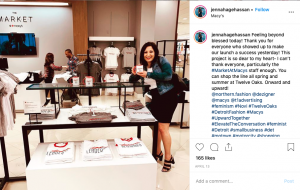 Jenna Hage-Hassan founded Kee, a task management app with an interactive smart schedule that helps people find events and meet new people based on interests and location. She's also a co-founder of Northern Fashion LLC, a clothing line that helps spur on the conversation about women's rights. Her Instagram is comfortingly down to earth, with photos from her daily life, work events, and family get-togethers. 
Lauren Mahon | @iamlaurenmahon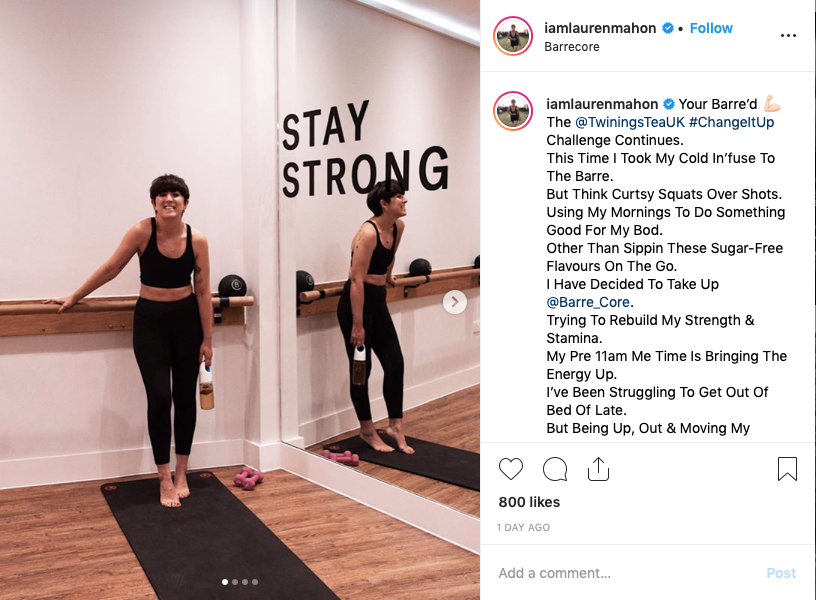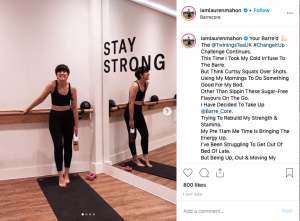 After Lauren Mahon was diagnosed with breast cancer, she launched her GIRLvsCANCER t-shirt business in 2016, and one-quarter of sales go to cancer charities. Mahon is also a co-host of the You, Me and the Big C: Putting the Can in Cancer podcast. Mahon posts images of her edgy style, often accompanied by heartfelt and pithy captions about making the most out of life. 
Leighton Brown and Matthew Reimer | @lgbt_history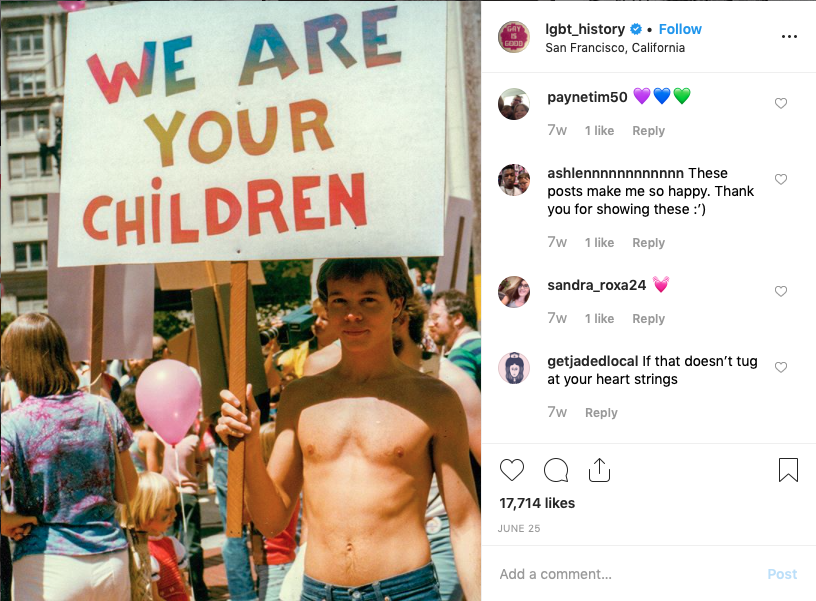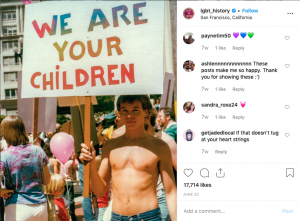 Archivists, married couple and top business influencers on Instagram, Leighton Brown and Matthew Reimer launched a personal project from their collection of 80,000 images that document queer history. Today, they've published a book featuring their collection called We Are Everywhere. Their main Instagram feed continues to feature archival images, while their Stories have current news stories about LGBTQ issues as well as info about their excursions and projects.
Mariah Idrissi | @mariahidrissi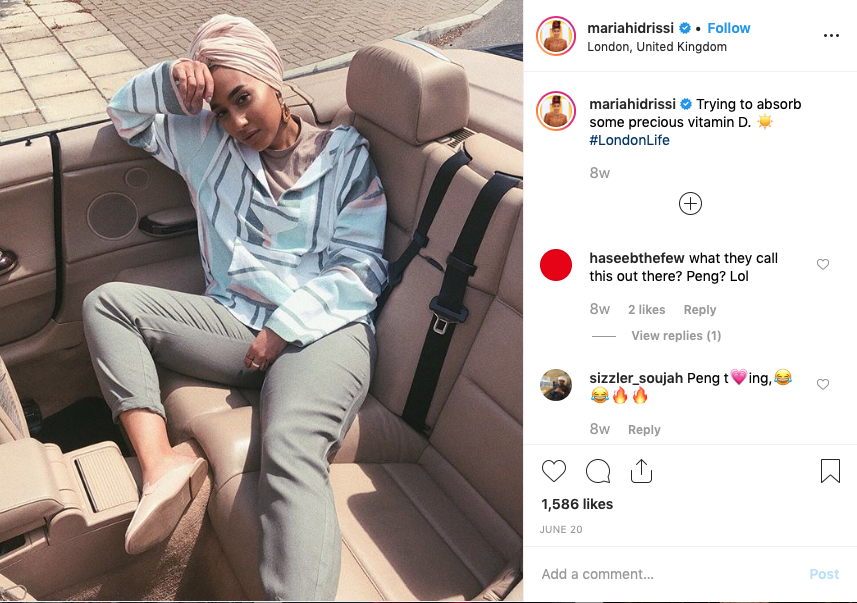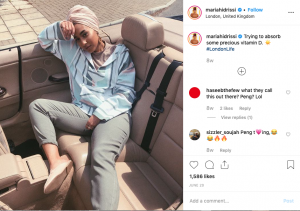 Mariah Idrissi is a British Moroccan and Pakistani model, influencer and public speaker in the modest fashion niche. She was also one of the first Muslim hijab-wearing models and appeared in H&M's "Close the Loop" campaign, which promoted clothing made from recycled materials. Her Instagram showcases her bold fashion sense and playful spirit, plus the causes she gets behind, like #wearefempowered.
Marques Brownlee | @mkbhd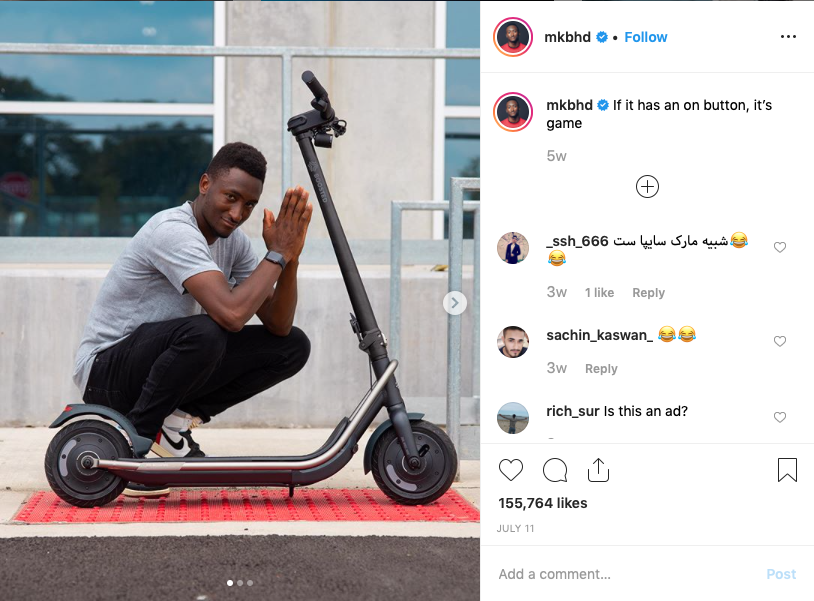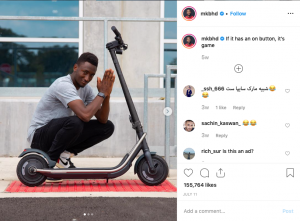 Marques' love for geek culture and technology shines through his Instagram and YouTube accounts, where he's hailed as a tech influencer and reviewer. On Instagram, he shows how to enjoy technology in everyday life. He also has a merchandise store where you can buy tech-inspired tees and hoodies.
Mascha Davis | @nomadista_nutrition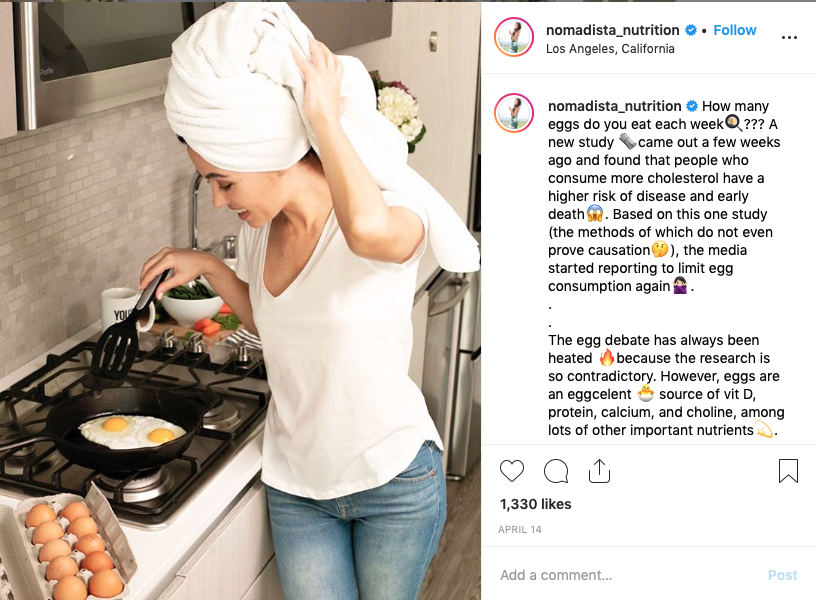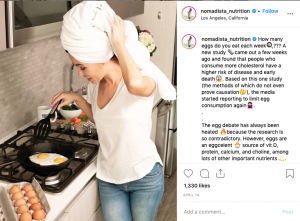 Los Angeles-based dietician Mascha Davis has an Instagram filled with gorgeous food photography, healthy recipes and inspirational quotes. She's also a TEDx speaker and humanitarian worker. In addition to #foodporn and healthy lifestyle images, she posts about the entrepreneurial conferences she attends.
Megan Bacon-Evans and Whitney Kay Bacon-Evans | @meganfromwegan @wbacon11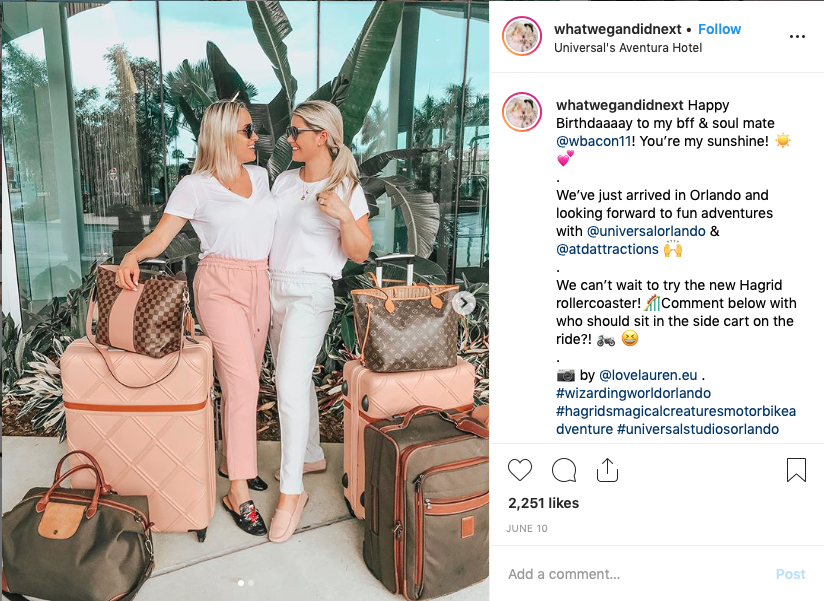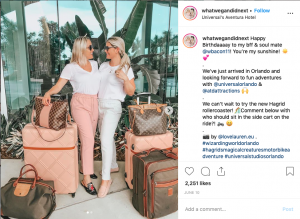 Life and business partners Megan and Whitney Bacon-Evans have the joint account @whatwegandidnext, which shows their luxury trips and swoon-worthy lifestyle. They're also the founders of Find Femmes, a community and dating site for Femme LGBTQ+ ladies. The @findfemmes Instagram account features photos of happy couples and well-known LGBTQ influencers.
Otegha Uwagba | @oteghauwagba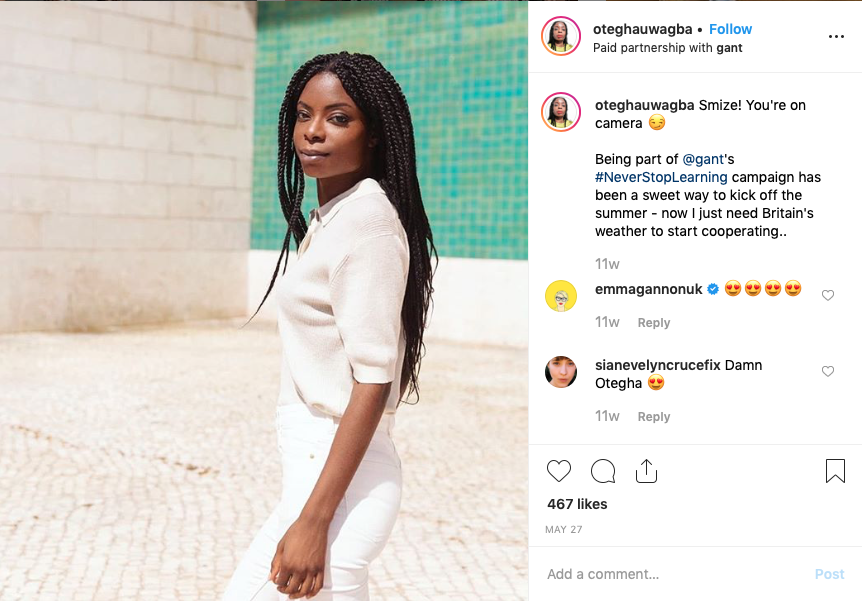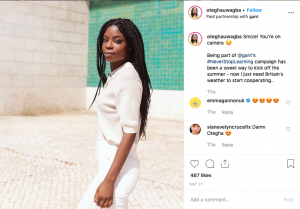 Otega Uwagba is the founder of Women Who, a network for creative working women. Women Who connects, supports and inspires women in the creative industry via publications, online content and events. Otega's Instagram account has images from her beautiful, creative life, plus behind-the-scenes from her work life, which you can see more of at @womenwho.
Rick Hansen | @rickhansenfdn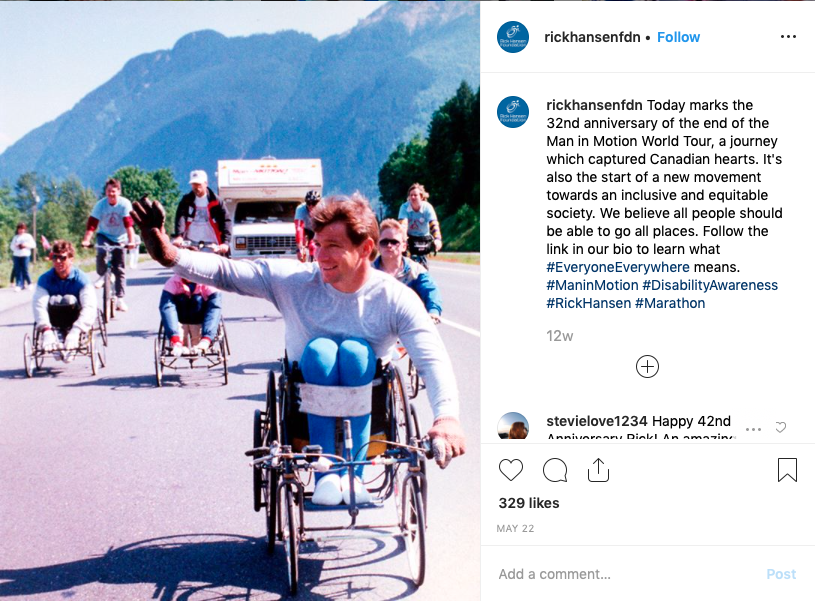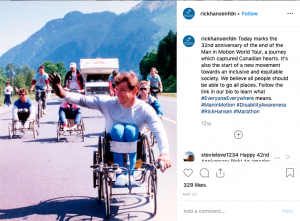 In 1973, when he was 15, Hansen was paralyzed from the waist down following a car accident. In 1988, he started what is now known as the Rick Hansen Foundation in order to support Canadians with disabilities. One of their public campaigns is #EveryoneEverywhere, which promotes accessibility and the inclusion of people with disabilities. The Foundation's Instagram account shows the important work they do and the people whose lives are touched thanks to their outreach. 
Sarah Eagle Heart | @ms_eagleheart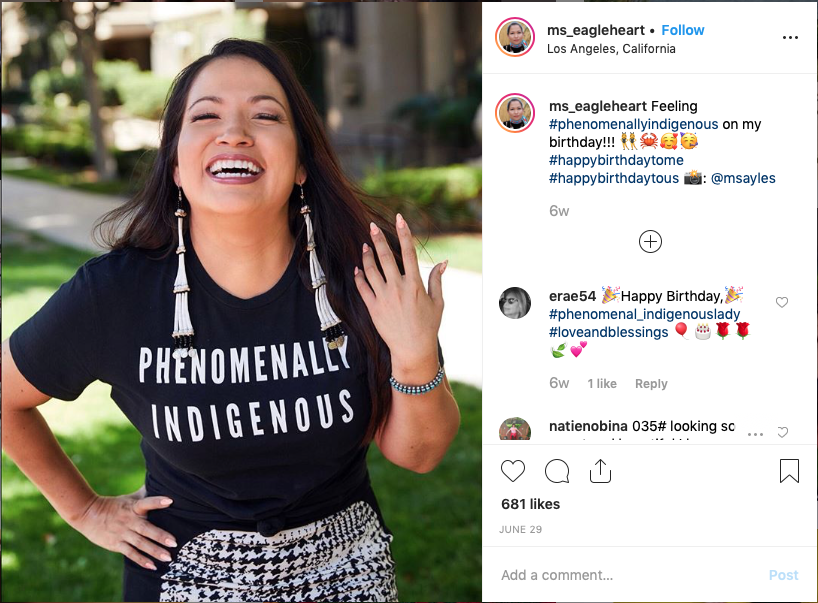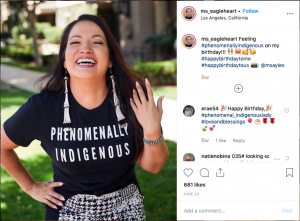 Sarah Eagle Heart is a social justice storyteller and the CEO of Native Americans in Philanthropy, a nonprofit that works to build healthy and sustainable Native American communities. (You may also recognize her as the voice of the moon in the animated Crow: The Legend.) Her Instagram features posts with quotes, snippets of her life and work, and newsworthy info, and while a lot of what she speaks about focuses on Native American life, her account is certainly inspirational for everyone, no matter their background.
Sergei Urban | @thedadlab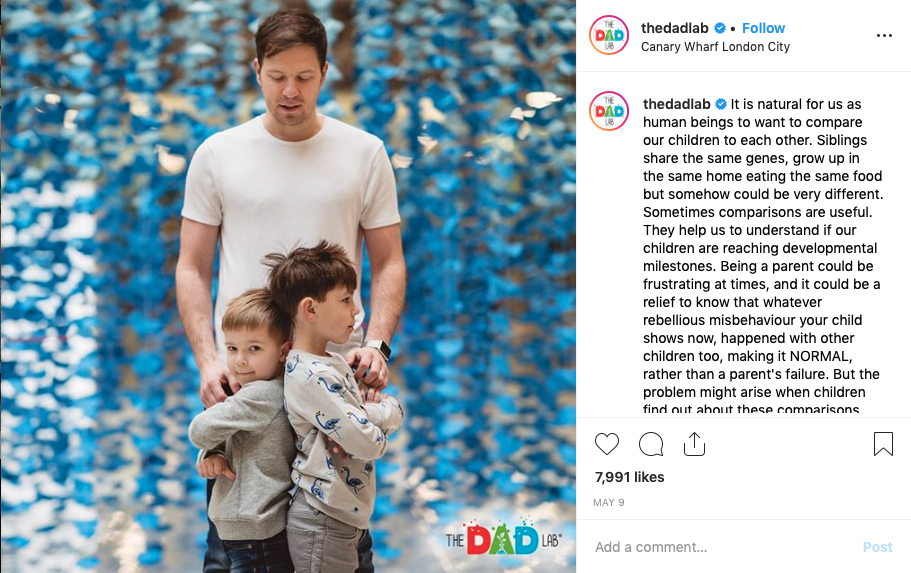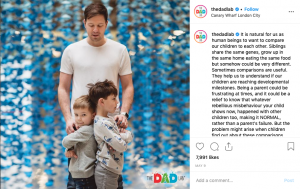 Author Sergei Urban left his full-time job in order to raise his kids, and today he shares innovative, fun ways to enhance learning. Through his Instagram account and book, he presents easy-to-do art projects and experiments. Not only does he offer ways to teach children, but also encourages parents to spend quality time with their little ones and serves up parenting advice from time to time.
Tai Lopez | @tailopez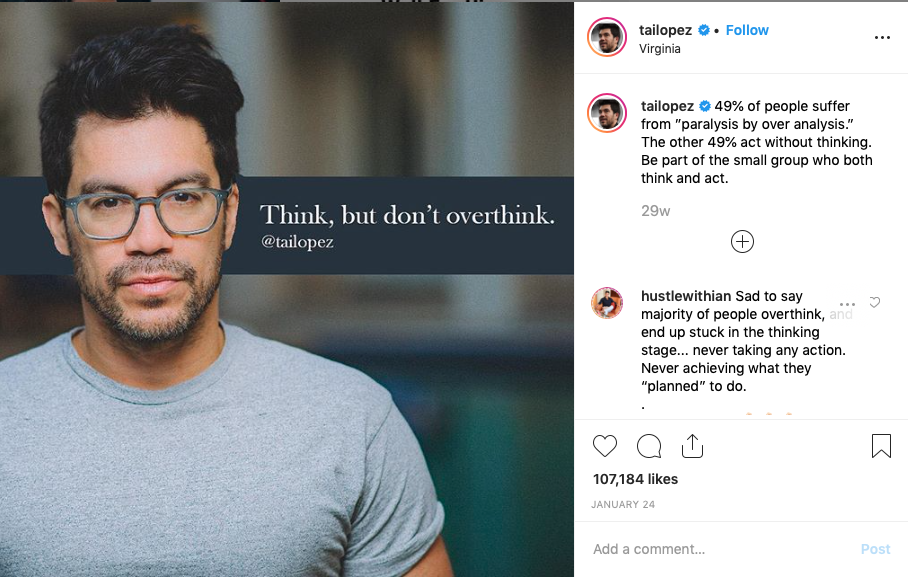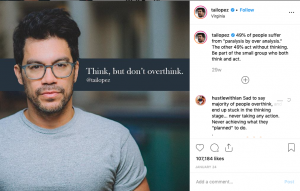 Tai Lopez works with more than 20 multi-million dollar businesses as an advisor, consultant, investor and partner. He uses Instagram to motivate businesses and individuals to succeed financially, and he believes that people can self-learn what's taught in business school without having to go to college. Through his website, he offers a step-by-step training program to increase your monthly income.
Trisha Velarmino | @psimonmyway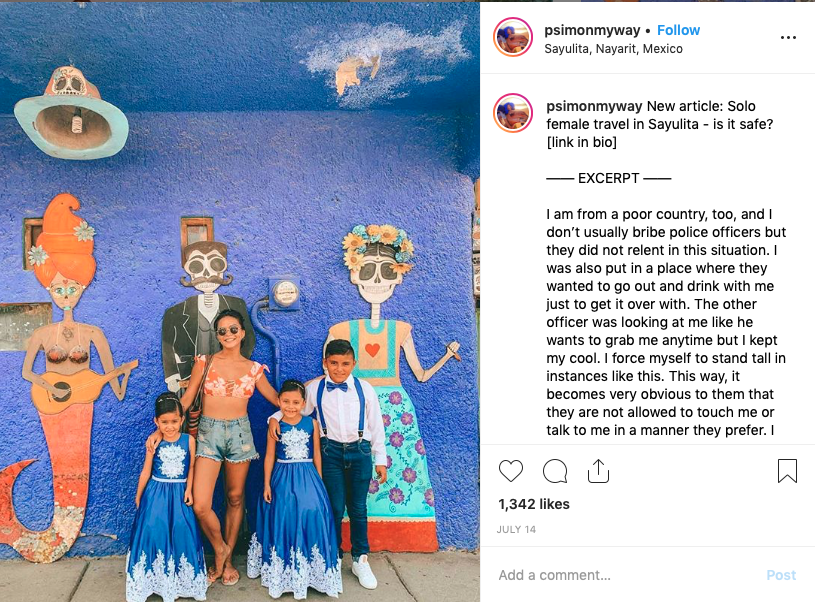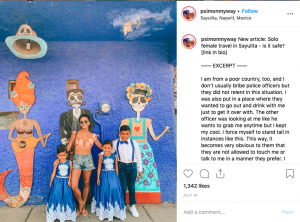 Trisha isn't your run-of-the-mill travel influencer who only posts pictures on yachts and sipping Champagne. Instead, she's a Girl Rising ambassador and activist for girls' and women's rights in Africa, Latin America and the Middle East. Her blog P.S. I'm On My Way features life lessons learned from traveling, covering everything from eating and cooking to speaking and sleeping in foreign cultures.
Jessica Stein | @tuulavintage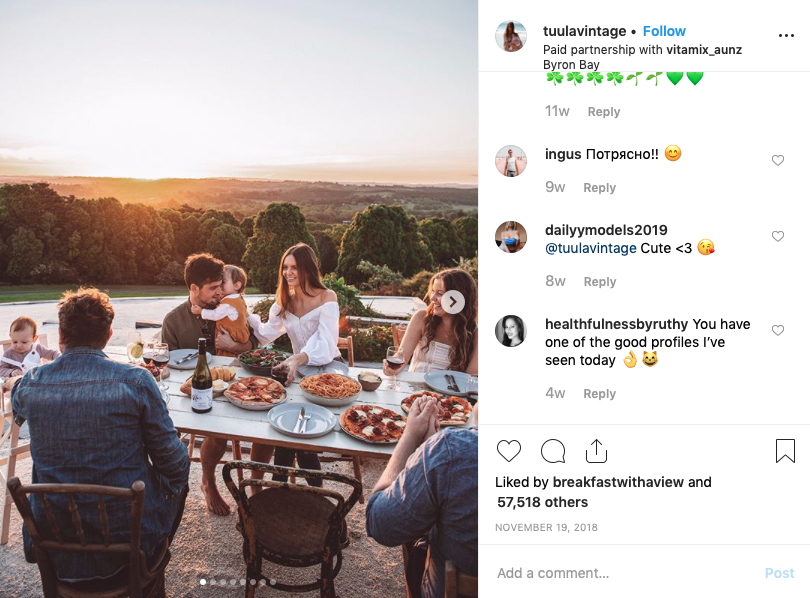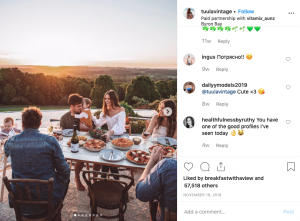 Jessica Stein runs the successful clothing line Spell & the Gypsy and her Instagram shows several images of her wearing her lovely, feminine designs in gorgeous, beachside locales. She's also a proud mom to a daughter with a rare chromosome disorder called Mosaic Trisomy 3. By following Jessica, you'll get glimpses into her life thanks to her heartwarming family photos.
Instagram photos aren't the only way these pros use to market their businesses. Decide whether you should be on IGTV or YouTube with help from our article. Which would you choose?