Instagram stories have well and truly taken over Snapchat and the rest of the digital marketing world with over 250 million Stories users.
As fitness influencer @megsquats put it in her first Instagram Stories post:
"ANYBODY ELSE FEEL LIKE THEY'VE BEEN WASTING THEIR ENTIRE LIFE AWAY TRYING TO GROW THEIR SNAPCHAT FOLLOWING?"
As soon as it was launched, in August 2016, everyone in the fitness industry rushed to jump on this bandwagon and reach out to a wider spectrum of potential customers.
And a number of them saw astounding success through it.
Even if:
You're new to the world of Instagram with a brand spanking new account

You've heard and seen other brands upload Stories but haven't mustered up the courage to try it yourself

You've tried marketing your fitness business through Instagram but didn't see a lot of result

You're a pro and want MORE success and clients
Then read on. These simple, yet genius tricks work for fitness pros at every level.
---
1) Send viewers to your business links
According to Instagram Advertiser statistics, 75% of Instagram users take action after looking at an Instagram advertising post, and marketers are taking notice.
Just a couple months back, Instagram Stories rolled out a new feature that allows you to add a clickable link. Initially it was only for verified accounts, but from May 2017, Instagram started offering it to business accounts with over 10,000 followers.
So if you're one of them, you're in luck.
Once you start posting compelling, fitness-friendly content on Instagram stories and your story views increase, just add a link to one of the posts and redirect all this traffic to that link.
Simple and effective.
You can send viewers to:
Your super-persuasive website.

To your services page where they can look up different kinds of trainings; like group trainings, personal fitness training, etc.

To sign up for your training sessions.

To book a session with you.

To get on a free consult call with you.

To your different social media profiles.

To a Facebook or LinkedIn groups you've created for fitness enthusiasts.
The New York Times demonstrates how it's done perfectly.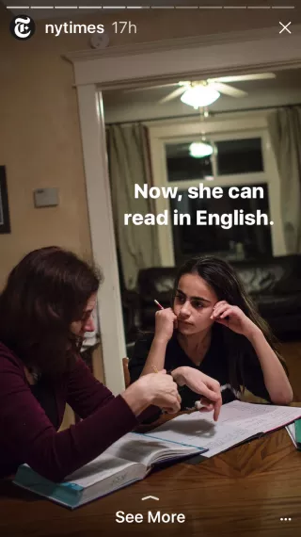 Source: Authentic Storytelling
Adding a link to your IG Story is one of our favorite Instagram Story Hacks.
How do you add a link to your InstaStory? 
Create a post for your Instagram stories. Try to create one that is related to your link. If you're adding a link to your upcoming group training session, your post could be a video testimonial of client who participated in your last session, a behind-the-scenes live video of your group session taking place, etc. This will increase chances of people clicking your link.

Click on the chain icon that pops up in the top right corner.

Add the link you'd like people to visit.

Upload the story.
And, you're done!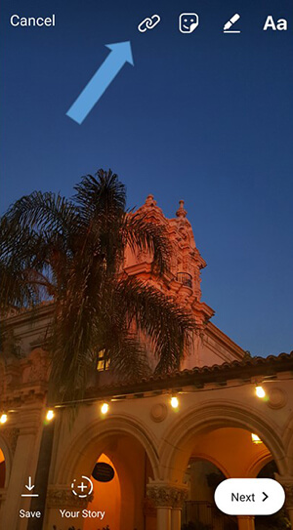 Source: Social Media Examiner
When people click on the story, they'll see the link and an option to 'See More' at the bottom. When they swipe it, they'll be taken directly to that link.
And your linked page can then work it's magic and turn them into customers.
2) InstaChat: Host a short Q and A
Live Q & A sessions are really popular in the fitness industry.
They allow you to converse with your audience in real time and hike up engagement levels. They humanize your brand, build relationships and trust with your potential clients and customers.
Overall, it's a great way to promote your fitness brand and business in a subtle way and build a community of fitness lovers who're loyal to you. But, a meh Q and A session will not get you good results, so you need to make it super-interesting.
Here are a few fun ideas you can incorporate…
Q and A with influential personalities.
If you're a brand selling fitness related products, you can contact popular fitness trainers, fitness influencers on Instagram and other social media platforms, even regular people who document their fitness journeys.
Ask them about their struggles, day to day lives, sneaky questions related to your products, etc.Like, if they could could choose anything from your fitness clothing line, which one would they pick? And so on. Be creative. But don't try to spam and hard sell.
If you're a fitness instructor, you can call in other instructors and conduct a candid, fun session.
Ask your guests to promote it on their channels and let their audience know in advance when this session be will held so they can join in. This will massively increase your views and promote your brand to a bigger audience.
Q and A with customers and clients.
Sort of like fun testimonials. Ask past and presents clients fun questions related to their fitness journey. Like their favorite cardio routine, a workout move they always struggle with, their favorite cheat meal, etc.
Answer fitness related questions of your followers.
Conduct sessions on a regular basis where you just answer common problems and queries put forward by your followers.
A few more IG Story tips:
Cross promote your live session timings on other social media platforms to encourage massive audience.

Encourage viewers to ask questions while they're watching the live session and answer those questions.

Try to have a consistent schedule with your Q and A sessions. Let your followers know which days of the week or the month you'll come live. And remind them a couple of hours before your LiveStream.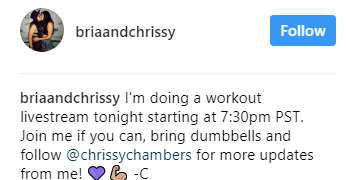 3) Behind the scenes: with common folks AND celebrities
Behind the scenes posts and live videos create intrigue and interest around your work.
Even if you're not launching high-end products and don't have a celebrity-trainer status, you can still use this tactic to connect with your followers.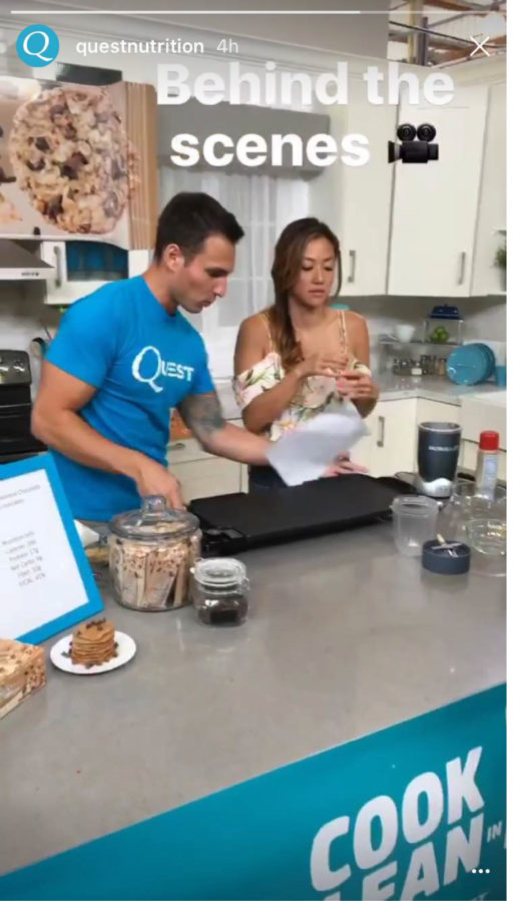 Source: GainApp
There are tons of ways you can use this strategy to your advantage. You can show behind the scenes live footage of;
Celebrities and influential personalities, even if they're not your clients, working out. Footage of popular people working out is viral-worthy content. However, don't forget to take permission before you start shooting, as you don't want to get sued over this!

User generated content from clients and customers. Ask customers and clients to send you clips of them working out, trying out your products or recommendations, purchasing your book\video series\other similar products, and so on. You can tag them in the stories post, or they can tag you in their stories post. This will also help you reach out to

their

followers.

Behind the scenes of new product launches, new gym openings, fitness related events that'll excite followers.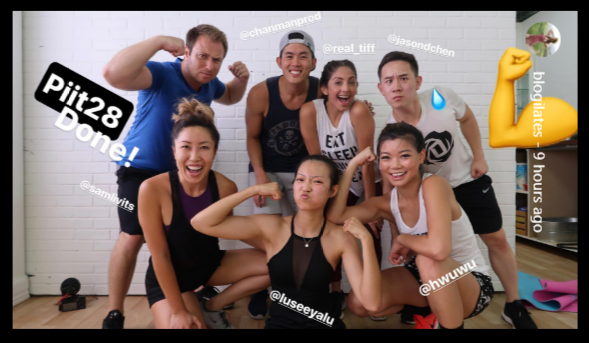 4) Exclusive discounts on Stories
According to behavioral psychologists, urgent situations cause us to suspend deliberate thought and to act quickly.
Share exclusive, Instagram-followers-only discount deals on your Stories. You can either ask followers to click on the link in the bio. This link then takes them to a landing page where they can redeem the special offer. Or, you can also add the link directly to the post.
The discount deals could be to:
Your own services. Group training packages, personal training discount offers, etc.

Your brand's products.

Affiliate services. If you're selling a fitness brand's products or are working with fitness affiliate programs.

Fitness consult sessions
Since the story disappears in 24 hours, it adds to the urgency factor.
5) Give an exciting glimpse into your life with a Story
"As fitness professionals, we live a lifestyle that people with weight-loss goals want to live, therefore they want to see what you do each day and how you eat." -Michelle Roots, resident fitness expert for Trainerize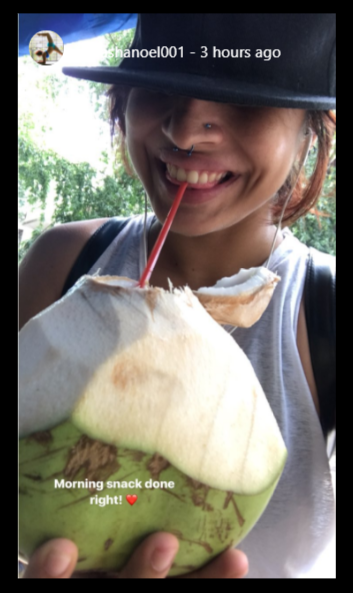 The real time factor of Instagram stories makes it a perfect medium for fitness brands to show their human side.
Show your followers that you're fun, that you hang out with friends, you sometimes have massive cheat meals (some that even last up to a couple of days), you workout, you watch FRIENDS reruns and follow GOT on Netflix.
It show your followers that you're genuine, your understand their struggles and you're approachable.
What you can do:
Short clips of training with clients. Like live demos of what's it like working with you.

Interesting snippets into your day. This is a great way to showcase your unique brand voice aka your personality. Be who you are.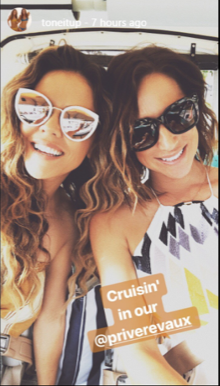 And,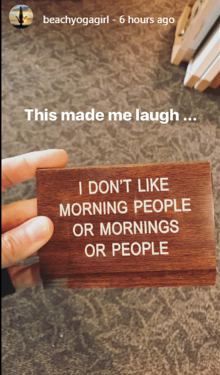 Favorite places to workout at, favorite places to eat at, favorite activities to do throughout the day.

Cheat days, lazy days, motivated days. Interesting snippets into different kinds of days we all have.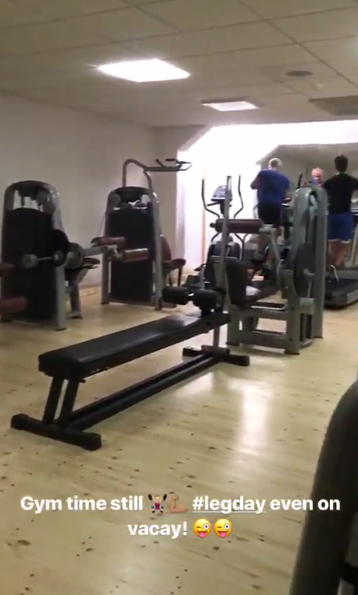 6) Simple workouts that you can do at home
Everybody (or at least most people) love simple workout routines they can follow at home.
A live video explaining a small, super effective routine that can easily be done at home with minimal (and preferably no) equipment is a great way to exert your authority and show people you care about them.
You can also create a paid digital product like a series of videos targeting people who workout at home, and show short snippets of those workouts on Instagram Stories with a link to buy that product. This way you are directly promoting and selling your product, and providing value to people who can't buy your product right away.
Natasha Noel shows how to nail this trick here. She posted a short snippet of her YouTube video and linked the video in the bio so people could check it out. Genius way to rack up her YouTube views.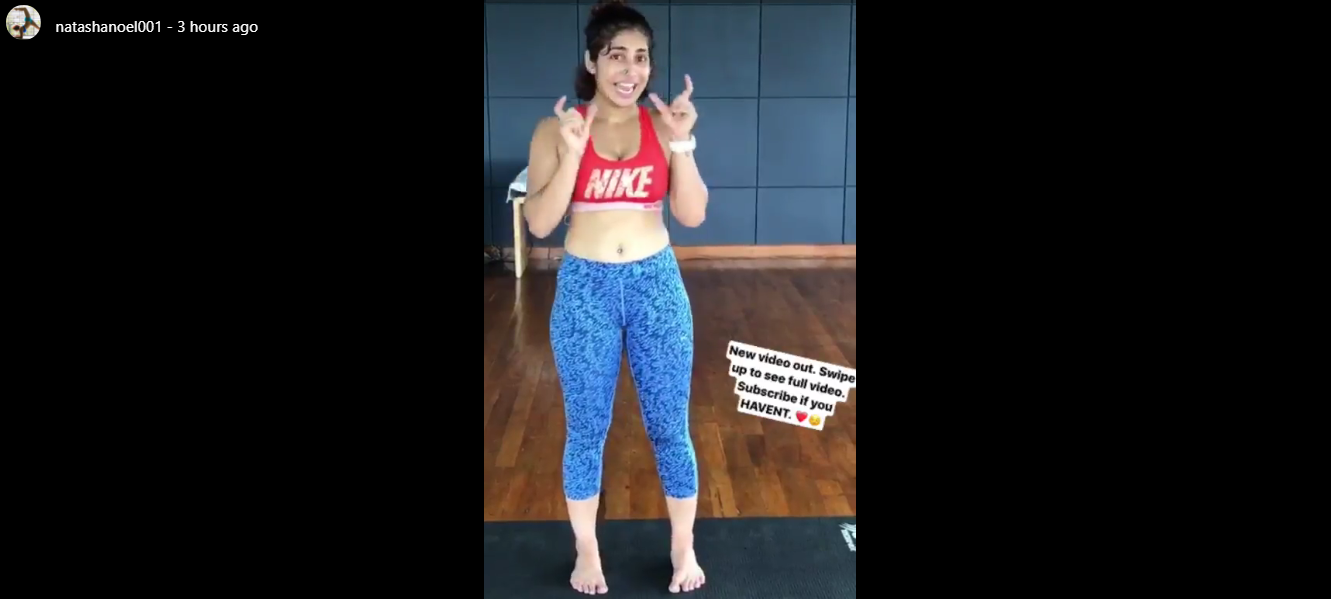 Pro tips:
Show the amount of calories burnt through that workout

Conduct short workouts that target different parts of the body

Stay clear of fancy equipment available only at gym

Live sessions are preferable over uploading videos, because then you can answer your audience's queries related to these routines as well
7) Before and after transformations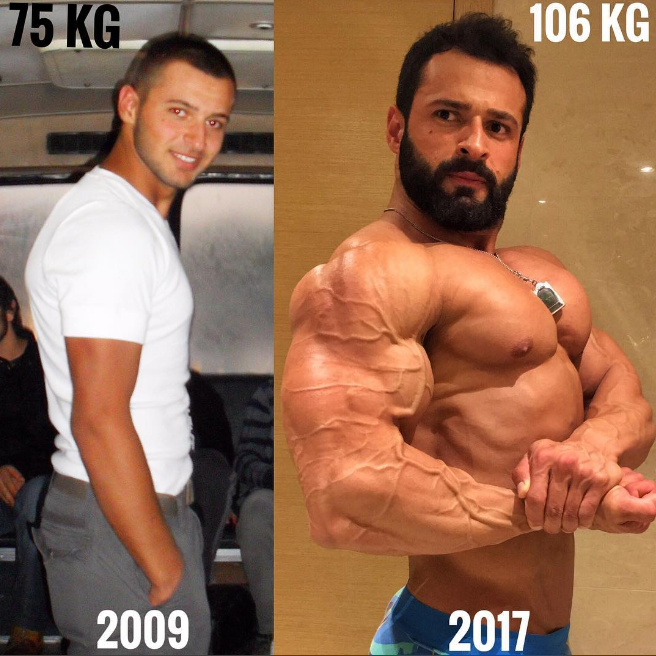 Source: Instagram
Impressive isn't it?
This is what your potential customers and clients will be impressed by, too. Real, tangible proof that you get results and your methods work. You probably already have a plethora of before and after body shots of your past clients, but if not, your clients definitely have them and you can ask them to send it to you.
"I strive to focus my account on the inspirational transformations of my clients, rather than it always being about me and my life."  –  Kayla Itsines, Instagram influencer and fitness entrepreneur
Don't put all the pictures together. Use them strategically and upload an image each week or each month. And tag the person who's transformation it is on the Stories post, so that they can share it with their people too.
8) Product demos on Stories
Your fitness clothing may look amazing in your Instagram post. But how does it look on a person's body?
Similarly, the new machine (could be an affiliate product) at the gym you rave about may be nice, but how do you prove it?
People are now vary of online shopping, because things don't always turn out to be what they look like in pictures. And returning products is such a hassle. A study by the Department of Commerce saw that half of American Internet users are "deterred" from buying things online.
With their index finger hovering on the 'Buy Now' button, they're thinking, 'Will this work for me?'.
So you give them live product demos and explain every feature in detail to dispel all their fears.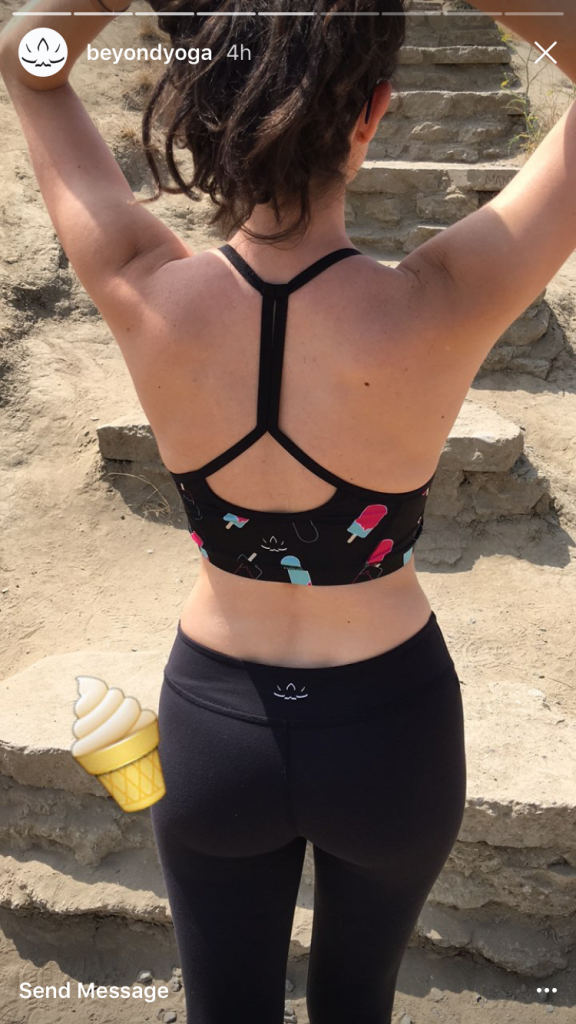 Source: Simply Measured
Beyond Yoga employs this strategy on Instagram. This Stories post shows a women, dressed in their comfortable fitness gear and working out.
9) Healthy food/drink recipes on Stories
"I was driven by the idea of sharing recipes for someone who didn't know how to cook. That just evolved into every single day posting breakfast, lunch and dinner. I thought: 'Well, I'm making it anyway, so just record it and stick it on Instagram.'"  – Joe Wicks, Founder of The Body Coach
This eventually helped him,
create an empire of over 2 million Instagram followers,

sell more than 1m copies of Lean in 15 (his first fitness book) in less than 18 months
Pretty admirable, right? You can get this kind of success, too.
You know that your work isn't limited to created calorie burning workout routines. It goes far beyond it. And nutrition is a huge part of it. What to eat, when to eat, healthy alternatives to our favourite un-healthy meals, must-keep-fridge-loaded-at-all-times-with healthy ingredients, breakfast options, snack options, lunch and dinner options, and so on. It's an exhaustive list.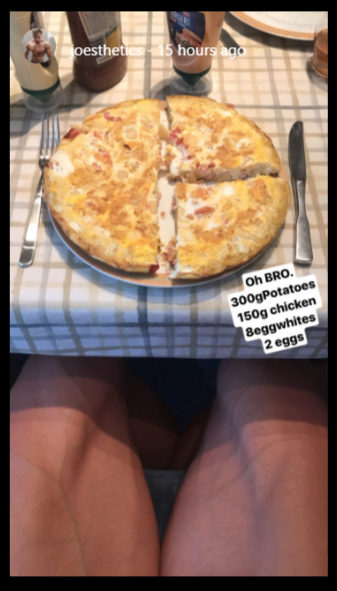 By paying attention to this, you can win over your audience and establish your authority as THE fitness guru. Most successful fitness brands and trainers have started sharing posts of healthy meals, but you can take it a step further and get an edge over them.
You can create:
Short, hyperlapse videos of making healthy meals. Think super-successful 1 minute Buzzfeed Tasty videos.

Behind the scenes of your longer video content.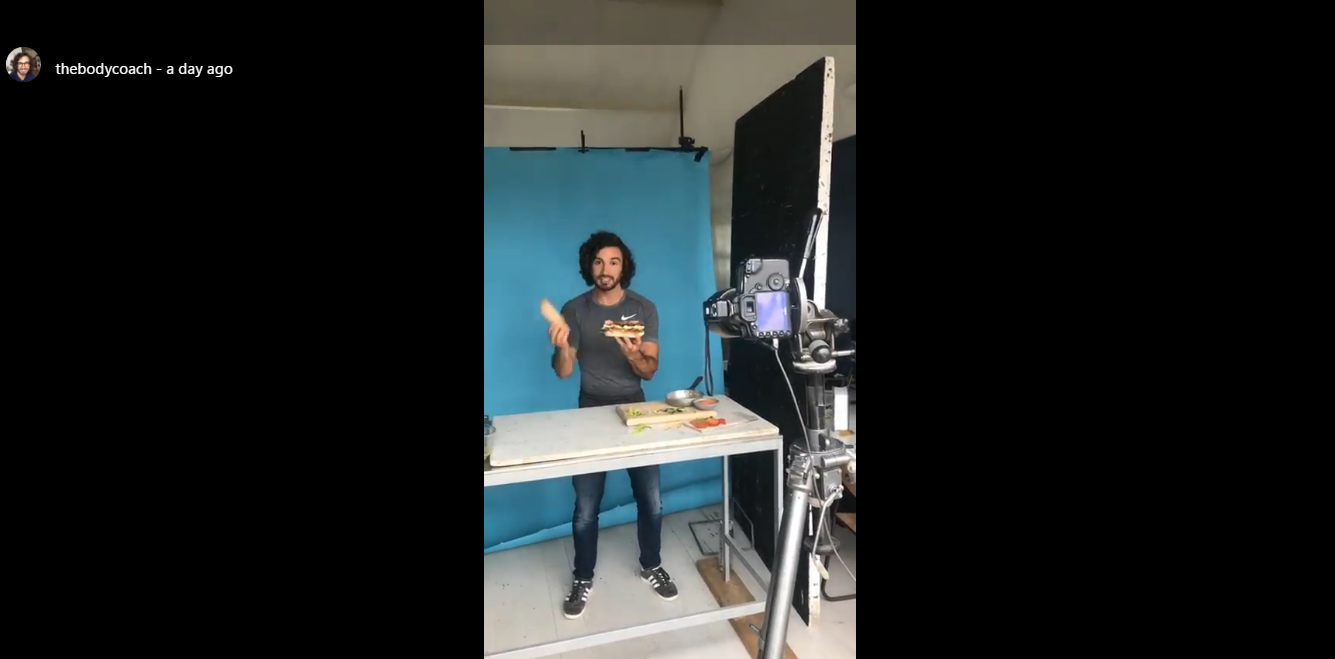 Take your audience healthy grocery shopping with you.

Overnight preparations of the week's food.
And so on.
Wrapping up IG for Fitness
"Fitness, wellness and nutrition content and influencers have taken off because they are able to share a much more authentic journey, experience and struggle with something everyone has a connection to. It's no longer a celebrity or physician-driven topic, instead it's everyday people showing off what works and doesn't work for them."
– Vanessa Flaherty, partner and senior vice president of Digital Brand Architects.
Hard-selling doesn't work anymore. Building relationships, connecting with audience, and showing them your human self sells.
So jump on to Instagram Stories if you haven't already, you'll be surprised by how successfully it pays off.
Who are your favorite fitness influencers on Instagram? What do they do to stand out?