Launching a new venture is so terrifying most people never try it at all. 
You'll pour everything into it — time, money, your heart & soul — into something you believe in, and then…
"crickets"
You're crushed.
When the creator of Gorilla Fitness came to us he knew people would love his product…if they'd just give it a chance.
After learning about the business and the product, we worked to uncover the major problems Gorilla Fitness was facing and how to solve them. Here's what that process and the results looked like.
In order to promote the Gorilla Bow, we focused on three main goals:
Keep reading to find out what they were. (And how we 10x'd sales in 3 months.)
The Story
The Gorilla Bow was invented in 2017 as a solution to the oft-used excuse for not working out: busy-ness.
Gorilla Fitness felt that people would work out if they could easily fit it into their lifestyle instead of forcing themselves to go to the gym.
The Gorilla Bow resembles a bow and arrow, and it utilizes resistance band technology, making it highly adaptable. The result is a transportable and versatile workout that can be used wherever you are and completed in just 15 minutes.


The Problem
Despite having a quality product that solved a major problem for consumers (only 23% of people in the U.S. get enough exercise and one of the main reasons for this is not having enough time), the Gorilla Bow faced a few major problems:
It was a brand new product in an already-saturated

fitness market

.

It had a

premium price point

of $149.99. This is a common (and positive) strategy for introducing a new product, but it can also make it harder to get the initial sales required to establish the brand or product.

There wasn't any social proof for the Gorilla Bow yet, which made it hard for consumers to trust and easy for them to dismiss as a gimmick.
Ultimately, the main challenge we faced was gaining the audience's trust, so our strategy revolved around solving that overall problem.
The Strategy
In order to promote the Gorilla Bow, we focused on three main goals:
Increase brand awareness.

Leverage social media in order to increase website conversions.

Increase sales.
We crafted a two-phase video ad strategy to run on both Facebook and Instagram. The goal was to simultaneously increase brand awareness of the Gorilla Bow and build trust with their target audience (an audience that was, for the most part, cold).
Phase One
In phase one, we introduced the Gorilla Bow to a new audience. The video ad we created demonstrated the quality of the bow, showing how it can be used and how easily it fits with any lifestyle. Here are a few details about the phase one video:
Visuals were accompanied by words, and since there wasn't any narration, just music, it could be viewed and understood without the sound on.

We showed a man using the Gorilla Bow by the beach to highlight that the Bow can be used anywhere. The text reiterated that you don't need a gym membership to get a great workout.

The videotext clarified that the Bow gives all of your muscle groups a workout, no weights or gym machines necessary.

We showed that the resistance bands are easy to change and that the Bow is adaptable to many different exercises and strength levels.

The video ended with a CTA to tag a buddy who often makes excuses about why they can't work out.
We were thrilled with the response we had from the target audience. Right away, we sold the product at a 2x ROI. This would be a success by anyone's standards, and we wanted to take that momentum and continue leveraging it.
We took a close look at how people were responding to the videos, and we noticed that there were a lot of comments about how the bow looked. Many people thought it looked like a PVC pipe, for example. We decided that our phase two video would address these concerns. We needed to show that the Bow was more credible than it may appear at first.
---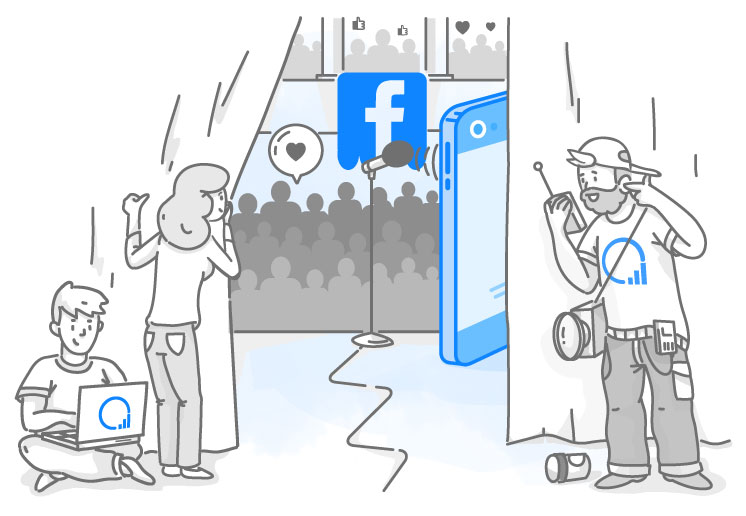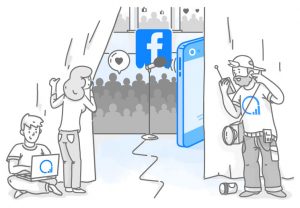 Easy Facebook Ads That ROI Hard
Jumper Media helps hundreds of small businesses find more customers through paid social advertising.
Expert FB Ad Strategy
Creative That Sells
Zero-Waste Testing
We Like Data
And You Like Money
We know the offers and funnels that are working best right now on Facebook Ads, so we'll put together a plan that gets results fast.
Request a demo and we'll get to know each other. If we decide to work together, we know we can help.
"Working with Jumper is like money on autopilot."
---
Phase Two
During phase two, our goal was to establish the Gorilla Bow's credibility with prospective buyers. To do this, we created a brand new video to address the buyer hesitations we discovered during phase one.

We sourced a fitness expert to candidly share his opinion of the Gorilla Bow. First, he tells the viewer what his first impressions were, which mirror the audience's first impressions: that the bow looks like a joke and that he couldn't imagine it was something that could give you a good workout. He talks about how it seems to be just a few resistance bands on a piece of metal.
Then, the fitness expert begins using the Bow. He talks about how versatile it is and how he likes that you can focus on a range of motion and mobility. As he's talking, he's using the Bow, and you can even hear the effort in his voice, which shows the audience that this isn't an amateur workout product.
He gives advice for users, telling them that you can remove bands and replace them with thicker bands, and how if you stand with your feet wider, you'll make the workout even harder. The expert mentions that it's a great product for anybody to use, and he ends by saying what a good workout he got.
This video succeeded in establishing the Gorilla Bow's credibility as a high-quality fitness product. We lowered the barrier to entry for a purchasing decision, and the return on ad spend grew by 3.5 times.
The Results
Once phase two was completed, we were more than satisfied with the results, and so was the client.
"Gorilla Fitness was certainly growing, but mostly within the limited audience of early adopters for new fitness products. We needed to build up trust with your everyday consumer if we were ever going to break out. Jumper Media accomplished this for us by introducing our product to new potential customers while also demonstrating the Gorilla Bow's quality. This combined with a purposeful retargeting strategy allowed us to build up trust and eventually purchases with new, cold audiences." – Chris Caouette
We saw a 3.5x return on ad spend, a 350% increase in total sales, and a 450% decrease in cost-per-click.
Since then sales of the Gorilla Box have increased 10x.
---
You've come to the right place.
Get in touch for a

free demo.