I sat down at Jean Georges Steakhouse in Las Vegas and ordered the $125 tasting menu. On cue our waiter dropped off the first course: tuna tartare.
Of course I had to 'gram it.
"Sorry! It's for my job," I was about to say, when the waiter pulled out a mini flashlight to brighten my plate.
"Need some light on the subject?" he chuckled.
This is the world we live in.  A world where 3 Star Michelin Chefs equip waiters with flashlights for better social media fodder. And it's not just the lighting.
More and more restaurants are creating ornate, fluorescent, sometimes kitchy spectacles specially formulated to stand out in today's noisy social world. From in-your-face signage to flamboyant decor, every nook and cranny of the dining room can be a conversation piece, an ice-breaker on our Instagram feeds.
We wanted to know: What makes a restaurant Instagram-worthy? Are certain restaurants more popular on Instagram than they are on say, Yelp? What do they do to stand out?
We crunched some Instagram data to attempt a bit of semi-scientific analysis…
We looked at data from the past year because we wanted to know what was popular right now, and narrowed the list down to 30 based on total number of posts at each restaurant. We got rid of a few non-restaurants such as the San Francisco Ferry Building and that left 27. When we cross-referenced our list with Yelp's most reviewed restaurants, only one restaurant made both lists (props b. pattiserie).
The results were definitive; some restaurants are more "viral" than others. Ranked in order of posts on Instagram, here are San Francisco's Most Popular Restaurants on Instagram.
27. Mourad
@mourad_sf | 735 posts
Colorful plating makes this modern Moroccan eatery an Instagram star.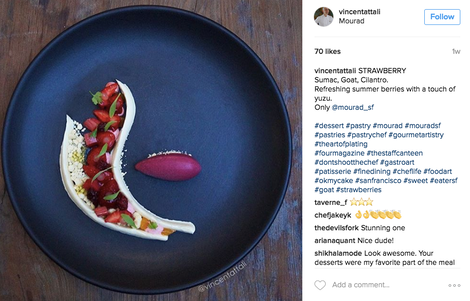 Recommended reading: 11 Ways Instagram is Transforming Restaurants
26. Plow 
@plowsf | 749 posts
Getting a weekend brunch table here is a feat fit for Insta.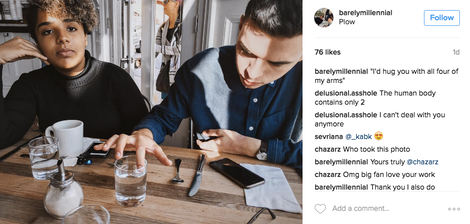 25. Sushirrito
@sushirrito | 757 posts
A sushiritto is a spectacle in its own right.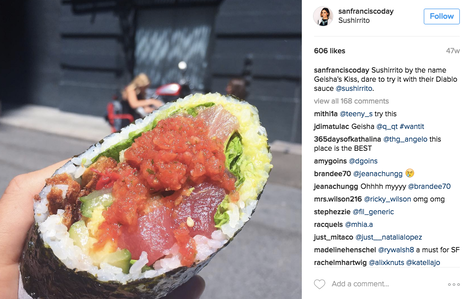 24. Volta Modern Brasserie
@voltasf | 763 posts
Maybe it's the bar?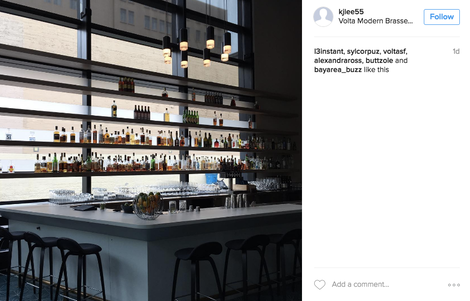 23. Waxman's
@waxmansf | 770 posts
It's definitely the gorgeous outdoor seating on Ghirardelli Square.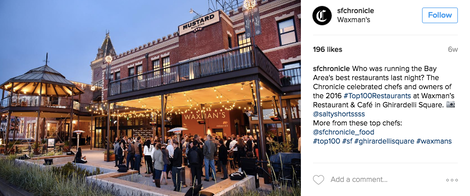 22. Bistro Central Parc
@bistrocentralparc | 778 posts
Those lights!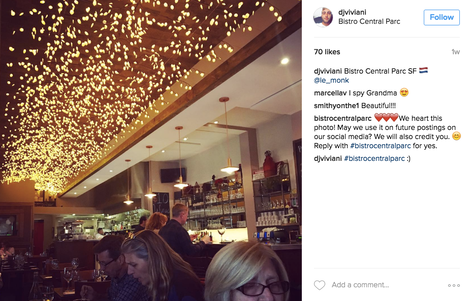 21. Jane on Fillmore
@janeonfillmore | 804 posts
Geometric designs + a vibrant breakfast = Instagram gold.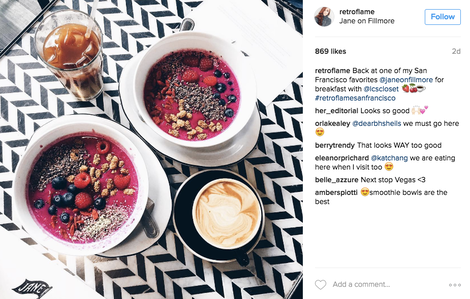 20. Bi-Rite Creamery
@biritesf | 826 posts
Bright blue paint makes a perfect backdrop for a waffle cone.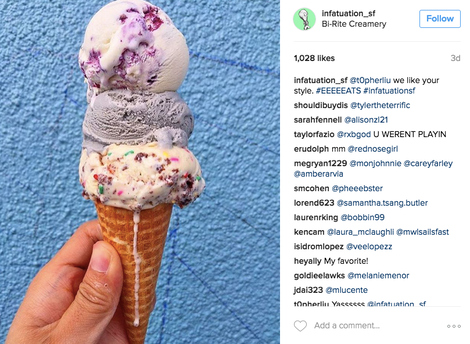 19. The Mill SF
@themillsf | 850 posts
They only serve pizza two days a week. If it's hard to get, Instagram it. ?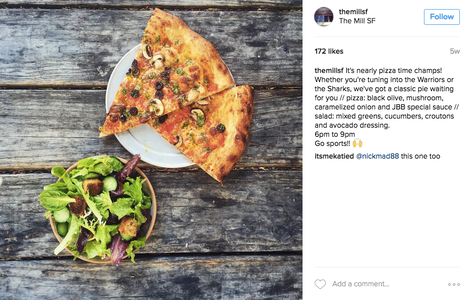 18. B Restaurant and Bar San Francisco
@bbarsf | 854 posts
Skyline views. Yerba Buena Gardens. Moscone Center. Enough said.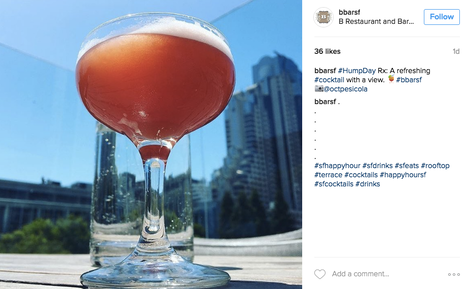 17. Al's Place
@alsplacesf | 862 posts
More blue walls! (And a social staff.)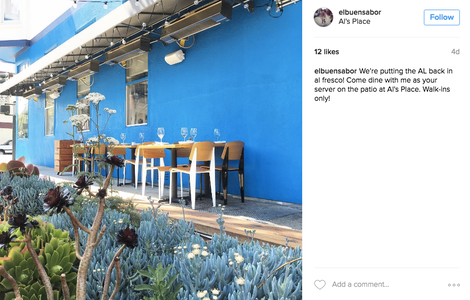 16. The Pin-up All-star Diner
@thepinupsf | 864 posts
Great views and gimmicky specials like the Pizza Burger make this SoMa hotspot stand out on any feed.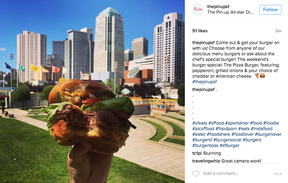 15. 4505 Meats, 4505 Burgers & BBQ
@4505meats | 868 posts
They got the meats.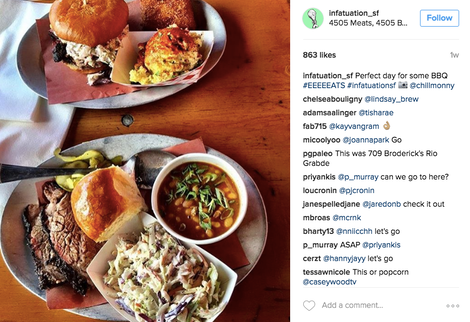 14. Smitten Ice Cream
@smittenicecream | 880 posts
Ice cream made-to-order is a concept custom-made for Instagram.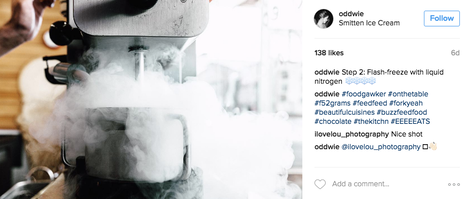 13. Hog Island Oyster Co.
@hogislandoysterco | 882 posts
A highly trafficked location with a highly photogenic seafood platter.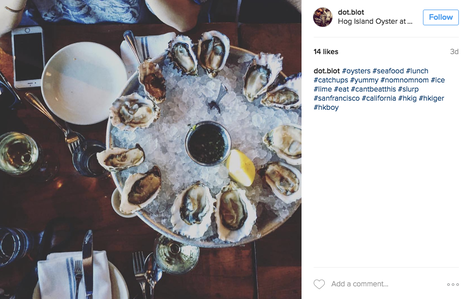 12. Kitchen Story
@kitchenstorysf | 896 posts
The money shot is the millionaire's bacon.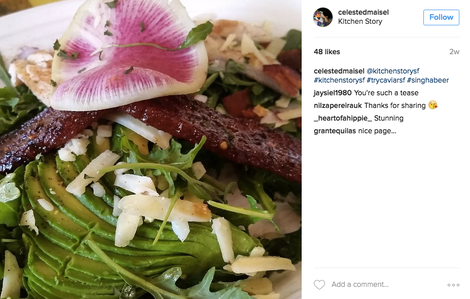 11. Aina SF
@ainabrunch | 924 posts
Brunch does well on Insta; Hawaiian gets a bonus point.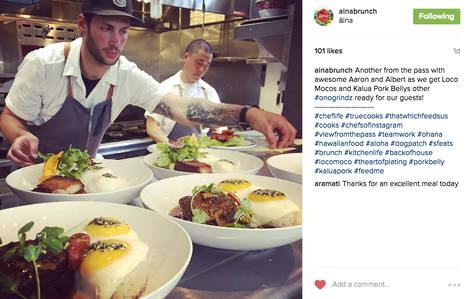 10. Outerlands
@outerlands | 931 posts
Bright food on wood tables is a recipe for a surefire top post.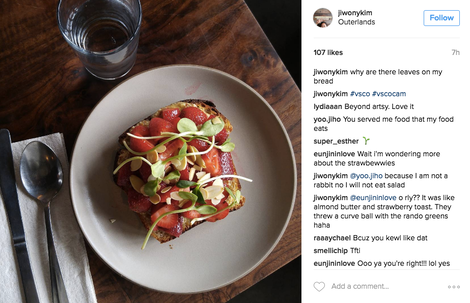 9. Boba Guys
@bobaguys | 938 posts
Anteaters make the best logos. Green drinks don't hurt either.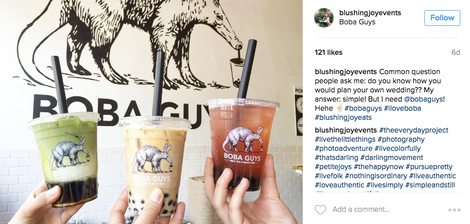 8. Choux
@chouxsf | 953 posts
Wow. Just wow.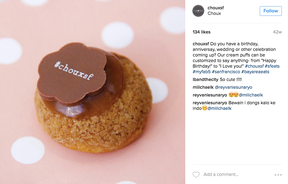 7. State Bird Provisions
@statebirdprovisions | 980 posts
There seems to be a correlation between long wait times and 'grammability…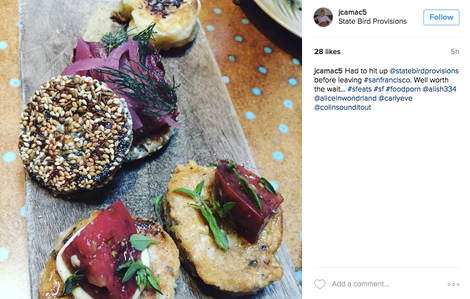 6. b. patisserie
@bpatisserie | 1050 posts
Pretty food and flowers.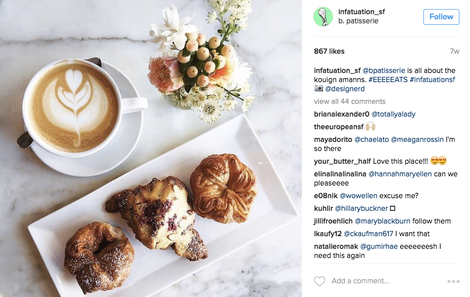 5. Mensho Tokyo SF
@menya_shono | 1147 posts
Mensho Tokyo SF is the first expansion of one of Japan's most acclaimed ramen bars. Hype.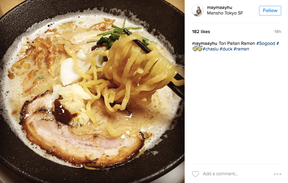 4. Tartine Bakery
@tartinebakery | 1218 posts
Hot bread fresh out the oven makes for an even fresher Insta.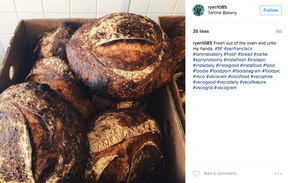 3. Craftsman and Wolves
@craftsmanwolves | 1380 posts
The Rebel Within: asiago, sausage, green onion, soft cooked egg croissant.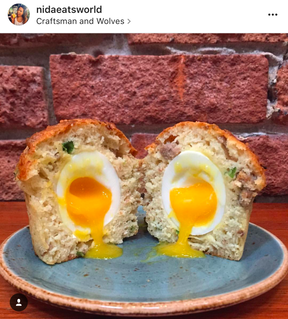 2. Mr. Holmes Bakehouse
@mrholmesbakehouse | 2812 posts
With this sign it's no wonder Mr. Holmes Bakehouse is #2 on our list.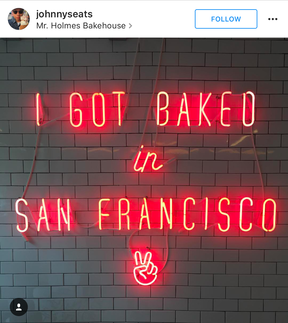 1. Liholiho Yacht Club
@liholihoyachtclub | 3601 posts
Literally everyone takes a picture of the floor at this Hawaiian hotspot. Want proof? #alohafloorselfie has 816 posts.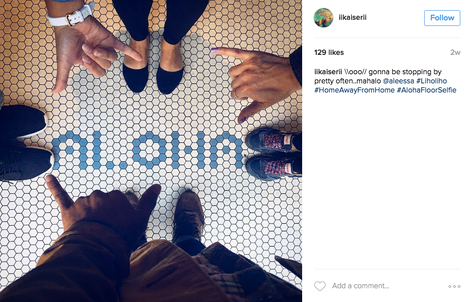 One last thing…
If you're looking for more of the West Coast's best eats, consider checking out our other articles on the most instagrammed restaurants in Denver, San Diego, and Portland.
Or if you're interested in overall restaurant trends, and how social media is affecting the modern dining experience, then I've got just the thing for you.  Our article 11 Ways Instagram is Transforming the Modern Restaurant is one of our most popular EVER, and I highly recommend it.
And we've also got a post on the most Instagram Worthy Places in San Francisco – You'll probably want to check this one out too 🙂