San Diego may be more famous for its fish tacos than its restaurant scene, but that is beginning to change.
In 2016 Zagat named San Diego one of the Hottest Food Cities in America, and for good reason. San Diego has a lot more to offer than fish tacos  – and I'm just not talking about carne asada fries and over-the-top desserts.
If you've recently been out to eat in Little Italy, Point Loma, or North Park – three of the city's best food neighborhoods –  you've probably noticed that San Diego's restaurant scene is looking more like Los Angeles than Tijuana.
On this blog, I recently discussed how Instagram is transforming the restaurant industry with over-the-top desserts, unicorn frappuccinos, and "Instagrammable" decor, and we're starting to see these trends emerge in sunny San Diego. So we thought it would be fun to uncover which San Diego restaurants are the most popular on Instagram right now.
To achieve this I used MagiMetrics to download post data for the five most popular food hashtags for San Diego: #sdeats, #sandiegoeats, #sdfoodie, #diningoutsd, and #youstayhungrysd. I figured this was a pretty good representative sample for my pseudo-scientific study. I compiled the data, got rid of the duplicates, and made an initial list of 50 restaurants with the most Instagram posts. I decided to remove posts that the restaurant pages had posted themselves since I didn't think they should be able to stuff the ballot.
I narrowed the list down to 30 and took out a few non-restaurants such as Liberty Public Market to get the list down to 25.
But enough with the boring numbers-talk. Here are San Diego's 25 Most Popular / Instagram Worthy Restaurants on Instagram, including dessert places, famous San Diego food, and the most photogenic restaurants in town.
25. COMMUNAL COFFEE
Hanging plants, white walls, and wooden accents are quite the combination for Instagram.
Almost as good a combination as the two sisters behind @DetailsDarling, Southern California's hottest wedding coordination and design company.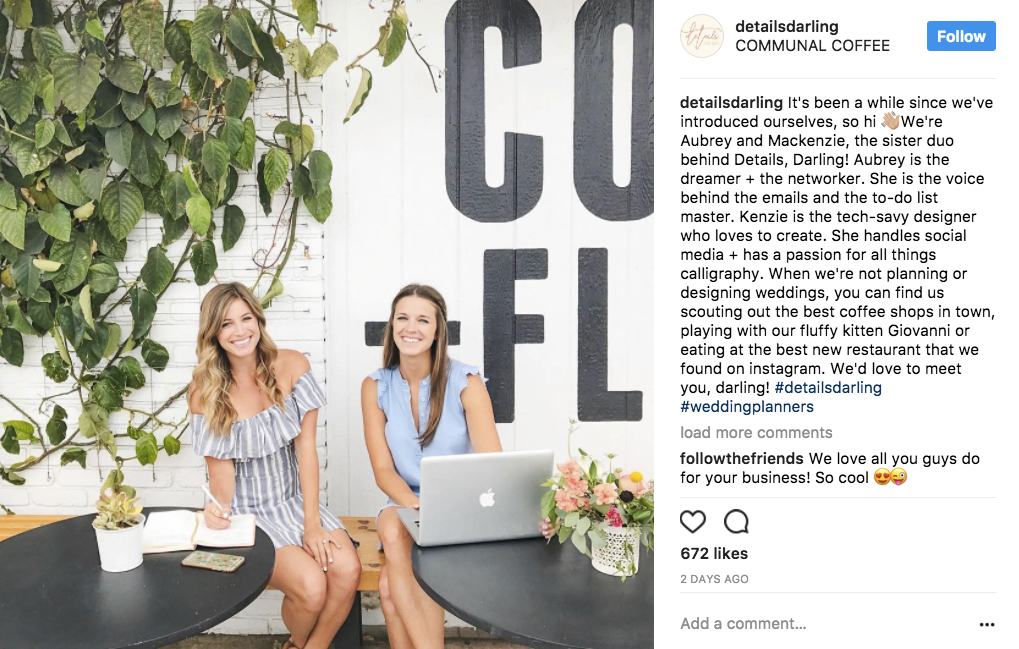 Recommended reading: 11 Ways Instagram is Transforming Restaurants
24. TRUST Restaurant
I mean, how are you not gonna 'gram these rainbow desserts?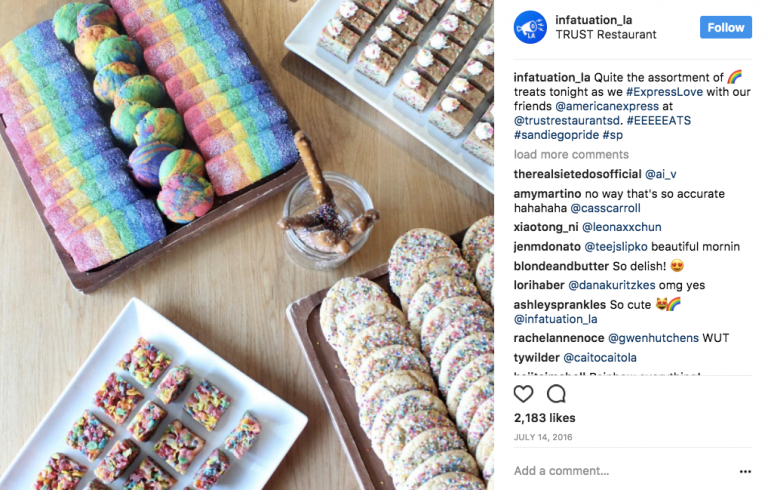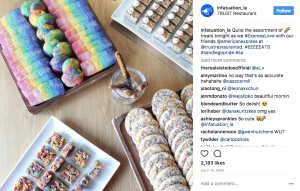 23. Pop Pie Co.
You're going to start noticing a few themes here. One of them is neon signs, a trend we covered in our last blog post.
People like taking photographs of words, and those pictures tend to do well on Instagram. Pair that with neon and a good pun, stir lightly, and wait for social media to ignite.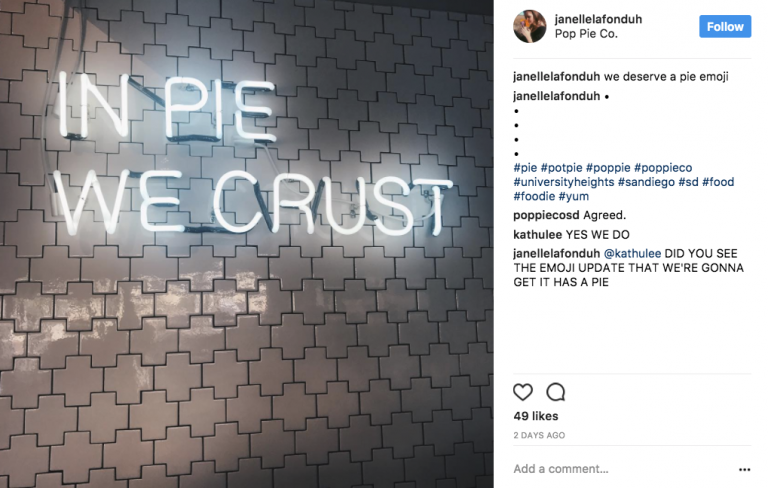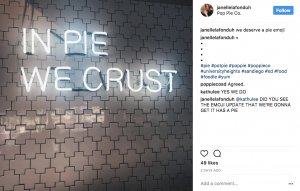 ---
Get the newsletter everybody's talking about
Join over 5000 marketers who get the latest and greatest Instagram growth hacks and strategies sent straight to their inbox every week.
---
22. Nomad Donuts
Another motif you may notice as you peruse this list is the abundance of donuts. Donuts seem to be having their moment right now, but consider this a warning: nostalgic dessert trends tend to fade fast.
Remember when cupcakes were big? Macarons? Cronuts?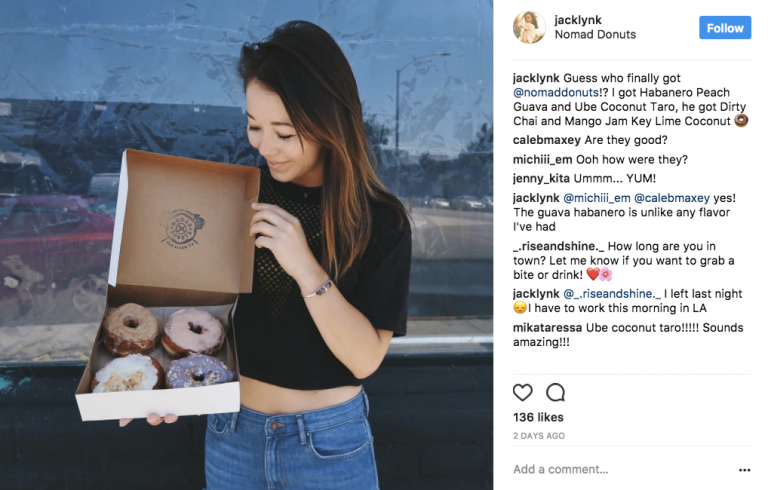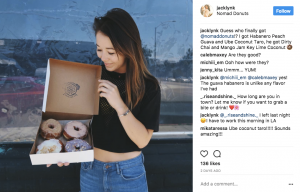 21. Oscar's Mexican Seafood
There are so many fish taco places in SD that you really gotta do something special to stand out. Or you can just be Oscar's and develop a cult following over many, many years.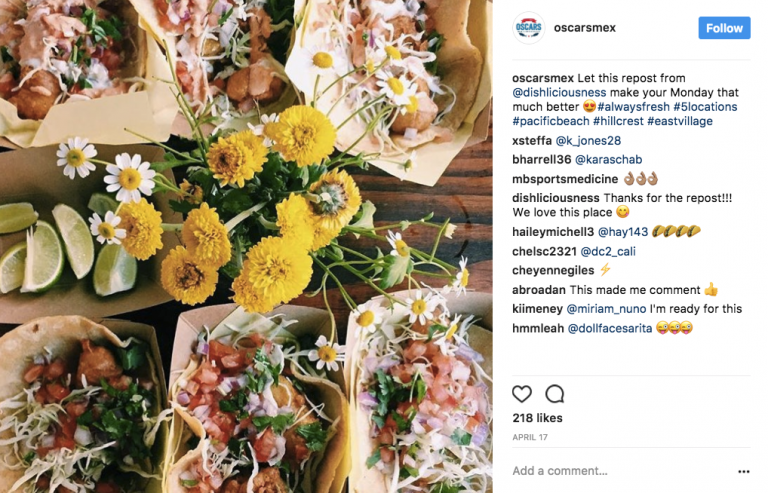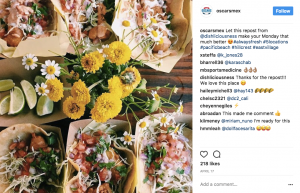 20. Boba Bar and Desserts
The mural behind this colorful creation says "We're always dreaming of Boba."
While I don't usually dream of Boba, I probably will tonight!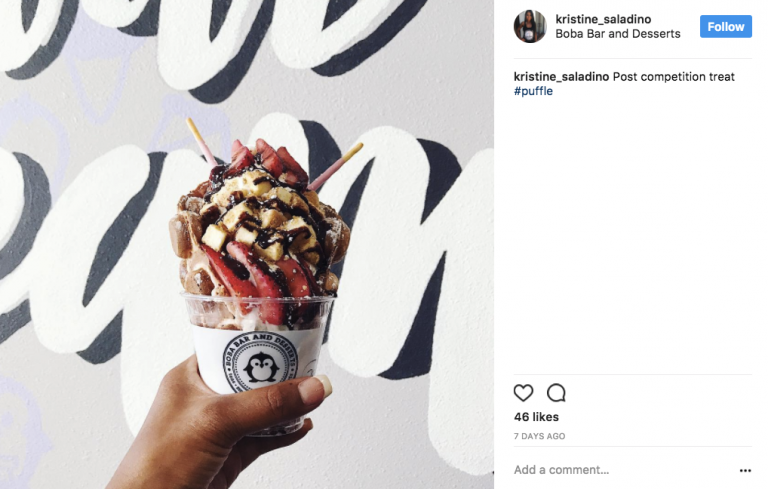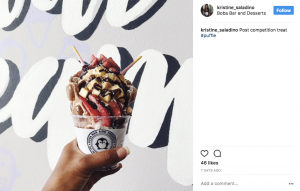 19. Puesto at The Headquarters
Puesto was very smart when they decided to brand their plates with their logo. Muy inteligente.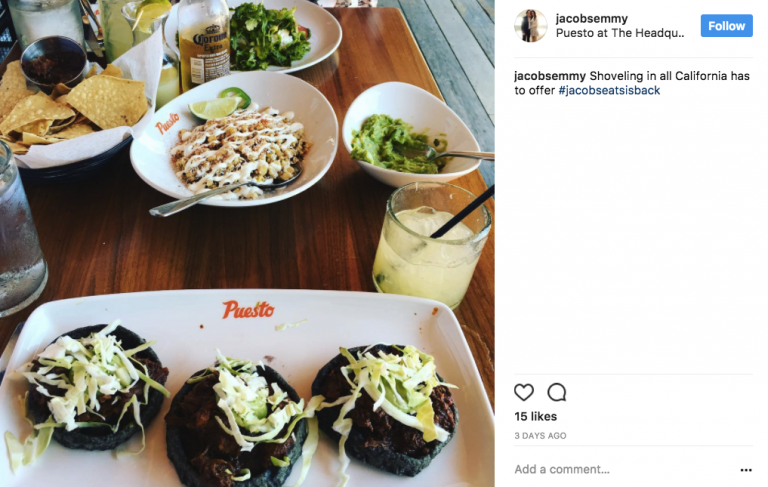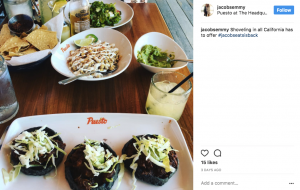 18. Tacos El Gordo • H Street
Never underestimate the street tacos in Chula Vista. This place is so authentic that their original location is located across the border in TJ.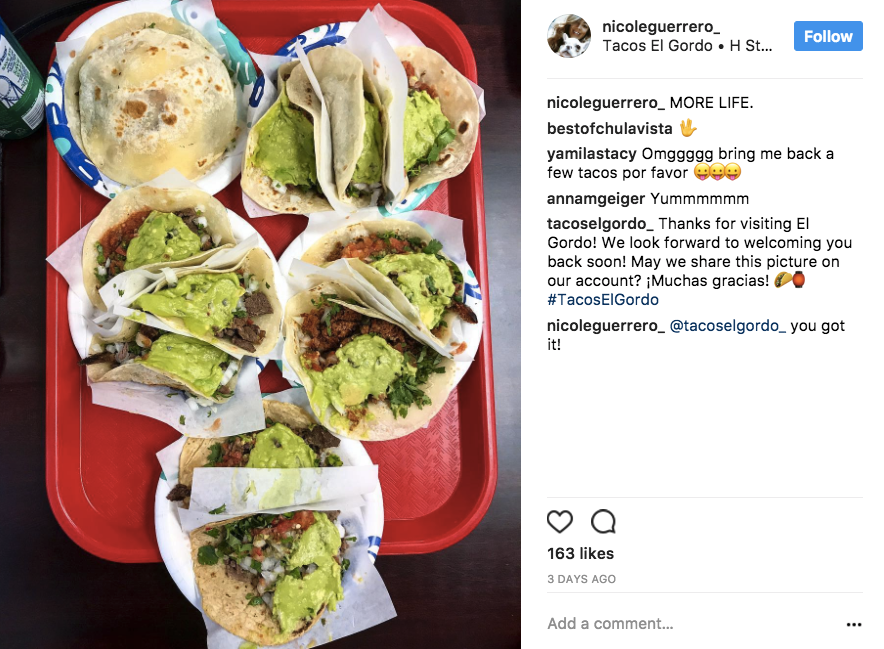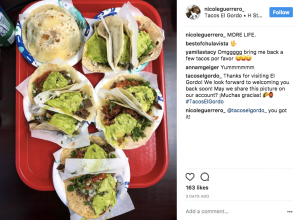 17. Herb & Wood
Compared to San Francisco's most Instagrammed restaurant list, San Diego's is light on the fine dining.
Herb & Wood is one exception, and daddy like.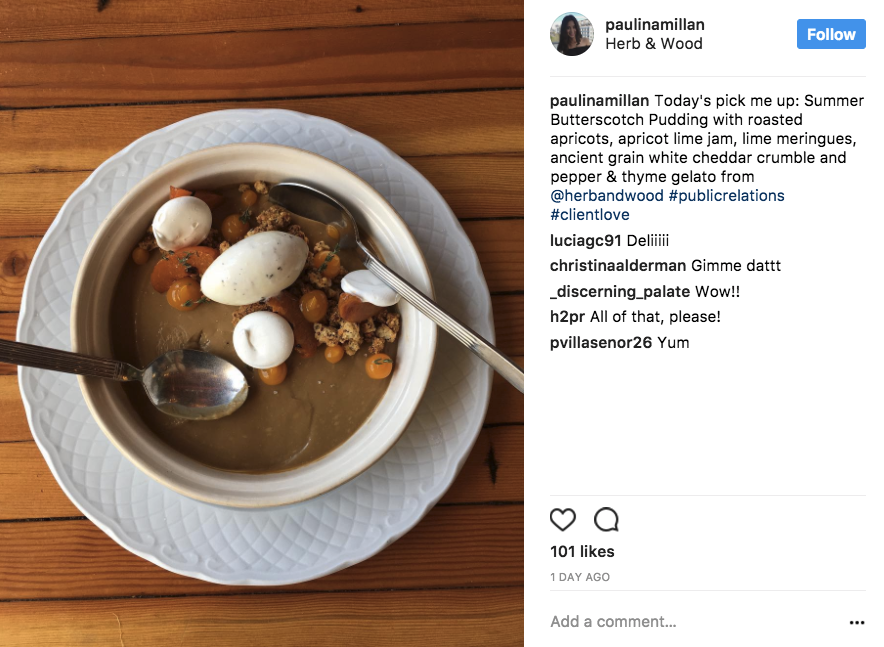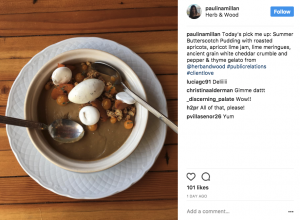 ---
You've come to the right place.
Get in touch for a

free demo.
---
16. Pokirrito
If you ask me there needs to be more Pokirrito's in the world.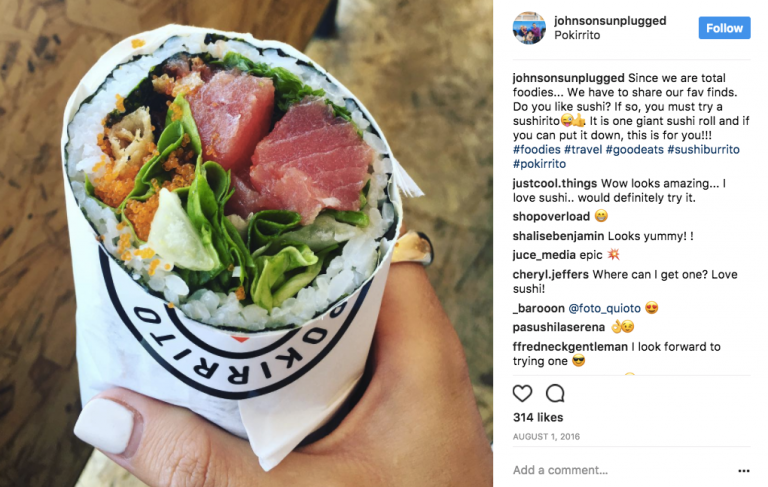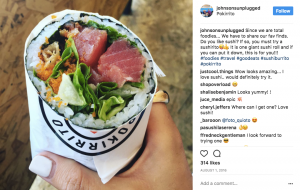 15. Juniper & Ivy Restaurant
Behind the scenes content from the back of the kitchen is wayyyyyyyy underutilized IMHO.
Note to restauranteurs: encourage your staff to be active on social media.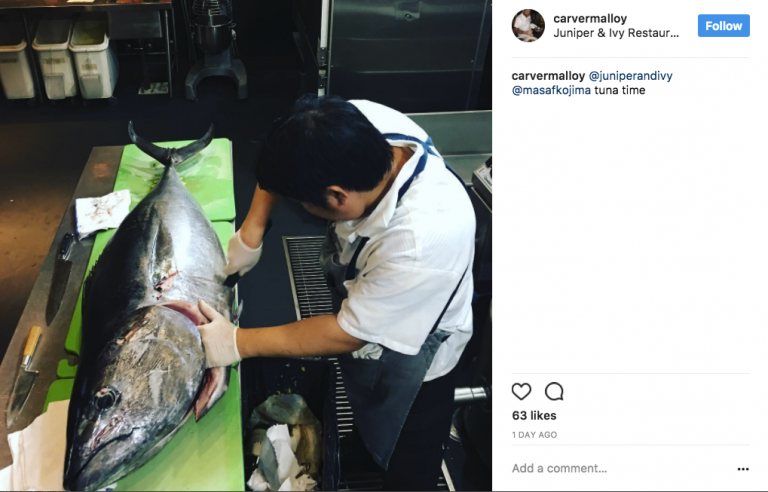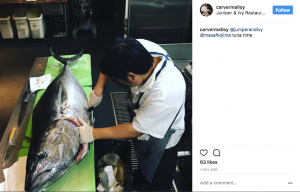 14. Carnitas Snack Shack
Wood tables, white plates, colorful tacos. Need I say more?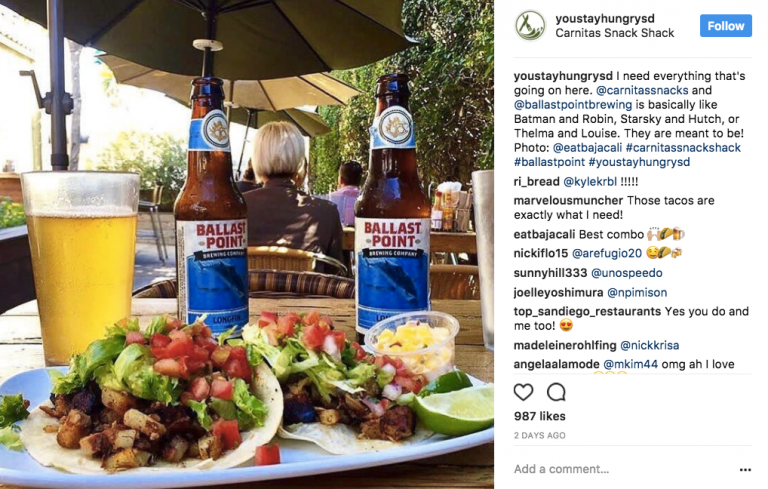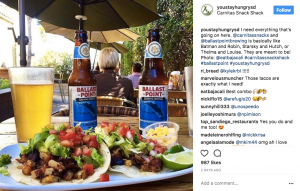 13. Soda & Swine
It's a known fact that all-white plates make for the best food photos, but lately rustic plates are bucking the trend.
Look out for more places like Soda & Swine that are finding new ways to mix up their dish ware.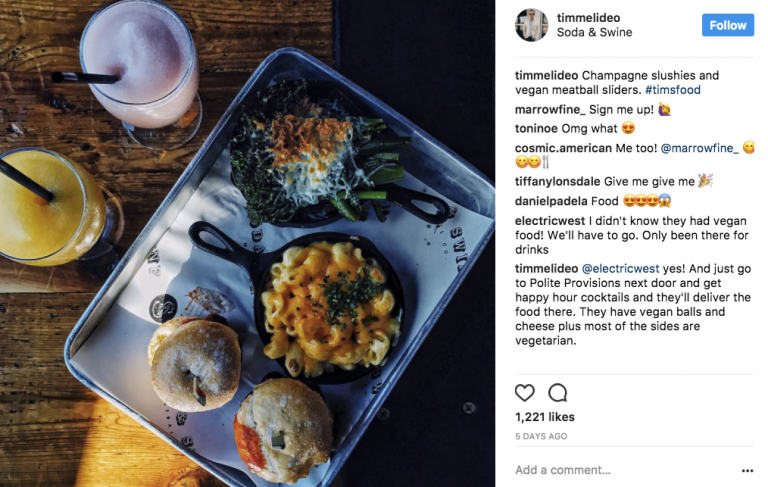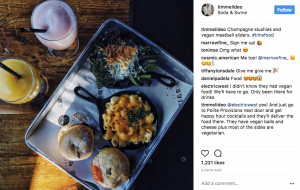 12. Bing Haus
Because who doesn't love a good #ihavethisthingwithfloors Insta?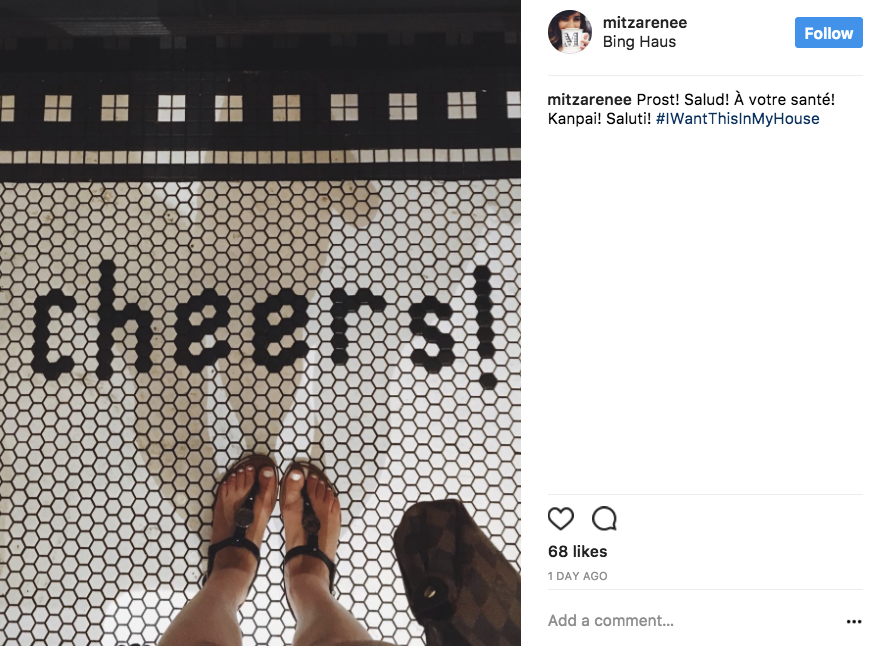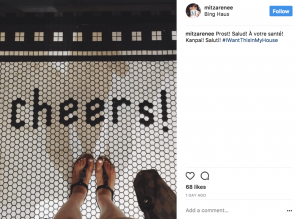 11. Hammond's Gourmet Ice Cream
Carrying ice cream for a group can be tricky. Fortunately Hammond's has all of these cool ways to hold multiple cones and cups at once. Check their Insta to see what I mean.
It's just a coincidence that these containers are super photogenic….or is it?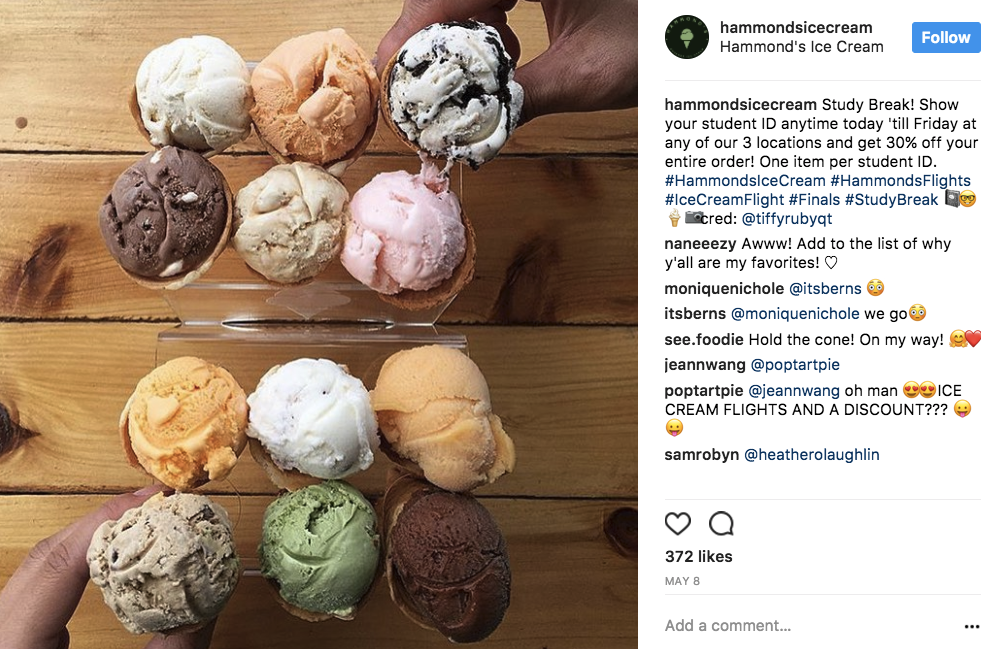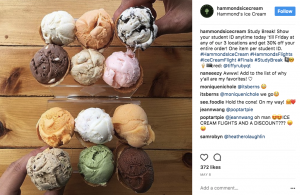 10. Holy Matcha SD
Holy Matcha is basically a case study in how to make an irresistibly Instagrammable restaurant.
This place just hits so many of the right notes on Instagram, including:
Green food
Food with words on it
Floral wallpaper
Pink Booths
And yes, even another neon sign!
I hear the food is pretty good too 😉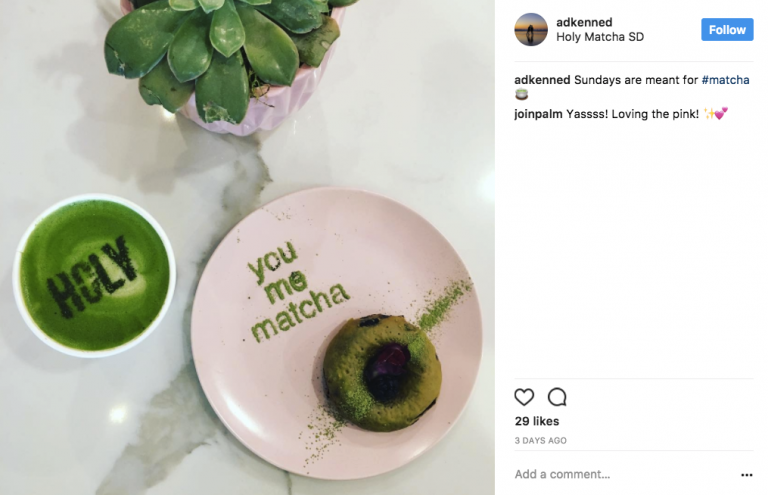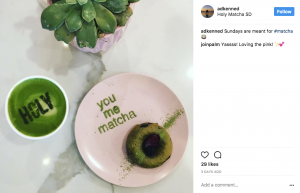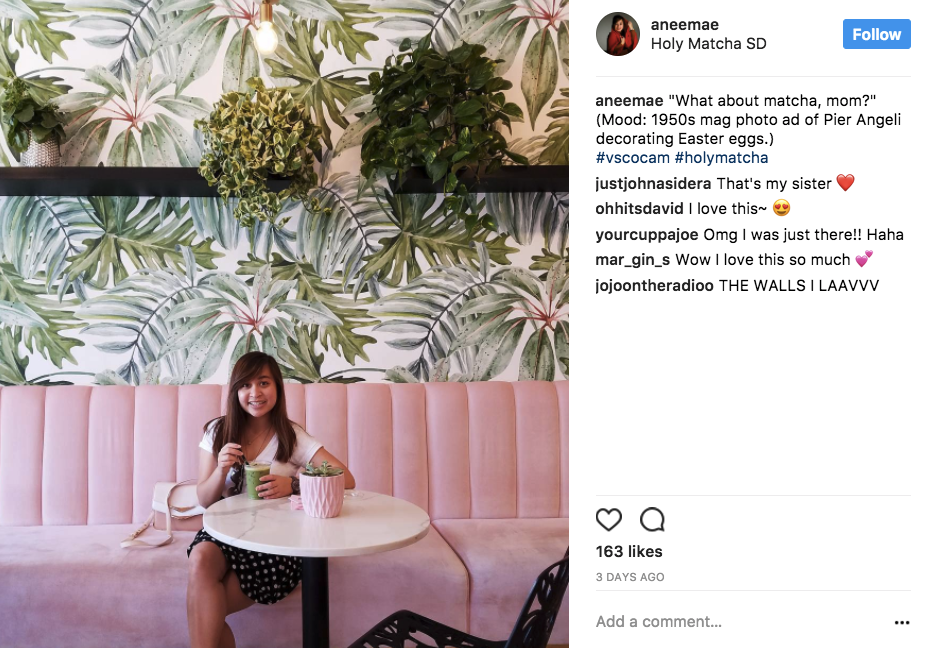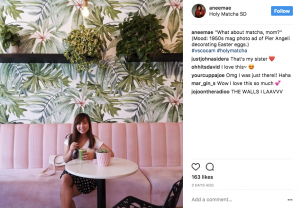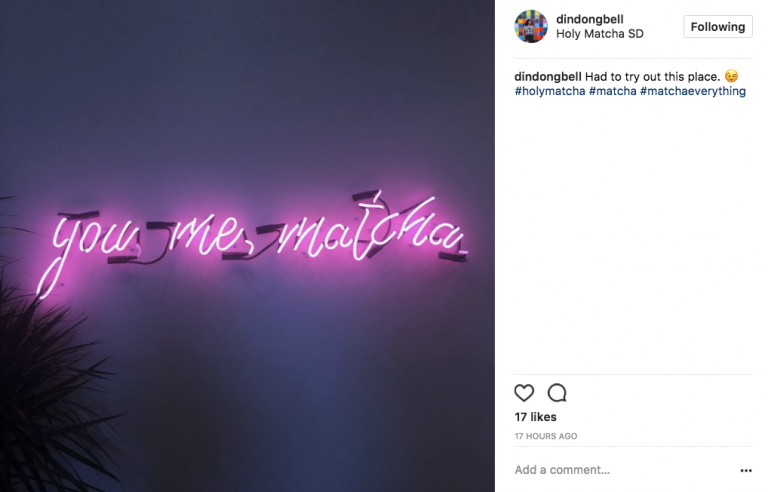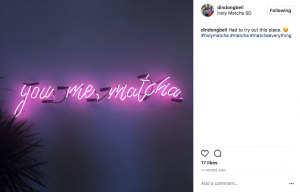 ---
You've come to the right place.
Get in touch for a

free demo.
---
9. Snooze, an A.M. Eatery
I'm not gonna say this place is popular only because of puppies, but having a pet-friendly patio doesn't hurt.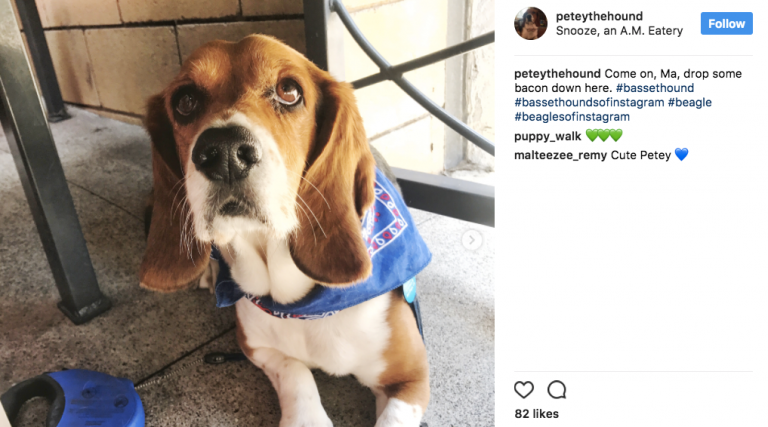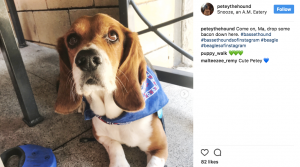 8. Great Maple
Retro-chic breakfast = winning. This place is a San Diego classic.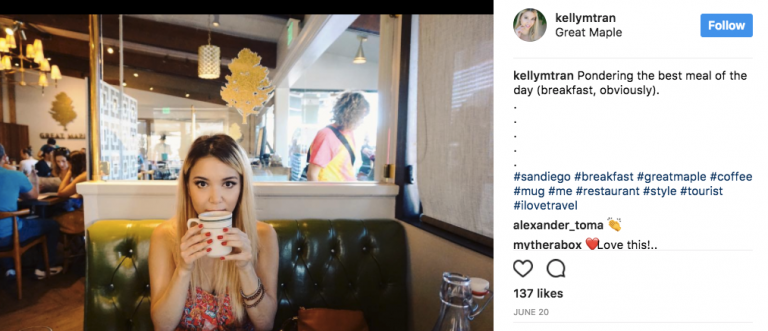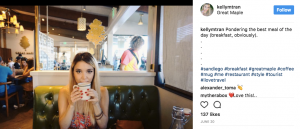 7. Ironside Fish & Oyster
Cool exterior walls like this one outside Ironside are the perfect place to strike a pose.
Hope you've got yourself an Instagram husband!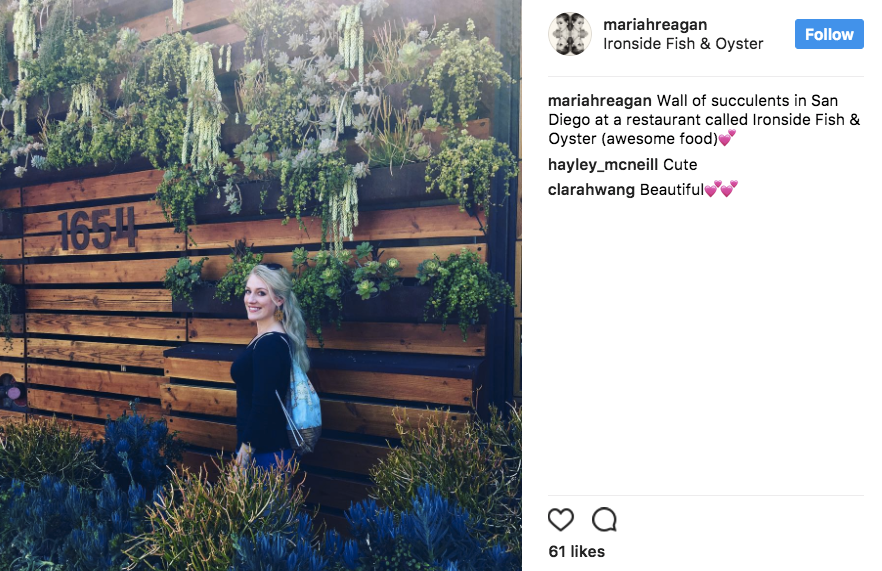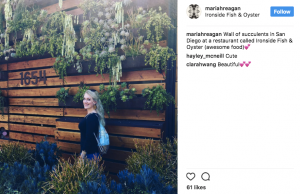 6. Square Bar Cafe
I'll just leave this colorful concoction here.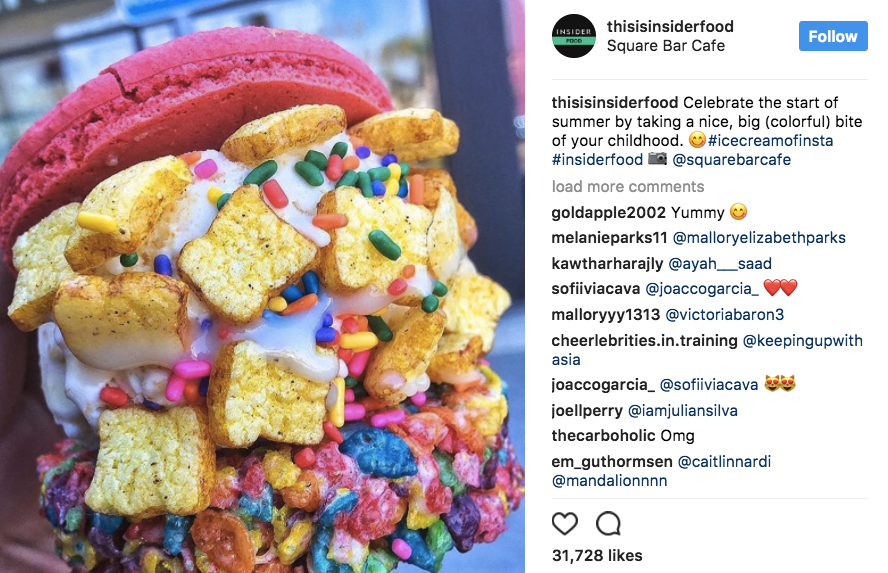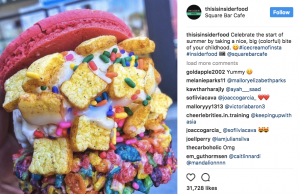 5. Phil's BBQ
No unicorn ribs, and no rainbow mac & cheese. So why is this place so popular on Instagram?
What this restaurant lacks in flair, it makes up for in drool-worthy BBQ.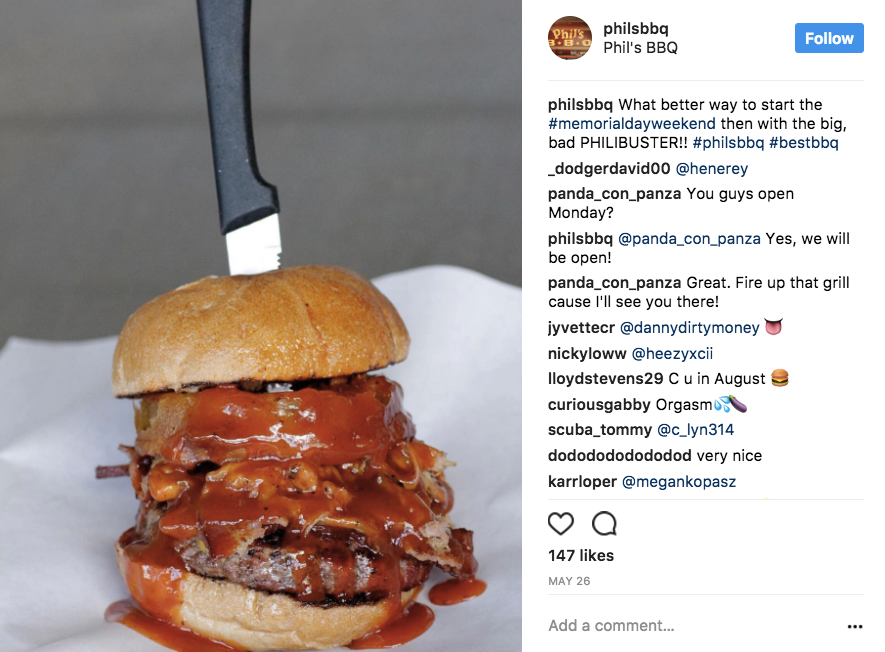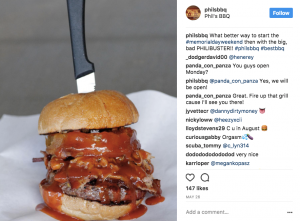 4. Breakfast Republic
More branded plates. More rustic dishware. And folks just love to 'gram their breakfast.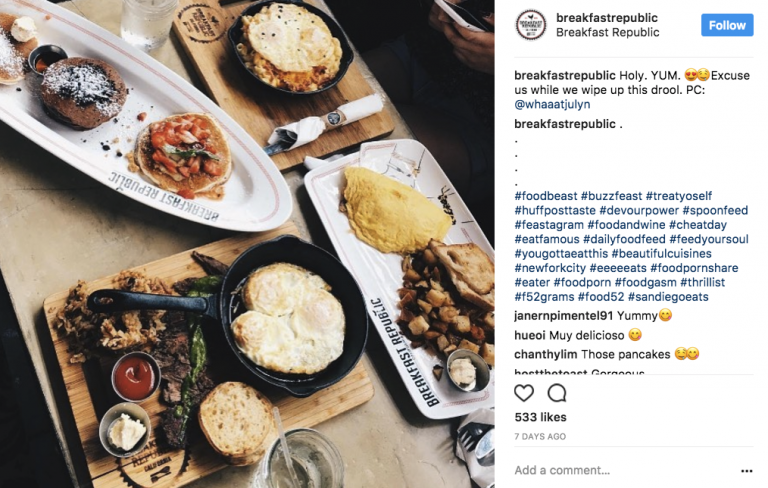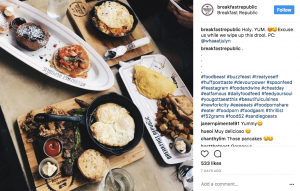 3. Donut Bar
Donuts are so hot right now, and this place is the hottest of the hot.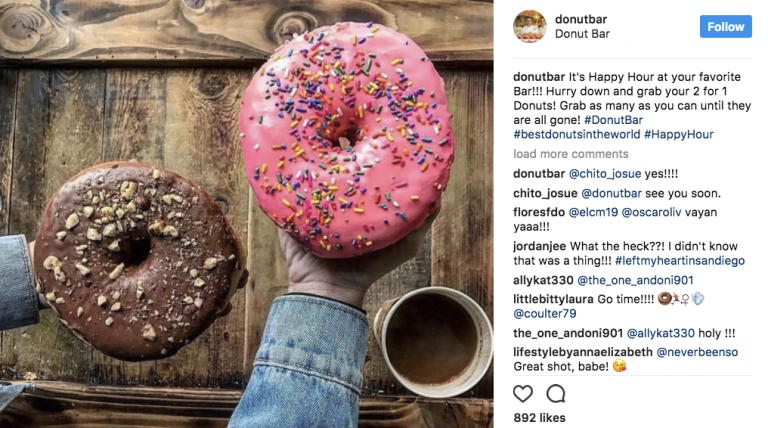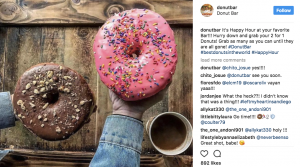 2. Extraordinary Desserts
Sweet little infant baby Jesus.
These desserts are picture perfect and I want one right now.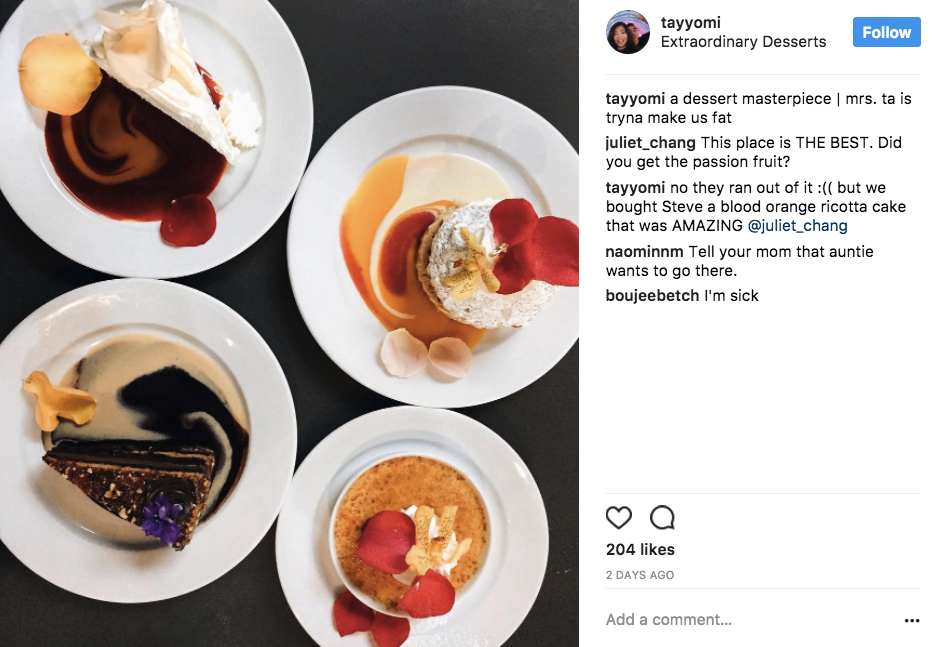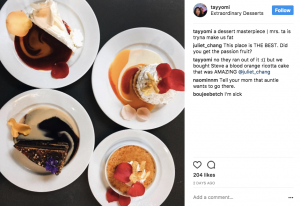 1. The Crack Shack
At last, the undisputed king of Instagrammable restaurants in San Diego!
Zagat said it better than I can:
"An all-day menu of chicken- and egg-based dishes – including fried chicken, chicken sandwiches and deviled eggs (plus a full bar) – are served at this corrugated metal–clad Little Italy counter by the team behind Juniper & Ivy. Modern furnishings, a giant chicken sculpture and a bocce court make the outdoor-only seating area hip and happening."
Clearly, the Crack Shack team knows what they're doing marketing-wise. You don't get to the top of this list by accident.
Now go get yourself a chicken sandwich and some waffle fries!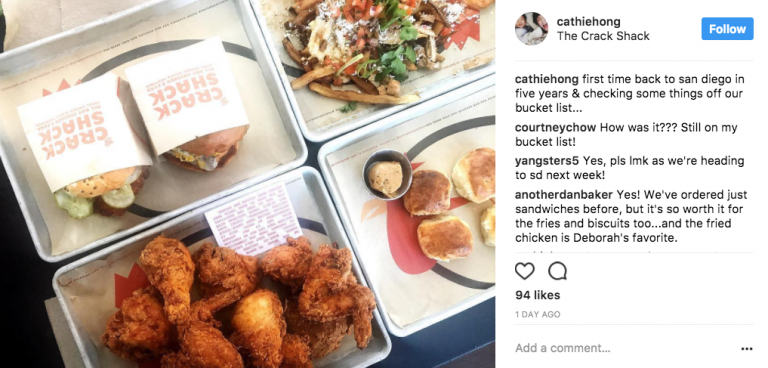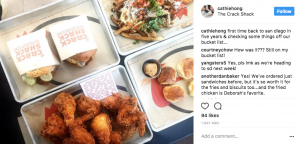 Wait a minute…
If you're looking for more from our Best of Instagram series, consider checking out our other articles on the most Instagrammed restaurants in Denver, San Francisco, and Portland.
Or if you're interested in overall restaurant trends, and how social media is affecting the modern dining experience, then I've got just the thing for you.  Our article 11 Ways Instagram is Transforming the Modern Restaurant is one of our most popular EVER, and I highly recommend it.
---
Did your favorite restaurant get left out?
Let us know in the comments 🙂