Instagram, with it's over 1 BILLION highly-engaged users consuming millions of pictures and videos daily, is a goldmine for marketers.
For brands, Instagram is the digital equivalent of a magazine ad. The types of brands you see advertising in Cosmo and Time do well on Instagram.
But so many brands just get it wrong.
Why is that?
At Jumper Media, we have a saying: Don't judge, help! So while we won't get into why brands struggle so much on social media (and Instagram in particular) we have put together this awesome list of brands and businesses that are doing it right.
Ready for some inspiration? Check out this exhaustive list of the 33 top brands on Instagram that are absolutely crushing it right now, and find out exactly what sets their posts apart.
BEST FOOD & RESTAURANT BRANDS ON INSTAGRAM
1. Shake Shack
@shakeshack | 284k followers
Since it's inception as a hot dog cart in Manhattan's Madison Square Park, Shake Shack's branding has been on point.  Of course their Insta feed is going to be chock full of great photography, great food, and … puppies!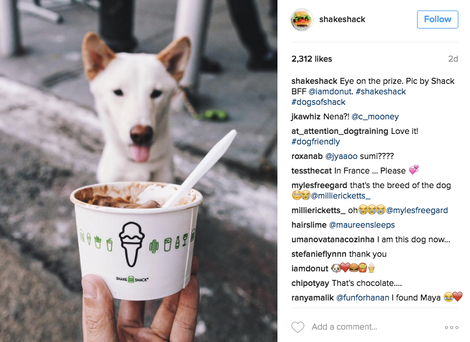 2. Oreo
@oreo | 1.6m followers
How many ways can you take a picture of the same cookie?  It turns out, a lot! The brand shares a variety of detail-rich images, DIY projects, and recipes that will take you back to your childhood.
3. Starbucks
@starbucks | 8.9m followers
Witty captions and bright, creative photos leave Starbucks' followers with a smile — and a caffeine craving. Their easy-to-replicate images encourage customers to share their own artsy coffeehouse photos, in turn promoting the company. Kudos @starbucks!!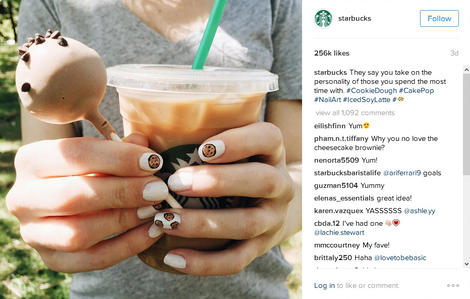 4. Ben & Jerry's
@benandjerrys | 635k followers
Ben & Jerry's Instagram is like your one friend who somehow always has a funny comment for everything. Each of their posts activates your sweet tooth, and their captions are as clever as the names of their ice cream flavors.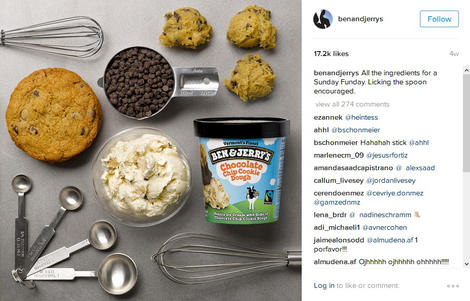 ---
Keeping your Insta fresh with engaging content ain't easy, so we compiled this awesome list of 27 Post Ideas from Instagram's Top Brands. Enjoy!
---
BEST FASHION BRANDS ON INSTAGRAM
5. Chubbies
@chubbies | 273k followers
The weekend has arrived!  Famous for their american-flag short shorts, Chubbies is the quintessential "brotailer".  Visit their hilarious Instagram, and you'll see how this brand is redefining how guys buy clothes in the digital era.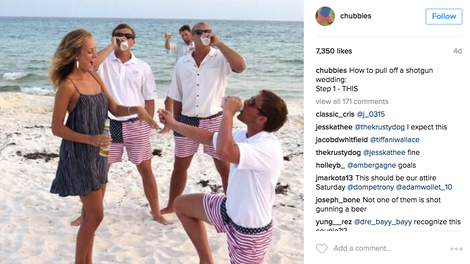 6. Nike
@nike | 47.4m followers
This isn't the first time Nike has been mentioned on our blog, and with good reason.
They have the most followers of any fashion brand on Instagram, and it's not even close. Their feed is a mixture of ad campaign images and inspirational athlete stories — all of which clearly resonates with the Instagram community.
A few high-profile spokespersons don't hurt either…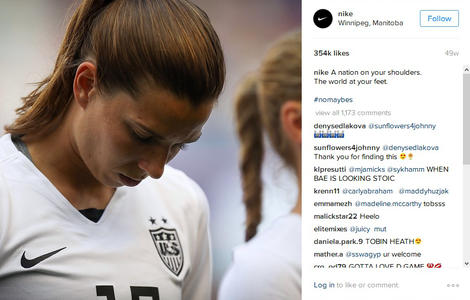 7. H&M
@hm | 14.2m followers
If you're looking for a classic, effortless fashion brand on Instagram, you've found it. H&M's feed is half candid model photos and half product collages for style inspiration. They tend to keep the captions short and to the point and always end with a promotional hashtag like #HM.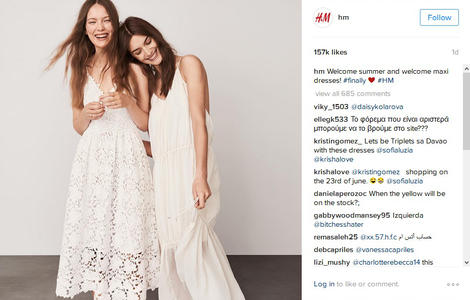 8. Chanel
@chanelofficial | 12.3m followers
Chanel's posts often focus on celebrity red carpet looks (with name-dropping captions to boot). Runway snapshots are included too, as well as ad campaign images. Overall Chanel's Instagram gives followers a glimpse into the high-fashion lifestyle without even having to change out of their sweats.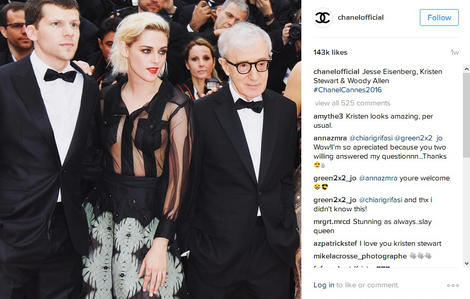 9. Adidas Originals
@adidasoriginals | 11.8m followers
With a bio simply stating, "Three Stripes. Past. Present. Future." Adidas Originals definitely sets the tone for their minimalistic Instagram posts. While the majority of images are a single pair of shoes, they keep it fresh with awesome black and white lifestyle shots every now and then.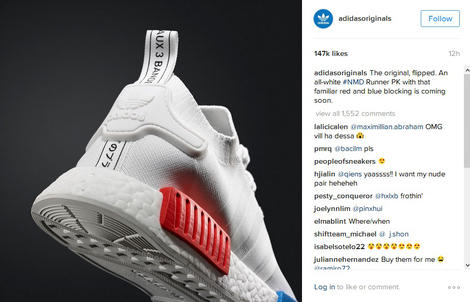 10. Louis Vuitton
@louisvuitton | 11m followers
While Louis Vuitton's Instagram feed features celebrity photos and red carpet looks like other similar designer brands, it also showcases the brand's more wearable, everyday looks. Combine this with images of the actual design process and company charity initiatives, and LV's Instagram makes the brand appear relatable to the average consumer.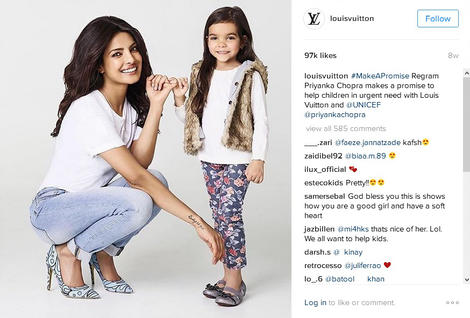 11. ASOS
@asos | 313k followers
ASOS is one fashion brand that's using Instagram a bit differently than others. Yes, many of their posts revolve around style and their clothing lines. Some posts, though, don't focus on fashion… at all. This approach of NOT selling to their followers 24/7 actually gives ASOS a more laid-back vibe. Their posts seem more genuine, which makes users more inclined to engage.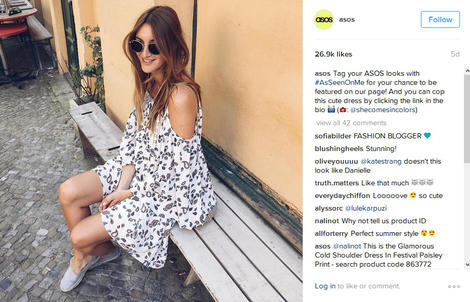 @almost.verified | 10k followers
ALMOST VERIFIED™ opened shop in July 2018.  It's the newest shop on our list, and the one we are most excited about.
If you haven't seen one of their ironic ALMOST VERIFIED™ dad hats show up on your Instagram feed, you will soon (rocked by your favorite fashion influencer of course).
According to them, "You don't need a blue check mark to be stylish." We couldn't agree more. 
BEST BEAUTY BRANDS ON INSTAGRAM
12. MAC Cosmetics
@maccosmetics | 9.6m followers
Close-ups of MAC's funky makeup looks will leave you thinking the possibilities are endless with this brand (genius). Many of their Instagram posts are also "regrams" from makeup artists, which means most of the marketing work is already being done for them (double genius!). Lastly, every caption includes a list of the exact MAC products used to create the look, taking the guesswork out of customer shopping. We'll say it again: genius.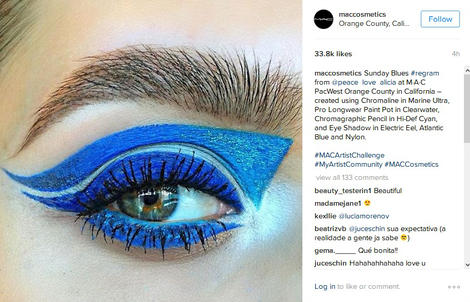 13. Frank Body
@frank_bod | 686k followers
Frank Body's line of body scrubs are perfectly Instagrammable.  They encourage their customers to share pics showing off their scrubs in action, and repost them on their profile.  Beautiful people wearing next to nothing is a strategy we can get definitely get behind.  They even have a separate Insta account for before and afters: @frankfeedback.
14. Bare Minerals
@bareminerals | 259k followers
Beauty brands just crush it on Instagram.  Visual, emotional, and of course beautiful, Instagram is the perfect avenue for brands like Bare Minerals to strut their stuff.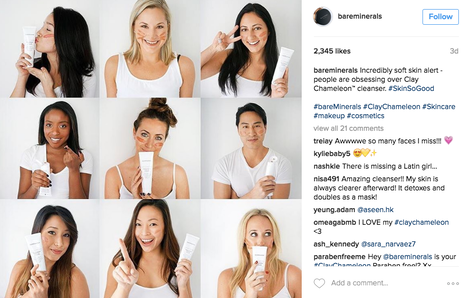 15. Glossier
@glossier | 206k followers
Glossier's Insta blends beautiful lifestyle shots with smart advertising.  Like the best brands on Instagram they use most of their posts to build trust, then every once in a while advertise a new product, sale, or promotion.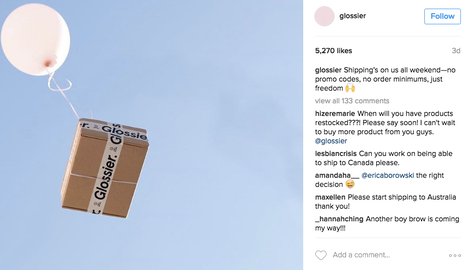 ---
[Jumper Case Study]
The Glossier Marketing Machine
How Emily Weiss Hacked Culture to Build a $100 Million Brand in 3 Years
==========>   READ THE ARTICLE NOW    <==========
---
16. EOS
@eosproducts | 1.5m followers
What's the secret to amassing 1.5 million followers? Post great content. The pics on the @eosproducts feed live by this rule.
17. The Honest Company
@honest | 549k followers
In the words of Donald Trump, motivational quotes are "huge" on Instagram.  The Honest Company knows this and takes full advantage. They create clever text-based images branded with their logo, that compels their followers to #repost.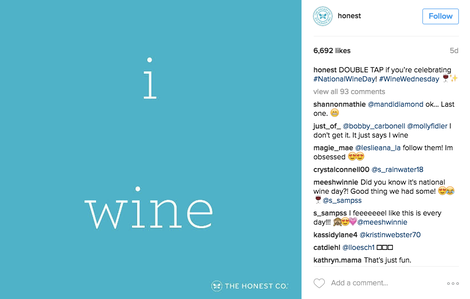 BEST WEBSITES + PUBLICATIONS ON INSTAGRAM
18. Brit + Co
@britandco | 78.6k followers
Brit + Co. is an online community that provides tools to teach, inspire and simplify everyday life. Their feed is full of DIY projects such as "How to Send Your Long Distance Bestie The Ultimate Care Package."  — and we love it!  Creative, informative, and highly shareable, their content is what Instagram was made for. 
Keep a close eye on these guys. Their Instagram is absolutely blowing up. #britstagram
19. Vogue
@voguemagazine | 10.6m
Vogue uses Instagram to promote its company website. Almost every caption includes the phrase "click the link in our bio", which means they change that URL quite frequently (and it must be worth the upkeep). The best part? Their photos are captivating enough that users easily overlook this repetitive trick.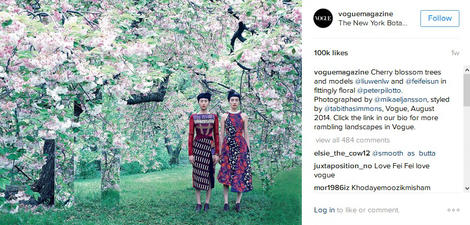 20. National Geographic
@natgeo |  51.4m followers
With over 50 million followers, @natgeo is an unlikely king of Instagram.  National Geographic is well known for its spectacular photographic storytelling, so it makes complete sense that their fine-tuned craft translates well to Instagram. The NatGeo feed is filled with portraits of animals, landscapes, and citizens of the world. Each photo is capped off with an informative journalistic caption. Long captions just might be the new black.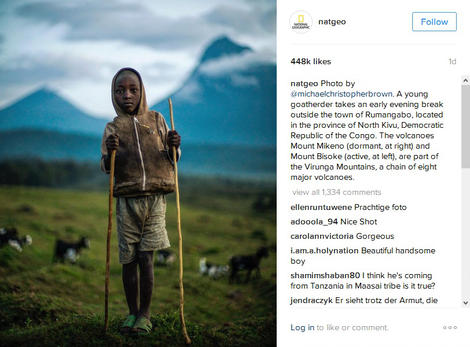 21. Dictionary.com
@dictionarycom | 101k followers
Dictionary.com's Instagram is an even more unlikely gem.  And it couldn't be more simple. Each day they post a "Word of the Day," and that's all they post!Whether you're a scruffy haired high-schooler studying for the SAT, a rapper studying for your next battle, or just trying to look smarter on your next Tinder date, we highly recommend their feed. Did you know what "metanoia" means? Yeah right…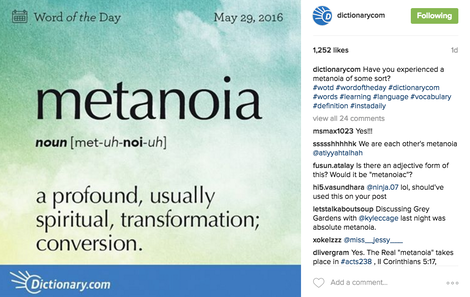 TELEVISION (TV) SHOWS / STATIONS ON INSTAGRAM
22. MTV
@mtv | 5.7m followers
Their pictures may not be as impressive as others on this list, but MTV has something just as valuable going for them: they know how to appeal to their audience. MTV's Instagram speaks all things pop culture, celebrity drama, and tween/teen/young adult. Trends may change, but you can always count on MTV to be on top of things.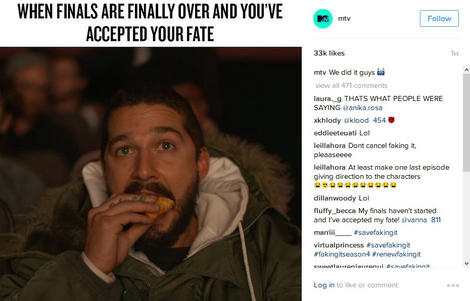 23. Disney
@disney | 5.3m followers
With all its success, it's no surprise that Disney excels at Instagram. From its many movies, countless products, theme parks, and stock of historical photos, Disney has no shortage of visual content to share. Their Instagram feed has true variety, and each image is more intriguing than the next.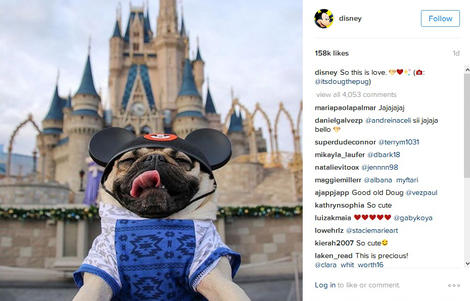 24. Saturday Night Live
@nbcsnl | 1m followers
SNL fans can tune into the show's Instagram feed for continuous entertainment throughout the week. Video clips and candid backstage photos give followers a sneak peak of the upcoming show or let them recap what they missed. (Brownie points for all captions including a self-promotional hashtag of #SNL.)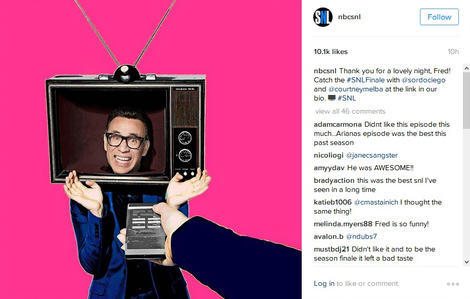 25. SportsCenter
@sportscenter | 5.9m followers
ESPN's flagship program is perfect for any sports fanatic.  Their in-house Instagram team repurposes the content from their show, website, and Facebook page and updates it to fit in perfectly on anyone's Insta feed.  Go Warriors!
PRODUCTS + SERVICES BRANDS ON INSTAGRAM
26. WeWork
@wework | 49.5k followers
WeWork is a company that rents shared workspaces for startups and small businesses. Their Instagram feed features creative interiors from their various offices, some motivational quotes, and the occasional catered lunch spread!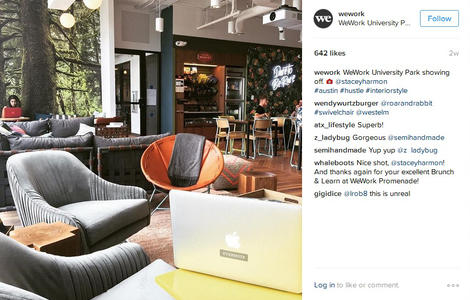 27. FedEx
@fedex | 43.7k followers
Wondering what FedEx could possibly have to post on Instagram? Their photos of airborne planes and delivery trucks en route are actually quite beautiful. Aside from being visually pleasing, these images show how global the business truly is.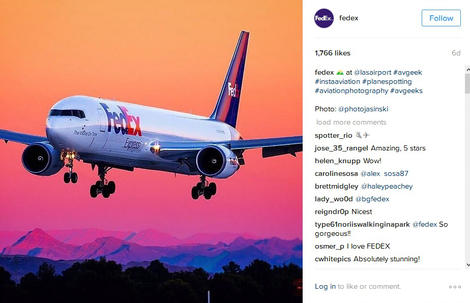 28. AirBnb
@airbnb | 995k followers
Startup darling of the twenty-teens, AirBnb opens the door to interesting places to live, even if it's just for the night. Their marketing team knows how to reach millennials — on Instagram!  Their photos showcase the beautiful homes and apartments for rent, their wondeful local hosts, as well as places to go and things to do in popular tourist destinations.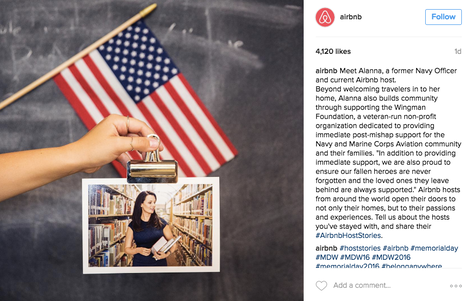 29. Postmates
@postmates | 43.7k followers
Current heir apparent to the on-demand food delivery throne, Postmates' Insta is just what you'd expect: mouth-watering.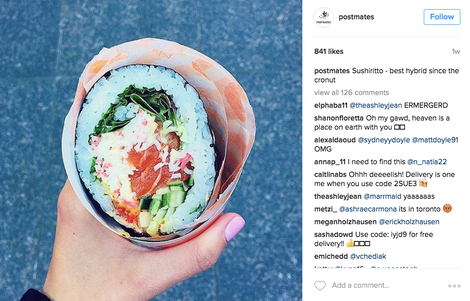 30. Sharpie
@sharpie | 134k followers
Sharpie has the same problem that a lot of our customers at Jumper Media face; their are only so many ways you can take a picture of a pen.  Fortunately for Sharpie, their marketing team is devilishly creative.  Browse their feed for a quick lesson in post variety.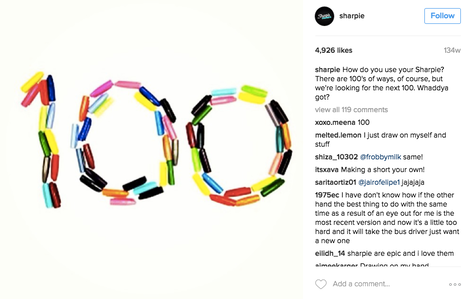 31. musical.ly
@musical.ly | 5m followers
If you're under 20 years old, there's a good chance you've never heard of musical.ly. They are the newest social media darling, have a devoted user base of mostly middle schoolers, and just raised $100m in venture financing.  Their app makes it easy to create music videos that you can share on Instagram, and their feed is full of wonderful examples from their users. Kids these days!
32. GoPro
@gopro | 8.9m followers
Instead of professional photographs, GoPro's Instagram features pictures from a variety of its brand ambassadors. Not only is this easily created content, but it showcases the vivid images captured by the brand's main product: a versatile, action-ready camera. This Instagram feed gives viewers an itch for adventure and a desire for their own GoPro-worthy moments.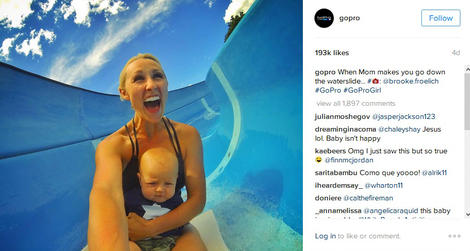 33. BMW
@bmw | 6.8m followers
At first glance, the official BMW Instagram account may look like it's all about cars. Well, ok, maybe it is — but on closer inspection, the background of their photos have a lot to say, too. BMW cleverly photographs their vehicles in a variety of locations like wooded scenery, city skylines, and mountain roads. Different backdrops mean followers are more likely to personally relate and imagine themselves behind the wheel.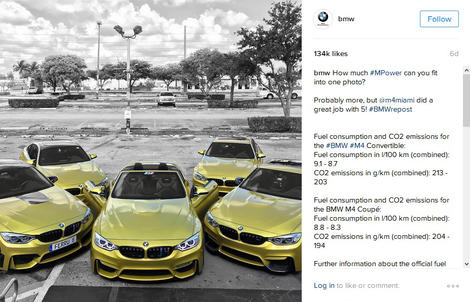 Do you know of any killer Instagram brands? Leave us a note in the comments and tell us who we missed!