Influencer marketing is now one of the best ways to gain attention online.
Did you know that 4 in 10 millennials say their favorite influencer understands them better than their friends? Those are some deep connections being forged purely on social media.
If you're more facts than feelings, consider that Visual.ly found influencer-shared content to get 16 times more engagement than company-owned content.
If there's so much to gain through influencer marketing, why don't more people do it?

The simple answer: they don't know how to get started.
It's such a new and unique niche that business-owners just don't know how to contact Instagram influencers or how they work. They don't know how to reach out in a way that's meaningful and memorable, or what to expect in return.
Fortunately, we're here to help with tips and even templates to get your foot in the door.
How to Contact Instagram Influencers: The Basics
Influencer marketing is a little …complicated.
The SOCE found that influencers are becoming increasingly particular about the kind of content they share and the brands they work with. Unfortunately, this means that most of your top picks on Instagram will delete your DM with barely a skim. #TrueStory
The good news is that if you can make the right first impression (and second, and third), you can unlock the power of influencers in no time. All you need to do is get your direct message templates right and play the numbers game.
Here, we offer steps that will guide you to connect with social media influencers. Before anything else, remember this golden rule — whatever you send, make sure that it's:
Ready to start being influential? Let's go!
Step 1: Find Your Influencers on Instagram
As anyone who has worked with a 3rd party to create content can guess, the right influencer makes all the difference. You need someone who's going to speak to your target audience. Generate a list of 20 Instagram personalities who you think can do that. Include anyone from minor celebrities to local micro-influencers with a decent following.
Once you have your list, research each person in depth. Check out their social media pages on other platforms. Visit their websites and also see what people are saying about them in other forums. While you're researching, make sure they meet your criteria. For instance, ask yourself:
Are they currently trending in my industry?

Are they a good fit for my products or services?

Have they interacted with brands like mine before?
According to one study, 49% of consumers rely on recommendations from influencers. So don't miss your shot by getting the wrong people on your team, people that might not get you or whose audience can't use your services.
Once you've narrowed your list to no more than 10 influencers, make sure you follow all of them on Instagram and their other social media platforms. It helps to start commenting or liking some of their posts before ever direct messaging them so that slowly but surely, they notice you.
Step 2: Prepare Your First Direct Message Template
You've been following a few influencers who best fit your marketing strategy. Now it's time to reach out.
The first email or DM you send is an important first impression, but just an initial introduction. It should simply establish contact and build familiarity with your brand.
You don't need to speak to your influencer about sharing content in this email. Instead, just break the ice. Let them know you're interested in building a relationship. You can say something like:
Hey, [First Name] – I love your page! Especially that [specific content] you shared. [Emoji] I'm reaching out from [Your company] to see if we might be able to collab on something. Let me know if you're interested!
This DM accomplishes a few key things. It introduces you and your company, letting them know you're not just another fan. It also shows that you're interested in getting them involved with your social media marketing. However, it isn't pushy and follows the golden rule.
Step 3: Promise Value in Exchange for Influencer Marketing
If your influencer gets back in touch, that's the signal to reel them in.
The best way to do that is to promise value.
You can even do this in your initial outreach message if you're feeling confident. Influencers on Instagram get dozens of messages every day. If you want their attention and help boosting your word-of-mouth marketing, you might need to try a little bribery.
Remember that influencers love being on top of the latest trends. If you can offer them the chance to try something before anyone else does, they'll appreciate it.
Don't worry about giving freebies away. It pays off! Influencer marketing campaigns earn about $6.50 for every dollar spent.
Once you've made that first round of correspondence, try upgrading your direct message templates to offer a specific value, like this:
Hey, [First Name] – We think you'd look awesome in one of our latest hats.  [Include a pic] Like it? If so, we can send one your way!
Once they get back in touch, remember to follow through on your word and send the item ASAP. Your influencer won't want to wait around.
Send them another quick message letting them know when it's been shipped. You can even include a picture of the package. Some extra contact or tracking information is useful, in case the parcel goes missing.
---
Finding Instagram Influencers is
a pain in the 🍑
Let us do it for you, with this exclusive offer.
For just $7 we'll send you a custom list of 30 micro-influencers in categories such as:
Automotive
Beauty/Skincare
Cannabis
Fashion/Apparel
Fitness
Food & Beverage
Golf
Guns
Pets
Photographer/General
Swimwear
Travel
Other
If you're serious about leveraging Instagram influencers to grow your business, you'd be crazy not to take us up on this.
Each list is customized to your exact requirements. Yes, we actually have a real human being go on Instagram and dig around for these people!
At only $7, it's a tiny investment that will save you hours of work. So get it now while you can:
---
Step 4: The Follow-Up DM
Influencer marketing works – but it's not like hiring a consulting firm and it only works if you do it properly.
If you want to work with influencers, you can't be put off whenever you don't get an immediate response, and you need to accept a certain amount of apparent flakiness.
A follow-up message can be a good way to check up on a pending #ShoutOut. Or just remind your influencer that you're still around. If you're following up on a possible celebrity endorsement, try this:
Hey (First name)! Just following up to see if you want those freebies! All we need is an address. Hit me up!
If you're following up when you've sent an item already, try:
Hey (First name)! We just wanted to make sure you received our stuff. Hope you like it!
Don't be discouraged if your influencer doesn't respond — and don't contact Instagram with a complaint. That'll just give you a bad reputation. Instead, move onto the next influencer on your list. Hopefully, you'll have better luck this time.
How Not to Contact Influencers
Before we sign off, we thought we'd share an insight into what kinds of messages can bore or turn off influencers on Instagram. It's not our first rodeo (an interesting metaphor for connecting with these personal-brand promoters) here at Jumper, so here's what we've learned from a case study or two.
An example of one of the direct message templates that didn't work at all for a client:
Heyyyyyy, so I think you'd be a perfect fit for a project I've been working on. We've got these cool new dad hats and are looking for up-and-coming influencers to snap some photos in our hats and post on their Insta with our hashtag. What do you think? I can definitely send you one of the hats if you're interested!
The reason this didn't work is simple. It's too long.
It's a fine line, but you want to make sure you get right to the point with influencers, so they know exactly why you're contacting them.
Good Luck Wrangling Influencers!
Ourselves included, 22% of professional marketers consider influencers to be the best way to obtain customers.
The value of this marketing tactic grows every day. After all, consumers feel more comfortable with their Instagram influencers than a traditional brand promoting itself.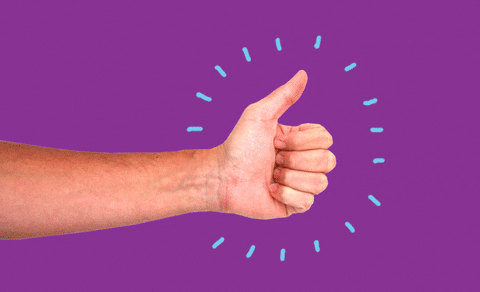 Remember, you won't get a response from every influencer you contact; don't panic. Not everyone's going to want to work with you, even if you get your message right. But by putting a little extra effort into deciding who you contact and how you'll end up ahead of the game.
Have you found a DM template that works for your influencers? Let us know in the comments!