When Facebook bought Instagram in 2012 for $1 billion, the social media platform only had 30 million users. Since then, they've added a lot of features to the app.
Direct Messages

Instagram Live

Instagram Business Profiles that are integrated with Facebook Business Pages.

Did we mention Instagram Business Accounts?
To take full advantage of Instagram as a marketer, you need to know how to access and understand the powerful Instagram analytics/insights feature set.
Instagram analytics are not accessible to ordinary or personal accounts. In order to get access to your Instagram analytics, you'll need to switch to an Instagram Business Account.
Instagram analytics are powerful because they can tell you when and how often people are interacting with your posts, viewing your profile, and a number of other key factors that should influence your overall Instagram marketing strategy.
Let's dive deeper into understanding Instagram Analytics and how they can help your social media marketing efforts.
What are Instagram Business Accounts? And do you need one to get analytics for your company?
Business Accounts are 100% free an unlock some neat features, including Analytics.
Most Business Profiles are company pages, but you don't have to go form your own LLC to make one.
Anyone can create a business profile in a few minutes to start seeing all kinds of stats about your followers, top-performing posts, stories, and more.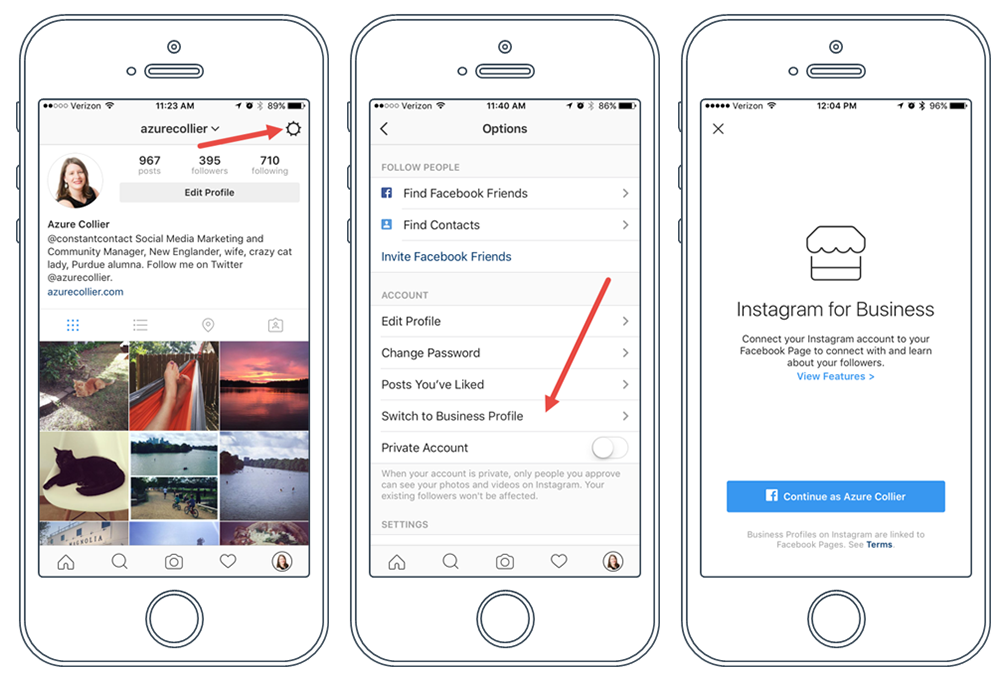 The type of Business account will appear below your username. This category is chosen based on your Facebook page—a Facebook page is necessary to set up an Instagram Business Profile.
A business account gives you Instagram Insights, the app's built-in analytics tool. It also allows you to include a "Contact" button near the top of your profile, with the option to include a phone number, email, and directions to a store location.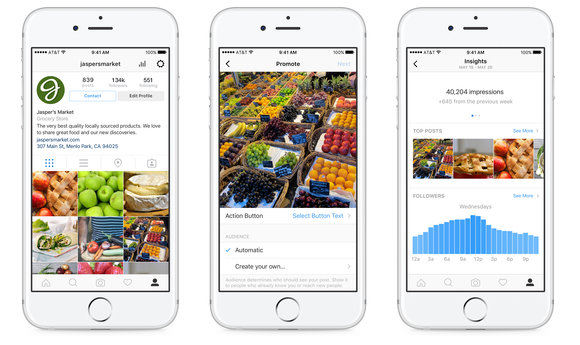 Additionally, it allows you to create Instagram Ads and promote your posts. Business accounts with more than 10,000 followers can also add links to Instagram Stories to help funnel traffic to their website.
One of the many reasons the platform is so popular with businesses, beyond the visual appeal and ability to build a strong brand, is the access to users.
About 80% of users follow at least one business on the social media platform. And, as of March 2017, more than 120 million users acted on the contact information provided through the business profile by visiting a website, getting directions, calling, emailing, or direct messaging a business.
Why Use Instagram for Marketing?
With the majority of Instagram's audience in the 18-29 age group, the platform is an ideal way to target millennials.
Millennials have $1.3 trillion in annual purchasing power in the US alone, and that number is expected to rise to $3.39 trillion in 2018, putting this group in the position of having the largest spending power of any generation. This will only continue to grow, as millennials currently make up 25% of the workforce—and are expected to make up 50% of the workforce by 2020.
However, because millennials, in general, do not trust traditional advertising, marketers and businesses are forced to develop strong social advertising, which this group sees as more credible. The bottom line is that millennials crave authenticity and trust their peers' recommendations more than traditional types of advertising.
When you combine an authentic person that produces amazing Instagram posts and has thousands of active followers that match your market profile, you have an influencer who can take your Instagram marketing to the next level.
Diving Deep into Instagram Analytics (aka Instagram Insights aka Audience Insights)
Influencer marketing is making waves and Instagram is the influencer's social network of choice.
This is ideal because the platform boasts the highest engagement rates of all social networks.
Recognizing the importance of influencer marketing and the need for businesses to understand the capabilities of influencers, as well as the success rate of their own Instagram accounts, Instagram Analytics came into being. Instagram Analytics tracks pertinent data in three major categories: Activity, Content, and Audience.
Activity Insights
In the old Instagram Activity Analytics, insights consisted of three key metrics: follower count, website click-through, and profile views.
In the current Instagram Activity Analytics, insights are now divided into two subcategories: consisting of Interactions (sometimes called Actions) and Discovery.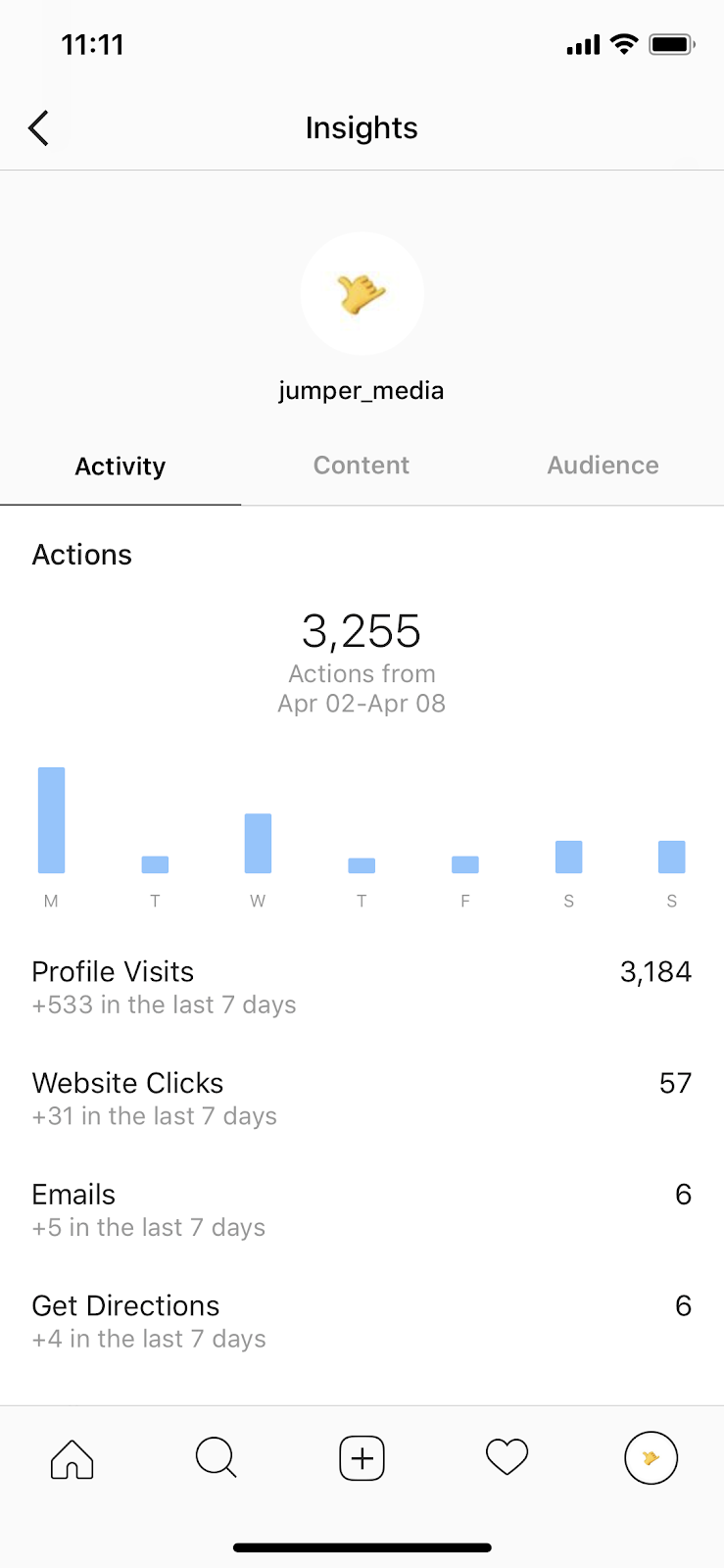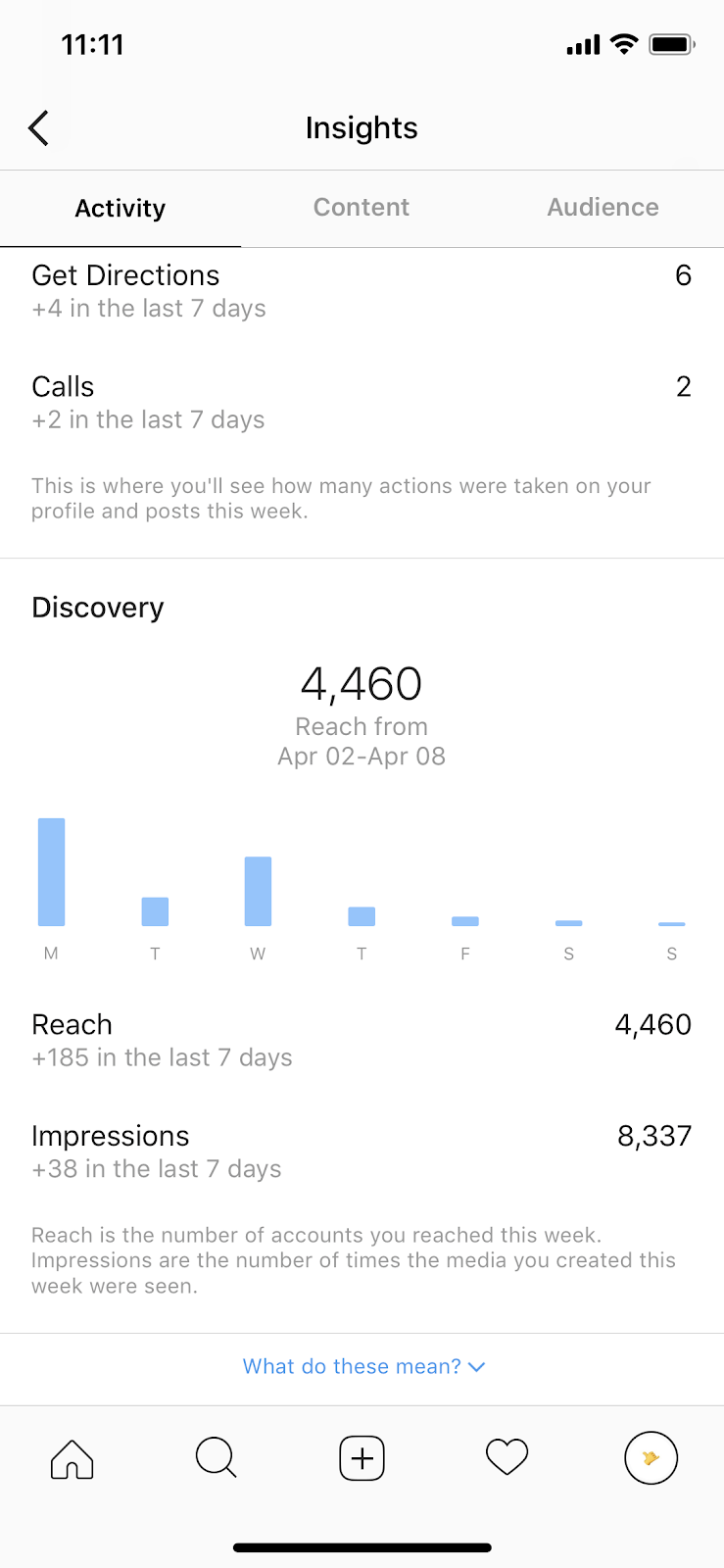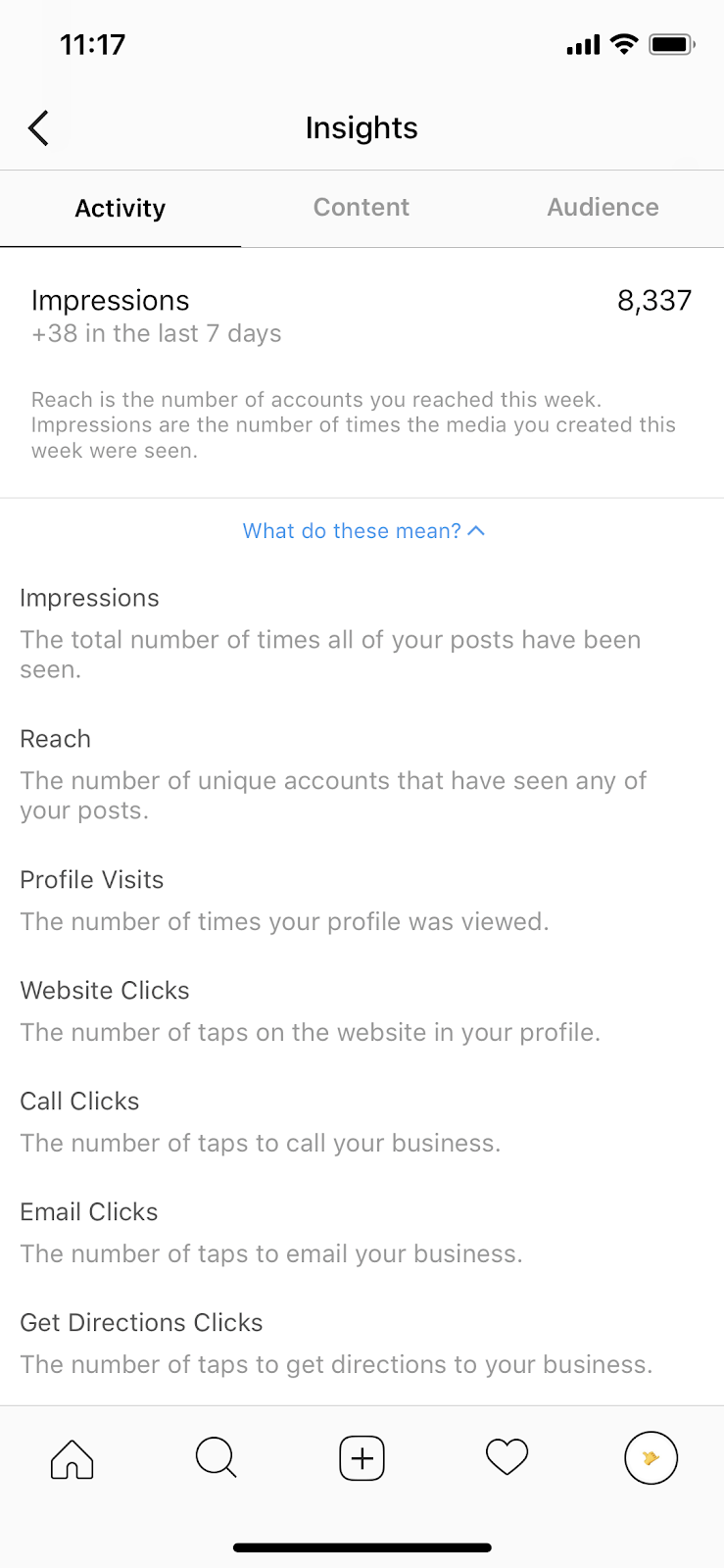 Interactions are where you will see the total actions taken on your profile and posts for the week.
This category consists of Profile Visits, Website Clicks, Email and Call Clicks, and Location (Get Directions, if enabled) Clicks.
Profile Visits: Profile views could be useful if you are running any sort of campaign trying to get Instagram followers. If more profile views don't turn into more followers, then the people finding your profile don't like it enough to follow you. Also, if you have very low profile views, it could mean that you are engaging the wrong audience, or that your audience is ambivalent about your content.
Website Clicks: At one point, Instagram did

not

allow any outbound links. However, you're now able to put a single website link in your profile. By clicking on the Instagram analytics icon and swiping through the metrics, you'll find the "Website clicks" as the final option. If you are actively tweaking and revamping your Instagram marketing strategy, this statistic can provide essential information when determining what changes are successful and which are falling flat.

Email and Call Clicks: Instagram Business Profiles also allow you to add an email address and contact number that users can easily access as a means of contacting you or your business. This section shows the number of taps that users made in an attempt to email or call your business.
Get Direction Clicks: Adding your location to an online profile is important local businesses like restaurants, gyms, etc. This section shows the number of clicks that users made to access directions to your listed physical location.
Discovery includes Impressions and Reach. Discovery is the overall metric of your online presence on Instagram. It shows how many times you are seen or discovered.
Impressions: This is the total number of times all of your Instagram posts for the week have been seen. You can

also

check the Discovery metric of each individual post, which includes more detailed impressions. These details include where the post was seen, such as Home, Hashtags, Profile, or Other (impressions from other external sources, such as websites).

Reach: This is the number of unique accounts that have seen any of your posts within the week. (If someone sees your post multiple times they are only counted once.)
Content Insights
There are several ways to present content on Instagram and a myriad of ways to design that content. You can post videos, photos, collections of photos (or a mix of both), and stories.
The quality and design of your content can deeply impact how well it performs. Factors such as color scheme, composition, filters, subject matter, and even how witty or funny a caption is can all make or break the effectiveness of a given post.
Content Analytics gives you an idea as to how well your content is doing and can be used to determine which types of posts connect best with your audience. This section includes insights for Posts, Stories, and Promotions/Ads.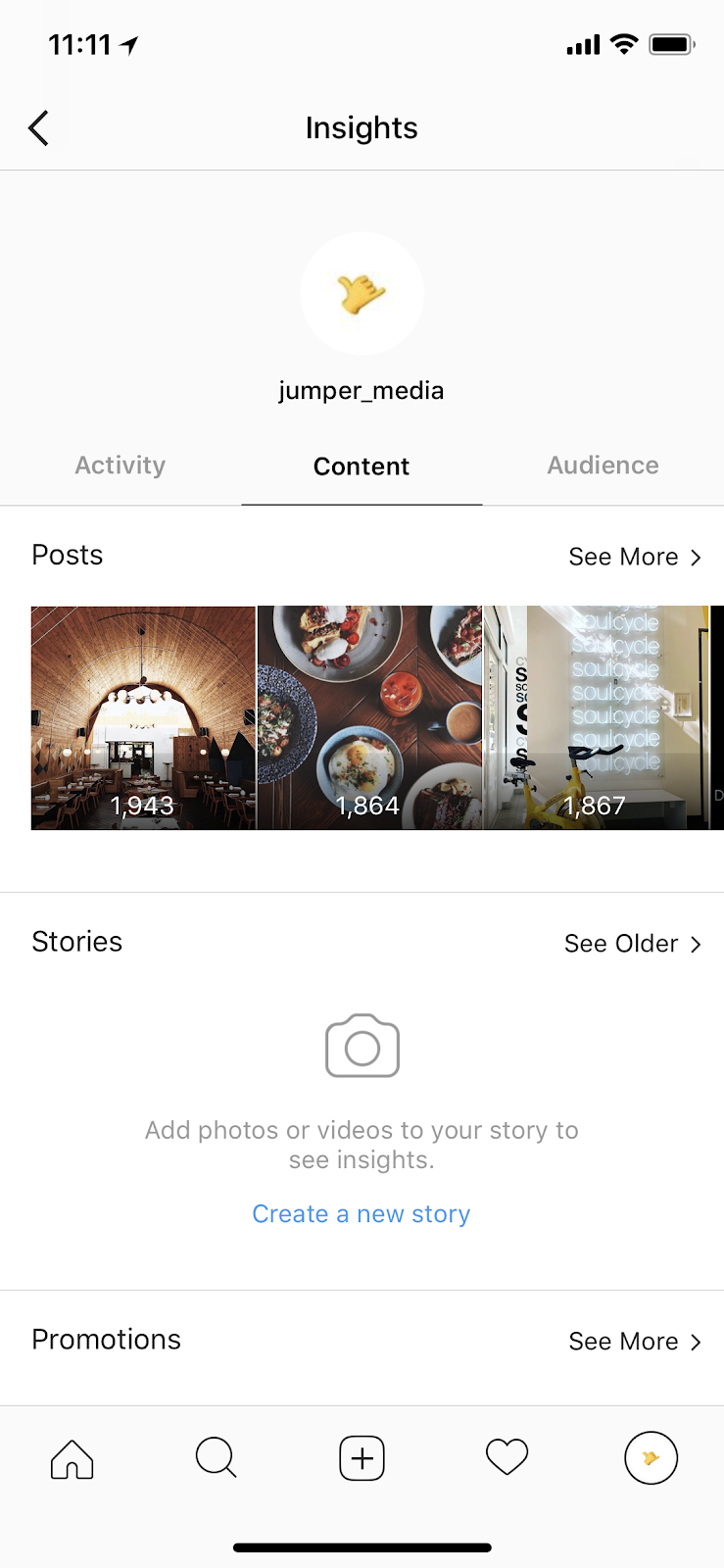 Posts
Here's how individual post insights look: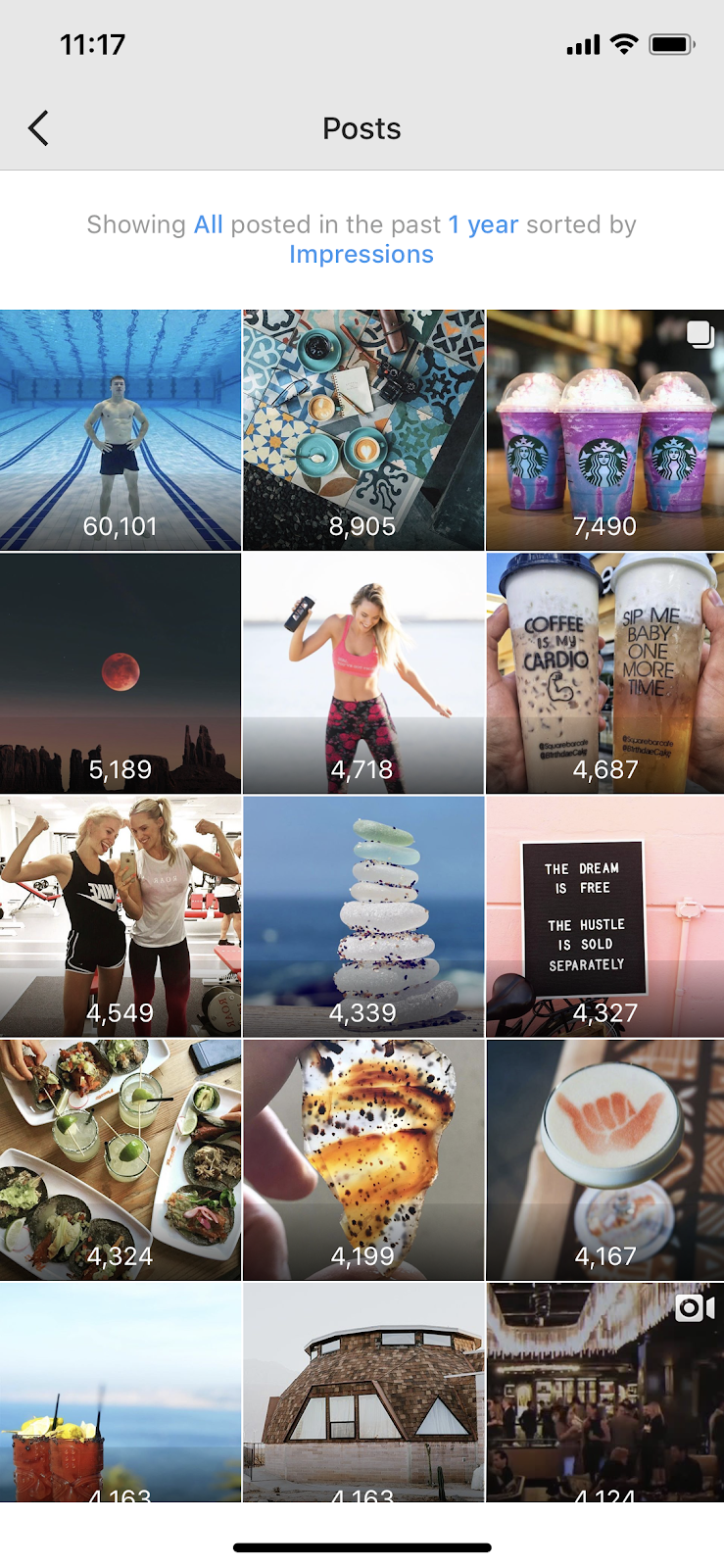 An interesting part of Instagram analytics is the ability to see the impact of a single post on your follower count. You can now see how many followers can be attributed to individual posts!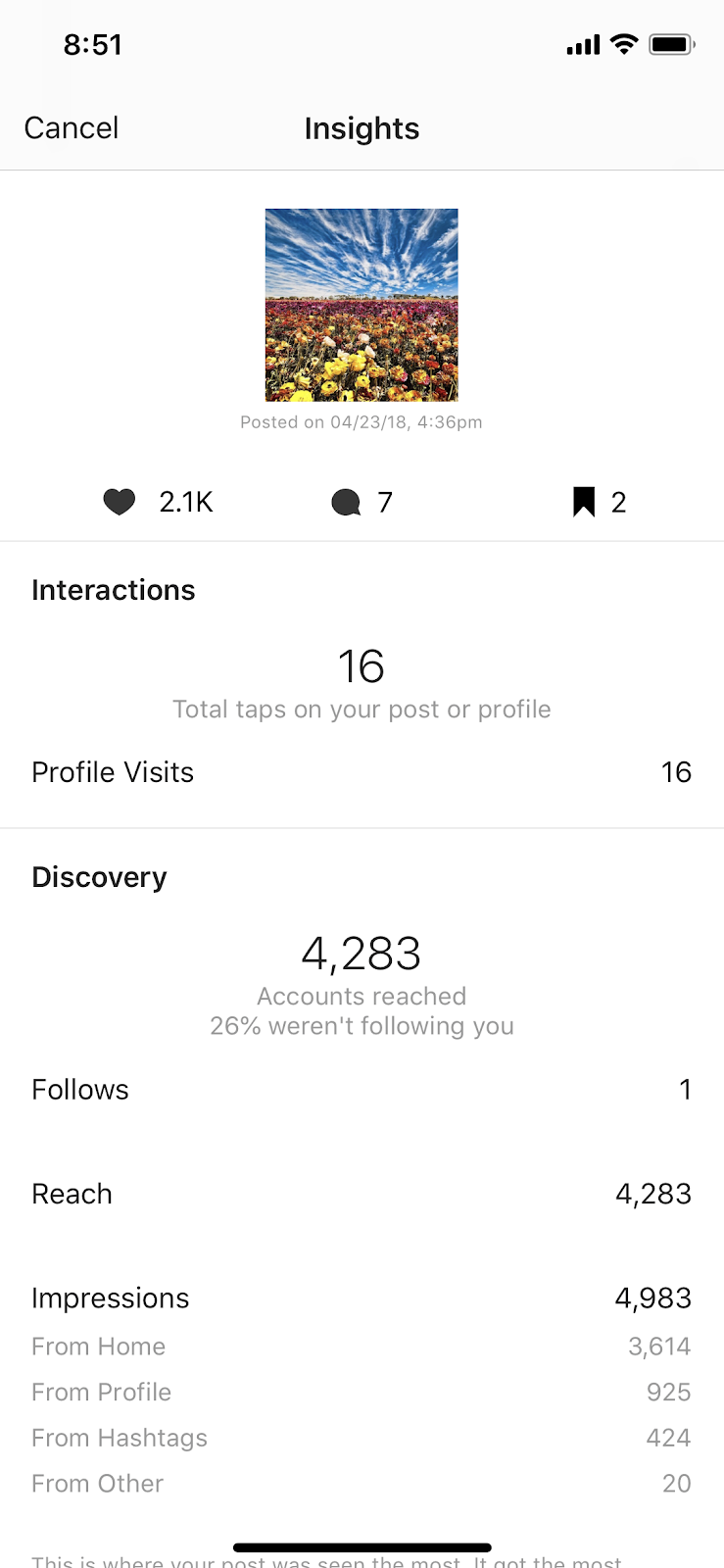 The most basic form of engagement is likes. Double tapping on the screen or giving a post a heart is the easiest way for users to show that they like the content. Posts with a lot of likes stand a better chance of appearing in users' Explore pages, or even at the top of someone's Instagram feed. However, likes are not a very reliable way to gauge interest because you can also buy Instagram likes.
Comments are a higher form of engagement, as they demonstrate that users spent extra effort to interact with your content. To boost commenting and the likelihood of getting content to the top of people's feeds or the Explore page, many users have resorted to creating Instagram pods. These are basically secret groups where all members of the pod notify the others when they have a new post up, so everyone can interact with it.
The number of times a post was saved is also available through Instagram Analytics. The save feature allows users to privately save posts that they like instead of taking a screenshot of them. The number of times your post was saved appears along with the other metrics through the "View Insights" button, directly below your post.
Though you can view statistics on likes, comments, and saves separately, you can also see them bundled together under engagement. High levels of engagement are exactly what your business or brand should be shooting for.
Each individual post shows analytics information about impressions and reach. Impressions are broken down in terms of:
From Home

From Profile

From Hashtags

From Other
According to Instagram, "Other" can refer to:
Posts that have been shared through direct messages

Posts that have been saved

Posts you've been tagged or mentioned in

Post notifications that you've been mentioned or tagged in

Posts that show up on the Following tab in your notifications
Being able to see impressions separated out as such is invaluable in terms of measuring your related marketing efforts.
If one account has seen your post twice, your Instagram analytics will record two impressions and one reach. Neither of these is as helpful in determining how large your audience is, and how strong a post is, as your engagement metrics.
Stories
Similarly to posts, Instagram Stories have their own insights to help better determine how much engagement your stories are getting. Story insights only become available to stories you've posted after setting your account to a business account.
Once story insight became available, you can sort stories posted in the last 24 hours up to 14 days back, based on:
Impressions: the total number of times your Story was viewed.
Reach: how many individual accounts have viewed your story (some people may view a story more than once, which would give you a higher number of impressions than reach)
Forwards: the number of times your story has been tapped forward
Backs: the number of times your story has been tapped backward
Exited: the number of times your story has been exited
Replies: how many replies your story got
Next Story: how many times your story received taps to move on to the next story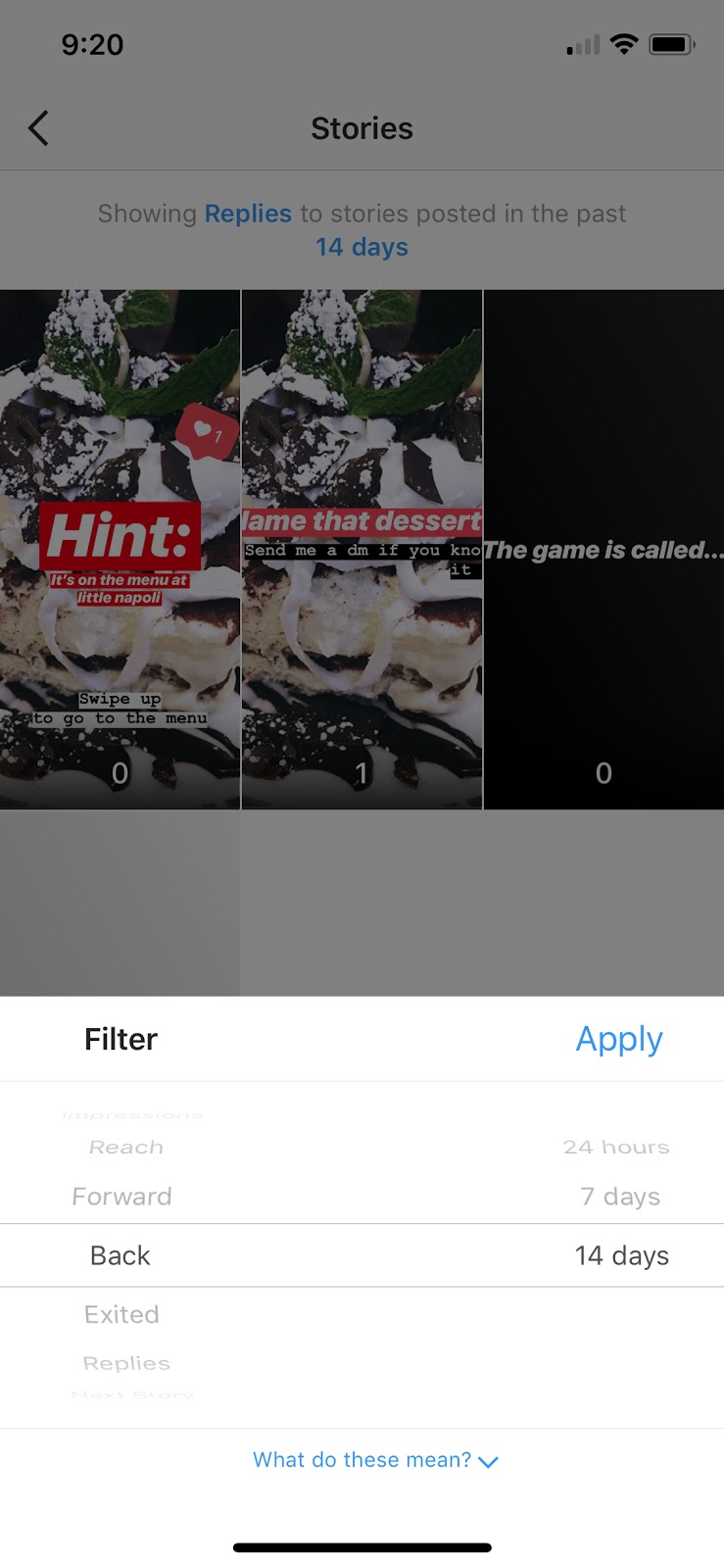 You can also get insights for website clicks or profile visits through Story analytics. However, only verified accounts or accounts with more than 10,000 followers can add links to their Stories, so insights for the number of times a link was clicked are only available to these profiles.
Audience Insights
Follower count is often used as a quick way for a user to know how established you are as a company or brand.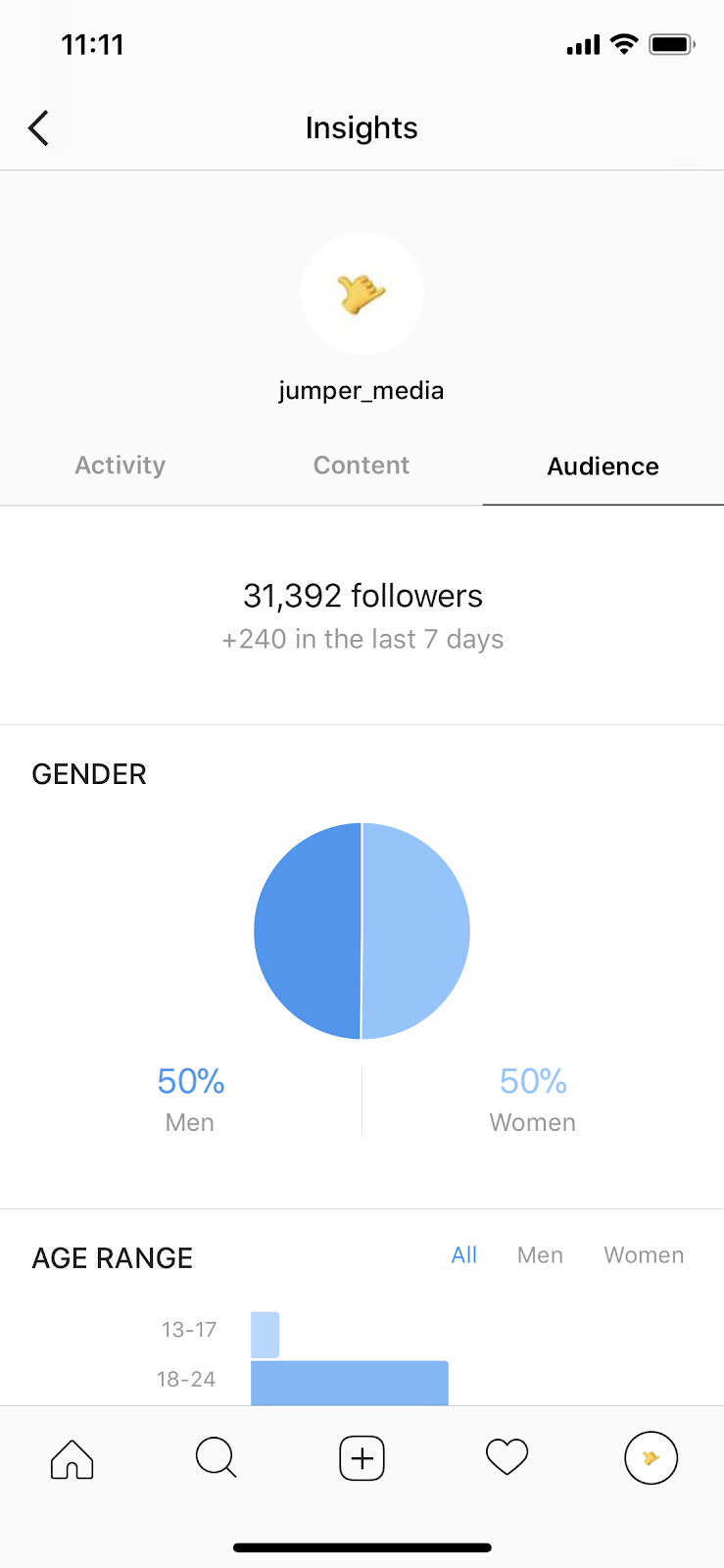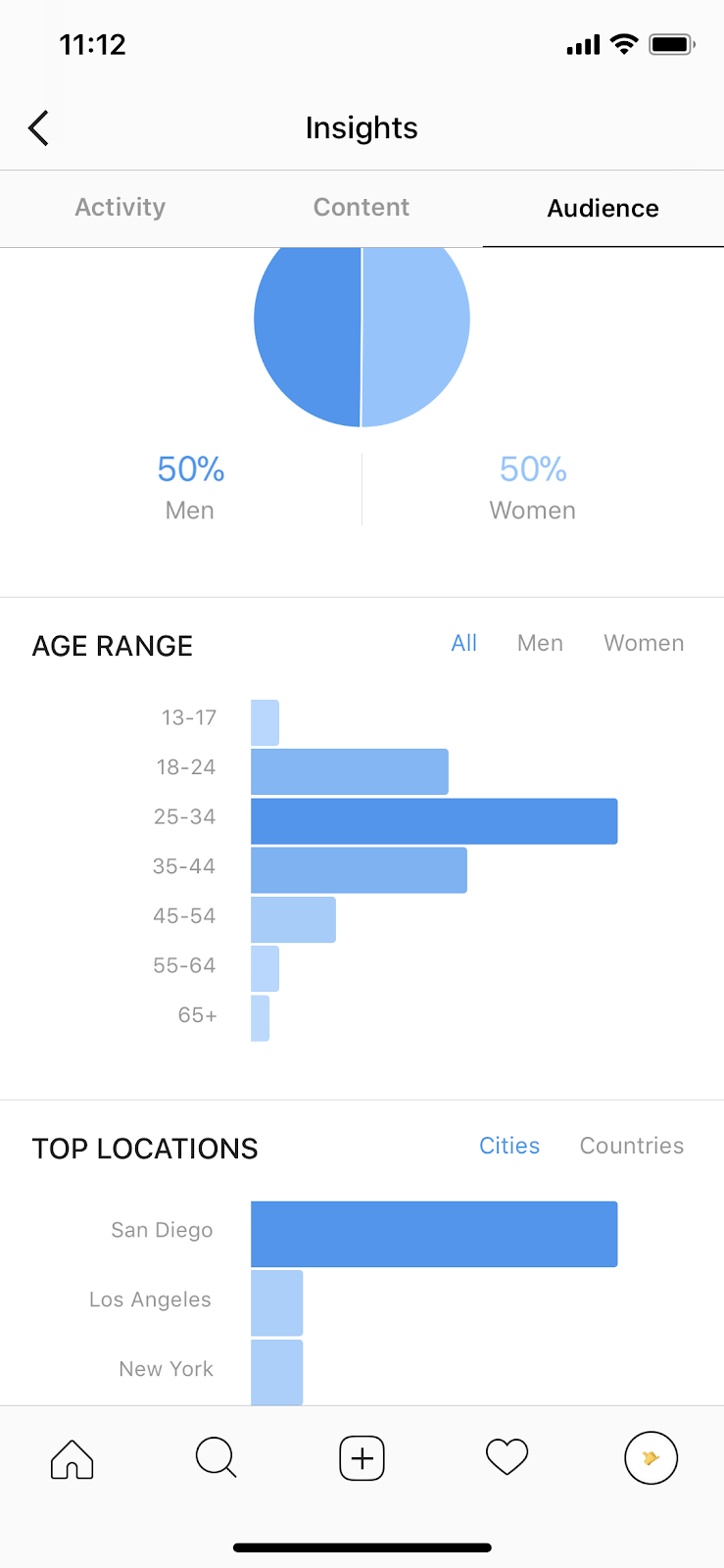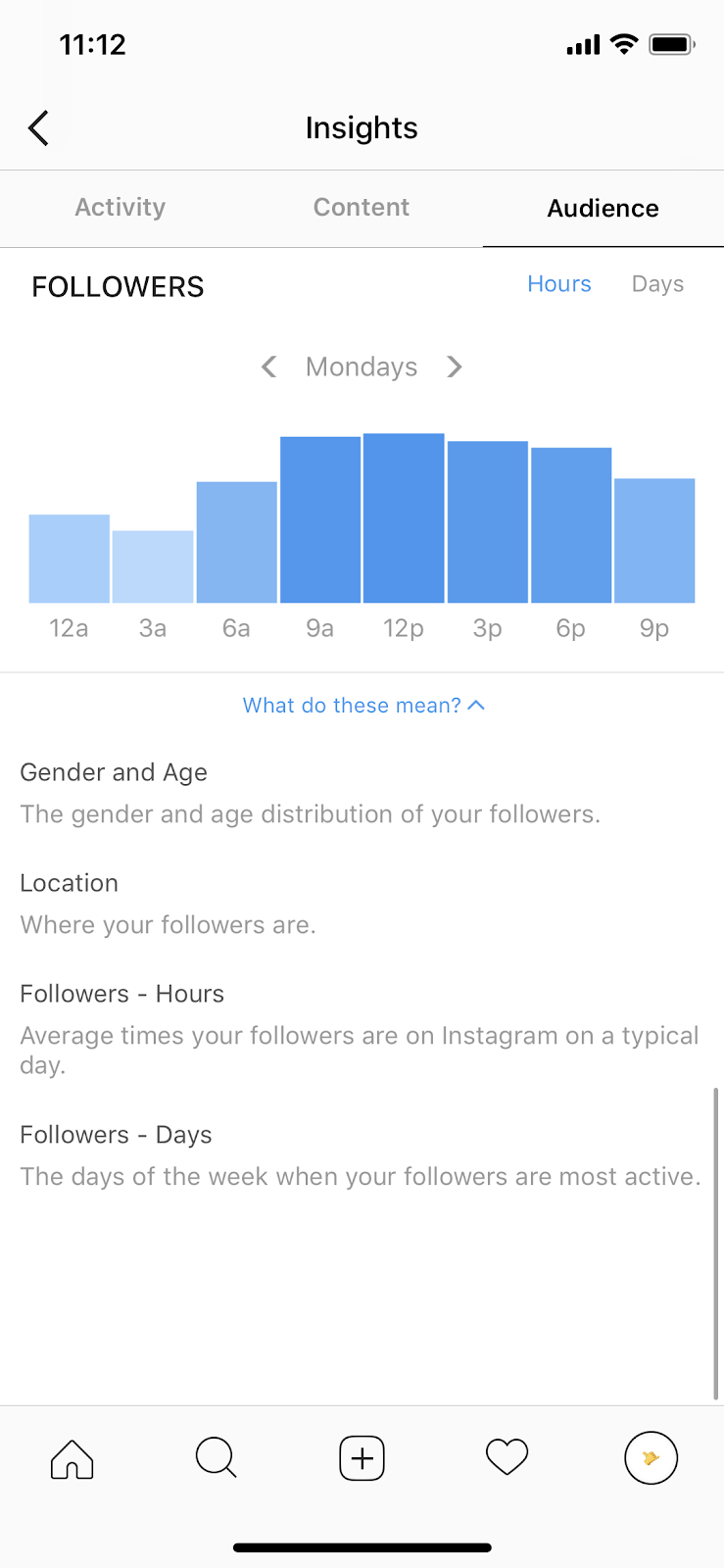 Audience Analytics is where you can see complete and detailed metrics about your followers.
This includes:
The number of your followers.

Demographics: including gender, age range, and top locations. This will be helpful to you in developing leads or identifying potential collaboration opportunities.

Hour and day metrics of your follower activity. This metric shows the average times and days of the week when your follower is most active. This will help you decide

when

to post Instagram content.
Audience analytics are especially useful for brands working with influencers. Brands can check out the demographics of their own Instagram page and try to find influencers that match this demographic. Furthermore, brands should consider asking influencers to screenshot their analytics pages and send to them before working together. Anomalies in the Audience insights (for example if a Chicago fashion blogger has lots of followers from Sri Lanka) can be a red flag.
Final Thoughts: Understanding and Cracking Instagram Analytics 
It is essential for businesses, brands, and marketers to tap into Instagram's growing audience—predominately millennials—who will soon dominate the world in terms of spending and influence.
By understanding how to interpret and analyze Instagram Analytics, you'll be prepared to not only determine the impact of your Instagram account and posts but also identify potential influencers worth partnering with.
With the right influencer marketing strategy, it is possible for your business or brand to gain traction in the market. Most importantly, by continuing to monitor your Instagram analytics, you can adjust your strategy to ensure that your profile, audience, and content are performing at their best.
Have questions about Instagram Analytics? Ask us in the comments and we'll try to get back to you asap!