Not convinced your brand needs an Instagram?
These fascinating Instagram statistics might change your mind…
With over 600 million users posting 120 million photos a day, Instagram is a social media behemoth, any way you filter it.
At Jumper Media we think Instagram is the absolute best social media platform for brands and businesses, and we've got the numbers to back it up.
This list of impressive (and highly shareable) stats will convince you of Instagram's importance and set you up for social media success. Have a look:
---
1. 85% of Top Brands use Instagram
Sweet mother of Jesus!  85 out of Interbrand's Top 100 Brands—we're talking Coca-Cola, Starbucks, Disney—are using Instagram to promote themselves.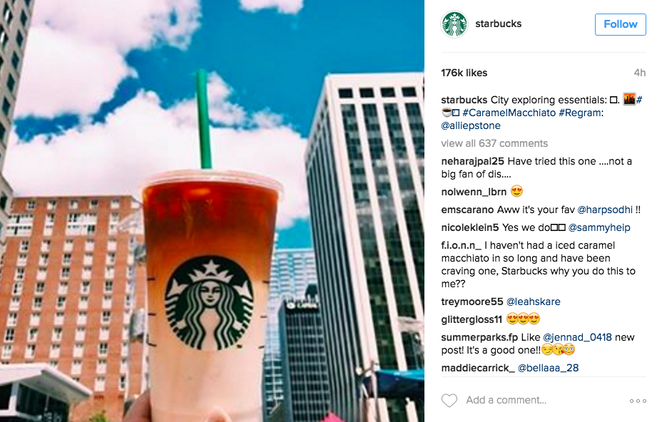 When it comes to spending their hefty advertising budgets, these guys don't just take educated guesses. They look at the cold hard facts, like this next one:
2. Instagram Brand Engagement is 4.21% – way higher than Facebook
When compared to Facebook and Twitter, Instagram is, well, no comparison. Instagram promises 58 times more engagement per follower than Facebook and a whopping 120 times more than Twitter. With this 4.21% per-follower engagement rate, it's kind of a no-brainer which of the three social media platforms you should focus your efforts on.

Take this real-life example: McDonald's posted a video of a sizzling hamburger on both Facebook and Instagram. In four hours the company's 64 million Facebook followers liked the photo only 79 times, but it's 1.4 million Instagram followers liked the photo a whopping 9000 times!
If I were a McDonald's executive I'd have to wonder: Why even bother with Facebook?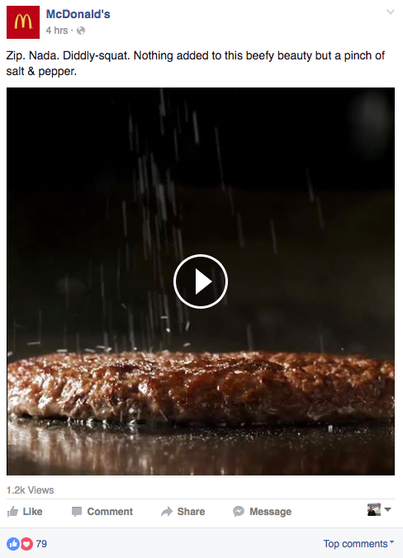 3. Serious Marketers spend 42% more time on Instagram
Marketers investing 40+ hours per week on social media are 42% more focused on Instagram than casual marketers.  In other words, people who make it their job to understand social media trends have found Instagram a worthwhile investment.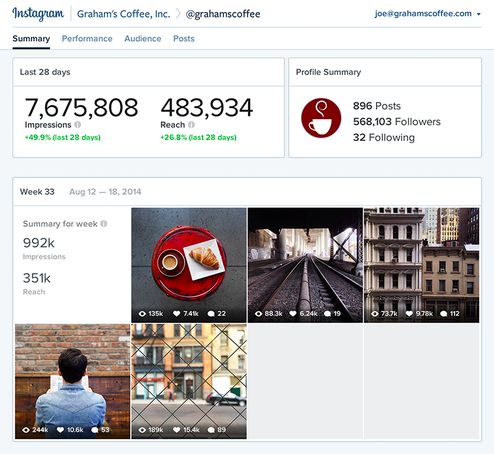 4. Ad Recall is 2.8x Higher on Instagram
Marketers look to ad recall to assess how their creative campaigns are performing.  By this yardstick, Instagram is hard to beat.  In one study Nielsen studied over 400 ad campaigns to determined that ad recall on Instagram was 2.8x higher than industry norms. Refreshment company J2O saw similar results when it introduced it's delicious new Spritz line of drinks on Instagram.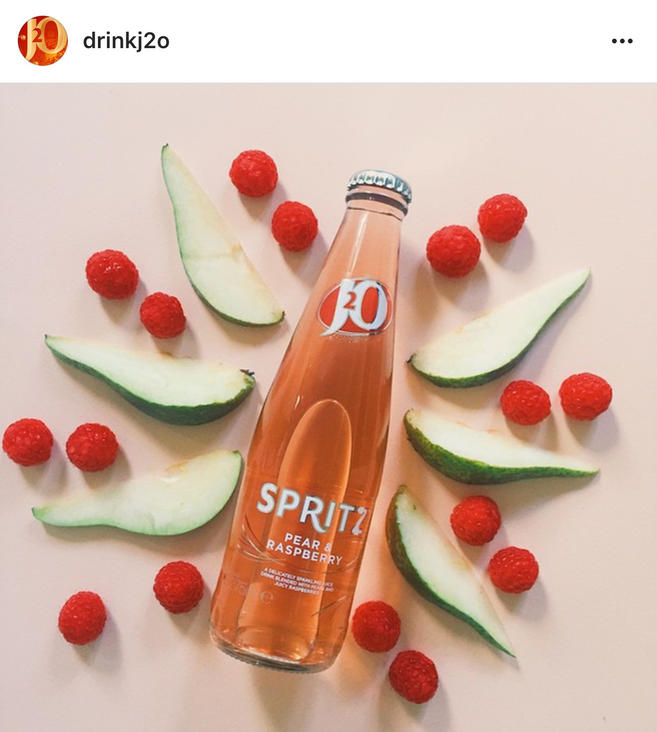 5. Instagram is still the most important social platform for teens
Though Snapchat is growing rapidly, Instagram remains on top. 90% of Instagram users are under 35, but these "kids" are growing up.
Instagram users represent the next generation of buyers; if you want to reach them, you need to do so where they spend most of their time—on their phones, on Instagram.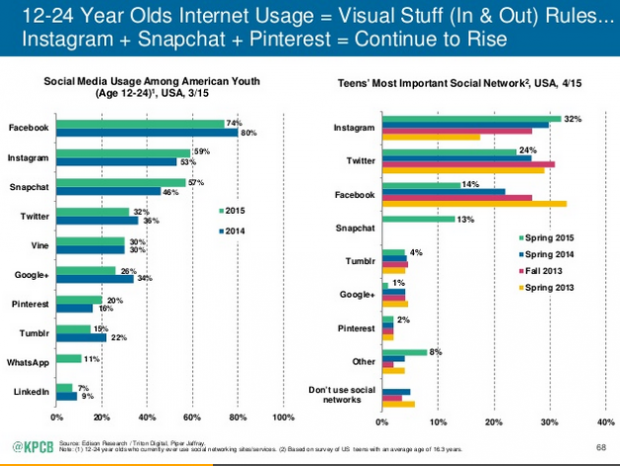 6. Instagram's Average Monthly Follower Growth is 14%
Instagram makes it easy to find and discover new accounts so it's no wonder most users are growing their follower base at a steady clip.
Facebook users might "friend" a few new people they meet every month, but Instagram users are much more liberal about who they add.
Post interesting content, use the right hashtags, and you might start getting discovered—great free advertising for your business or brand.
7. Most people comment within the first 6 hours
Without getting too preachy, you have to admit that our society is becoming very dependent on instant gratification. Social media, texting, and other technology has played a huge role in this.
"I posted that selfie a whole 35 seconds ago. Why hasn't anyone complimented me yet?" or "She must be mad at me. I texted her two minutes ago, and she has YET to respond!"
Therefore, it makes sense that a Simply Measured study found that on average 50% of Instagram comments are posted in the first six hours and 75% are posted within 48 hours.
However, quick results aren't necessarily the best results. The study also found posts with only half the engagement rates reach 50% of comments in only three hours.
Posts with double the engagement rates actually take more than 13 hours to receive 50% of comments.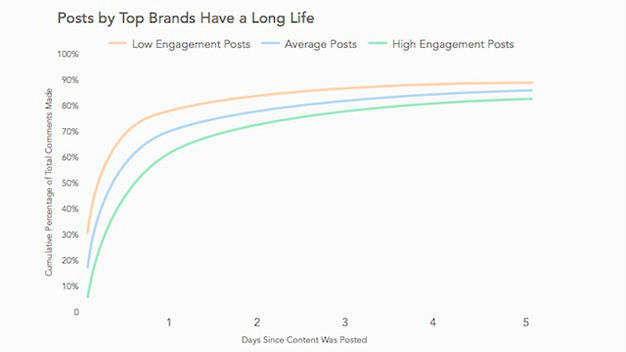 If this sounds like an overly-complicated math problem, it's really pretty simple. Truly successful content stands the test of time.
Take the extra effort to create quality content that users will continue to interact with as it appears in future searches – and not just when it pops up in the most recent photo stream.
8. Mentions in captions earn 1.5x more engagement
For even more engagement, try @mentioning another user in your post captions. The Simply Measured study also found that mentioning another handle in a caption earns 56% more engagement.
Another no-brainer, right? Please, please, don't overuse this by just mentioning any Instagram account, though (i.e. don't spam people). Include users that are relevant to the conversation, your followers' interests, and your overall brand.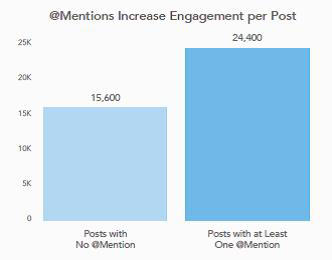 Also, size doesn't matter! Honestly. The length of your captions has nothing to do with your engagement rates. So, say what you need to say, but say it well.
9. Tagging a location earns 1.8x more engagement
Another beneficial addition is location. According to Simply Measured, including a geotag in your Instagram post can achieve 79% more engagement!
This is because users will be able to find your posts if they search by location, even rediscovering some of your older content.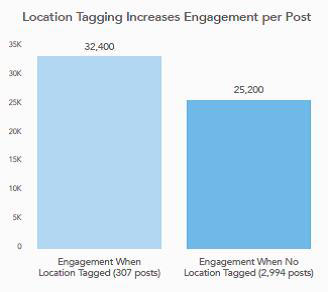 10. Hashtags are  
?
Posts with at least one hashtag average 12.6% more engagement than posts with no hashtags.
 Instagram allows up to 30 hashtags per post.  It's a free discovery tool, so why not use all 30?
Ohhhhhh…you don't want to clutter your perfect caption?
There's a cool instagram trick to hide hashtags you should know about.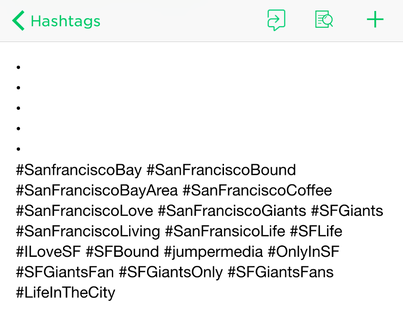 11. Some aesthetics are better than others
Ok, hashtags are great and all, but what about the actual photos? Curalate studied over eight million posts to find out what aesthetic characteristics draw more engagement than others.
Here are the results:
Lighter photos snag 24% more likes than low-light photos.

Images with lots of background space get 29% more likes than those which are more cluttered.

Pictures that are predominantly blue gather 24% more likes than images that are mostly red.

Photos with a single color scheme generate 17% more likes than those with a variety of colors.

Low-saturation images receive 18% more likes than brightly colored images.

High levels of texture obtain 79% more likes than simple, smooth photos.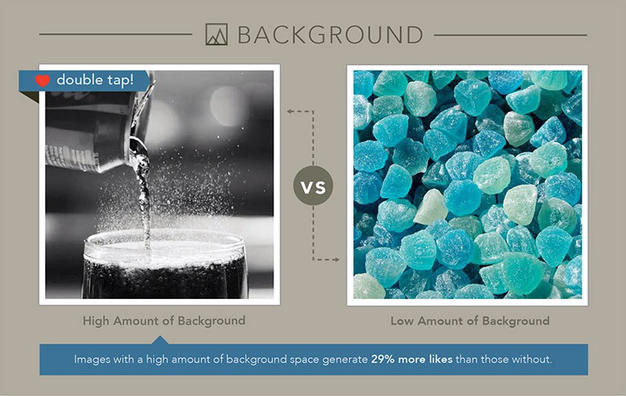 These tips are by no means the end-all-be-all.
There are always exceptions to the rule, and creativity could trump all these findings.
But if your creativity just isn't cutting it (sorry, no offense), play around with these guidelines and see if your engagement rates respond in your favor.