Instagram is FINALLY doing its part…
(to make influencer marketing more transparent.)
With over 800 million active users (up from 700 million in April), Instagram is no longer just a place to post selfies or cute photos of your cat – it's a place where SERIOUS BUSINESS gets done. Instagram influencers such as Lauren Bullen charges as much as $9,000 for a single sponsored post on her Instagram @gypsea_lust:
Think $9,000 is a little steep? Stop and consider these facts:
Even though Instagram has its own ad platform as a paid means for reaching users, marketers turn to influencer marketing, which employs a collaboration between the company and popular Instagram users.
These people are known as "influencers," and while they're not celebrities, they are Instagram-famous. Forward thinking brands ask them to create content around said brand's product or services, in exchange for some form of compensation (usually free products or $$$ cash money baby!)
Influencer Marketing has gotten so big that in June 2017, Instagram introduced a tool for brands to properly disclose their relationships with influencers. In this post we're going to tell you all about Instagram's new sponsored content tool, how to use it, if you should, and what it means for Instagram in 2018.
But before we do, let's dive into the backstory of why this happened in the first place…
Brands & Influencers: A Controversial Relationship
While Instagram influencer may be new, influencer marketing is an old idea.
Influencer marketing is basically a watered down version of celebrity spokespersons, which has been around at least since the late 1800s, when Tobacco companies made the first baseball card.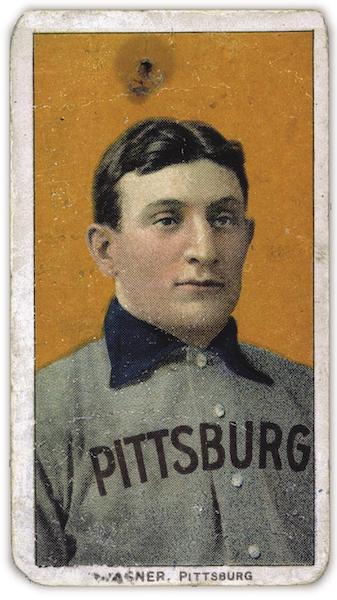 One reason why influencer marketing has become so popular is BECAUSE IT WORKS. Marketers are seeing a whopping 11x ROI on influencer marketing.  And when compared to all other forms of digital media, influencer marketing offers the most bang for the buck, according to Nielsen Catalina Solutions.
Even if you think Instagram influencers are the dumbest thing since that person that ran for president, It's hard to argue with those numbers!
Influencer marketing works for many reasons. First, an endorsement from an influencer  – someone that you follow and trust – signals quality.  Second, and more importantly for the point I'm about to make, is that influencers typically leave out the details of their paid arrangements with brands.  These sponsored posts are often obvious to a trained eye, but less so to a regular civilian.
Influencers' followers are sometimes under the impression that these posts are more or less for fun, since the content and copy does not come off as salesy or like an ad as it would when dealing with more traditional advertising.
Without a clear distinction, influencers' posts about brands come across as word of mouth advertising, which is incredibly valuable to a brand. However, sponsored posts that lack clear attribution are misleading to consumers, and are fraught with controversy.
Prior to one of Instagram's latest developments in the area (more on that in just a moment), the only way to tell if a post is sponsored was if the influencer disclosed the partnership in their caption, or added hashtags like:
#ad
#sponsored:
#sponsoredpost:
#spon:
Of course, if an influencer and brand conspired to keep their partnership under wraps, there still is no way to know for sure if content was sponsored or is an influencer's own personal opinion. The FTC regulates how businesses can use endorsements in their advertising.
if someone is being paid to give a glowing review of a product, shouldn't the consumer have the right to know?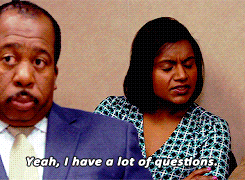 Because influencer marketing is new, the FTC doesn't quite know the best way to regulate it yet. Some challenges they'll face and questions they need to more definitively answer:
Should newer laws be drawn up?

A lot of influencer marketing revolves around people getting free products more so than payment—should the FTC be regulating even these relationships?

How can the organization possibly sift through the 100 million Instagram posts that happen each day and effectively regulate them?
So what's a brand or influencer to do? Risk an FTC crackdown in an age where making an example out of non-compliance is becoming the standard? Or finding a way to clearly disclose an influencer/brand relationship?
If you'd rather avoid a hefty fine from the FTC, you'll want to consider Instagram's latest sponsored content tagging tool.
---
Finding Instagram Influencers is a Pain in the Butt
Let us do it for you, with this exclusive offer.
For just $7
we'll send you a custom list of 30 micro-influencers in categories such as:
Automotive
Beauty/Skincare
Cannabis
Fashion/Apparel
Fitness
Food & Beverage
Golf
Guns
Pets
Photographer/General
Swimwear
Travel
Yoga
If you're serious about leveraging Instagram influencers to grow your business, you'd be crazy not to take us up on this.
Each list is customized to your exact requirements. Yes, we actually have a real human being go on Instagram and dig around for these people!
At only $7, it's a tiny investment that will save you hours of work. So get it now while you can:
---
Why Instagram Rolled Out this Sponsored Content Tool
In August 2016, the Federal Trade Commission (FTC) mandated that sponsored posts be disclosed so that users will know which posts are organic (or not).
Social media celebrity Kim Kardashian came under fire when the group Truth in Advertising sent a letter claiming that between all of the media-hungry Kardashians, they had over 100 posts that were not properly disclosed as ads. They were told that if they did not delete those posts, the organization would have to report their actions to the FTC, which would trigger an investigation.
Around this same time, the FTC sent out 90 letters to influencers and marketers as a "friendly" reminder to disclose their sponsored relationships on social media, which marked the first time they officially reached out to "educate" social media influencers.
Instagram is considered as the major/primary social platform for the huge influencer industry, and Mediakix reported that it's worth up to $1 billion with regards to this purpose. Disturbingly, 93% of Instagram's top 50 Influencers were found to be in violation of FTC guidelines.
Releasing an official tool for disclosing brand and influencer relationships was a way for Instagram to be proactive against the FTC's crackdown on non disclosure, as well as an effort to try and help its valued influencers and advertisers.
Instagram's Sponsored Content Tool
In June 2017, Instagram rolled out a new feature that makes it easier for users to determine whether a given piece of content is sponsored or not. Instagram calls this the Branded Content Tool, but it's also known as the Sponsored Content Tool—just know that these terms are more or less used interchangeable. To designate content specifically as sponsored, sponsored posts and Instagram Stories will now contain a subheader under the influencer's username with a tag that reads: "Paid partnership with [business partner]".
According to Instagram,
The new tool will allow a creator to quickly tag the business they have a relationship with. The post or story will appear with a sub-header that reads, "Paid partnership with," followed by a tag to the business partner's account. This makes the nature of the relationship more transparent for the community. When the tool is used, both the creator and business partner will have access to Insights for that post, making it easier to share how followers are engaging with these posts.
Instagram is notoriously slow in rolling out new features to their entire user base, preferring to initially test them with trusted brand partners. With that in mind, they initiated a limited roll out of the feature, partnering with a few brands and influencers, including Aimee Song (@songofstyle) and Buzzfeed Tasty (@buzzfeedtasty), promising to make the new feature available soon to all users.
The new update will allow both the influencer and the business they're partnering with to share and track relevant insights as to how the content performed. Specifically with regards to Instagram Stories, brands have a 14-day window to see how the sponsored post fared.
Says Instagram,
When the partners use this tag, they will both have access to Insights to track exactly how their branded content posts and stories are performing. Creators will continue to see metrics in their Instagram Insights, and business partners will see shared reach and engagement (likes and comments) metrics in their Facebook Page Insights. For Instagram Stories, tagged business partners will have a 14-day window to see the following metrics: reach, taps forward, taps backward, replies and exits.
Though brands may have had access to Instagram metrics in the past, it has ultimately been at the mercy of the influencer to provide screenshots or grant account access. This feature will be a welcome change for brands that allows them to empower themselves to act on available data.
Should Brands and Influencers Use This Tool?
Though tempting to keep brand and influencer partnerships under wraps, the FTC has been refocusing their attention towards cracking down on those trying to get around the rules, often accompanied by hefty fines for misleading consumers.
In an effort to maintain an image of compliance and remove the likelihood of an FTC investigation, it seems like a better long term strategy to embrace the possibilities (and benefits like analytics) associated with using Instagram's Branded Content tool.
All that being said it is practically impossible for the FTC to regulate the billions of Instagram posts that get made each year, so the odds that you ever actually receive a fine are miniscule right now.
How to Use Instagram's Branded Content Tool
Using Instagram's sponsored content tool is fairly straightforward, and can be activated used the following steps:
Here's a handy GIF of the process:
You must first have an Instagram Business account in order to access Instagram's sponsored content tool, so make sure to switch your profile over if you haven't yet done so.

Look in the

Advanced Settings

area, where influencers can also turn off commenting for posts

Locate the

Branded Content

section, where an option is available to "Tag a Business Partner".

When the post goes live, the partner brand will receive a notification, and will have access to post analytics.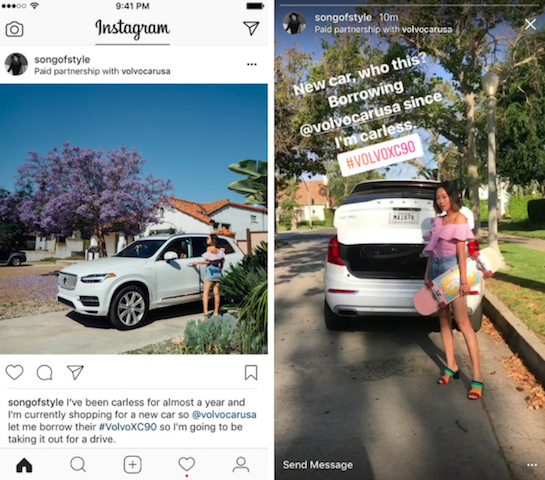 Using the Tool with Instagram Stories
Using Instagram's sponsored content tool for Instagram Stories is a little bit different. Start by creating an Instagram story, and then tap on the link above (available to those with 10,000+ followers), then search for the business partner you want to tag (note that they must also have business profiles).
If the business partner appears in the search results, but does not allow you to tag them, you must contact the business partner to ask to be approved. When the partner approves you, you can edit your post to include the tag.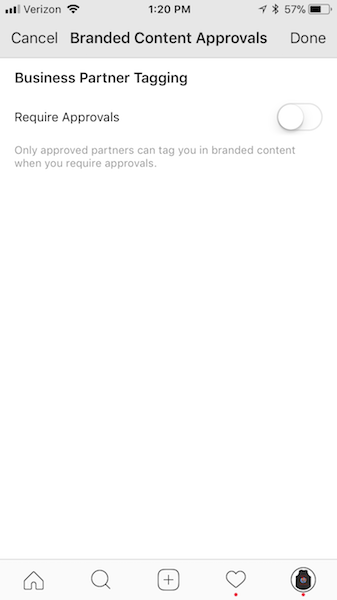 For specifics regarding the technicalities of using Instagram's sponsored content tool, check out Instagram's Branded Content page for a complete FAQ.
The Limitations of Instagram's Sponsored Content Tool
As of this writing, Instagram still doesn't have a plan for dealing with fraud. Influencers are still able to sneak in misleading, non-disclosed sponsored posts without using this tool.
"During this initial stage we want to educate and gather feedback from our community and launch partners," writes a company representative to Wired. "After this feedback period we will unveil a policy that will include enforcement."
However, Instagram plans to enforce branded content that isn't properly tagged, similar to the policy that sister company Facebook released in March 2017.
A final limitation to consider with regards to Instagram's sponsored content tool is the fact that both influencers and brand partners must have business profiles. As many worry that switching to a business profile may mean a restriction in reach (much like Facebook pages vs friend profiles), it seems unlikely that everyone will be willing to comply.
For more tools to manage your influencer marketing campaigns, check out the Influencer Marketing Stack.
A Branded Content Policy
It's interesting to reflect on the fact that this is the first time Instagram has adopted a branded content policy. As of their latest blog post, they also launched partner approvals, intended for brand safety. Partners can have this option turned off or on. If it's off, anyone can tag them. If it's on, they'll have to manually approve tags.
If brands are mistakenly tagged (because their partner approval is turned off), they have the option to remove the tag, which they can do within Instagram or Facebook pages/Business Manager.
Instagram's Branded Content Tool
Instagram is a large social networking site that holds a lot of focus for the industry of influencer marketing. Creating a branded content tool was a smart move on their behalf, especially since the FTC has started heavily penalizing posts that weren't disclosed as sponsored.
The true test of the tool's usefulness will come down to whether brands and influencers actively start using it, or if they risk nondisclosure and potential FTC fees.
Have you ever thought about experimenting with influencer marketing?
Get in touch

with the experts at Jumper Media, and we'll show you how to be compliant

and

 get the best return on ad spend!