There are a lot of millennials in the U.S. – about 83 million or so – and they represent an interesting selection of age groups. Some are still teens, just about to graduate high school, while others are in the second half of their thirties, buying houses and having babies.
That's why brands that appeal to millennials promote everything from music festivals to grocery delivery services, and candy-colored makeup to diapers. However, millennials tend to have more debt and try to be careful with their finances. That means their shopping habits are more thought-out than those of other generations.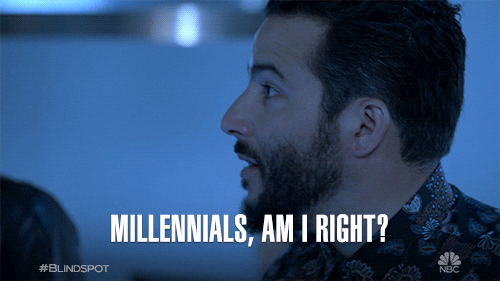 Millennials look for deals and use coupons, which is so much more convenient than in the past, thanks to apps like RetailMeNot. They also have a penchant for buying from small businesses. Millennials care about convenience and customization.
And when engaging with a brand or influencer, millennials are looking for authenticity, purpose and philanthropy. Furthermore, today's millennials are influencing the next generation of shoppers – the preferences that we're just learning about now will become tomorrow's blueprint to follow.
Here's how brands can catch the attention of millennial consumers and gain their business.
Millennials Want to See Real People (Or At Least Celeb Influencers They Already Love) in Ads
Dove launched their Real Beauty campaign in 2004, back when putting non-models in ads was cutting-edge and rarely seen. Even today, though real people in ads and marketing is much more normalized, it's still considered a trend and one that millennial audiences want to continue. Dove's social media is currently filled with the #ShowUs campaign: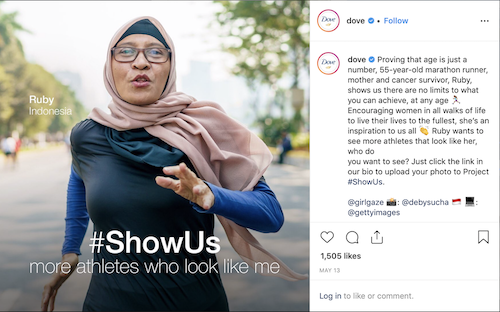 Dove gets involved with other types of global initiatives, too: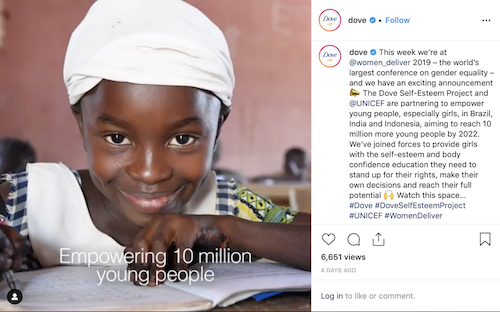 As for celebrity influencers? Smart brands scoop up the ones who have already made a splash with millennial audiences. For example, post-bankruptcy, denim company True Religion recruited model Bella Hadid, a fave amongst millennials, to be their new face of the company.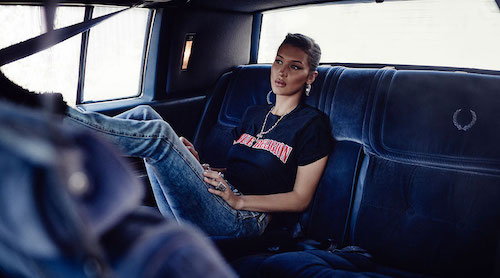 Source
Millennials Want to Shop Local
Millennials like to shop local because it's easier to express yourself when you wear or use something unique rather than something that everyone else bought from a huge, worldwide brand.
However, this is tricky if you're a web-based business with no official hometown – there's really no such thing as "local" for those companies.
A great example of bridging the gap is Love With Food, a gluten-free subscription box filled with goodies you won't find in every store. There's the impression of shopping small without having to have an actual shop on the corner.
Also, Love With Food, which refers to their foods as healthier options, appeals to millennials because this generation is extra-conscious about what they put in their bodies.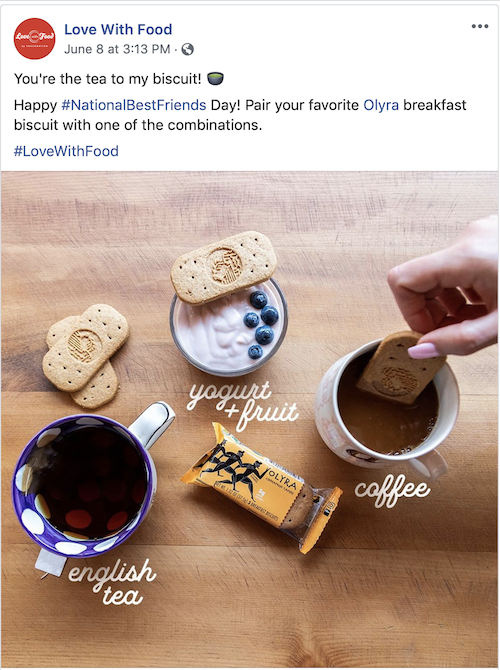 Bonus:

For every box you order, Love With Food donates a meal (or more) to a U.S. family in need. For millennials seeking out brands to support, this checks the "philanthropy" box as well as sticking with the authenticity trend.
Subscription boxes are especially great for brands because they naturally encourage social media sharing and word-of-mouth marketing. Between the unboxing trend and the basic need to share our lives online, it's natural to want to post about your latest subscription box delivery, like Girl Meets Box did with their Love With Food review.
Millennials Want to Read Reviews From Real Customers
Millennials will often read online reviews and testimonials before making a purchase – they care more about the experiences of real customers than what a brand has to say about themselves.
Brands can make it easy for millennial consumers to do their research by including links to review sites in their app and on their website – and, of course, by monitoring those reviews so any negative ones are handled publicly. Don't ignore the positive ones, either – it all goes toward great customer service.

User-generated content is another way to show authenticity on social media – it humanizes your brand and showcases products and services in a realistic and relatable way. Millennial consumers no longer have to wonder what something will look like once it's used in real life – the authenticity trend and user-generated content bridge that gap.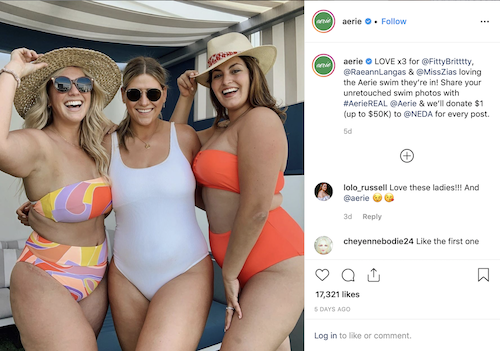 Millennials Want Customization and Personalization
Millennial consumers want to be treated as though they're special, not like they're one of many faceless customers. Not every brand can provide one-on-one service, though – even small businesses can have trouble keeping up with communication if sales start to skyrocket.
Creating a customized portal is a great alternative to having to speak with customers personally every minute of the day. Customers will feel catered to – and like their needs are met – all without draining company resources.
The reason Amazon is so popular with millennial consumers (a majority of them would give up alcohol or sex before quitting Amazon) is likely because it does a stellar job at personalization. Every bit of customer information is saved, organized and easy to find, from shopping lists and suggested purchases to credit cards and shipping preferences. The smartphone app is rich and intuitive, and it always works perfectly. Brands can learn from this by creating a seamless, customized shopping experience that feels like a little retail store of one's own.
Oh, and Amazon definitely knows they have a heavy millennial audience: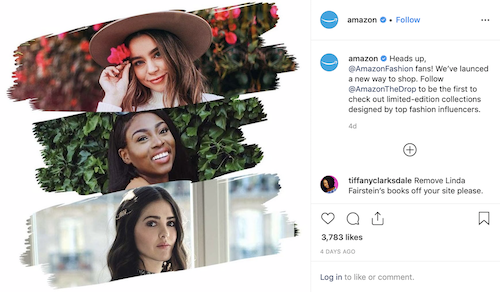 P.S. Hulu and Netflix have personalization down pat, too – pretty much everything you see when you log in is catered to your tastes and preferences.
Millennials Want to Buy From Thoughtful Companies With a Purpose
One of the Top 100 Millennial Brands list from 2018 is Hershey, and (aside from the fact that it's, you know, chocolate) two big reasons for their millennial appeal are that they don't use artificial ingredients and that they give back.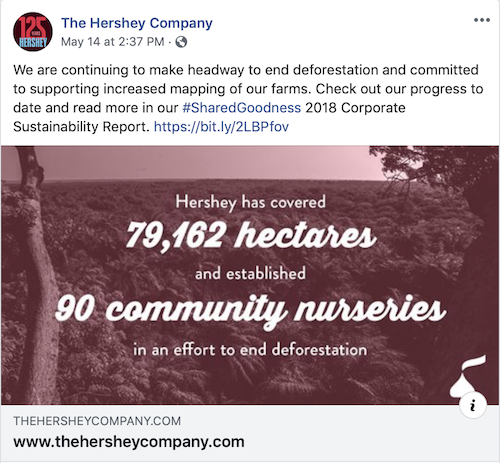 Now, their wording could be more modern and youthful, especially since Hershey is a candy company appealing to a young-ish demographic, but they're on the right track with what they post about at least. It'll be much easier for them to update their voice than if they needed to completely overhaul what they stand for.
---
Jumper Media's content creation services help your company or small business stay relevant in today's social, digital world.
---
Millennials Want to Buy From a Company That Cares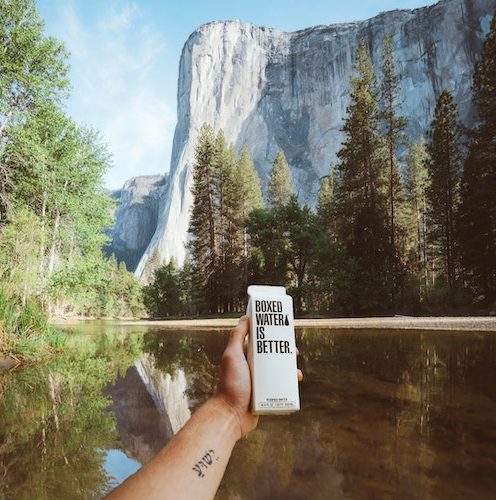 Source
According to the Top 100 companies on the list mentioned above, REI and Wegman's are among the brands that millennials love to buy from – and their philanthropic efforts are a driving force.
REI's annual Stewardship Report shows how the company puts its members first by encouraging them to get outdoors and play in the wild more sustainably. For example, they let customers rent or buy used gear, which extends its lifespan.
The company also helps turn urban areas into spaces for outdoor recreation. Plus, on their website, you can search for products based on the sustainability traits that are most important to you.
REI shares information about their sustainability and preservation efforts on social media: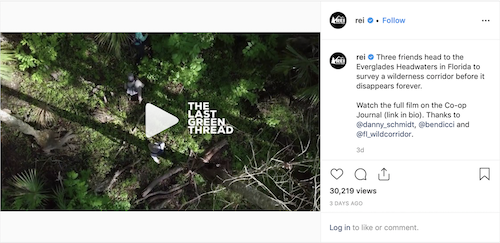 Wegman's is well-known for treating employees phenomenally, and the company was also the first supermarket chain in the U.S. to adopt the Aira app, which provides assistance for blind and vision-impaired shoppers.
Unfortunately, Wegman's doesn't take the opportunity to talk about these topics on their social media – their Facebook and Instagram feeds have the same images, and they all focus on food. Sprinkling in info about their efforts to give back could gain them more millennial engagement, especially since they're already on the list of brands that the demographic loves.
Millennials Want to Keep It Casual
You may not expect Bank of America to be a brand millennials love, but they made it onto the Top 100 list – and they know it. Check out a couple of their latest Facebook and Instagram posts, which shows they know exactly who their audience is and what they want: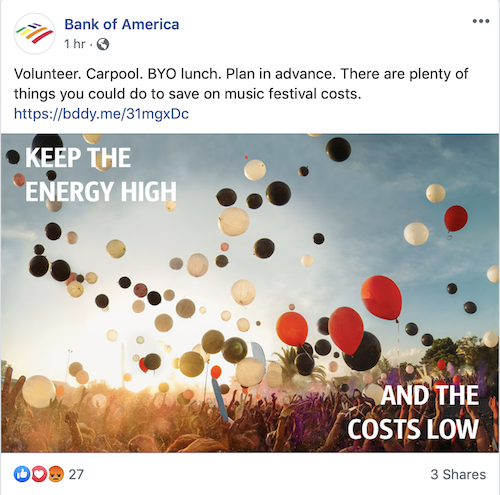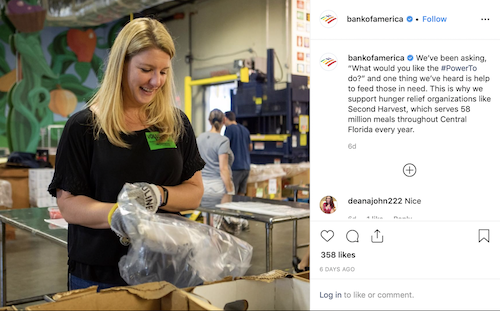 Here's what they do even better, though. They vary their social media marketing to reach their audience segment that's most likely on a specific platform. Here are two of their recent LinkedIn posts. You can see right away that the voice is different, yet they still cover the same topic of giving back: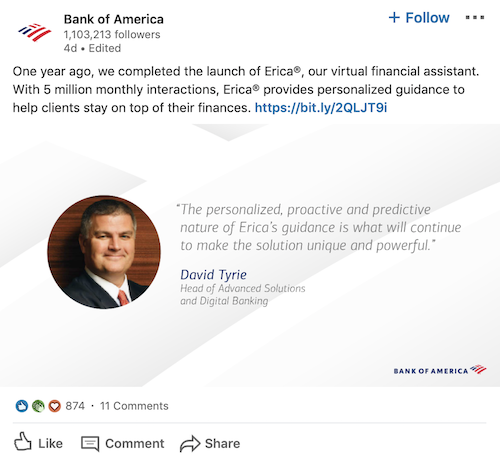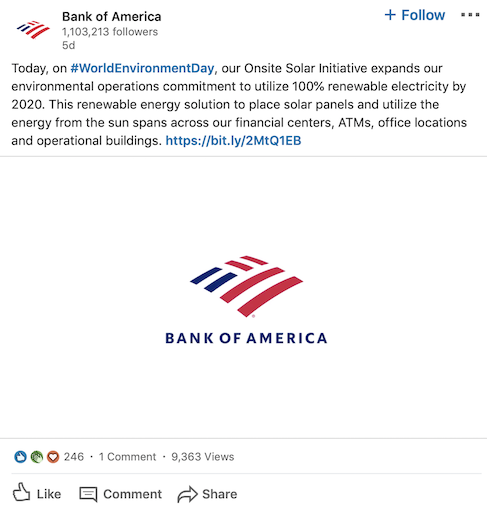 Here's why Bank of America is killing it: Millennials like a casual culture, but banks are generally thought of as stuffy and buttoned-up.
Through social media, Bank of America projects the vibe millennials need to feel, but only on the platforms where they're likely to be – on LinkedIn, they're right back to being the type of bank other customers expect.
The Millennial Age Gap is Wide So Target Your Market Appropriately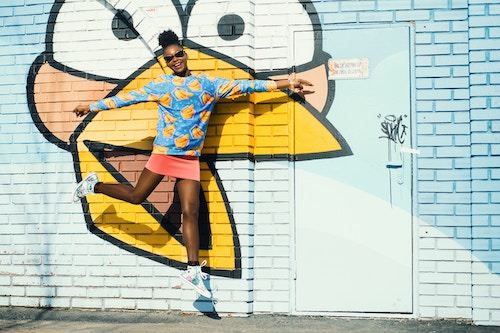 Source
Since millennial consumers range from teens to adults, it's not so much what's being sold as how it's being marketed. If you look at all of the examples of brands that are reaching millennials and encouraging purchases, you'll see that they do two things: first, they stand for something – authenticity, their purpose, giving back, or a combination – and second, they showcase those efforts on social media.
Today, big and well-known brands don't hail supreme anymore. Smaller, marketing-savvy brands are getting the attention (and money) of possibly the most powerful generation of consumers we have today.
How can you take advantage of the authenticity trend, create a more purposeful business or show your philanthropic efforts through social media?