Driving traffic to your website is a crucial step in the sales cycle, especially in today's saturated online environment.
That's why online marketers LOVE Instagram. The platform is designed to help businesses show off their brand, build relationships with users, increase website traffic, and eventually increase sales.
This article will cover seven tips and tricks that you can use to turn Instagram into a tool to generate traffic to your website.
Let's dive in…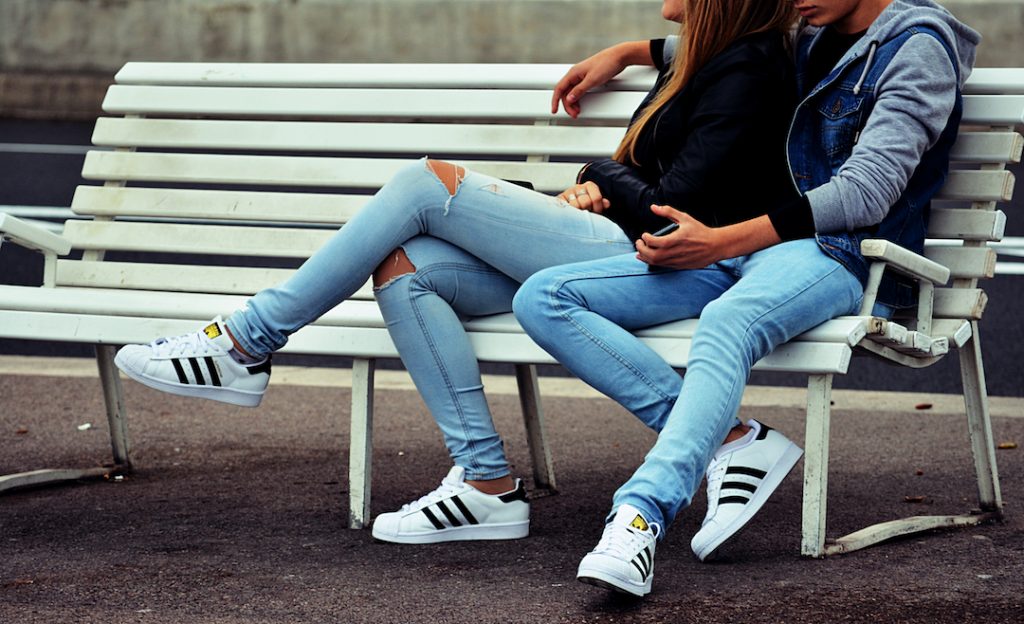 ---
7 Proven Methods to Drive Web Traffic from Instagram
Instagram is quickly becoming one of the most effective marketing platforms for businesses and here's why:
According to Hootsuite, 60% of Instagram users say that they find out about a product or service through Instagram and 75% of users take action, like visiting a website, after they see it on the platform.
That's why 70% of U.S. companies will use Instagram for marketing in 2017. Business owners see the potential for using Instagram to increase product awareness, drive traffic to their websites, and increase online sales.
Furthermore, Instagram has added numerous business-friendly updates designed for brands using Instagram to reach their customers.
How can you take advantage of Instagram's booming business environment and drive traffic to your site?
Read on to find out!
---
Tip #1: Focus on Branding
If you catch the user's attention, you've achieved the first step of driving traffic to your website.
Your unique posts on Instagram are what the user will remember while scrolling through their Instagram feed. Plus, if they feel an emotional connection with your posts (and your brand), they're more likely to visit your website.
How are you going to present your business on Instagram? 
The goal is to build a creative and unparalleled social media marketing strategy that will stand out in the user's mind.
A great example of creative branding is the vodka company, Titos.
Titos loves vodka and dogs. That's why they have an Instagram account called Vodka For Dog People where they post pictures of cute pups with vodka.
These dogs were rescued from the streets and brought to a loving home.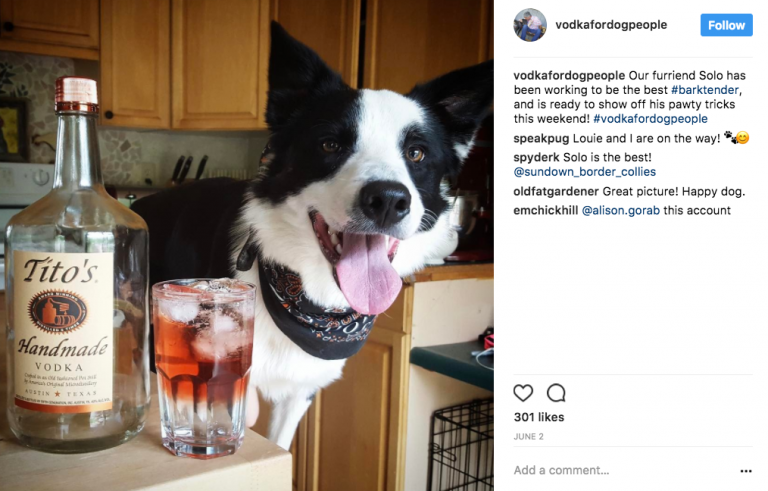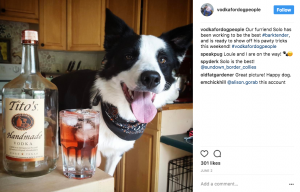 You wouldn't think that dogs and vodka go together, but for Tito it's the perfect branding strategy to get them noticed.
Pro Tip: Unsurprisingly, posting pictures of adorable canines works for a lot of brands. Check out Jumper Media's guide to making your dog Instagram famous.
How can you build your Instagram strategy? 
Customize your current branding strategy for Instagram by choosing a creative theme that will engage users.
Playdoh uses Instagram to show their audience the artistic potential of their product.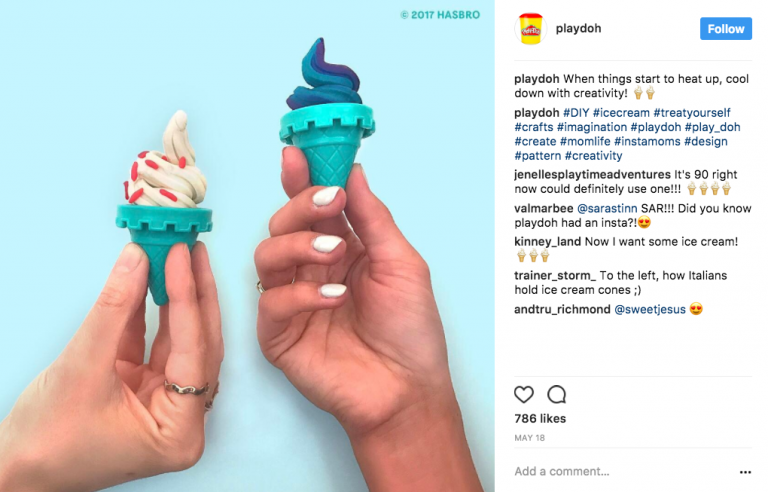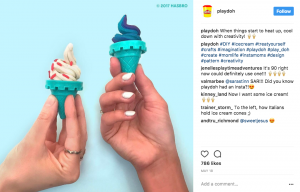 Remember that developing your brand's image on Instagram takes time, but if users find your content engaging, you will eventually see an increase in website traffic.
Tip #2: Focus on Followers
If you build an awesome brand on Instagram and no one sees it, did it really happen?
The trick is to find the right kind of followers who are going to have an interest in your products or services.
Pro Tip: Finding the right accounts to grow your followers is a time-consuming process. Consider getting in touch with the Jumper Media team who is well-versed in the latest tactics to help you grow your Instagram fast.
BONUS TIPS:
Click here
for exclusive bonus tips on how to drive traffic from Instagram!
Third party services like Jumper Media have a team of experts that can track down the right Instagram followers with more accuracy than automation tools. 
Tip #3: Optimize Your Profile
There are many tricks for making use of your profile and bio space on Instagram.
Start by switching to a Business Profile:
Tap the settings button
Tap Switch to Business Profile 
You will be directed to the Connect Your Facebook Page
Tap the Facebook Page you would like to be associated with your Instagram Business Profile.
You will be directed to the Set Up Your Business Profile page
Insert your business information
Tap Done 
A Business Profile will unlock the following features:
1. Advertisement Access: With a Business Profile you can promote any post into an advertisement.
To change your post into an advertisement:
Tap Promote
Insert your advertisement requirements. This includes your call-to-action button, target audience, budget, and ad 'air' time.
2. Insights: Instagram Insights allow you to see your post's performance. Performance is measured based on engagement. It's a good sign when your account is receiving a high engagement rate because it means your audience likes what they see.
If your audience likes your brand, they will likely visit your website.
Pro Tip: Turn your Instagram's small 'biography' section into an opportunity for advertising.
Use your bio section to advertise your website's shortened URL.
Glossier includes a link to their 'Shop All' page.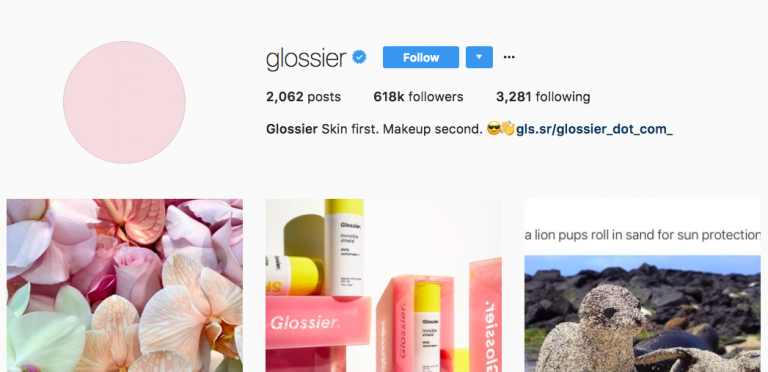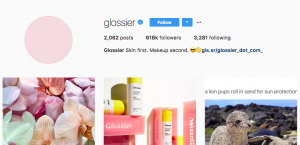 Tip #4: Collaborate With Influencers
Since influencers have a lot of influence (duh!), they are the perfect channel for increasing awareness about your brand.
Instagram users love seeing what their favorite influencers are doing, eating, wearing, and everything in between. If you can find an influencer that matches your brand's values and send them your products, you'll be sure to see their followers checking out your website.
Influencer Diana Madison posts of a photo of her wearing her favorite sports bra from Blsportswear.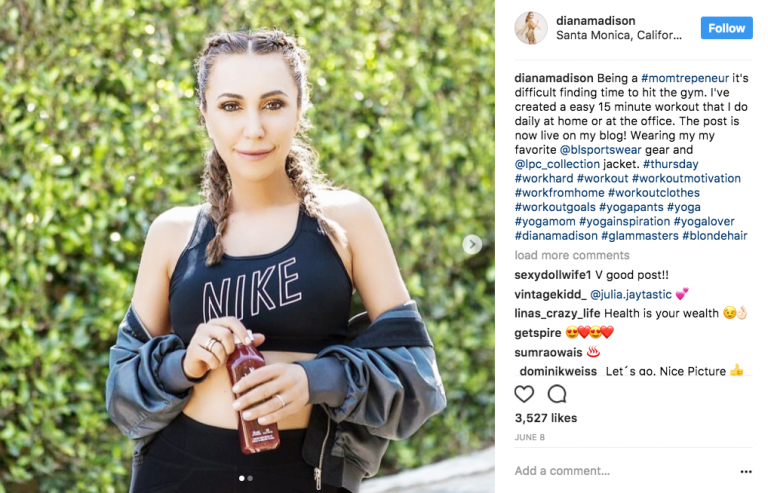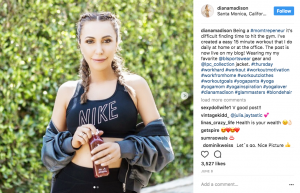 Click here to read Jumper Media's guide to influencer marketing.
Tip #5: Promote Special Events and Offers
Use Instagram to let your followers know about special events and offers your business is running.
World Nomads uses Instagram to tell followers about their contest. To apply for the contest, they use their description to direct users to their website.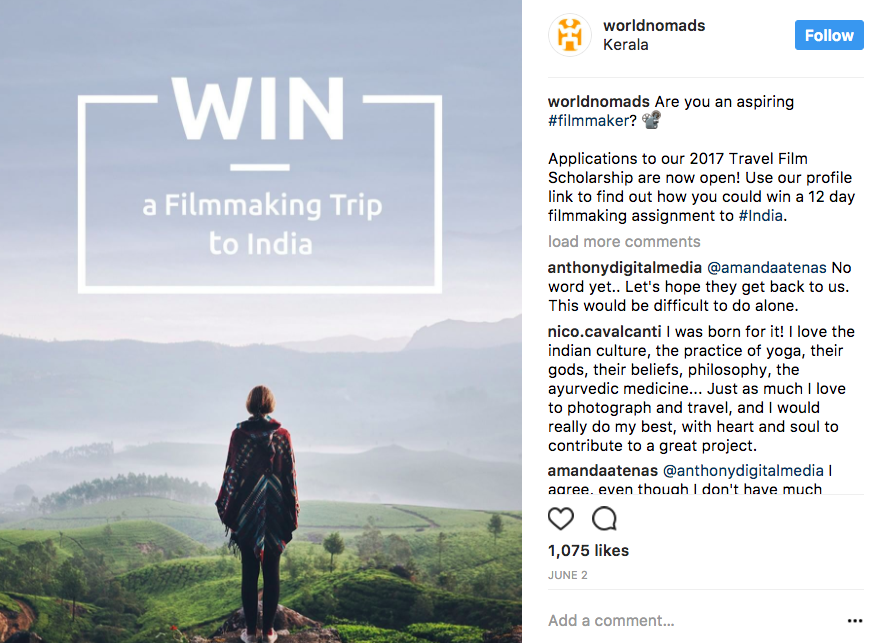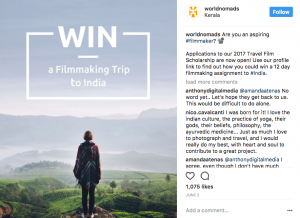 Aritzia promotes their limited edition sweaters and prompts users to head to their store and online to grab one before they run out.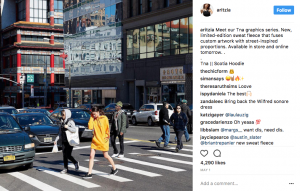 Tip #6: Take Advantage of Instagram Ads
Instagram Ads are an effective tool for driving users to your website.
A recent study found that, "In March 2017, over 120 million Instagrammers visited a website, got directions, called, emailed, or direct messaged to learn about a business based on an Instagram ad."
Instagram Ads generate positive results because they are:
​​​​​​Extremely Targeted: Instagram's targeting capabilities come from the years of practice they had targeting ads with Facebook. Marketers can target their ads based on factors such as demographics, location, and interests.
Mobile-Friendly: Mobile marketing is the way of the future and Instagram is ahead of the game. Since the ads are 100% mobile-friendly, users are exposed to your ad whether they're on the go, waiting for a friend, or just relaxing at home.
Mercedez-Benz USA created this Instagram Ad and saw a 54% increase in website visits.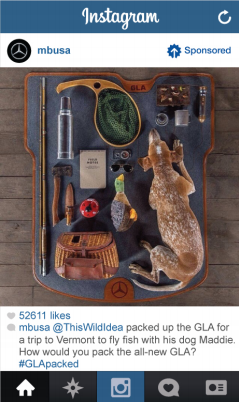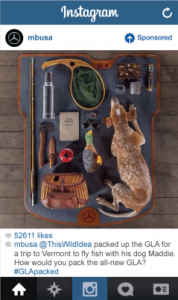 ---
Pro Tip: To find more ad inspiration, check out Jumper Media's list of amazing Instagram ads.
---
Tip # 7: Take Advantage of Instagram Stories
If you remember one tip from this article, let it be this.
As Instagram has added more advertisers, organic reach has been on the decline. This is why your photos might be getting less likes than they used to. Because they're new, Instagram stories haven't been bombarded with advertisers yet.
Translation: People watch Stories….a lot.
And where there are eyeballs, there is opportunity.
Moreover, Stories actually allow you to link out to your website from them. Crazy, right?!!?
They are amazing for generating website traffic for a few reasons:
Brand Exposure: Stories give viewers an extra in-depth look into the lifestyle of the people behind the brand.
'Swipe Up' Feature: The 'swipe up' feature brings viewers directly to a brand's website.
Engagement: Instagram stories have a 'Live' feature that allows users to ask questions of their favorite brands. If someone is hesitant to make a purchase, Instagram Live can put them in direct contact with the creator to answer their question.
J. Crew uses Instagram Stories to prompt viewers to visit their website and check out their blog. Users simply have to swipe up.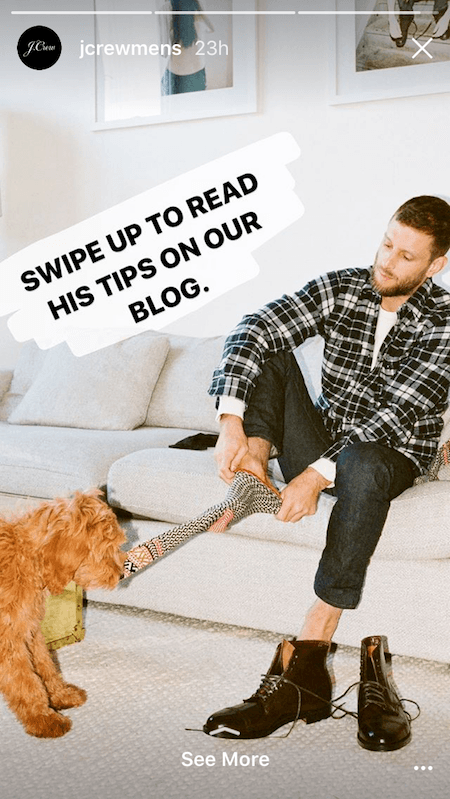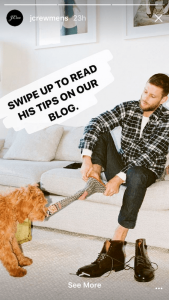 Conclusion
The goal of using Instagram to generate traffic to your website is to make more sales, right? To make sales, you have to show your audience the value of your products and your brand.
Instagram is simply a tool that will allow you to demonstrate your value in a creative and relevant environment.
How will you use Instagram to show your value and generate traffic to your website? Let us know in the comments below! 
BONUS TIPS:
Click here
for exclusive bonus tips on how to drive traffic from Instagram!