Instagram accounts that hold giveaways (aka contests) achieve 70% faster follower growth compared to those that don't.
Let that sink in for a second, then picture this:
You launched your Etsy shop last year, and sales… well… they could be better. Wouldn't it be great if you could pair up with other like-minded accounts to tap into their audience? You sell gourmet coffee beans on Etsy, so companies that sell baked goods, mugs, coffeemakers, and gifts for foodies would be perfect to team up with.
Or, maybe…
You're a well-known fashion blogger, and you've built up a solid fan base on Instagram over the past few years. You could continue doing what you've been doing – it's obviously working – but you think you're ready to test out a new marketing strategy. You've been wondering if there's something above and beyond using hashtags to attract new followers, and get them to read your blog.
Or maybe…you're just wondering how to get more, real, followers on Instagram when almost nothing else is working right now.
Boy oh boy! We've got an idea for you!
Enter the Instagram Loop Giveaway Contest…
Loop Giveaway Contests are all the rage in the influencer world right now, and brands are catching on. Loop Giveaways aren't free, but they are one of the cheapest ways to get a lot of followers quickly, so read on if this sounds like it might be up your alley 🙂
At Jumper Media we help over 3000 brands, businesses, and entrepreneurs crush it on Instagram.
We'd heard some pretty crazy stories about Loop Giveaways resulting in tens of thousands of followers for some accounts, so we decided to ask our own customers if they'd ever tried them. 99% had not…but the ones that had got some INSANE RESULTS!!!
For example:
A male fashion influencer got 500 new followers overnight for < $200.

A female travel blogger got 2000+ followers with only 1 IG post.

A beauty brand got 10k+ followers over the past 3 months with loop giveaways.

One company got 6k followers in A SINGLE DAY, and 80% of them stayed after 1 month.
Crazy, right?
In this post we'll give you the scoop on everything we know about Loop Giveaways. We'll teach you the basics, how to run one, best practices, rules, ideas, examples, how to find other accounts to partner with, how to choose a prize, how to pick a winner, provide you with templates, and so much more.
What's a Loop Giveaway Contest?
Loop giveaways are a type of Instagram contest that include between five and 30 (or more) accounts that want to come together to host a contest. Participating accounts will give away a gift card or product in exchange for Instagram followers.
This type of contest helps increase brand awareness and help beat the dreaded Instagram Algorithm. Loops are especially beneficial for new or emerging brands, bloggers and influencers because they can piggyback on well-known accounts in order to increase followers.
There are two main types of Loop Giveaways:
1. The Easy Way
These contests are usually run on giant influencer pages, I'm talking influencers with millions of followers. Instagram accounts (brands or smaller influencers) sponsor these contests by paying into the pool –usually a few hundred to a few thousand dollars each. Prizes are big and outrageous, like a Gucci bag, or $10,000 in cash. This gets lots of people to enter the contests.
The participating brands can get tens of thousands of followers overnight just from one loop giveaway contest. (Proof.)
2. The Harder Way
The loop giveaway organizer will put together a graphic that participating accounts will post at the same time. Each account will tag another so that the user can work through the loop one account at a time. In the two images below, you'll notice that the photo is the same and that the only difference in the caption is who the user should follow next.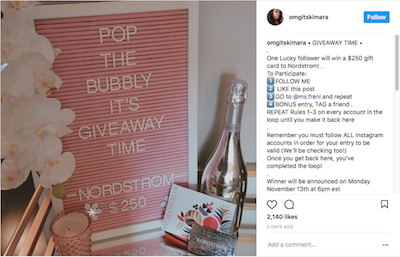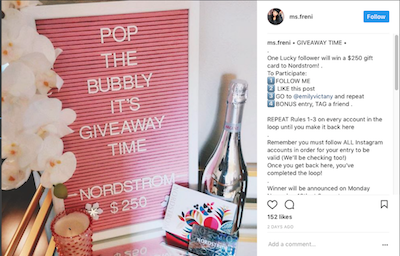 The user will find the photo, like it, follow the account that posted it, and continue going through the loop until all the accounts have been followed. By completing the loop, they've entered to win the contest.
---
[VETERAN MOVE]
Before you Host a Giveaway, Participate in One!
While you may want to host a giveaway in the future, it's best to participate in one before hosting. Hosting requires a ton of back-and-forth and coordinating with accounts, which is a lot of work. By simply participating, you'll learn the ropes without having so much responsibility on your shoulders.
To find accounts that will be hosting loop giveaways, check out past contests by searching for #loopgiveaways on Instagram. Often, accounts that have hosted or participated in these types of contests in the past will be doing more in the future.
Before joining a loop giveaway, research the other accounts that will be participating – they should be complementary to your brand, not competitors. Ideally, you want your new followers to follow your account long-term, not just during the contest. If you're reaching the right audience to begin with, chances are greater that users will continue following you even once the contest is over.
---
To the Instagram Marketer
(A Love Letter)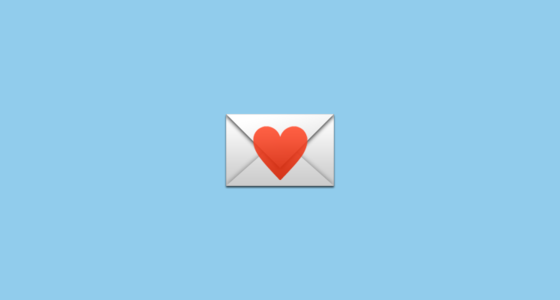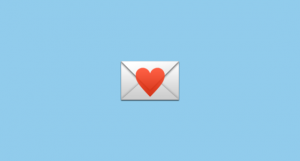 Click here to see what's inside.
---
How to Host an Instagram Loop Giveaway in 13 Simple Steps
You've participated in a loop giveaway or two and now you feel ready to take the reins. Here's everything you need to know.
STEP ONE: Choose a Theme for your Contest
Picking a theme will make it easier to choose which accounts to invite. Your theme can be a product type, like items for foodies; it can revolve around an upcoming holiday, like Mother's Day; or it can include cohesive company types, like handmade products, small businesses or female-owned shops.
STEP TWO: Find Accounts to Participate in the Loop
The accounts you choose should complement one another, not compete. Think of the accounts that reflect your audience's ideals. Stick to five to 10 accounts for your first time hosting. The more accounts participating, the more work for the user (and for you).
STEP THREE: Contact the Accounts
Message accounts directly to ask if they'd like to participate in a loop giveaway. Or, you can post something to your own account that asks people to join your loop giveaway. Make sure to let accounts know how to contact you to participate.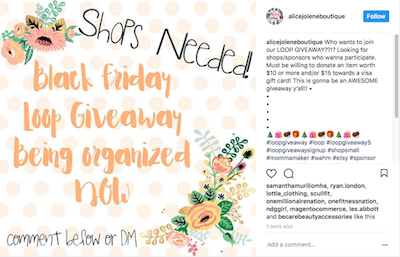 Expect a pretty dismal response rate from these messages if you dont' know the people behind these accounts. You will probably have to message 100 accounts, to find 10 participants. Maybe more.
(Nobody said this was easy!)
STEP FOUR: Put Everyone in Touch With Each Other
Once participants are confirmed, it's time to put everyone in touch with each other. Since you'll all be working on Instagram together, it's easiest to start a group DM. Not only should all of the accounts follow one another, but you'll need an open line of communication when deciding on the prize and when sharing the images to post.
---
BRAND NEW FROM JUMPER MEDIA
INTRODUCING JUMPER LOOPS FOR INSTAGRAM
Basically we've built a network of influencer mega-influencers, that we work with to give away giant, expensive prizes, like Prada bags.
At first we were hesitant to offer this to the public — these giveaways are a lot of work for us to coordinate, and since we only run a few a month there is very limited space.
When you participate in these giveaways you instantly get at least a few thousand followers over night, and typically around 8,000 or more.
As we ramp up our network of mega-influencers, we are offering these Loop Giveaway packages at the unbelievable price of $599.
If all this sounds good to you, and you'd like to talk with one of my company executives personally about getting you similar results, then here's what you should do next:
Send a friendly email to [email protected] about what you're working on, and include your Instagram handle.
We'll be happy to answer questions and help you figure out whether it's a good fit.
Or you can learn more about our loops packages here.
---
STEP FIVE: Decide on the Prize for your Contest
Some giveaways offer one prize, like a gift certificate. The accounts participating can each donate money toward the gift certificate.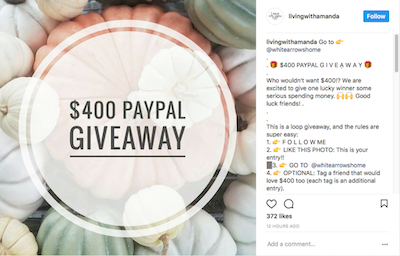 Or, the prize can be a gift set with something donated from each participant.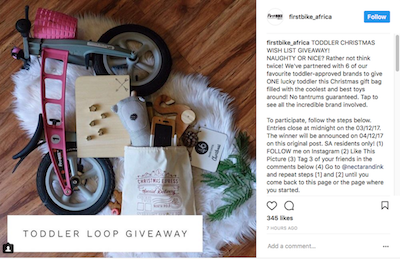 You may also find that it's easiest for each brand to give away and ship their own prize. That means that there will be more than one winner because each participating brand will have their own winner.
No matter how you and the participating accounts decide to offer a prize (gift card, gift set, individual prizes), you should make sure that the prize is (a) something your audience wants and (b) something that complements everything else the winner is getting.
For example, let's say you're a fitness instructor and you're putting together a loop giveaway with five fitness-conscious accounts.
First, each account should think about what their audience wants. An item that's usually offered as a freebie is a bad idea because there's no benefit to the user if they can just get it for free anyway. A super popular item isn't the best way to go either – many of your followers probably already have that item. Pick something that's truly valuable, like a brand new item you just added to your shop or something that was in demand but that's been out of stock for a while
Second, participating accounts should compare their giveaways so nothing is repeated and everything is complementary. Which of these two sounds like the better prize set?
Prize Set #1
Water bottle from brand 1

Two workout t-shirts from brands 2 and 3

Yoga mat from brand 4

Yoga socks from brand 5
Prize Set #2
Water bottle from brand 1

Workout t-shirt from brand 2

iPhone arm band from brand 3

Moisture-wicking headband from brand 4

Breathable workout socks from brand 5
Sure, some people may love getting two t-shirts and a couple of yoga-centric gift items. However, gift set #2 is much more of a crowd-pleaser because it creates a cohesive collection of items that any fitness lover can use for practically any type of workout. Any runner, hiker or gym-goer knows that they won't step foot on the track, trail or treadmill without a water bottle, comfy clothes, and a way to listen to their music.
If you don't have any products to give away – for example, if you're a blogger who wants to increase Instagram followers and website traffic, but your products are digital, not physical – think of something that complements what the other accounts are gifting. For example, a nice addition to gift set #2 would be a Spotify subscription or a gym membership.
Lastly, once you decide on the best giveaway to offer, think of how you can make it even better for the prize winner. Let's see how we can give gift set #2 a boost:
Prize Set #2 (NEW)
Water bottle & list of fruit-infused water recipes from brand 1

Workout t-shirt and matching baseball hat from brand 2

iPhone arm band and ear buds from brand 3

Moisture-wicking headband and wristband from brand 4

Breathable workout socks and scented sneaker balls from brand 5
The additions won't cost you much more, they perfectly complement your main giveaway, and they come together to create a more exciting, bigger gift for the prize winner. Plus, offering such a great gift set (and from only five brands, in this example) will encourage more users to complete the loop and enter to win.
---
Bonus Material:
---
STEP FIVE: Create and Send Post Images and Descriptions for Your Contest
Every single participant is going to post the same image with the same wording in the caption. This makes it easy for people to find and like the image.
There are all types of images people use for loop giveaways. Some have just graphics and text while others show the actual items that the winner will receive. If you're going to show the prizes, each account will need to send you an image of their giveaway, and they should also tell you the value of the item.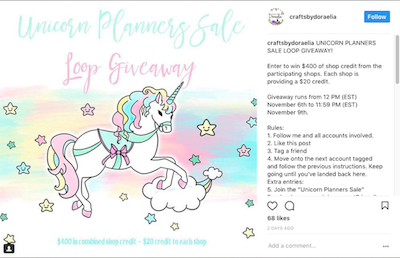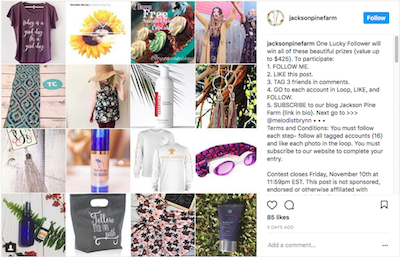 The caption should include the following information:
Announcement

Participating accounts

Theme

Contest end date and time

Prize information and value

Rules for participating

Bonus entry option

Winner announcement date and time

Shipping information

Restrictions (ex. valid for US only)

Hashtags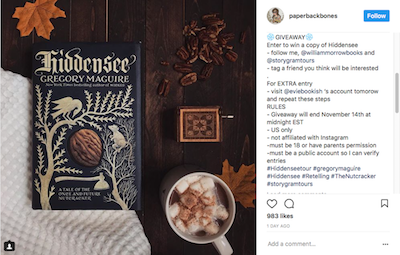 ---
[Template]
Sample caption for your Giveaway Contest
We're so excited to announce our #loopgiveaway with 5 fantastic brands! Each company is a #womanownedbusiness known for having #ecofriendly pieces in their shop. By completing the loop, you'll be entered for the chance to win a gift set with 5 different prizes! Enter before 12 p.m. EST on January 1st, 2018, for a chance to win.
The winner will get winter accessories from each brand (shown in photo), a total value of $1,000.
Here are the rules for participating in this loop giveaway:
Follow this account.

Like this post.

For a bonus entry, tag a friend in the comments below

Go to @samplebrand next, follow their account and like this post in their feed.

Repeat steps for each account in the loop.

The winner will be announced on January 8, 2018, at 12 p.m. EST.
The Fine Print
Shipping is included; you will not be charged for shipping. Offer valid for U.S. residents only. Instagram is in no part affiliated with this contest and has not sponsored, endorsed or administered it.
#loopgiveaways #womeninbusiness #smallbusiness #contestgram #ecofriendlyfashion #freebies #giveaway #entertowin
---
You may also want to first post a teaser image that tells everyone's audience that a giveaway loop is coming up. Here's an example: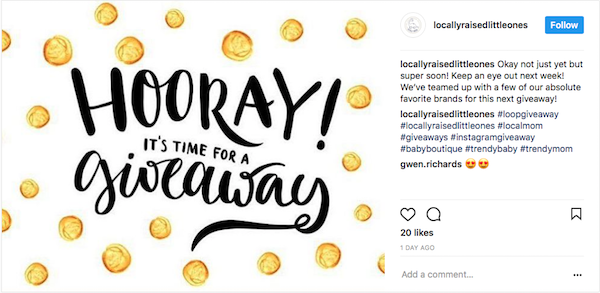 Additionally, consider also creating a "Now Closed" image that everyone will post when the contest is over. (More on that in step nine.)
Send the pictures and captions to everyone participating. Don't make them screenshot and copy the image from your account – not only will the image quality be low, but it's also labor-intensive. When hosting a loop giveaway, you want the process to be as easy as possible so everyone stays on board and posts on time.
STEP SIX: Send Participants the Giveaway Details
A few days before the post will go live, message everyone with the date and time the giveaway will begin and end, including time zone info. The date and time the giveaway starts is when everyone should post the image.
The exact posting date and time is highly important. If some people don't post when they're supposed to, you'll have a broken loop, which can lead to potential customers getting angry and leaving complaints. Even if you eventually close the loop, this can deter other users from entering the contest..
You'll also need to tell each account who they'll be tagging next. Use this layout and send it to everyone:
Brand 1 tags Brand 2 (ex. Joe's Coffee tags Jane's Pastries)
Brand 2 tags Brand 3
Brand 3 tags Brand 4
Brand 4 tags Brand 5
Brand 5 tags Brand 1
Each account will tag their "buddy brand" in the image itself and also in the description.
STEP SEVEN: Post and Promote the Contest Announcement
Post the loop giveaway teaser, then the main contest photo and caption when the giveaway begins. Promote it on your social media accounts and via a newsletter, too. Make sure to include the link that will direct people back to the Instagram post.
STEP EIGHT: Nudge Your Instagram Followers to Participate in the Giveaway
If you're not getting the sort of attention you'd hoped for, you can nudge your Instagram followers a bit with a reminder post to check out your giveaway post. This may show up in the feed of people who missed the first post.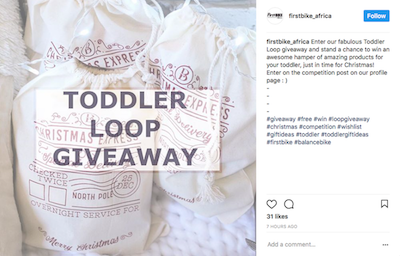 STEP NINE: Post a "Contest Over" Photo
Once the contest is over, you and everyone involved can post an image that the contest has ended.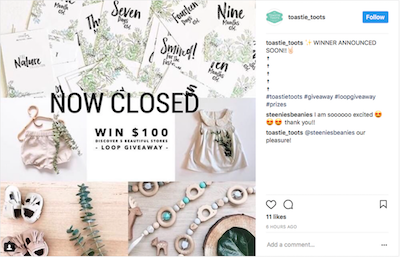 STEP TEN: Choose a Winner for Your Contest
Use a picker tool like Random.org to choose a random number (you'll enter "1" as the minimum and the maximum will be the number of likes the contest photo has received).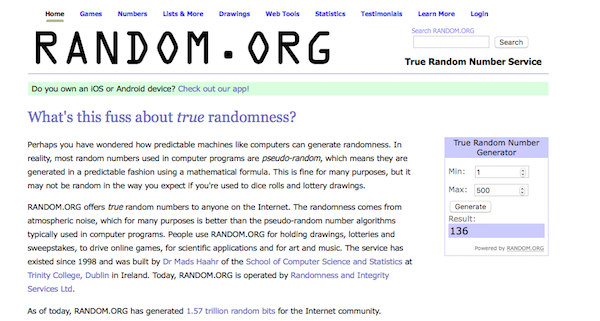 Count your photo likes to find the person who matches the randomly-generated number. Contact the winner to let them know they've won and to get their shipping information.
You may also want to post a shout-out to the winner once they've been chosen. Example: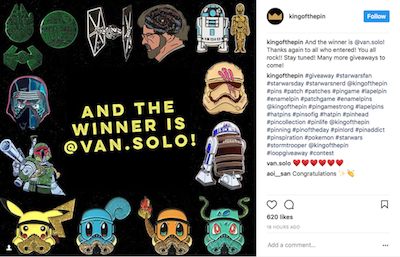 Another good idea is to post an image letting everyone who didn't win know where they can purchase the products included in the giveaway.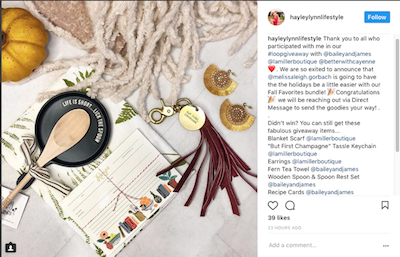 ---
AFTER THE CONTEST
Don't skip these last three steps!
There are a few housekeeping to-dos that you should take care of once the contest has ended. Also, it's important to know what to expect from your new-and-improved Instagram audience once the giveaway is over.
---
STEP ELEVEN: Get Feedback from Loop Participants
Once the contest is over and the winner has been contacted, get in touch with the participating accounts to gather feedback. Ask if they have any ideas for making the process more seamless next time. Find out how each account's following and engagement was impacted. Assessing how each account performed will clue you in to whether this is a good collection of accounts to work with again or if you may need to reach out to bigger accounts for more of an impact. Here are the insights you can view on Instagram and how to access them.
After the giveaway ends, you're going to lose some followers – this is normal. Even with some fallout, you've still increased brand awareness, which is the primary goal.
STEP TWELVE: Offer New Followers a Discount
Consider offering a follow-up deal to encourage sales, like free shipping or 20% off for a limited time. This thanks your followers for participating in the giveaway and it's also an incentive for them to shop.
STEP THIRTEEN: Assess Results of Your Loop Giveaway Contest
After a week or so, collect the data.  Answer the following questions about your loop giveaway:
How many followers did you gain?

How many followers did participants gain?

How much did you spend?

What was your cost per follower?
All this is very useful info, and you'll need it to answer the ONE BIG QUESTION you'll want to know the answer to at the end of your contest: 
Was this an effective use of my time and budget?
99.999% of you reading won't actually go through with all 13 of these steps.  But the few who do have told us that this is absolutely the best, most cost-effective way to grow followers in the latter half of 2019.
So if you decide to host or participate in a loop giveaway on Instagram, let us know how it goes (or announce it!) in the comments section below 🙂
We'd love to know if it was worth it for you too!
Or maybe…
This all sounds like a lot of work.  Because it 100% is a LOT of work. Especially if you've never done it before.
So…
ONE LITTLE HACK TO MACK THIS 1,000 TIMES EASIER
PIGGYBACK ON SOMEONE ELSE'S GIVEAWAY
Don't know where to find that person? Reach out to our team at Jumper for help! Our team would be happy to point you in the right direction, and even connect you with other Instagram marketers in your niche.
Just hit that Start Now button at the top of the page.
(You'll be asked to submit your information, and afterwards be able to schedule a free Instagram consultation with one of our expert marketers.)