We've come pretty far in the evolution of marketing via social media.
From a text-only bulletin or a random, personal testimonial like: 'Hey, have you tried the spicy pork shengjian bao at Dumpling Shack? It's bomb!'
To this kind of vibrant, informative interactive presence:
Social media is no longer just a fun hobby for fancy restaurants looking to score brownie points by showing off their dessert tray. It's a must-do for any restaurant or café looking to attract people, increase their exposure and boost sales in these highly competitive times (i.e. all of them).
According to research by Zizzi, 18-to-35-year-olds spend what amounts to five whole days a year browsing food images on Instagram, and 30 percent would avoid a restaurant if their Instagram presence was weak.
We're living in the age of, 'Snap it before you eat it!' and, 'Waaaaaait! Take an Insta-worthy picture first!'… People in the food industry have started capitalizing on this trend by making sure Instagram pics of their food are mouth-watering enough to tempt customers.
"All my friends check out a restaurant's Instagram page to see what we want when we go out for a meal," – 23-year-old Londoner Georgie told The Independent.
This epic, in-depth guide will teach you how you make your feed a haven for foodies and turn it into your #1 sales-boosting, customer-attracting marketing tactic.
If you've ever wondered:
How a restaurant gets attention on Instagram?
What kind of pictures, posts, and promos will grow your restaurant's Instagram profile?
Could working with influencers be a good idea for my restaurant?
Then this is for you. Enjoy ?.
The Restauranteur's Guide to Instagram Marketing
[TIP #1] Collaborate with Local Instagram Food Influencers
When it comes to bringing new faces into local eateries, the classic attention-getter known as 'word-of-mouth' has taken a back seat. 'Feedback-of-food-influencer' is driving things now, and most Instagrammers take these restaurant recommendations very seriously. Since influencers are also well-versed in the art of food photography, involving them means every dish will look 10 times better online, too.
Getting positive feedback from multiple local food influencers on Instagram not only increases your exposure to their mass of followers, it gives you an important stamp of approval in the world of social media. Most restaurants see an instant growth in sales and customers after a good review.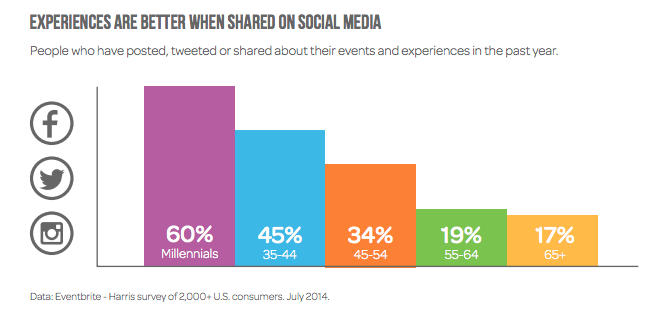 Contrary to popular opinion, you don't need to pay these influencers to visit your restaurant and post their opinion, with photos, to their 1000s of followers. Just send them a DM or email asking them to visit, and if they're intrigued they'll definitely give your restaurant a try. You can, of course, sweeten the deal with the offer of a free meal.
A Chicago food Instagrammer recently told Food and Wine, 'Often I'll get invited in for a free meal (usually like a $100 value), but I don't ask for more on top of that.'
Find the right food influencers for your restaurant, ones that fit your marketing budget and are local and ready to give your restaurant a try. If you're a relatively new place, search for food Instagrammers with around 5k to 15k followers. Even something as simple as one review from them can surge your popularity.
Some of the most popular and most-followed US food influencers in the past year, ranked in order: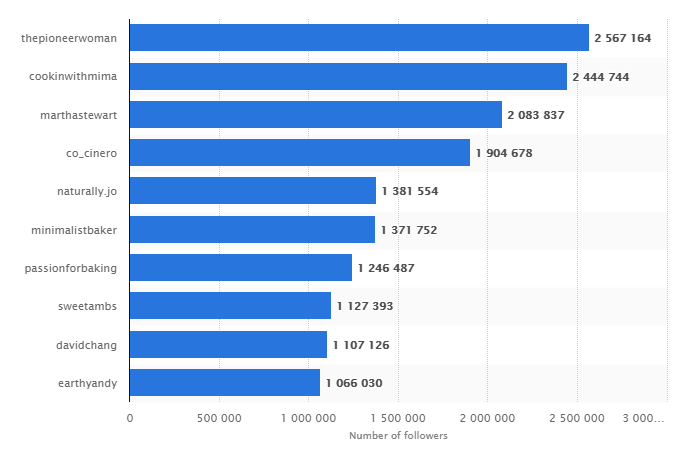 Source
You can find food influencers in your area via multiple routes:
You can ask friends and family if they know of anyone.

Google search for *food influencers in xyz area.*

Instagram search for hashtags (local and food based).

Visit IG profiles of popular restaurants and cafes in your area and go through their tagged posts. You'll find everyone who's written a post about that restaurant and tagged them in it.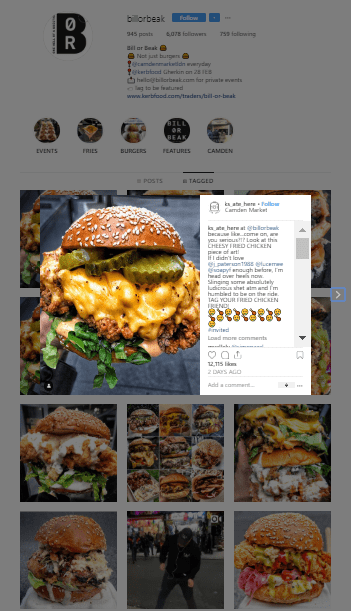 You can invite food bloggers to your restaurant separately on different days and times, or hold an influencer party — invite maybe 30 local influencers to an event with free food & drinks. Set up lights and photo stations and just let them do their thing. You'll get lots of organic reach this way.
Another way to build your influence is to participate in local food fairs and put up an Instagram photo booth. You can ask people to check in on Instagram and tag your restaurant to get a free cookie or drink!
[TIP #2] Maximize your Guests-to-Posts Ratio
Sounds technical? It's really not.
Start tracking the number of guests that come through the door (or total number of checks), and also find the total number of Instagram posts made tagging your restaurant location each month. If you get 200 customers each month, how many posts did you get tagged in — 2? 4? Or 10? That percentage, be it 1%, 5% or more, is important — and there are ways increase it.
First, make your restaurant more photogenic.
There are lots of things you can do to make your restaurant Instagrammable, whether they are tiny tweaks or bigger upgrades in decor or lighting. Don't think you need to make the entire place an IG haven, either: you can set up one or more photo-worthy spots in your restaurant and see success. Try beautifying a small corner or placing a few more interesting, on-brand items here and there. Special focus should be on lighting, especially making sure that dining tables are well-lit so people can take gorgeous food pictures.
A few other things that instantly scream, 'Instagram it!' and act as selfie magnets:
1) Rad neon signs
Find or design a few really cool neon signs for your restaurant and place them where people can easily take pictures.
If you can't come up with enough motto or image signs, use an inspiring quote.
You can take a few pictures with your signs and put them up on your Instagram to give customers ideas about the best angles.
2) Cool backdrops for pictures
Add interest to a wall and make it a feature with murals, paintings, wallpaper, installations or even some cool frames or signs.
---
Finding Instagram Influencers is a pain in the behind!
Let us do it for you, with this exclusive offer.
For just $7 we'll send you a custom list of 30 micro-influencers in categories such as:
Automotive
Beauty/Skincare
Cannabis
Fashion/Apparel
Fitness
Food & Beverage
Golf
Guns
Pets
Photographer/General
Swimwear
Travel
Other
If you're serious about leveraging Instagram influencers to grow your business, you'd be crazy not to take us up on this.
Each list is customized to your exact requirements. Yes, we actually have a real human being go on Instagram and dig around for these people!
At only $7, it's a tiny investment that will save you hours of work. So get it now while you can:
---
---
Do not forget to have cute bathrooms, because everyone loves a bathroom selfie! (If, for example, Ryan Gosling's in there, in all shapes and sizes, you really, really can't resist taking a pic and Instagramming it.)
Or you could go totally extra, like Sinema in Nashville.
Add other cool bits and bobs sprinkled throughout the place, like these 'Press for Champagne' buzzers by Bob Bob Ricard:
Or this cute taco sign:
Start testing different things to see what works with your audience and whether adding photogenic elements is increasing your guests-to-posts percentage or not.
[TIP #3] Monthly Instagram Photo Contests
Social media contests are always a good idea.
You can conduct them physically in the restaurant, or just online, or you could do a mash-up of both. In the restaurant, you can put up flyers or sign boards on tables with instructions on the contest. Instructions should include: what kind of photo they must take to participate, what hashtag they should use to post, a participation deadline and the specific prize to be won.
Each month you can choose the best picture, repost it on your IG feed and give the winners a cool prize, like a gift card or a free lunch. This will not only help you get a ton of User Generated Content that you can repost on your feed (keeping in mind all the UGC rules and regulations), but also get a ton of exposure in the form of tags, comments, visits and participation. Keep your photo contests creative and fun, and ask your employees, friends and family to participate to get the momentum going. Track the reach you're getting by checking in on the contest hashtag constantly.
You can also do theme-based contests, where each month has a different theme for your contest photos to add interest.
Opentable hosts a weekly photo contest with a $25 gift prize.
Case in Point: Comodo's Instant Success on a $0 Budget
Owners of Comodo, a 3-week-old Latin-American restaurant based in NYC, saw their customers taking pictures of appetizers, entrees and desserts and putting them up on Instagram. They decided to capitalize on this trend and formally introduce an Instagram menu with #Comodomenu. They added this hashtag to their physical menus and encouraged customers to take food pictures and upload them to Instagram, so that others wanting to come check out the new establishment might be lured by actual pictures of the food being served.
It worked so SO well, that Comodo, a new restaurant in a competitive market, was booked solid for 5 months straight, got over 280 million media impressions and countless rave reviews from a ton of high-profile blogs and magazines. All on a $0 budget.
Again, an easier and simpler way you could increase this kind of participation is by asking users to tag you in a public IG post and receive a free drink or a cookie, right there and then. Nobody, I repeat nobody, can resist free food with FOMO hanging over their head.
[TIP #4] Become an Expert on Your Neighborhood
Your posts don't have to just be about your own establishment.
What else is around, putting your area on the map?
If you want to become a local favorite restaurant, you need to become an active part of the community. Feature other local businesses that complement your own. Maybe it's telling people about a cool bar down the street that's great for after-dinner drinks. Or a delicious ice cream parlor that just opened two streets down. You could promote something that has nothing to do with food, and everything to do with hair, if it's a cool place that could send business your way. Just talk to your neighbors and find out which places could work a nice synergy with your restaurant.
Partner with them and offer discounts. Collaborate with them on photoshoots or local events. Promote them through Instagram stories. Hold Instagram Live sessions with them. This can help you and the cool place you're partnering with get twice the reach, exposure and sales.
Give love to the other businesses in your neighborhood, and they'll return the favor.
[TIP #5] Food Porn (The Importance of Photogenic Menu Items)
Impossibly tall burgers dripping with sauces and oozing cheese…
Stunning "unicorn pizzas" of spun sugar and edible magic…
Rice-and-sushi pandas so cute it seems cruel to take a bite…
Rainbow-colored bagels all in a row…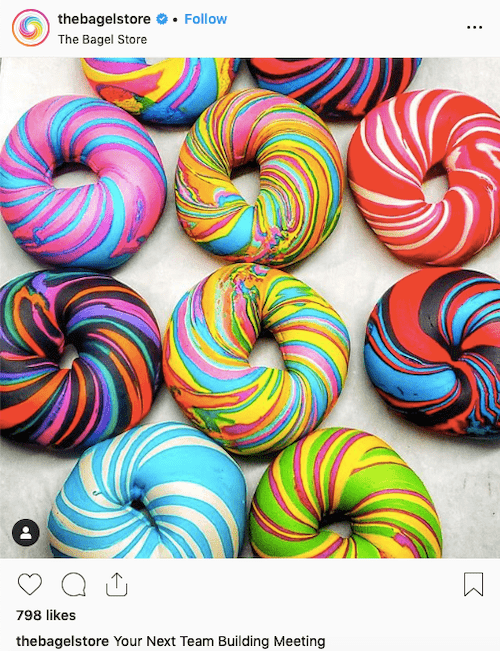 #foodporn has truly ruined us all and expectations have gone sky-high. People are willing to stand in stupendously long Starbucks lines just to get a picture with their very own Unicorn Frappuccino, even though most couldn't even get past the first few sips (it was truly a cloying abomination). But the fact remains — to get Instagram approval on your restaurant, you need to create food that screams visually to our taste-buds.
"The way a food looks and [is] arranged on the plate has a big impact because that sets expectations. Our brain imagines what it's going to taste like and that anchors the tasting experience," – Professor Charles Spence, an experimental psychologist at Oxford University.
According to Zagat, 75% of users say that they have picked a restaurant based on social media photos alone, and 60% say that they browse "food porn" regularly on social media.
There are two ways you can make a mark in the world of #foodporn:
1) Add Instagrammable food to your menu
What is Instagrammable food?
Anything that's different (e.g. taco shells made of bacon, ice cream roses in a cone) and that's aesthetically stunning (gorgeous colors, a haven of textures, great dishes to serve in).
Restaurants have also started hiring consultants to turn their dishes and menus Instagram-friendly. Front of House co-founder Dillon Burke says that activated charcoal that turns ice cream black and a blue algae that turns drinks a gorgeous crystal-clear turquoise both got popular through Instagram. While these may not always majorly improve the taste of the dish, their visual impact definitely scores internet points in the restaurant's favor.
One of the consultants' easy secrets is to pump up the garnishes, adding an extra dollop of cream or an extra couple of mint leaves on a pink drink, for example, to make dishes a lot more appealing.
Adding a flower or two for added appeal is almost never wrong.
Here are a few more examples to get your creative blender whirring:
---
You've come to the right place.
Get in touch for a

free demo.
---
For this first foray into #foodporn, think of interesting elements you can add to your existing dishes, or new innovative and aesthetically-stunning dishes you can create just for Instagram. You don't need to change your entire menu, just one or two items initially would work.
2) The photo maketh the feed — make it good!
Natalie Seldon, a food stylist, and writer, says the composition of the image is key to taking a sales-boosting, exposure-jumping-to-sky-high-levels kind of picture.
"The more zoomed in, the better; people love to see big food on screen. And layers are great too, especially with burgers." – Natalie Seldon
Your food could be the prettiest and the tastiest, but without epic pictures on Instagram that prove it, nobody cares. Hire food photographers, invite food bloggers, learn to take extra-stunning pictures of your dishes and encourage other people to take great pictures of your food. You need to do it all to get some semblance of recognition on Instagram. Because on Instagram, the photo maketh the feed.
A few tips and tricks to help you:
Make slow-motion videos of food being prepared, like chocolate being poured or melted cheese oozing. Stretching out these hypnotic moments with slo-mo is a great way to make mouths water. But the videos need to be of great food and great quality.
Videos, in general, do really well on Instagram.
If you've just started out or are on a budget, ask photography students to shoot your food in exchange for something free.
---
Take special care of your feed. Not a single bad picture should be uploaded. Also, make sure your feed is synchronized with your brand. If your restaurant has a colorful and fun vibe going on, your IG feed and all your pictures should follow that too. 

Similarly, if you have a dark, moody and romantic ambiance set up in your restaurant, make sure your feed reflects it. This is how people are going to decide whether to bring their date to your restaurant for a romantic night, or not.
---
Editing can make a huge difference and turns a 'meh' picture into a 'wow.' So take a couple of pictures to choose from and play around with editing apps to make it shine.
---
Make a Pinterest board with stylized pictures of food similar to your menu. Keep going through it for inspiration. Also, follow #foodporn, #foodpornography and related tags on Instagram to keep yourself in the loop with what everyone's doing out here. Follow food bloggers and restaurants that are doing especially well on IG.
---
Provide visitors with an incentive to take pictures. Dirty Bones, in Soho London, presents customers with an Instagram kit every time they order something. The kit includes an LED camera light, a multi-device charger, a clip-on wide angle camera lens and a tripod selfie stick for overhead table shots. Really everything they need to take the perfect shot of the beautiful food they're about to get. Not only does it make the entire experience far more interesting than a simple dinner or lunch, but also encourages the posting of great food pictures in general (and with their tag in particular).
[TIP #6] Give Love: Engage with Customers and Potential Customers on Their Tagged Pictures.
Engagement follows engagement. If you engage with your customers on their comments and posts, they'll engage with you on yours. It's simple quid pro quo.
So when anybody, even one person, comments on your Instagram post or tags you in a post, comment back. Engage with them. If they had a problem with your service or food, address it and solve it. Offer a free lunch to compensate for it. If they loved your food, thank them and ask them to come again (you can even offer a 10% discount). Ask them if you can repost their post. Be proactive in engaging with your customers on Instagram.
Similarly, you can seek out the most popular food posts in your area and comment on those. Search for hashtags that popular restaurants and food bloggers in your locality are using. Maybe someone is searching for the best beef burger in town? You could help them out and point them in the right direction (maybe to your café!). Or someone had a bad food experience somewhere else and you could invite them in to try your favorite dish. Maybe help someone with a simple recipe? Be engaging and fun.
An easy way to find good hashtags to follow is by going through posts of food bloggers and cafés and making a list of all hashtags they use. Just search for your area location and check the tagged posts of popular local eateries, and go through them for more hashtag suggestions. Then simply filter that list to what's applicable, only keeping the most active hashtags, and follow those. Every time someone uploads a new post using that hashtag, it'll pop up on your feed and you can leave a comment.
Extra bonus tips and tricks to get that gourmet Instagram feed:
Take advantage of new and happening events near your restaurant and try to mesh with them, using the event hashtags, to get some extra reach. It could be something as simple as posting a 'Congratulations, Royal Family, on the new baby,' or maybe a cupcake with your country's flag for a national holiday. 
Don't skimp on Instagram stories. Try sharing interesting things going on in your kitchen, conversations with customers, behind the scenes of a launch, everyday menu prep and so on. Since you can be super causal on stories, try to consistently upload new content there.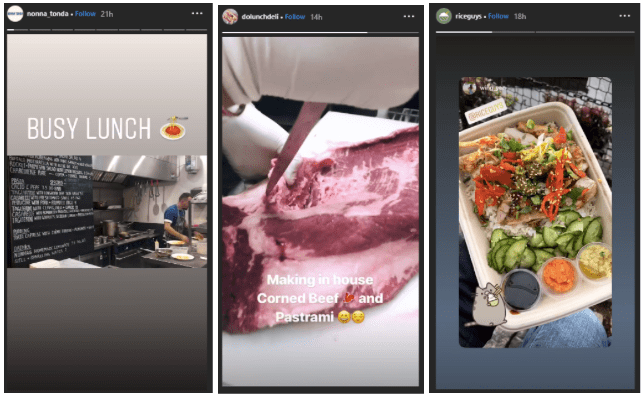 Incorporate emotional storytelling in your post captions, in your stories and in your posts. Don't get too heavy on the heartstrings, but a little human emotion sprinkled here and there is nice. Do you support a charity? Promote that. Did you start this restaurant after some emotional upheaval, or was it a lifelong passion? Share that. Do your serves have some special stories? Ask them to share those. Find emotional angles and share them with your followers.
Use hashtags strategically. Find out most followed, most popular, location-based food hashtags that your target audience follows and use those in your post captions. You can go through our

comprehensive guide

to learn more about creating a strategic hashtag strategy.
Remember, Just like Food is an Art, Instagram is Also
To reap the benefits of this diverse and wildly popular platform, you need to have a distinct strategy in place and keep on experimenting with new strategies, testing and creatively re-experimenting.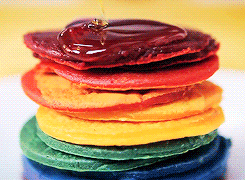 So be original and be strategic. Keep an eye on what's working on Instagram for other restaurants in your area and then see what works for you. Try new strategies and ways to improve on ones that have proved successful. Keep leveling up your photography skills, because Instagram is ALL about visual pleasure.
How does your restaurant look through the lens of a smartphone?