Gyms can be a dime-a-dozen.
In populated areas, people often have anywhere between five and 50 gyms to choose from, making it difficult for individual studios to stand out.
This is where a social media regimen can really make a difference.
Even though using the gym is an inherently "in-person" situation (if only you could lift weights virtually!) — social media is a great way to attract new members and build a loyal community outside the gym's walls, too.
The strategies we put together for one local fitness center are so dead simple and effective, they'll definitely help your gym, yoga studio, spa or training grounds do better online, as well.
Do Push Ups: Social Media Workouts for Your Fitness Business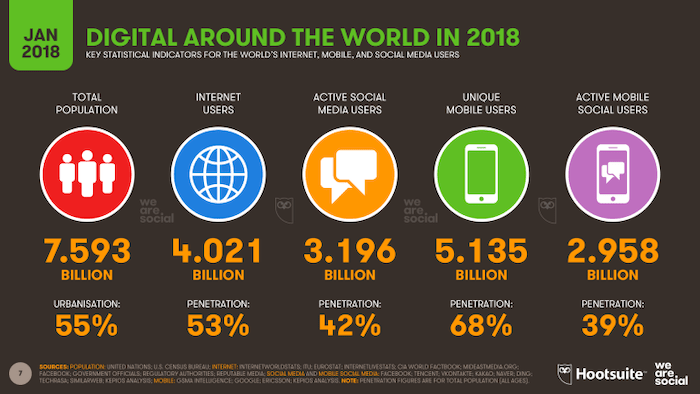 Source
More than 3.1 billion people all over the world are on social media, making it an essential part of daily life for many in your target market.
Social apps like Instagram and Facebook are great tools to help your business build client relationships and make your brand a part of daily life, too.
But where do you even start?
We've got you covered with a simple 5-step social media strategy that will help grow your accounts and enable you to reach more people.
Step 1: Target audience analysis
Determining who you're going to target is the first piece of the puzzle with any marketing strategy.
Knowing the kind of person you want to reach lets you know what to put out on your social channels.
For example, if you're targeting stay-at-home moms for your mid-day yoga classes, your content and tone are going to be quite different than a post which targets trainee boxers for intense evening sessions.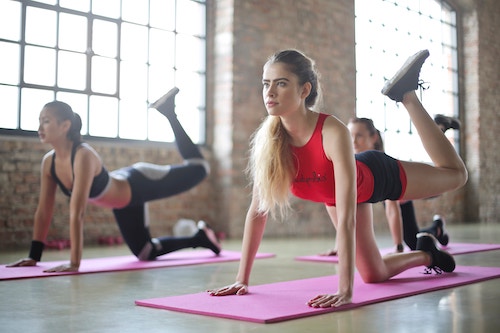 Source
Here, You Want To Think About Things Like:
What classes you offer and who those classes might be suitable for,
What times of day your classes are held and who will be able to attend them,
Your current demographic of gym-goers, including age, sex, financial status, whether they're mainly students or full-time workers, etc.,
Who you want to target.
You can then get even more specific.
For example, you might decide that your target customer is a 24-year-old male who is interested in high-intensity physical training and who's living within a 10-mile radius of your gym's location. This lets you really visualize ways in which you can speak directly to this audience.
However, while you do want to have an idea of who you're "speaking" to on social media, you don't want to be too restrictive.
Yes, you might be targeting stay-at-home moms who want to do yoga in the middle of the day, but there might also be young, male students also interested in daytime yoga, and you don't want to alienate them.
Step 2: Overall content strategy
When thinking about your social media strategy, it's important to consider the bigger picture and look at your content's overall effect.
For this step, you want to start by identifying some key questions your target audience has and what struggles they're facing that you can help them overcome.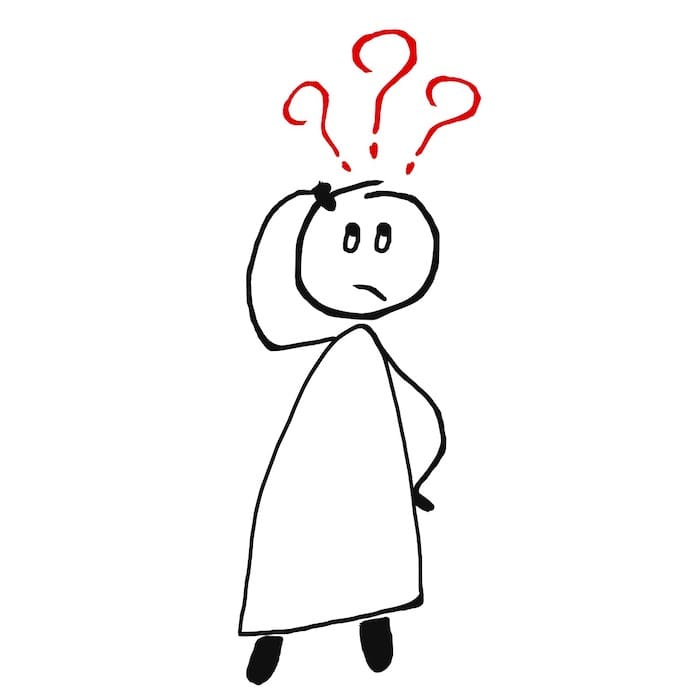 Source
You Might Come Up With A List Of Questions, Like:
What's it like going to a yoga/boxing/fitness group for the first time?
Can people who have never done martial arts before come and try it out?
How can I prepare for fitness classes?
What does a boxing session consist of?
How can I practice yoga/boxing/fitness outside of a class?
What is the best workout routine for me if I want to lose weight/build muscle/have fun?
The list could go on… and on.
But for now, think about the most pressing questions your audience is asking and base your upcoming posts and videos around answering them.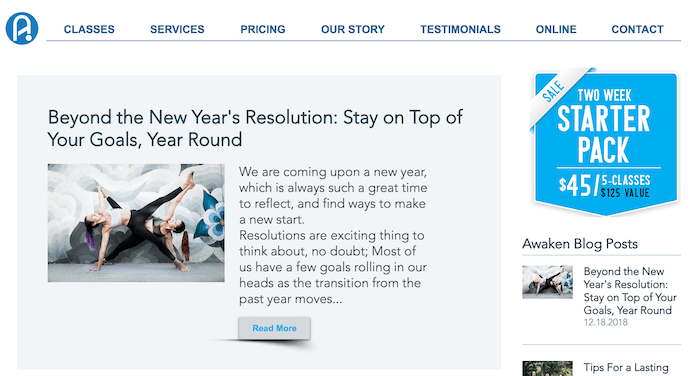 Awaken Gym in Denver taps into their audience's concerns and questions and answers them all on their blog.
When you start creating content that taps into the concerns of your audience, you'll find that even more ideas will crop up to keep your content calendar full week after week.
And when you're stuck for ideas, simply ASK your audience what they want to know about!
---
You've come to the right place.
Get in touch for a

free demo.
---
Step 3: Weekly content plan
Once you've figured out the questions that will drive your overall strategy, it's time to break things down into a weekly content plan — this is a collection and a schedule of exactly what you'll be posting on social media each day of the week.
Having this guide means you won't wake up each morning and scramble to think of something to post. Instead, you'll have a roadmap that clearly shows exactly what you planned to share next.
A Decent Content Strategy
A well-rounded, engaging feed has posts that represent all 3 Pillars of a Decent Content Strategy. These are:
Promotional content (which should make up 10% of your output),
Educational content (strive to have this be 40% of your output),
Engaging content (this should make up 50% of your output).
The 3 pillars will help you determine what kind of posts to share on your social channels.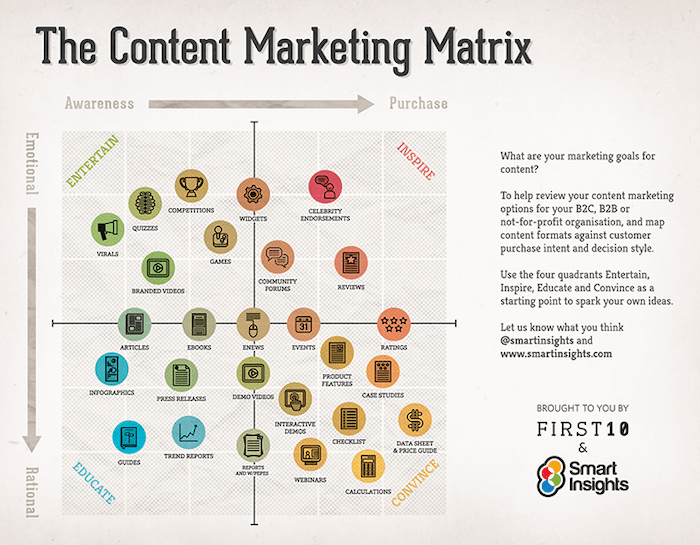 Source
Let's look at an example.
Say you want to target the question, "How can I prepare for a fitness class?" You might choose to share a promotional post that shows your audience how they can specifically prepare for one of your classes, with a shoutout for that particular class.
You might then share a post from another influential fitness page that shows how 10 professional athletes prepare for their workouts, an engaging addition to your feed. You could follow that with a step-by-step video that educates newbies to the fitness world on any necessary class preparations.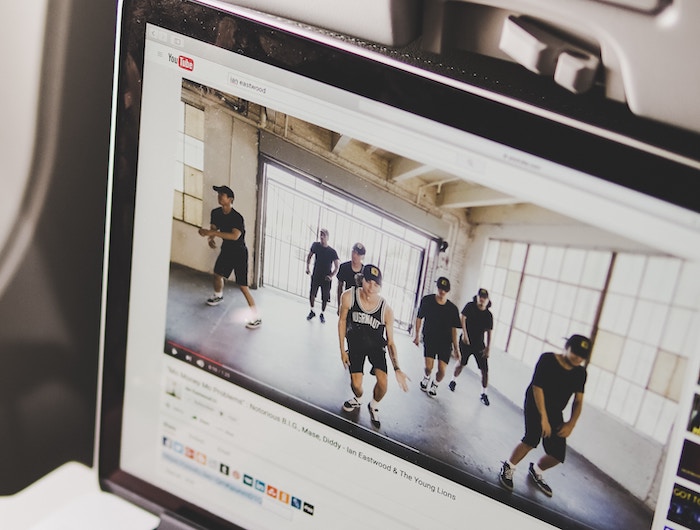 Source
To Get a Better Sense of What Kind of Content Equates to Which Pillar, Let's Draft Up A Sample Weekly Social Media Plan You Might Use.
Day 1: Engaging content

– Reshare something from another influential fitness site.

Day 2: Educational content

– Answer one of the questions you gathered at the overall content strategy stage in an engaging way with clean, attractive visuals to accompany it.

Day 3: Promotional content

– Give yourself a shoutout! Ask people to join your gym and encourage them to sign up for a free membership.

Day 4: Engaging content

– Find topics that are universally adored by your audience — and think outside the box! Maybe share an inspiring post about someone who's used fitness to overcome another struggle in their life.

Day 5: Educational content

– Answer another key question in an engaging way with accompanying high-quality images or video.

Day 6: Engaging content

– Again, share something that is going to pique the interest of your audience, whether it's directly related to fitness or not.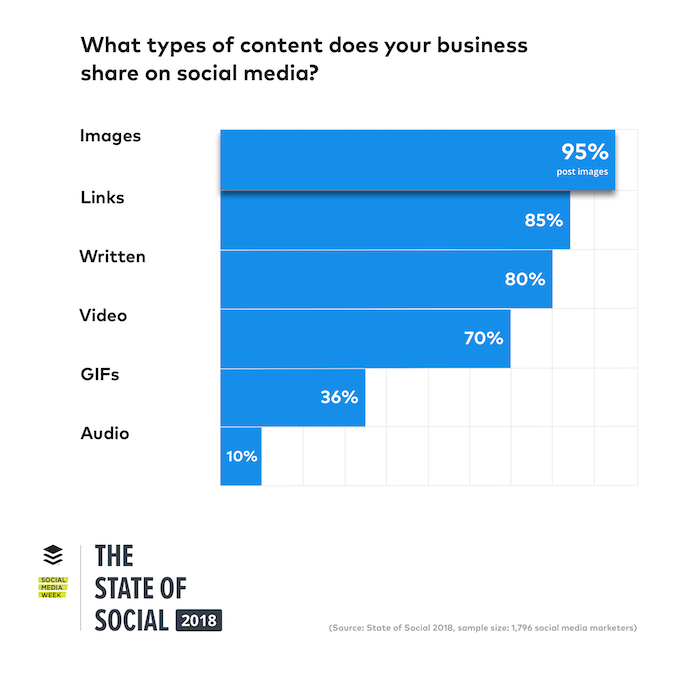 Step 4: Social media audit
When you've got your plan laid out and you're good to go, there's one more thing you should do: audit your social media channels.
It's all well and good posting amazing, engaging content, but if your profiles aren't built for conversion or simply don't convey who you are as a brand, you're going to lose out on customers.
Source
Here's What You Should Be Looking For:
Your profile image:

This should be an image that is instantly recognizable (i.e. don't make people squint to work out what you're about). The image should be clear and eye-catching so social media users instantly know what kind of business you are when they get a notification from you.

Your username:

Ideally, you want your handle on all social media accounts to be the name of your company. If that's not possible, use a name that people will remember and associate with your brand.

Use all the features:

Each social media channel has its own selection of features to help you optimize your accounts. For example, Instagram's Story Highlights give you a chance to segment your Stories based on their content and aim.

Your aesthetic:

Social media channels are inherently visual, and you want to make the most of this. Make sure the colors you use and the imagery shared is in-line with your branding and sends the message you want.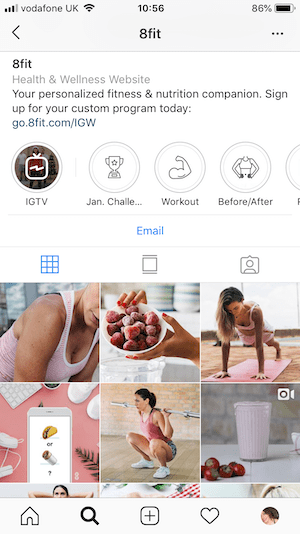 8fit has a pastel-pink aesthetic that they use consistently throughout all their images.
---
Finding Instagram Influencers is a pain in the behind!
Let us do it for you, with this exclusive offer.
For just $7 we'll send you a custom list of 30 micro-influencers in categories such as:
Automotive
Beauty/Skincare
Cannabis
Fashion/Apparel
Fitness
Food & Beverage
Golf
Guns
Pets
Photographer/General
Swimwear
Travel
Other
If you're serious about leveraging Instagram influencers to grow your business, you'd be crazy not to take us up on this.
Each list is customized to your exact requirements. Yes, we actually have a real human being go on Instagram and dig around for these people!
At only $7, it's a tiny investment that will save you hours of work. So get it now while you can:
---
Step 5: Carry on with care
Social media should be a fun addition to your marketing strategy. It's a place to start conversations, build connections, and attract loyal members to your gym.
But beware: it's so easy to fall into the trap of being spammy online.
One piece of advice: don't do that.
You'll have much more success if you use social media as it was intended — for being social. When you consistently open up a dialogue with your audience and respond to their major questions authentically, your following will grow and you'll attract more customers.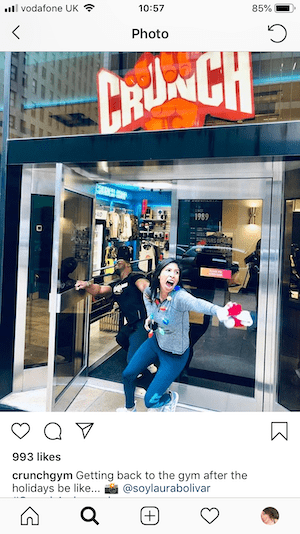 Crunch Gym keeps things fun with images that their audience can relate to.
TL;DR? —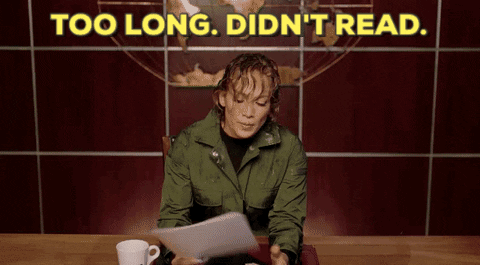 Here are The Best Practices You Should be Adhering to on Social Media:
Engage with your community

– Reply to comments, reach out in DMs to people who have pressing questions, and connect with key influencers.

Build your influencer network

– Ask fitness gurus and local influencers to post for you in exchange for a free membership or access to a class.

Paid media

– An effective social media strategy is partly organic and partly paid. Over time, you might want to incorporate paid features, like boosting posts or running a campaign to a local audience, to your social media repertoire.

Social ads funnel

– How will you convert online followers into members? Start thinking about how you'll get people to go from your social media accounts to your website and sign up.
Consistency Is Key To Any Strategy
Creating a social media strategy can be a daunting prospect.
But as you can see here, it's totally possible to keep things simple and still see amazing results.
Once you've figured out who you want to target, you just need to answer the major questions they have and also find some great content elsewhere that you can share through your channels.
When you've got your weekly plan in place, you can start thinking further ahead. More complex ways you can use social media to attract customers include funnels, ads, and influencer marketing.
Whatever your plans are, there's no time like the present to get started on social. To ignore the marketing opportunities there is like skipping leg day, and you should never skip leg day!
What major social media muscle groups will you target first?