It's impossible to dip your toe into every single marketing trend. 
There's literally no point in even trying unless you want to become frazzled and burnt out before the month's over. 
By trying to cover all bases, you'll spread yourself too thin, which makes it incredibly hard to see any traction. Instead, the key is to handpick a few methods to add to your marketing mix so that you have the capacity to implement and monitor them without losing control. This graph shows what other marketers place importance on: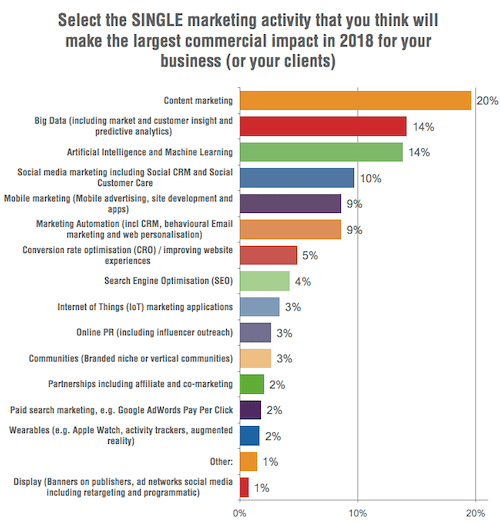 Source
But how do you even decide where to start?
There seems to be a new technique popping up daily, with marketers clamoring to try their hand at pretty much every new marketing activity that's thrown their way. To help you out, we're pitting two of the most prominent marketing methods against each other in a battle to the death. (Well, not quite, but you get the point). 
Our first contender is Facebook Ads. 
With more than two billion monthly users, Facebook gives businesses access to a hefty chunk of the world. Since its conception back in the noughties, businesses have reaped major success on the platform by using native ad formats to reach a wide variety of audiences. 
Going head to head with Facebook Ads is influencer marketing. 
This is a term used to describe content that is shared by online influencers that promote a product, brand, or service. It can come in the form of a testimonial from a well-known industry figure or a picture of a well-placed product from a celebrity, for example.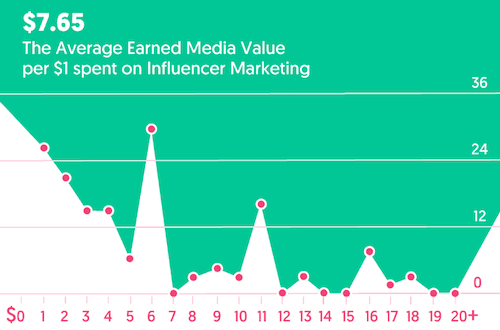 Source
It's important to note here that, while Facebook Ads are limited to one platform, influencer marketing can be carried out on any or all social media networks. However, we most often see influencers taking the stage on Instagram. 
When you look at the numbers, it's easy to see that Instagram's numbers just don't measure up with Facebook's. There are a mere one billion monthly users on Instagram compared to the two billion on Facebook. 
You might be thinking that Facebook Ads are already the clear winner. 
Surely having access to double the number of users and then some means you can reach twice as many people, right?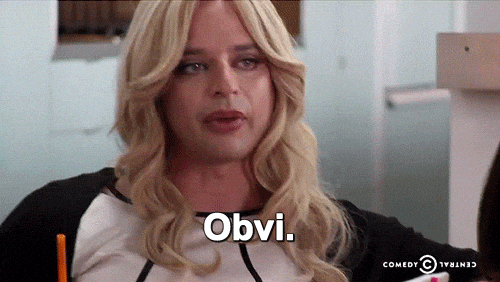 Well, actually, no. 
When it comes to turning viewers into customers, it's not about visibility or the number of people you can reach. It's about visibility with the right people in the right place at the right time, giving the Facebook vs Instagram 2020 debate a whole new dimension. 
So, while these two methods are mega-stars in the marketing world, they both offer different opportunities, different reaches, and the ability to tap into different audiences. And of course, for either to work, you will need to have a multi-channel marketing strategy in place, replete with plenty of amazing marketing collateral. 
Let the battle commence.
Influencer Marketing vs Facebook Advertising Round One: The Advantages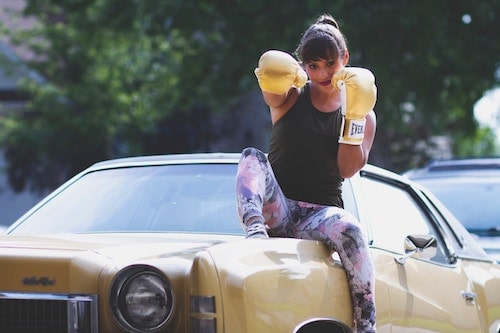 Source
---
Influencer Marketing
---
1) Authenticity
Influencer marketing isn't as disruptive as Facebook Ads. 
Usually, users have willingly followed an influencer and are interested in seeing their posts. This gives product placements and brand shout-outs a more authentic feel. Add to this the fact that influencer content gets mixed in with other content by family and friends (and not separated with a "sponsored" tag like Facebook Ads), and you get a seamless addition to audience news feeds.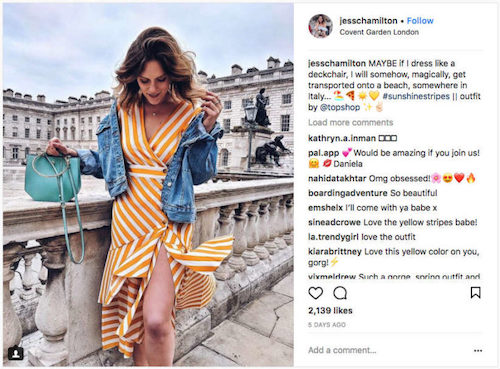 2) There Are No Limits
Facebook can be pretty strict with what you can and can't publish as an ad. 
There are word limits, picture restrictions, and format regulations that means you can't always be as creative as you'd like. With influencer marketing, there are no holds barred. Apart from doing something against the rules of a social network, pretty much anything can fly with influencer marketing. (Just make sure the influencer tacks on #ad to abide by advertising standards.)
3) Content Creation is Easier
When you partner with influencers, it's up to them to create the content. 
This takes the arduous task of ideation, creation, and implementation out of your hands. What's more, these influencers already know what kinds of stuff their audience likes to see, so they're likely to hit it out of the park on the first go.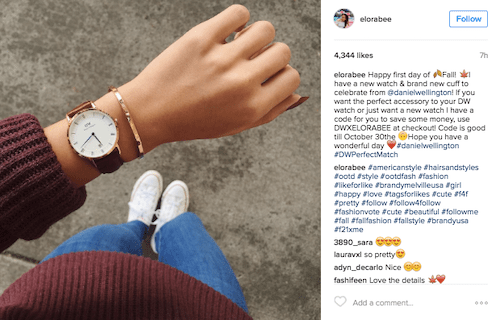 4) Cross-Platform Promotion
You've probably reached out to an influencer because you're impressed by their following on one particular platform, but that doesn't mean they're limited to sharing your stuff on that platform alone.
In fact, if someone has a large following on one platform, the chances are high that they'll have a sizeable audience on other social networks, too, which makes cross-platform promotion a definite possibility.
5) Reach Niche Audiences
Most brands think that influencer marketing means paying through the roof to get Kylie Jenner to feature their product for a split second in her latest Instagram Story. 
Luckily, this isn't the case.
Instead, you can tap into the highly-niched audiences of industry-specific influencers. These accounts might not have a ton of followers, but they will have a laser-focused audience that is more likely to fit your customer persona profiles than a larger account with millions of varied followers.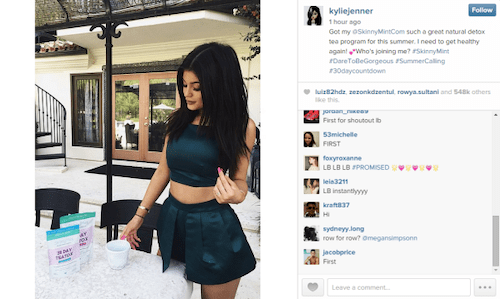 ---
The Influencer Outreach Playbook
DM and Email Templates from 16 Brands that do Instagram Marketing Better than You
Use our "Influencer Outreach Playbook" to copy the exact words and phrases that brands like Lyft, Ulta Beauty, and SodaStream use when they slide into an influencer's DMs.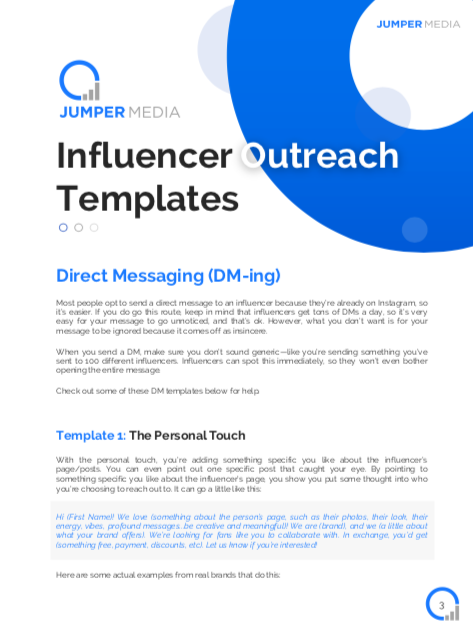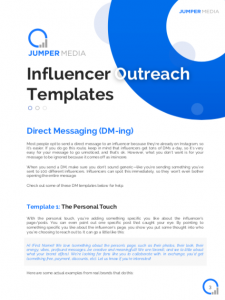 DOWNLOAD THE TEMPLATES FOR FREE
---
6) Impact Purchasing Decisions
Aside from the fact that a study from MuseFind revealed that 92% of consumers trust influencers more than an advertisement (and trust plays a huge role in the buying process), TapInfluence found that influencer marketing generates 11x the ROI than traditional digital marketing methods. 
Add to that the report from Twitter that found almost 40% of users had made a purchase as a direct result of an influencer post, and you have some pretty revolutionary numbers on your hands. 
Facebook Ads
---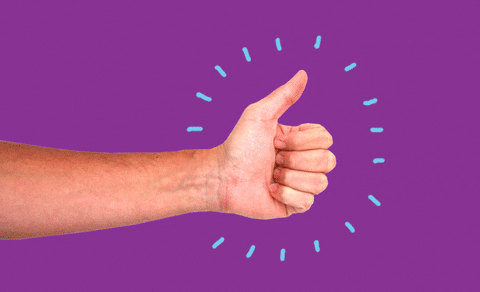 1) Content Styles
In the early days of Facebook Ads, ad styles were pretty limited. 
Today, there is a wide range of content formats that marketers can choose, from text and photos to videos and carousels. Adverts also include a clear call-to-action (CTA) button that is especially positioned to boost conversions.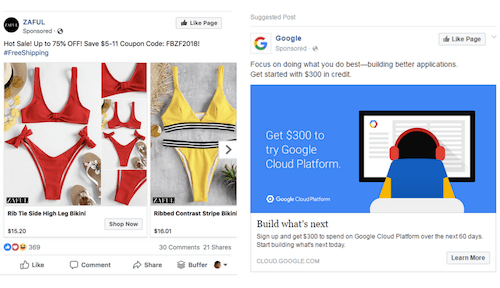 2) Incredible Targeting
Facebook's audience targeting is so powerful that it's possible to reach just one Facebook user if you adjust the settings just right. Of course, you'll want to reach more than one person, but the targeting options are still just as powerful. 
You can segment users based on their demographics, niche interests, and even their behavior offline. For example, you can target people who got engaged in the last six months or people who are in the process of moving.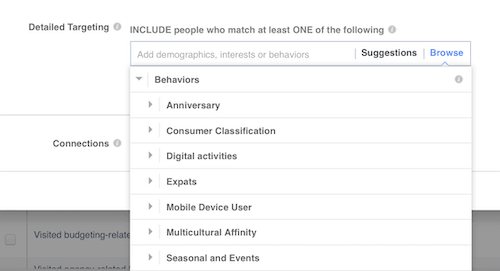 3) Ample Amounts of Data
Data is king when it comes to Facebook Ads.
The Power Editor provides detailed analytics into everything, from the Cost Per Click (CPC) to the types of users who are engaging with your ads. There's also the option to A/B test different ads to see what formats perform best with certain audiences.
4) Flexible Budget
Facebook Ads can cost as much or as little as you need. 
Obviously, the more you spend, the more traction you're likely to get. But, even if you have an incredibly modest budget, you can still get views on your ads and turn viewers into customers. 
The great thing is that, once you've found an ad formula that works, it's very easy to scale it to keep improving your results.
5) Support and a Helping Hand
Facebook Ads aren't the easiest thing to get your head around, but Facebook's useful and direct support makes the process a whole lot easier. 
6) Impact Purchasing Decisions
A study by ViSenze showed that Facebook was the most inspiring platform for buying decisions. In fact, in March 2018, 26% of people who clicked a Facebook Ad went on to make a purchase from that brand.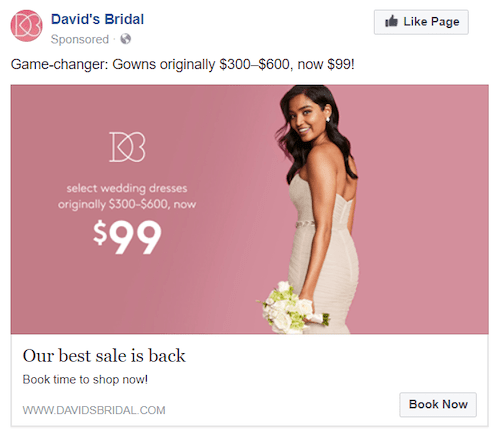 Influencer Marketing vs Facebook Advertising Round Two: The Disadvantages
---
Influencer Marketing
---
1) Disclosure Regulations
There are ever-tightening rules and regulations surrounding the promotion of products on social networks. It's important that you and the influencers you use abide by guidelines from the FTC (Federal Trade Commission).
2) Non-Intuitive CTAs
Facebook Ads come equipped with a handy CTA button, but influencer posts don't.
A lot of the time there needs to be additional copy attached to the post that tells users where to click to find out more about a product, or what steps they need to take next.
3) Relationship Building
Nurturing relationships with key influencers in your industry is one of the best things you can do for your business, but it's not a walk in the park. These are real people, and it takes time to build a relationship with them. 
If you want to succeed with influencer marketing, you have to find the right talent, set up contracts and agreements with them, define clear goals, and manage your relationship with them throughout the campaign.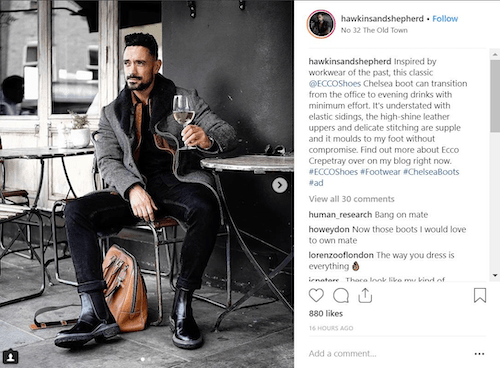 4) Beware of Fake Followers
Becoming an influencer is a heady goal for a lot of social media users, which is all well and good until you realize that some people will do whatever it takes to get to the top. This includes buying fake followers and engagement. 
Not only is this unethical, but it can also be difficult to detect, which means you can end up investing a ton of money into someone who doesn't have any real followers.
5) Measurement
Facebook Ads provide you with a handy dashboard populated with data, influencer marketing doesn't. It's up to you to determine what KPIs you want to track from the get-go and you then have to rely on the influencer to provide you with key stats about how your post is performing.
---
You've come to the right place.
Get in touch for
a free demo.
---
---
Facebook Ads
---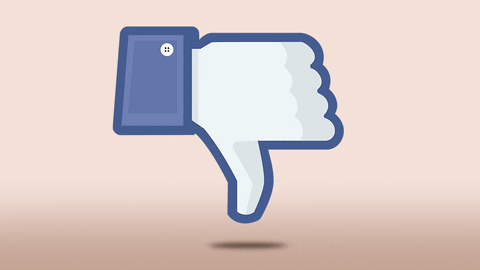 1) In-Your-Face Labels
Most internet users are savvy to what's an ad and what isn't. 
More and more, people are tuning out overt advertisements. Unfortunately, this means you might lose out on people who might otherwise be interested in your products simply because Facebook slaps a "sponsored" tag on all ads.
2) Lack of Engagement
Facebook users don't opt-in to see ads in their newsfeeds (and probably, if they had the choice, would choose to have an ad-free Facebook experience). This means that it's far more difficult to get comments, shares, and likes on ads than it is on organic content.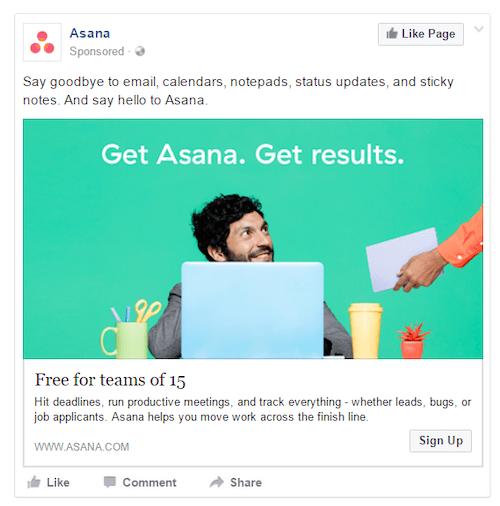 3) The Wrong Audience
It's up to you to pick the targeting options that best suit your brand, but it's easy to get it wrong. If you miss the mark with who it is you're trying to reach you could end up wasting a chunk of cash on an unsuccessful campaign.
4) Single Platform Focus
Unlike influencer marketing that can become a cross-platform affair, Facebook Ads are limited to just one platform: Facebook.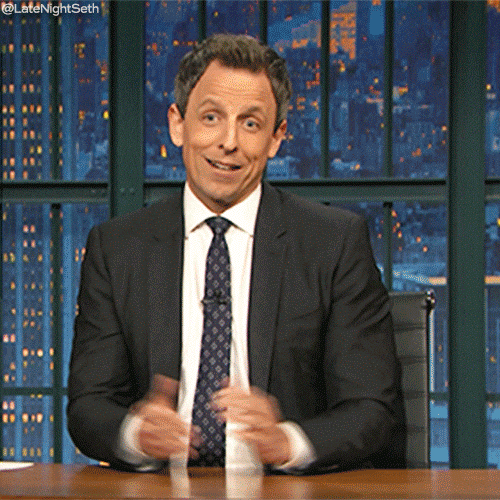 5) Cost and Competition
Facebook ads are priced on a CPC basis which can fluctuate drastically depending on what ad terms are hot at the time. This means that ads for certain seasons can vary widely in price and you can end up competing with a ton of other businesses for a specific audience.
Round Three: Who's the Winner? Suprise, there are no winners here. 
Influencer marketing and Facebook Ads can both be extremely valuable forms of marketing depending on what you're selling and who you're trying to reach.
Influencer marketing is great for generating engagement and is ideal if you're trying to reach a younger audience, spend less time on creating content, and garner a more authentic positioning for your brand. 
Facebook Ads, on the other hand, are ideal for reaching an older audience. The incredibly powerful targeting options and mammoth amounts of data mean it's great for experimenting until you find a format you can keep on scaling. 
The key is finding what works for your brand. Give both of these mega-marketing activities a try and see which one reaps the most benefits for your business.
Which method of marketing works better for your brand? Share in the comments below.