You're scrolling through your Instagram feed and you suddenly come across an image with a small TV icon in the corner.
You click on the image and a video begins to play. Hang on! This doesn't feel like Instagram.
Say hello to IGTV, one of the newest features to adorn the platform.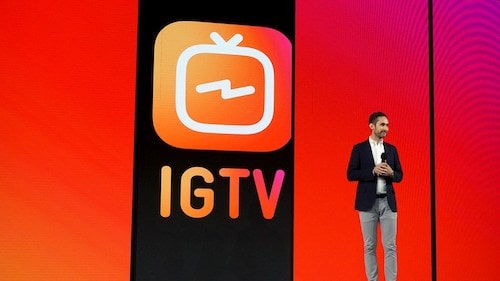 What is IGTV?
IGTV is an app which can be used alone or alongside Instagram. It enables users to upload video content between 15 seconds and 10 minutes in length.
Larger accounts can upload videos of up to one hour long.
Both personal and business accounts can use IGTV, simply by clicking on the TV icon in the upper right hand corner of your feed.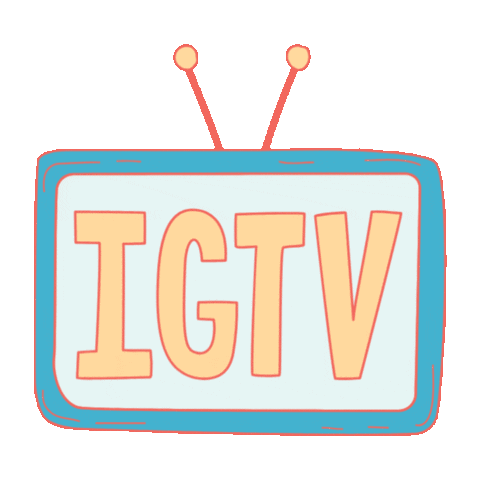 So, what's the difference between IGTV and YouTube?
Well, IGTV currently allows a user to experience 'flipping channels' without currently having to deal with video ads.
You also get to experience a combination of imagery, video, and live content on one platform.
If you're wondering how to use Instagram TV for business accounts, let's delve into 11 Instagram TV hacks that will change the game!
11 Instagram TV Hacks You Should Know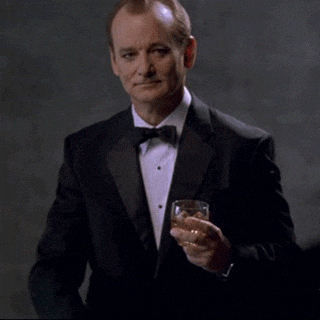 If you want to know how to use IGTV for business, these IGTV best practices for 2019 will help you to create a marketing strategy to catapult your brand, enhancing brand awareness and increasing sales.
1) Make Content Relevant to Your Audience
The video content you produce on IGTV should be relevant to your target audience and target consumer. For example, if you're a beauty brand, showing beauty inspired content will intrigue and delight your audience as it's exactly the reason why they're following your account.
You could give an inside look at your brand, introduce experts who share their opinions and advice to your audience, and develop content to give an in-depth look at your products or services.
When planning and developing your IGTV content, consider brand consistency as this will help your brand to stand out. Cohesive branding should also reflect your content on additional platforms, as well as your website.
Beauty brand Glossier does an effective job of this across it's Instagram account:
Source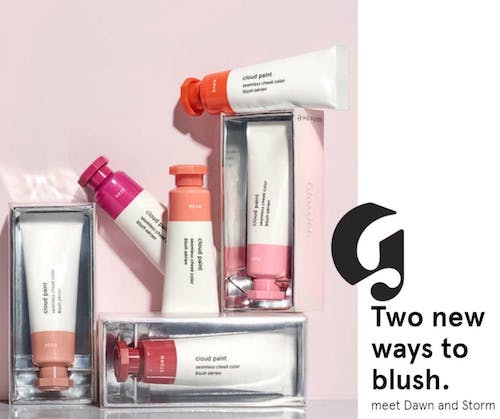 Source
You may wish to publish branded slides on IGTV. Using Canva is a quick and easy way of creating slides to match your branding.
2) Provide Exclusive Content
Providing exclusive content on IGTV makes your followers feel extra special, and gives an incentive for other users to follow you, too.
Exclusive content in the form of a behind-the-scenes look at your business or brand events help your audience to form an emotional connection to your business.
Your IGTV exclusive content doesn't need to be polished. Viewers adore authentic content, which is great news for your brand as you don't need to spend extensive amounts of money on video production.
Sports channel The Sportsman uses series content and personal interviews in their exclusive IGTV content: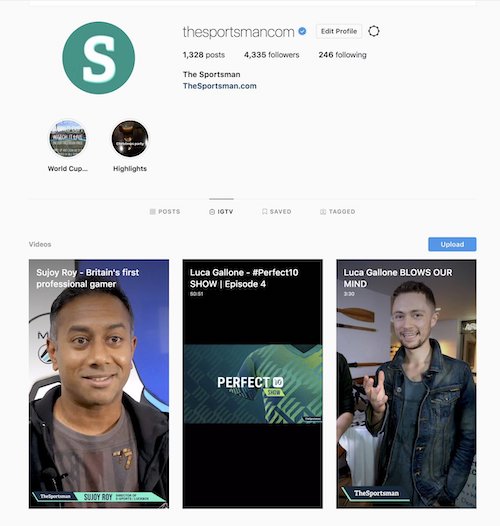 AgriNovus Indiana shows behind the scenes content on their IGTV, including interviews with leaders in their niche: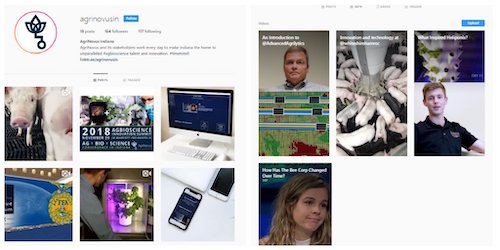 Source
3) Develop a Community
IGTV enables a brand to develop a community on Instagram. Do this by publishing a specific series or mini-documentary series.
Use IGTV in the same way a regular TV channel would show a series – schedule your series content for a specific time and day each week. People love knowing when content is going to be published, especially if it's a series they've invested time into.
A consistent series means users keep returning to your profile, as well as attracting new followers.
Play-Doh publishes an animated series aimed at all ages: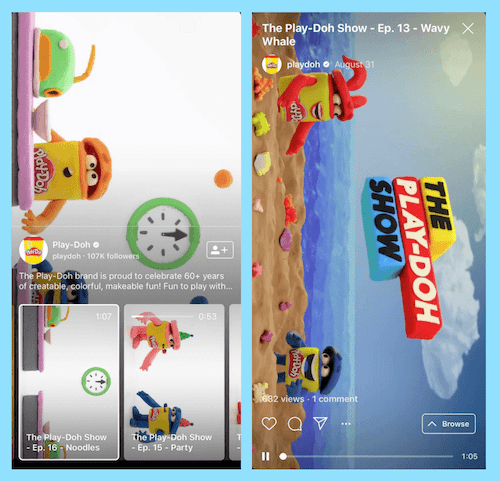 Source
Remember to consider your target audience when you develop series content.
4) Publish Q&A Sessions to Engage Your Followers
Question and answers sessions on your IGTV help you to engage with your followers. You are able to deliver information on your business and products or services, in addition to answering common questions your customers may have.
By answering your followers' customers, you gain their trust and create a valuable connection.
Open up a discussion by asking questions of your followers in an Instagram post or on your Stories.
Neil Patel uses Q&A sessions to deliver valuable information on specific topics to his audience: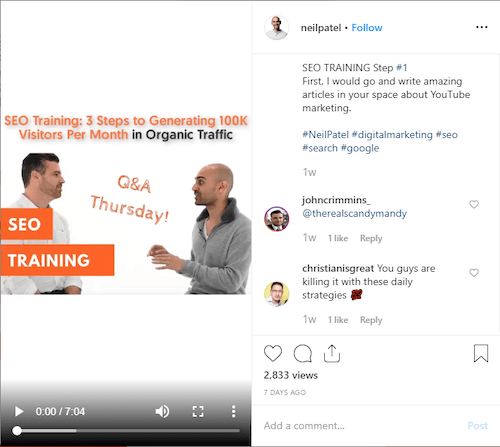 Source
5) Publish Tutorials on Your Products
Tutorials featuring real customers can help to build social proof, encouraging potential prospects to purchase your products.
Alternatively, you could use experts. For example, if you're a beauty brand, getting makeup artists and top beauty influencers to create tutorials on desirable looks and ways to use your products can excite your audience.
Staying on top of trends and trending topics can help you to create a bigger impact with your tutorial content.
Beauty brand Michael Todd publishes makeup tutorials on his IGTV, demonstrating how his products are used in popular beauty looks.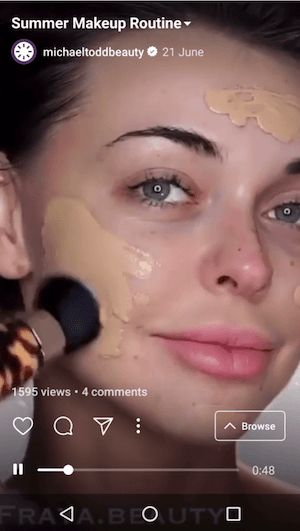 6) Reuse Your Content
Every piece of content your publish on IGTV doesn't have to be brand new. Reusing and repurposing your content saves you both time and money.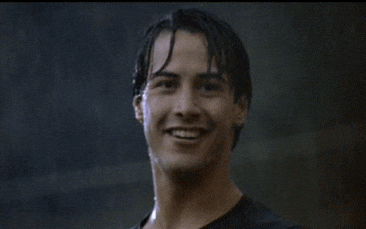 Reused video content can help you to expand your audience. Publish video content from your website or YouTube channel or repurpose old articles into video content.
Alternatively, if you're paying influencers to promote your brand, why not reuse their video content on your own IGTV.
7) Get People Talking
Getting people talking about your brand is always a good thing.
Netflix achieved this by getting actor Cole Sprouse to eat a burger on their IGTV. For one hour: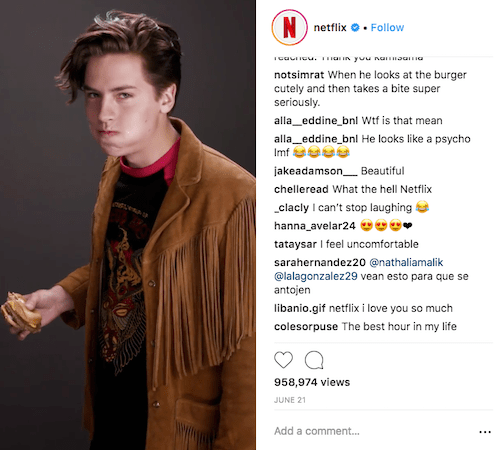 Source
This video gained almost one million views and over 6,000 comments, proving that social media video content can be both creative and attention-grabbing at the same time.
By using an actor from one of their TV shows, Netflix took a unique approach to product promotion.
Developing ideas outside of the box can drive brand awareness. Just remember to promote your content effectively. Using a combination of original and popular hashtags can help with your IGTV promotion. More on this later.
8) Test Video Length
IGTV allows you to upload video content up to one hour in length (for larger accounts). Testing varying video lengths allows you to determine which length your audience prefers. View your analytics to see which works best.
You can view your analytics by opening a video and clicking on view insights. This will show you your engagement analytics and audience retention on the specific video.
---
You've come to the right place ?.
Get in touch for
a free demo.
---
9) Upload Vertical or Landscape Videos
IGTV used to deliver vertical video format only, making it difficult for creators to upload video content. While horizontal video format can be easily edited with tools, such as Adobe Premiere, to fit a vertical format, it costs additional time and money.
IGTV now supports both vertical and landscape videos, making it easy for creators to upload content, and allowing viewers to watch videos in landscape format:
Source
10) Optimize Content for Promotion
Optimize your IGTV content by giving your video an attention-grabbing title. The current Instagram algorithm is based on the prediction of how much a user will like a post, how often you post, and your interaction with other users.
While there is little known as yet about the IGTV algorithm, using keywords in your titles will help users to find content relevant to them.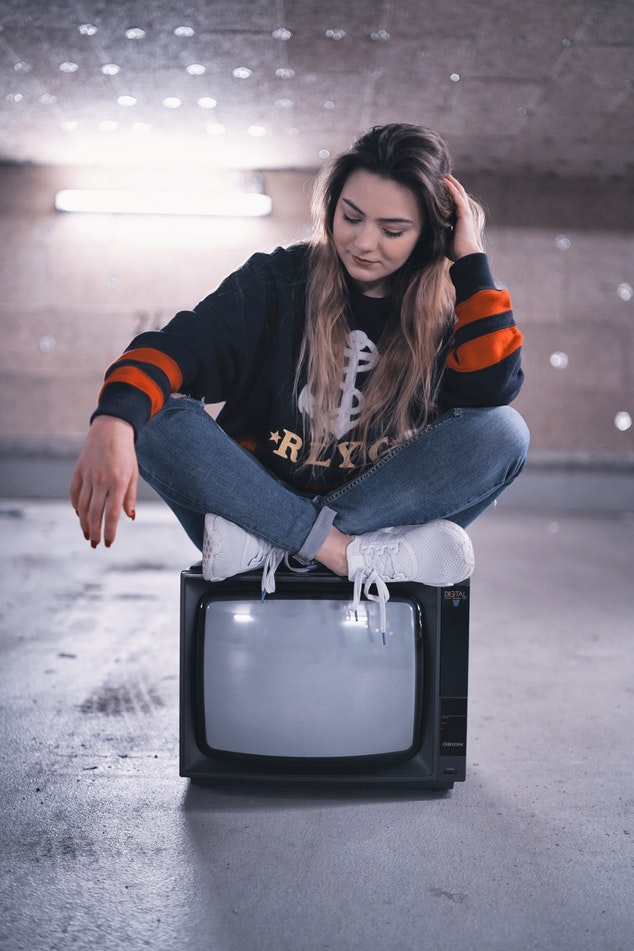 Source
In your video descriptions, be sure to include a short description of what your video is about, as well as a call to action. This could be a "subscribe to our IGTV channel" or a link to buy one of your products or services.
Knowing how to promote IGTV video will increase your analytics and audience, promoting brand awareness and sales. Use popular hashtags in your niche to do this, alongside additional hashtags you may have previously used on your account.
Additionally, cross-promote your IGTV content on Instagram Stories. Simply begin to create a story and click on the link icon. Choose the IGTV video call to action on the next window. Include a snippet of your IGTV video and link it to your story.
You can also promote your IGTV content by linking it on your other social accounts like Twitter, like The Sportsman: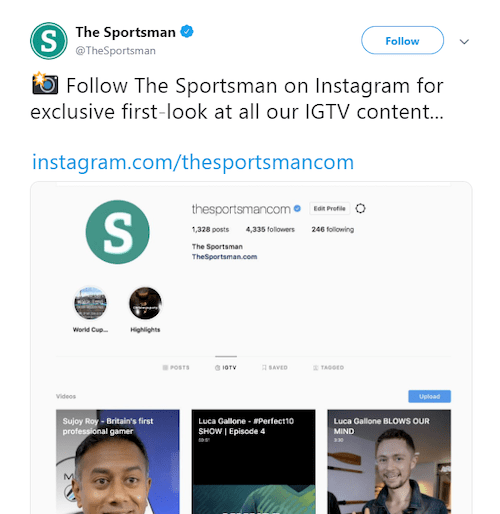 11) Download the App
If you're making regular IGTV content, it makes sense to download the app. The IGTV app is designed for your phone, enabling you to upload content on the go.
If you're a busy marketer, brand manager, or business owner, installing IGTV onto your phone makes the platform easily accessible.
IGTV for Business
While IGTV is still a relatively new concept, using this new app alone or alongside your regular Instagram content can enhance brand awareness by widening your audience reach.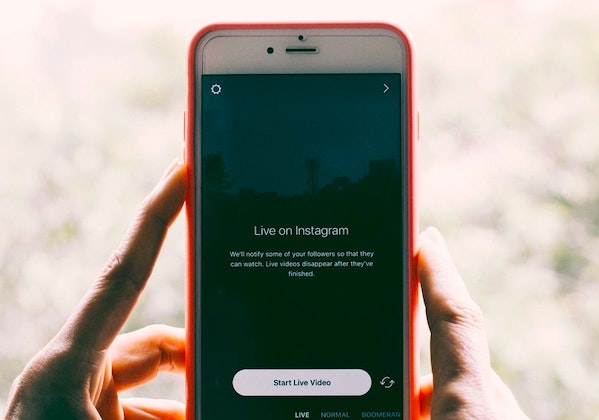 Source
Use a variety of content to create a community feel, create trust with your audience, and enable them to discover more about your brand.
Q & A sessions, tutorials, ie creating a series provides social proof, answers queries or concerns about your products, and encourages people to buy them.
Be creative, get people talking, and promote your content to make a social impact with your brands' content.
How will you be using IGTV for business?